With Drumcode leading the charge it is impossible not to become completely enraptured by A-Sides Vol. 8, a true testament to the quality of the techno industry!
---
Hold on to your hats because the time has come for Drumcode to flex their techno muscle with the next chapter of A-Sides! The series was born back in 2012 and has returned year after year as they gather up the special auditory moments that make for one hell of a pristine package of sound. After seven mammoth editions, Drumcode A-Sides Vol. 8 has finally arrived and I am sure you already had an inkling of what this year's offering would do to your mental well-being.
For this go-round, Adam Beyer has scoured the label for unreleased gems that he simply could not fit into the normal release schedule. What he has come up with are selections that move the body, feed the soul, and ignite the late-night hours with ferocity. In its completion we have been blessed with 25 tracks featuring the likes of fan-favorite Layton Giordani, the queen of the night Nicole Moudaber, classically trained Jay Lumen, universally respected Alan Fitzpatrick, a barrage of Drumcode first-timers, and the list goes on!
While each and every track on the album is worth discussion, I have decided to focus on some of my favorite tracks. So, come with me as I break down the compilation and dig into the ones that truly got me moving and grooving. As always, be sure to let us know what you think about the compilation in the comment section!
Purchase or stream Drumcode A-Sides Vol. 8 on your favorite platform!
Stream Drumcode A-Sides Vol. 8 on Spotify:
---
While Layton Giordani sets my body adrift, Juliet Fox inspires sweet memories.
It is time to kick off our cosmic quest and for the first handful of tracks, there are a couple that really put me in the mood to climb aboard a space ship to the stars. Layton Giordani's "Chrome" comes in hot with ethereal detail and that chugging bassline that Drumcode has consistently bred throughout the years.
I know you have heard this one delivered along the live front this past year as it is a track that has proven its worth time and time again on the dance floor. I am thrilled to see it on the compilation as Layton Giordani is certainly one of the stand out artists of 2019 for me.
I must also give a shout out to the rising star Juliet Fox, who dishes out a sultry kick on "Was Beautiful," asking us to remember our "first time" using a sexy sirens narrative. It is here that I find myself closing my eyes, enthralled by the spoken word that floats effortlessly above the pounding rhythm.
There may not be a whole lot going on with this track but that's what makes it so special. In fact, the lyrics are so well thought out that it has inspired me to turn deep within my subconscious and follow the instructions as I remember the very first time I accepted techno into my heart, back in 2013 at EDC Las Vegas' Neon Garden with Paco Osuna.
Veerus foretells a dramatic "Prophecy," while Nicole Moudaber proves why she will forever be our leading lady.
It is time for Veerus to jump back on the Drumcode train as he is always a blessing to see on the label. While "Hypnosis" has still got me hot in all the right ways, it is his latest accomplishment with "Prophecy" that I find myself obsessing over. It is the type of track that simmers slowly, armed with a dark edge that bubbles over every once in a while for that little bit of extra flair. I always search for tracks that put me deep in the pocket and "Prophecy" has a way of grabbing the attention as the synth structures turn up for a session of manic euphoric release.
Of course, I could not be more amped up to see Nicole Moudaber's first Drumcode release in five years nestled in among the pack. While she is still making a huge impact with her MOOD imprint it is time for her to show off her warehouse skills with "This Is Us," a brooding eight and a half minute trip into the farthest reaches of the subterranean realm.
Consistency is key to this track and while I find myself hypnotized with the implementation of echoing sound bytes far off in the distance, it is the DnB nod at four and a half minutes that really puts me on high alert. While it never truly goes there, I appreciate the fleeting script flip that ties beginning to end in flawless fashion.
Timmo invites us to join his "Acid Circus," while Jay Lumen cuts deep into the soul with "Razor".
Come one come all and enter the "Acid Circus"! Another repeat Drumcode offender, Timmo bumps up the energy with a quirky escape into peak hour territory. With reverberating lows and alien bred synth structures, there is nothing keeping me from falling desperately in love with this track. In fact, I have turned my speakers up to maximum capacity so that I can enjoy the ocean of sound that builds like layers throughout the airwaves. Creepy, overpowering, and vibrant in every sense of the word, this is a circus that I wouldn't mind running off to join!
Jay Lumen answers back with a fierce showing of his tastemaking abilities. With quick rises and falls drenched throughout every orifice of "Razor," this is an offering that I can see doing serious damage on the dance floor. Swirling and whirling through the cosmos, the energy that materializes throughout this track is enough to get even the shyest wallflower busting a move front and center. It also comes with an uplifting festive edge with techno claps leading us forth for one wild musical celebration.
Weska delivers a club-worthy anthem, while Jamie Jones and Darius Syrossian open up the "Eyes Of The Night".
So we all know that Weska can come with the fire as just this past year he blew our minds to oblivion when he paired up with Bart Skils on "Polarize". It is no wonder that Adam Beyer would have to include him on this compilation and this time we get to see him flying solo. A techno anthem in every sense of the phrase, it is called "Alpha Rhythm" and rightfully so.
Everything about this track exudes power and with a lyric line that drips in scientific elements, dance floor revelers are sure to leave contemplating everything they once knew about the world around them. The best way to describe "Alpha Rhythm" would be feisty in nature, high octane, and constantly changing and evolving. You could put this one on repeat and never get bored.
Of course, I couldn't continue on without congratulating Jamie Jones and Darius Syrossian for their immaculate work on "Eyes Of The Night". And as we reach the end of the package it is in this very moment that the festive nature of Drumcode has come out to play full force. With two leading names taking on the production role, one would expect a lot out of "Eyes Of The Night". I can say with confidence that these guys truly showed up to deliver that extra punch.
It's whimsical, heavenly, classic, and exotic with a trancey melodic vibe that I can really sign off on. As their debut Drumcode offering, we really get a feel of how well these two match up with the vibe that the label has set forth to own. Like a breath of fresh air, they stay true to the genre while injecting a warmth that cloaks my heart. I hope to see more of their work on the label as this was the cherry on top of an already amazing series of tracks.
Anthony Castaldo invokes the strange on "Express Yourself," while Avision takes us far outside the box.
As we come to the official close there are two more artists that I am really feeling. The first is Anthony Castaldo and his appropriately titled "Express Yourself". I am a sucker for a good title because sometimes that's all it takes to convince you to press play. On "Express Yourself", what we get is an unpretentious techy dive into counter-dimensions.
Full of fun moments and uplifting energy, it is the build that truly sucks me in. For a second, the music fades away and the words "express yourself" take front and center as the track pulls back and then hits us in the senses for a final climb into techno bliss.
And then there is Avision. At first, I wasn't sure of what to make of "Break" but after a few listens I began to understand everything. After 23 tracks I have fallen upon one that stands out as the black sheep. A track that in essence, doesn't necessarily match up with the rest but in all honesty, that's what makes it so incredibly divine.
For this offering, it is ALL about the drums. A playful tribal leap into a semi-deserted island where we come face to face with native entities ready to pull us into their world through a raucous celebration of sound. There is something so refreshing about this track as it does away with expectations, all the while leaving my soul fulfilled.
Drumcode A-Sides Vol. 8 tells a tale of a label that speaks to the heart of both underground and mainstream fans across the globe!
Let's be honest, you must be living under a rock if you have never been privy to the insane musical stylings of the Drumcode brand. Whether you are new to the scene or have been kicking your feet under the lights and lasers for some time now, I can promise you that sounds from the label have crossed your path at least once or twice. But why is Drumcode such a major player among the vast array of techno labels around the globe? It is offerings like Drumcode A-Sides that provide the answer.
Through chugging rhythms, peak hour bangers, forward-thinking mood setters, and pulsating drum beats, Drumcode has established their presence for all to enjoy. Every track on Drumcode A-Sides Vol. 8 is dance floor ready. From the debut of experience-makers to the icons that have been invited to unleash their expertise on a grand platform, this is a compilation made in techno heaven!
---
Drumcode A-Sides Vol. 8 – Tracklist:
Layton Giordani- Chrome
Luca Agnelli- Apollo
Raxon- Dream Space
Juliet Fox- Was Beautiful
Adam Beyer and Bart Skils- Your Mind (Will Clarke Remix)
Secret Cinema and SAMA- Diviner
Veerus- Prophecy
Mark Reeve- Get It
Wehbba- Mantra
Nicole Moudaber- This Is Us
Ilija Djokovic- Aura
Joey Beltram- Can You Feel It
Shelley Johannson- Raze
Timmo- Acid Circus
Jay Lumen- Razor
Weska- Alpha Rhythm
Woo York- Rainforest Mystery
BEC- Hypersphere
Alan Fitzpatrick- Heiße Rakete
Jamie Jones and Darius Syrossian- Eyes Of The Night
Ramon Tapia- Sonic Therapy
Anthony Castaldo- Express Yourself
Zimmz- Console
Avision- Break
Marco Bailey- Haku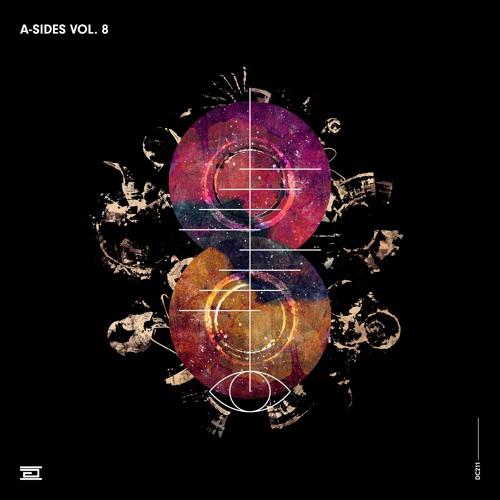 ---
Follow Drumcode on Social Media:
Website | Facebook | Twitter | Instagram | SoundCloud | YouTube