Super8 & Tab open up to us about their experience with social media, recently released compilation Past, Present & Future
,

and more at Dreamstate Vancouver.
---
Throughout their careers, many artists in the electronic music scene continue to evolve and change with every passing year as they explore new sounds and hone their skills. That's exactly what Finnish artists Miika Eloranta and Janne Mansnerus, aka Super8 & Tab, have been doing since first joining forces back in the mid-2000s.
Over the years, Super8 & Tab have released plenty of tunes in the trance music scene that continue to get played out to this day while also continuing to release fantastic tracks and mixes for all to listen to. Last year saw the duo drop the two-part release dubbed Reformation, and this year they unveiled Past, Present & Future, a compilation album that combines the music older and current trance tracks to tracks that represent the future of the genre.
Taking the stage at Dreamstate Vancouver last month, their set left me absolutely stunned and we were even blessed to hear their remix of "Amsterdam" to close it out in epic fashion. Looking for more insight into their recent release and more, we sat down with Super8 & Tab to discuss Past, Present & Future while also getting their thoughts on the current state of the scene.
Download or stream Past, Present & Future on your preferred platform and read on for the full interview with Super8 & Tab!
---
Thank you for speaking with us today here at Dreamstate Vancouver! Last year, Reformation 1 & 2 came out and what has the response been like the new material and Super8 & Tab sound?
Miika: Reformation went down really well and even now we played a lot of tracks from Reformation album. There were a lot of hoorays going on when we played "Cosmo" or "Mega" and people have taken to the new song really well.
It's still our sound, we haven't changed too much. It's still melodic. It has a little more energy than previously. I think it's only more fun at the clubs and festivals when there is a little bit more bounce.
You two traveled all over the world last year and did countless sets. How did it feel to be on the road again and what are some changes that you noticed about the crowd?
Janne: I think we've been on the road for the last ten years. We haven't been doing any sort of break. It's good to be back here in Vancouver. We played last year in October, it wasn't too long ago. Dreamstate here seems to be working really well here, the crowd was super excited.
With this being your first time at Dreamstate Vancouver, how did you both prepare for the show?
J: We played some tracks from the Reformation album, some classics, and of course tunes from Past, Present & Future compilation that was released a few months ago. That's the tour we're on at the moment, for the Past, Present & Future compilation.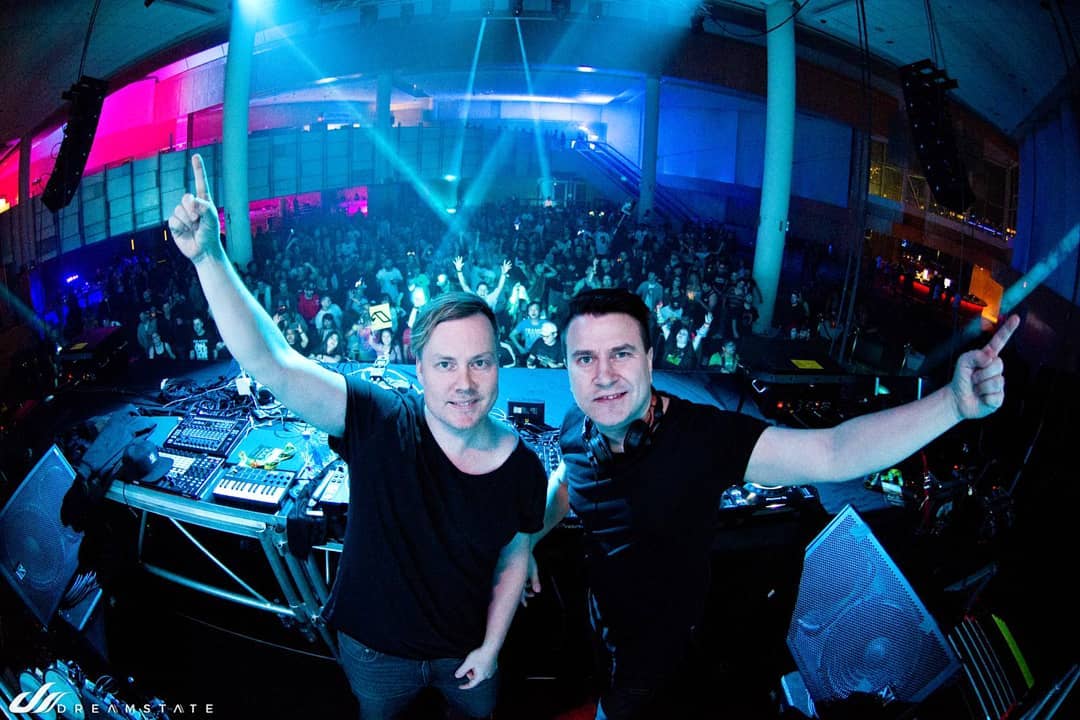 Earlier this year, the Past, Present, & Future compilation came out with a mixture of trance tracks that symbolized the album title. What was the inspiration behind a compilation album that was more theme focused than just a year compilation mix?
J: We have a big history of tracks and this is a good platform to showcase our old stuff for us and other artists as well. And it's easy to put some new tracks in-between and take listeners on that trance journey. It's what we usually play in our gigs. We like to play those classics, the new, current stuff as well, and stuff that people haven't heard before that is something really fresh from the studio.
M: On this tour, we've been playing a lot of extended sets. Last night, we played in Miami for four hours. In London, we played for almost six hours. So that gives us the possibility to actually play the whole history, past present future. Usually, people don't know how much we put in our old tracks in our sets because we usually get a one-hour slot or an hour and a half slot, then we need to play current stuff mostly. Of course tonight we ended up with "Amsterdam" even though we were only given an hour set. This Past, Present & Future concept gives us the opportunity to play longer sets and take people on a journey.
We also heard you are both huge Formula One fans. Recently, the Chemical Brothers partnered with Formula One for a three-second track. What would a Super8 & Tab collaboration with Formula One sound like?
J: That would be Kimi Räikkönen would be on the track. Kimi would sing on our track.
M: That would have to be dramatic because in F1 there is a lot of drama. Huge build ups as well.
J: Fanfare and the end. Kimi Räikkönen would be our lead singer, that's for sure.
In our last interview, you pointed out that social media has changed the music industry. In what ways has social media made it better or more difficult for artists?
M: When we started, to succeed in music you really needed a big track and have really good friends in big cities like London or you had to move there to be in the business. These days, social media gives that possibility to anyone, from any country, to make him or herself heard or known. I think in that way it's very helpful but of course its also a lot of work.
J: There's so much competition in social media, there's so much going on. You really need to be creative to really stand out. It really helps but it could be difficult as well.
Here in the US, there has been a lot of talk about trance being either dead or alive and on the rise, what are your thoughts on today's trance scene?
J: Trance has been dead since 1994.
M: Every year trance has died! [Laughs] Trance is great.
J: There are probably more people listening to trance than ever before. Maybe it's not the most popular, but who cares. If you like trance, you listen to trance. If you like house, you listen to house. It's probably more popular than ever before.
M: It's also more versatile than ever before. Those Psyguys, 140, then there's old-school 138 stuff, and then the more progressive side…
J: What is trance these days?
M: That's a good question
J: Techno guys, if you go listen to techno, they have trance in them. Sasha and Digweed… is it trance?
M: Sasha was in trance in the 90s.
J: People come and go.
M: It's the music that we like.
J: Let's just say it's not dead.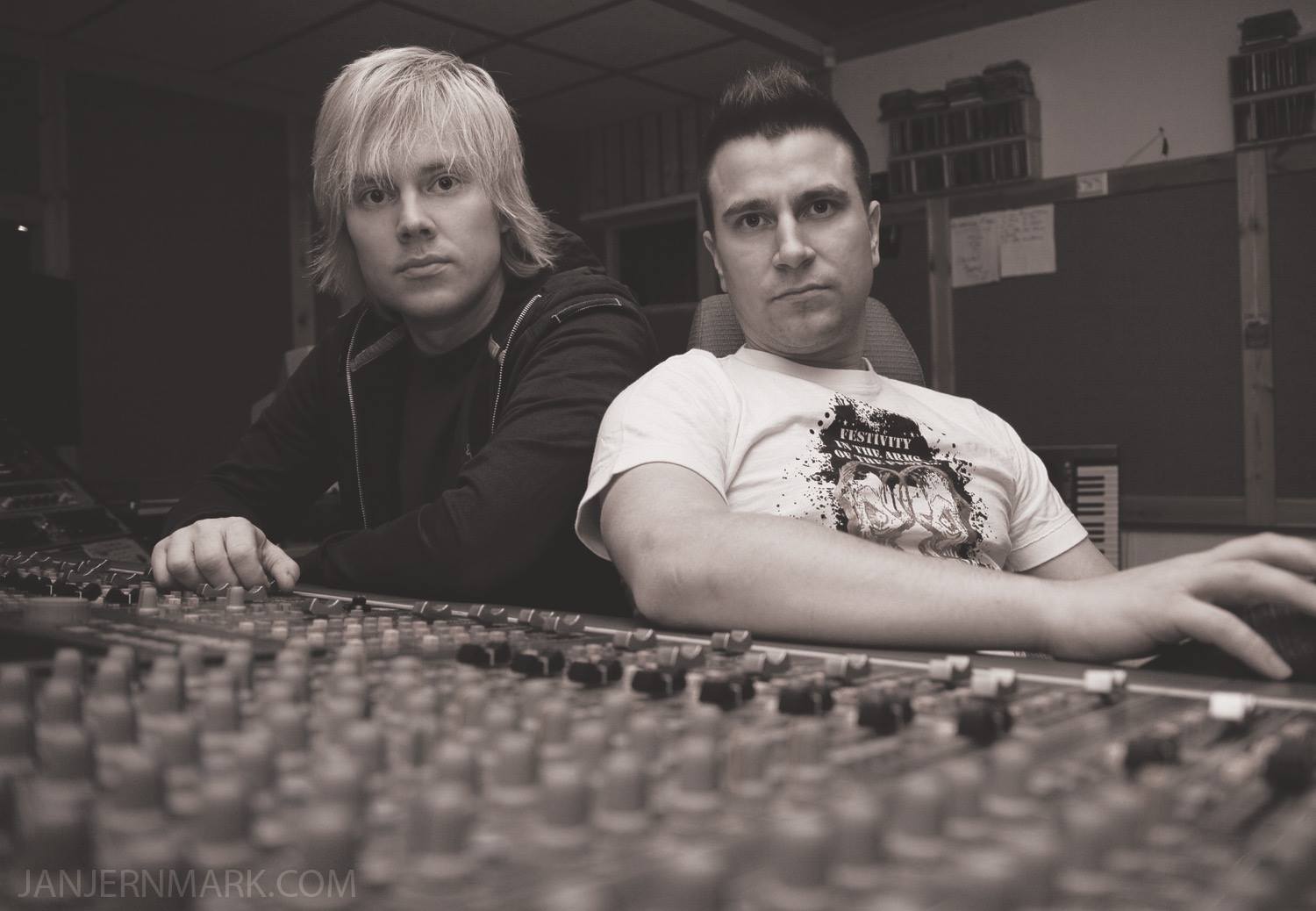 Finally, with festival season in full swing, what are you both looking forward to?
J: We'll continue to be touring with the Past, Present & Future compilation. We'll be traveling to a lot of different cities and countries.
M: We'll be in back in Montreal for Ilesoniq.
J: it's a massive show. In August. We'll be on the stage with KSHMR and all those guys.
M: And we're coming in May to play San Francisco, Los Angeles, Seattle.
J: We've also got New York in a couple of weeks. And then a few shows in Finland, it's always nice to come home and play in our hometown. We'll be playing in a nice festival with Markus Schulz, Cosmic Gate, Mike Push, OMNIA, Richard Durand, Menno de Jong… It's easy because its in Helsinki so its only five minutes from my home. We also have these cruises going to Sweden and Estonia, like Groove Cruise, but more drunken people. [Laughs]
J: We also didn't mention that we recently started a label. (Scorchin' Records). That's going to be an interesting journey for us in the future. We will be releasing more Super8 & Tab tracks through Armada, but we will be releasing music for up and coming artists on the label.
M: The label is especially to help mentor new artists but of course we do want to release music for established artists as well, but that's the goal. So to all up and coming artists send your demos to ScorchinRecords.com!
---
Connect with Super8 & Tab on Social Media:
Website | Facebook | Twitter | Instagram | SoundCloud | YouTube