From working behind the scenes with Seven Lions to designing clothes for badass babes with new brand Front of House Wife, Emma Montalvo is making her mark on the industry.
---
The world of fashion changes with each festival season and has featured everything from military-style hats and sequin kimonos to sheer tops and cut out bottoms. While attendees can rock any sort of look to most festivals, those working behind the scenes find themselves restricted to what they can wear. Enter new brand Front of House Wife, a fashion line created for those working behind the scenes looking to dress both professional and chic.
Heading up the brand is none other than Emma Montalvo, who you may know as Seven Lions' wife and is always by his side at festivals and on tour nationwide. Inspired by her own life as a "Front of Housewife", she has kicked off her new role by releasing a few key fashionable pieces: a warm but stylish cardigan, a crop top featuring the clothing brand's logo, and a pair of sleek leggings displaying a variety of symbols including ones from the Seven Lions Mythos.
With festivals like EDC Las Vegas, Electric Forest, and other summer shows on the horizon, we caught up to chat with Emma about her recently launched brand. Learn about the origins of the Front of Housewife, some festival fashion tips, what's next for the clothing line, and more in our interview with her below!
Want to check out the current line of clothes from Front of House Wife? Head over to Seven Lions' merch store to see the collection!
---
Congrats on the launch of Front of House Wife! Can you tell us a bit but the creative process that went into making the line come to life starting from the idea to finally having the pieces on sale? 
Thank you! I came up with the idea for this line about three years ago. I sat on the idea, wondering if it was something that would be received well or understood. With a lot of support from Jeff (Seven Lions) and everyone around me, I finally made the jump to move into the design process.
The first step I took in the design process was to decide what items of clothing I couldn't live without. Then, I needed to make them be unmistakably ME and in my style. I went back and forth on the concepts with my team and everyone worked really hard to help my ideas come to life.
Next came the photo shoot, I am not a model but I wanted to be the face of this line and it was quite out of my comfort zone for me to build up the courage to shoot in these items but I was proud of them and that helped my confidence. Getting the first launch up and online was so much fun. I had these designs in the pipelines for so long and I was eager to show the world.
With three pieces released so far from FOHW, what was your inspiration for each design and what key characteristics did you want for the clothing line? 
The first three pieces I decided on were inspired by items my suitcase absolutely could not live without. It had to be tight fitting but comfortable with the ability to hide myself with a coat and hood when I needed it. That was how my first pieces were designed. You can expect more of that inspiration in my upcoming releases featuring more of a warm weather friendly/festival vibe.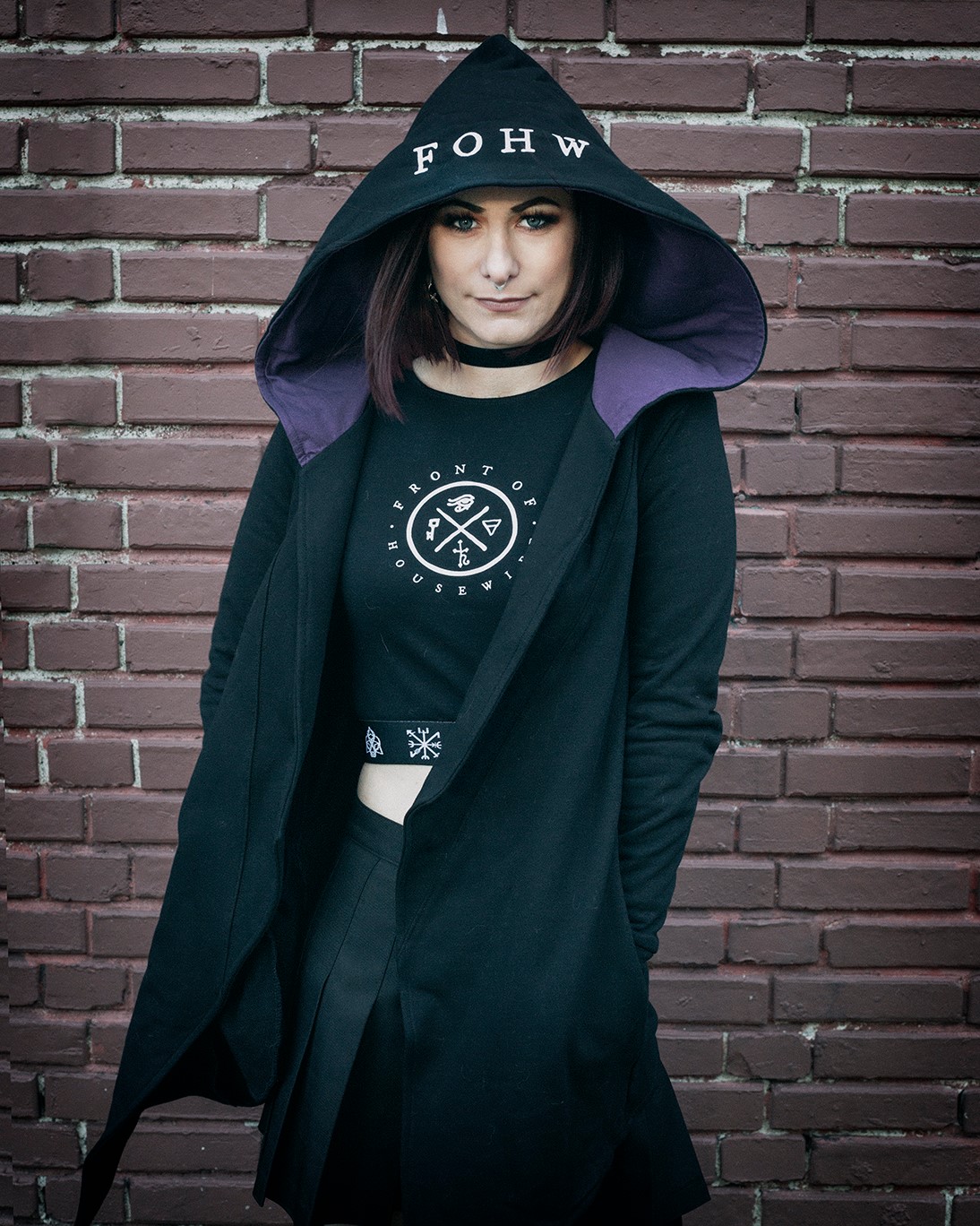 This is a new role for you amongst other roles you have with your husband, Seven Lions. What has been the most challenging part of creating FOHW and bringing it to life? 
For the most part, this has been such a fun experience that has pushed me out of my comfort zone and into a creative space. I would say the hardest part of all of this has been putting my face out on a platform this large and letting myself be vulnerable. Jeff has been my biggest supporter and with the help of our team and all my badass friends, it has been easy to integrate this line into our busy schedules.
Will Seven Lions related artwork be a part of future FOHW releases? 
YES, definitely! I am constantly thinking of new ideas that would work well with my brand and how I can incorporate subtle aspects of the Seven Lions world into them. I have a few ideas in mind for future projects as well as releases that will bring some of that to life.
You've traveled all over the world and are familiar with traveling from event to event so, with that in mind, what are some FOHW or fashion must-haves for those working from festival to festival? 
The first thing I think of is leggings, you can travel in them comfortably and easily transition them into a cute outfit. They also don't take up a ton of space so they are easy to pack into any size luggage. A small backpack is a must to help you stay hands-free but still keep all of your must-haves close by. A few other items needed are a coat to keep you warm when the temperature drops at night and comfortable shoes.
As someone so very experienced in working behind the scenes, what are some common errors in fashion choices you see that should be avoided? 
Shoes are MOST important in my opinion. I constantly need to run between backstage, front of house as well as around the entire grounds of a venue/festival. I can't do it in uncomfortable shoes. My favorite pair of shoes for work are Doc Martens.
Another mistake I see is wearing bright colors. I love bright colors, don't get me wrong, however, I have learned that most of the time you need to be unseen so you don't take away from the show at all and black or dark colors are best for that.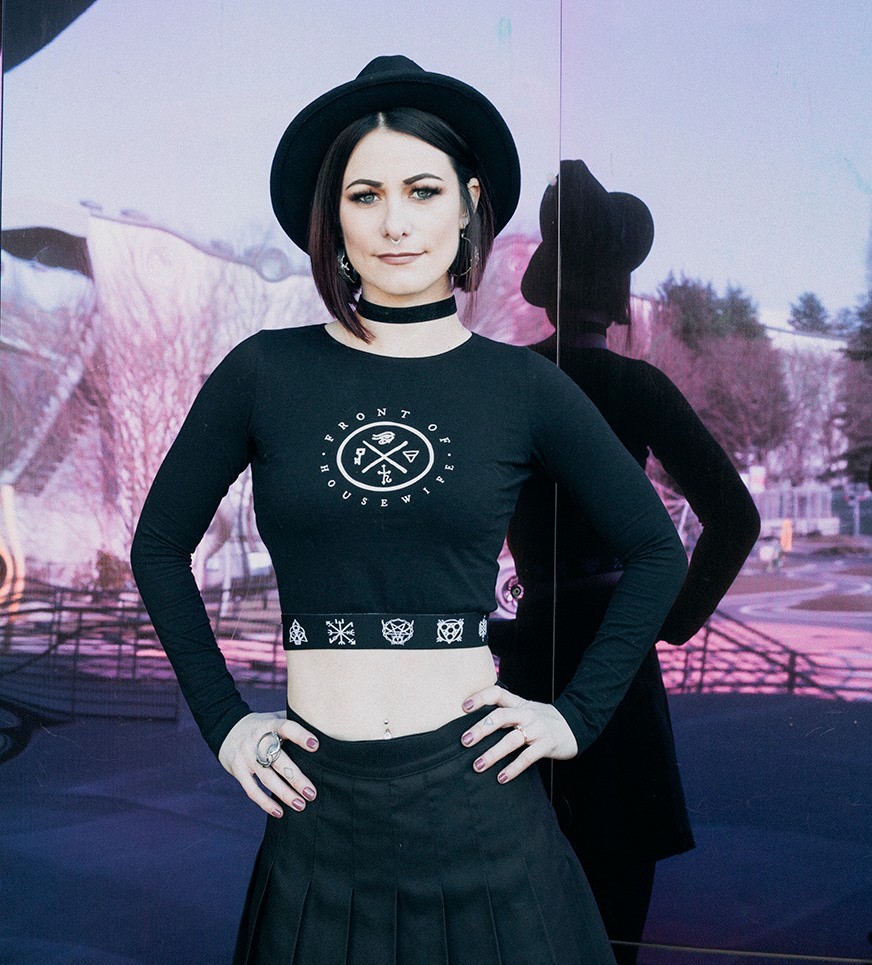 Although FOHW is currently branded for badass women, do you have plans for a Front of House Husband collection? If so, what type of men's clothing will be part of the line? 
Yes! I definitely have plans for menswear as well. I have a few items in the works currently. Surprisingly, men's clothing is a bit more of a design challenge for me but I'm working on pieces I think they'll like. I also have ideas for "his and hers" items, which will be a fun addition to the line.
You are no stranger to the festival scene whether it's backstage or in the crowd, what trends do you see taking off during festival season in 2019? 
This is a tough question. I feel like I know so many unique people in the festival/music scene that no one style or trend could outperform another. I am really into the minimalist fashionista this spring, however, comfortable statement pieces have been catching my eye lately. With every festival season, I am sure I will end the summer with looks that inspired by the creative people in this industry. We all feed off each other's energy and it's beautiful.
---
Follow Front of House Wife on Social Media: