Time and again, we always see the question – what shoes should you wear to a festival to protect your feet? Fortunately, we've got you covered.
---
Festivals can be one of the most epic experiences of your lifetime – but they also come with a variety of stressors, not the least of which can be the fact that you're spending hours on your feet walking, dancing, and otherwise moving around, sometimes on uneven terrain or even just uncomfortable asphalt or concrete for hours on end.
There's often a big temptation to match your shoes to your outfit or to look as cute as possible, but there is one undeniable fact that you need to take into consideration when you're planning out your festival footwear: more people end up in the medical tent as a result of crappy shoes than just about anything else.
With that in mind, it behooves you (no pun intended) to care for your feet as best you can by making sure that the footwear you pick for your festival endeavors is as comfortable and well-suited to the circumstances as possible.
Related: Check out our Festival Health & Wellness Tips from a paramedic.
Fortunately, we've scoured the internet high and low to help you find everything you need to keep your feet safe and sound throughout festival season!
---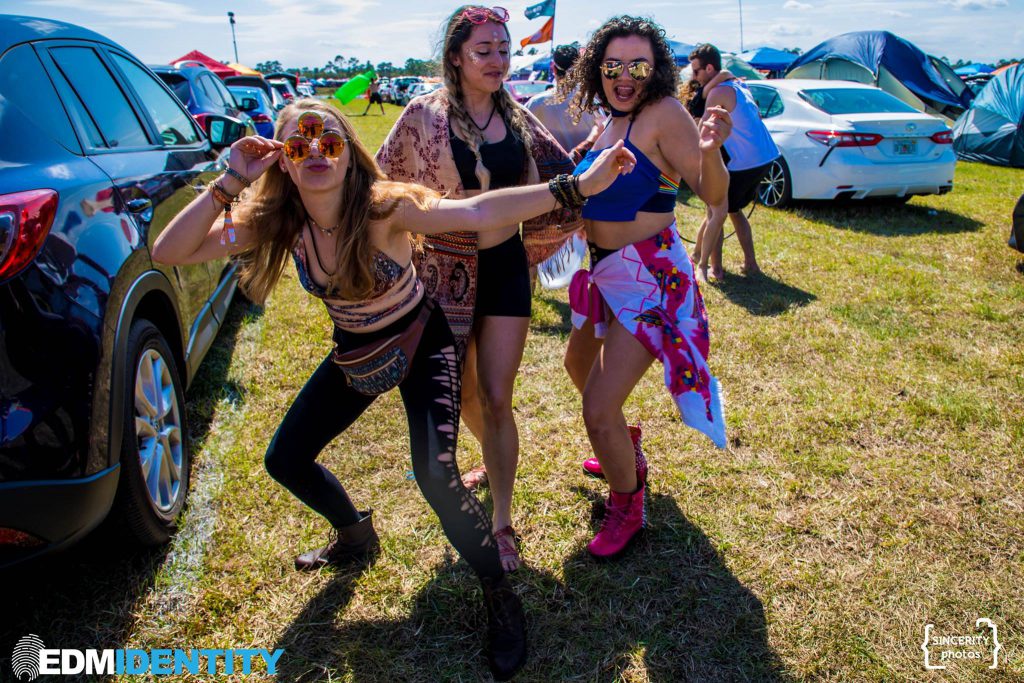 #1: Pick the right shoes, and make sure you break them in before the festival.
There is literally nothing worse than getting to a festival and realizing that you've picked a pair of shoes that are going to tear up your feet all weekend long. Fortunately, it's easy enough to prevent this: get a decent pair of shoes, and wear them around to break them in before you head to the festival.
As far as what shoes you should get, well, that's certainly under debate. The key themes you'll see from most seasoned ravers are a good pair of athletic shoes (die-hards in the EDC reddit group swear by Adidas Ultra Boost [which have both womens' and mens' options] and Nike Roshe [women or men]) or a pair of well-conditioned Doc Martens (women or men) if you're looking for a pair of boots, but be advised that they typically need a good amount of break-in time to be comfortable. Onitsuka Tigers also earned some solid mentions (and are a personal favorite of mine).
Many people swear by Converse, but others state that the flatness of the sole can be very difficult if you're dancing around on asphalt all day. Still more say that Crocs are their favorite things to dance around in, though there's certainly a trade-off that you're making from a fashion perspective if you go that route (not to mention the fact that backless shoes come with their own pitfalls).
If you're looking for a pair of sandals in the heat, be cautious, as in dense crowds, it can be very easy to get stepped on. That said, if you're opting to go sandals instead of shoes, Chaco, Teva, and Sanuk all make great lighter footwear options, and these can be a boon if you find yourself with a blister on your heel from your shoes, too. Word to the wise: stay away from plastic flip-flops; since they lack any sort of arch or foot support, you'll be doing yourself more harm than good.
---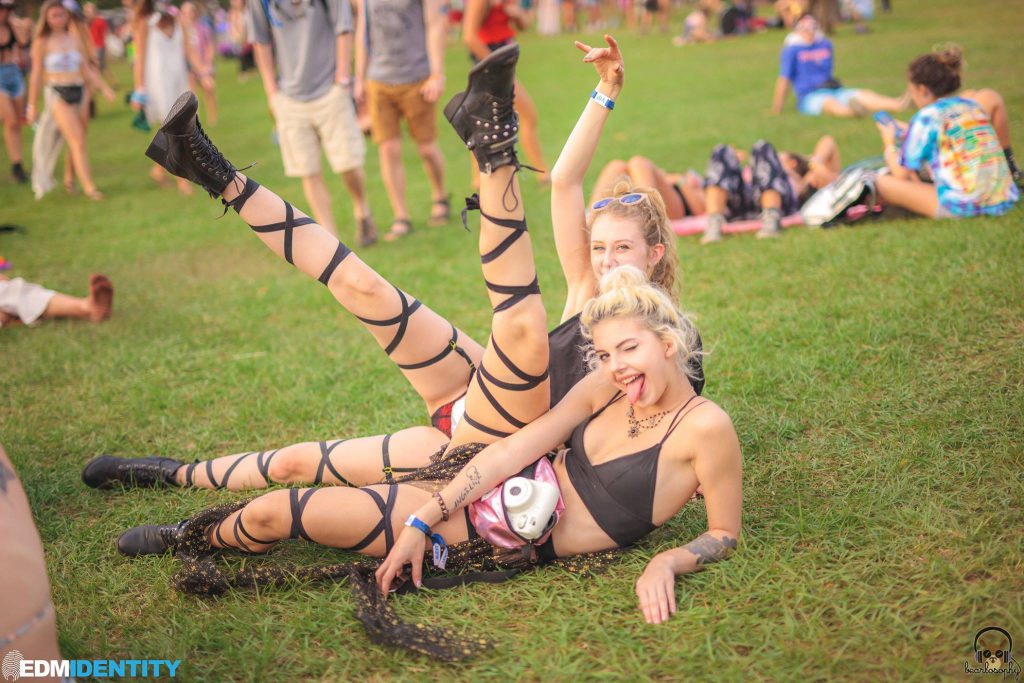 #2: Get some decent insoles and a good pair of socks.
If you've got a pair of shoes that doesn't have significant arch support or that are going the way of the dinosaur, the best single thing you can do for yourself in a pinch is to invest in a decent pair of insoles. Dr. Scholl's makes great gel inserts for both men and women, and they are easy enough to switch out once you've danced them down to the point where they're no longer super reliable.
If you're wearing shoes and not sandals, do yourself a favor, and get a good pair of socks, too. That means no cotton – invest a little extra money in a pair of wicking athletic socks that will keep the sweat off your feet. And make sure to change them every day, especially if it's wet out. Trust us – your feet will thank you later. Check out some decent pairs for men and women on Amazon.
If you're wearing boots, the key is a good pair of hiking socks, ideally tall enough to ensure you don't have too much bare leather rubbing against your skin. Smartwool and Darn Tough both make great socks that will last you for many years of festivals!
---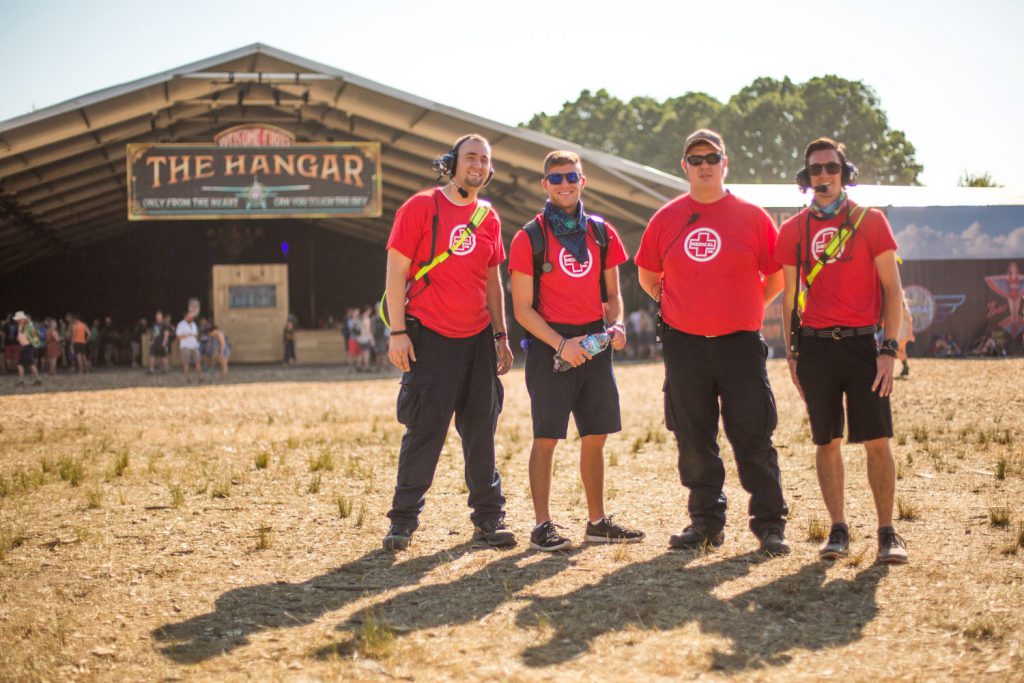 #3: If you screw up your feet, take care of them afterward!
Listen, it happens – even if you think you've broken in your shoes and you've done the best you possibly can to plan ahead, you still might get blisters on your feet. Fortunately, that's not all she wrote! Just plan ahead with a little bit of gear, and you're all set.
If you pack a decent first aid kit, you've got three options: molefoam, moleskin, and Band-Aids (in order of best to worst). Molefoam is great for preventative care or after you've already got an injury – just put it on your foot where you have a hotspot (or around the blister if you already have one), and boom, your shoe will no longer rub against your foot.
Moleskin is good for straps on sandals or spots on your feet where you're feeling rubbing, but it's not quite as padded as molefoam. You can typically cut it to whatever size you need, so if you're feeling a blister coming on or you can tell your shoes aren't the most comfortable, a little bit of this stuff will help to make sure you don't end up with a blister the next day.
In a pinch, a Band-Aid will do the trick – if you've got a blister, it's always better to cover them up. Speaking from experience, don't skimp on the Band-Aids, either – get a name brand, ideally flexible fabric or plastic strip and make sure to remove and reapply daily.
Above all else, do not under any circumstances pop your blisters without medical attention, especially not outside at a camping festival. Getting dirt into an open wound is a good way to earn yourself a trip to the medical tent with an infection. That said, if you find yourself with a foot injury and no supplies to take care of it, take a trip on over there and let them help you out – typically, the medical tent has ample supplies for just such a situation, and they're always more than happy to help.
---
Do you have any shoes or footwear secrets that you swear by for festival season? What did we miss? Let us know in the comments!