Fresh off the release of his new album, XV, Dirty South is already back in the studio. Check out our chat with him about his plans for his upcoming album and 2018.
---
Dragan Roganovic, better known to fans around the world as Dirty South, is an artist who, at this point in his career, needs little introduction; the accolades speak for themselves. Twice Grammy-nominated, he's collaborated with some of the biggest names in the game, including Axwell and Alesso, and headlined festivals across the globe.
Roughly two months after the release of his brand new album, XV, he's racked up incredible critical acclaim for his newest LP with over 5 million streams on Spotify alone. And even then, he shows no signs of stopping anytime soon and is back in the studio working on music for his next full-length release.
Read on to learn more about his latest album, his plans for his upcoming LP, and much more. And make sure to stream his brand new album below–it's a stunner.
Stream Dirty South – XV on Spotify:
---
First things first–you released your newest album, XV, a little over two months ago, and the reception has been nothing short of incredible with over 3 million streams on Spotify, support from Pete Tong, and positive reviews across the board. What has it been like to see that kind of feedback and love for your work?
The reception has been amazing! I am really happy that people have embraced the album. We are closing in on nearly 5 million Spotify plays alone, which is incredible for me. I'm also very happy because the album has been supported by all different genre DJ's so it's nice to see the album walk that fine line between different styles of dance music.
You mentioned that you had gotten bored with electronic music in recent years and that putting this album together helped you to rediscover your fire. Can you share with us what the journey of crafting the album was like, and how it rejuvenated you musically?
I've been doing the Dirty South project for about 15 years now so I think it's natural to get bored of things and to evolve and that's what happened with me. I got into filmmaking a few years ago because I needed a new avenue to create. Taking this little break from dance music helped me take a fresh new approach. When I got back into it, I listened to some new sounds that were more club based, more melodic, a lot of sounds that I wasn't producing before or exposed to previously. All this helped shape the sound of XV.
There is such a wide variety of music represented on the album, from the banging "Sonar" to the beautiful, dusky "Love Story" featuring Rudy–but it's all got those elements that make it so obviously your work, from the sparkling synths to the groovy rhythms. Can you tell us a bit about some of the risks you took with this album? 
I'm not sure I would call them risks, but to me, it's all about if the music feels right to me. Of course, the whole album is a risk in a sense that I'm evolving my sound and giving people 10 brand new tracks and not knowing what's going to happen but that's also exciting especially if it works out.
You took a risk in releasing XV on your own indie label. What did you learn from that process?
I've had my label for a few years now and I've always been a fan of releasing music on my own terms. Yes, it is a risk because everything is self-financed, but at the same time, everything is self-decided. I make all the choices for everything required to put a release out and it's quite rewarding when it all comes together. I do an occasional collab with another label every now and then and that can work too.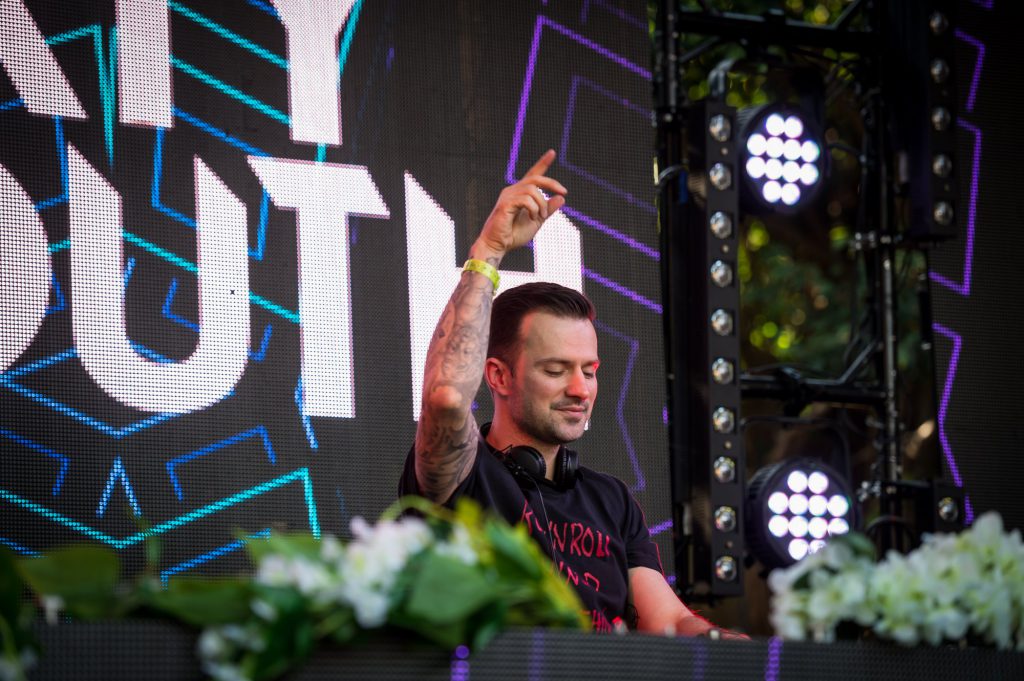 You also played at the Axtone party at Miami Music Week alongside artists like Bob Sinclair, CID, and of course, Axwell himself. What are your thoughts on how Miami Music Week compares to other big events and festivals that you've played?
I had a great time playing the party and also in general being at MMW. This year I kept a low profile and visited a couple of pool parties and caught up with some DJ friends I haven't seen in a while. It's still a great place to come even though I think a lot of the focus has shifted from South Beach parties to the big Ultra festival
You recently concluded your XV tour, including a 4 1/2 hour set at Avalon Hollywood in Los Angeles. Was there anything particularly special about that tour?
Yes, it a great run of shows. LA was great as always. I love playing Avalon and doing long sets when I can. I did an amazing show in Vancouver at Celebrities also. I wrapped up the tour in Texas with the last weekend of two shows and they were insane. The crowd was on another level! They had so much energy.
You mentioned that you've been working on a remix of a Lane 8 track, which, given your two sound profiles, we're incredibly excited to hear. Can you share anything with us about the remix?
I did a remix for the track "No Captain" and I'm really happy with it. Daniel just premiered it on his recent Essential Mix so hopefully, it will be out soon.
As if creating one album weren't enough, you've said that you're already working on your next full-length release! When can fans expect to get a taste of what you're working on, and do you have any special surprises in store for the next LP?
Yes, I'm already working on new material. It's still early days as XV just dropped but I'm excited to be back in the studio and touring a lot less. That's really my comfort zone, to be in the studio and jam on ideas until something interesting comes out. As far as the next album, we shall see what it will be exactly, I have to make the music and let that guide everything.

You've collaborated with some huge artists in the past, including Alesso, Axwell, and many more. Do you have any plans for any more collaborations anytime soon?
Nothing planned yet, I'm just in the studio experimenting with sounds and coming up with ideas for now but you never know 🙂
Fun question: if you could only listen to three albums for the rest of your life (any artist, any genre), what would they be and why?
1. Bob Marley – Legend (I grew up on this album and this album puts me in a great mood. It's all feel good music.)
2. The Doors – The Very Best Of (Another album I grew up with. Amazing songs and just shows that it doesn't matter if the music is 40-50 years old, good music will live forever.)
3. Nirvana – Nevermind (Again, I grew up on this album, but recently my 4-year-old son has discovered it and we've been rocking to it on our morning school runs.)
Finally, what else do you have up your sleeve for 2018?
More studio and hopefully more music with some touring in between.
---
Follow Dirty South on Social Media
Website | Facebook | Twitter | Instagram | SoundCloud