Audiotistic is returning to SoCal for the first time in six years later this month. Learn more about how this festival came to be! 
---
After spending the past two years in NorCal, Insomniac's Audiotistic has finally announced their return to the NOS Events Center in San Bernardino on December 29. Despite having a killer lineup of music that features some of the top names in the scene today, this storied brand has had a rocky history. Check out the lineup for this year's edition of Audiotistic SoCal and read on to learn a little more about where this festival came from.
Audiotistic was created by Meelo Solis in 1997 as a one-day, all night dance party.
Initially focused on Techno, House, and Drum and Bass, Meelo was interested above all in creating an event where DJs could thrive. Billing the festival as the "largest scratch DJ/turntablist event in the world", he ruled that any genre of music where records could be played and songs scratched was fair game. The early days were filled with Electronica, Acid House, and Big Beat.
Despite their niche appeal, the early Audiotistics were a success, bringing in upwards of 40,000 people at their height. But even as audiences climbed, the festivals were evolving in unexpected ways. Playing at the 1998 edition, hip-hop DJ QBERT played an electrifying set that sent the crowd wild. Soon after, people were clamoring for more, and so next year Audiotistic introduced its first live act.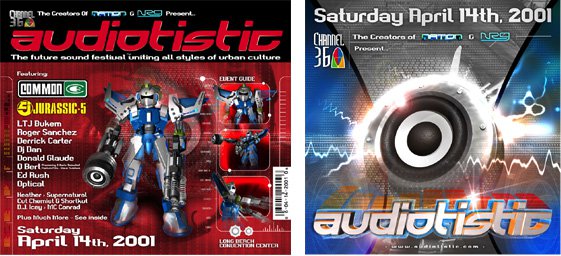 Kicking things off in 1999 with De La Soul, hip-hop wouldn't become a driving force of the event until 2002, where artists such as Outkast and The Roots dominated the lineup.
Despite a natural interest to include a diverse range of genres, the stacked lineup was partially a calculated move. According to one of the early backers, the increasing emphasis on rap was "to try to make [the festival] more mainstream".
And what were they chasing by going more mainstream? Brands and vendors, of course. Boasting that the 2002 Audiotistic featured more than "30 vendors", that year's event made a big push towards feeling like the festival of the moment. Outkast's album had just been nominated for Album of the Year at the Grammy's, Talib Kweli was a rising star, and the festival itself even went hard into LA skate culture, building an on-site skate ramp created by skate legend Chad Muska and running a $5,000 skate contest.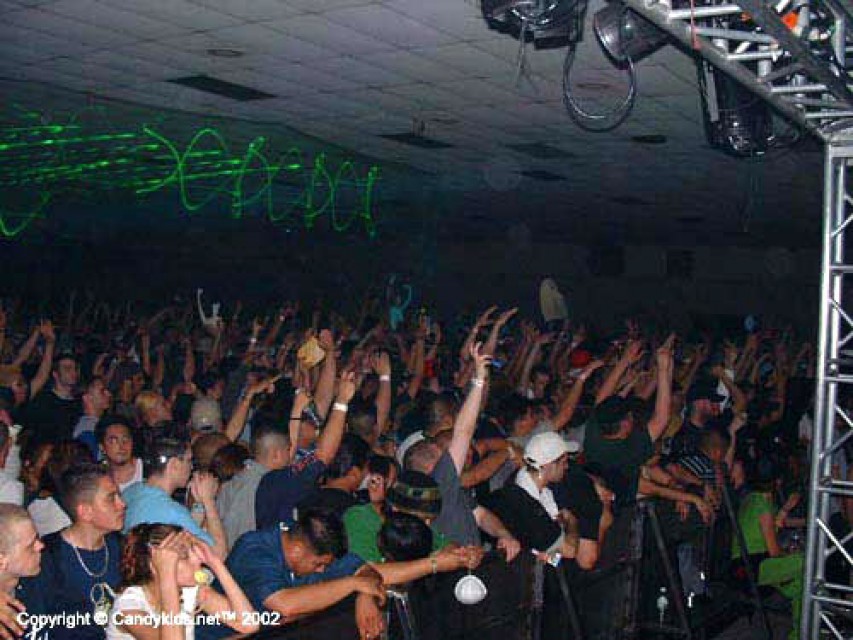 As weird as it sounds to have a skate park inside a rave, these were different times. The vibes were all about "happy hip-hop", according to Solis. Audiotistic wasn't a massive or a rave, but a "future sound festival", eager to bring the freshest artists and the newest tracks straight to your eardrums.
For Solis, things seemed personal. "We're dealing with two demons in the general public's view," he said. "First, the perception of hip-hop being associated with guns and violence, and the perception of techno and raves being associated with the drug Ecstasy. But our track record speaks for itself. We've never had a single violent incident or drug overdose at Audiotistic."
However utopian the 2002 season was, things seemed to have peaked soon after.
There are flyers out there for the 2003 festival, headlined by Nas and The Chemical Brothers, but by 2004 the trail's gone dark. There isn't as much of an online footprint for these years. No lineups, no photos, no records. Not even any forum posts, as far as I could find. The only thing out there is a flyer promising that the festival "will return" in 2007, though I can't find proof that it did. It looks like their official website might have moved to Myspace, and that hundreds of reboots have wiped any history of it on there clean.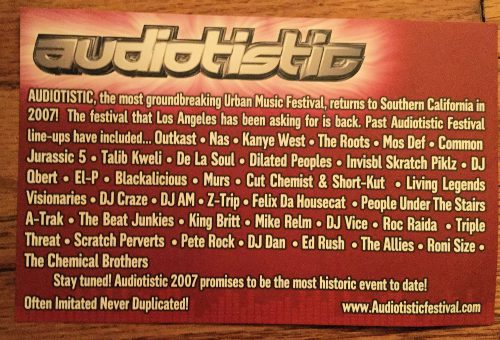 In 2009, Insomniac bought the Audiotistic brand, began retooling it in their image, and relaunched the festival.
Gone were the four pillars of House, Hip-Hop, Techno, and Drum and Bass; in their place were four stages, two dedicated to Hip-Hop, two dedicated to a typical Insomniac mix of genres. Above & Beyond, Goldie, Armand Van Helden, and The Roots headlined. The venue to host the party was the NOS Events Center, and it would stay NOS.
This would be the structure that the festival would adhere to for the next two years. Four stages, divided by genre. A one-day festival focused on a mix of popular genres and good vibes. An emphasis on big names with a few slots reserved for classic talent. Still, despite the shake-up, the numbers were slipping. 2010 drew 25,000 people, but 2011 pulled only 19,000, half of what Audiotistic had in 1997.
On Twitter, Pasquale broke the news. Audiotistic would be skipping 2012 and returning in 2013.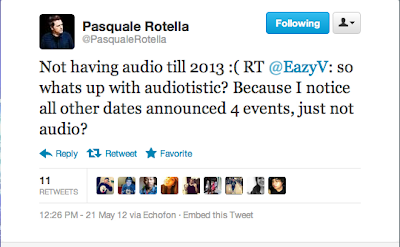 The reason given? Officially, the logistics didn't line up. But since Audiotistic didn't come back in 2013, or even 2014, it looked like the festival had been put to pasture, and the brand was dead.
Then, in 2015, the name started showing up again, this time hosting the cosmicMEADOW stage at EDC Las Vegas. Oddly, the cosmicMEADOW lineups didn't necessarily reflect the Audiotistic brand: not a single Hip-Hop artist played that stage for all of 2015.
After hosting another stage in 2016, Audiotistic was finally back as a full festival in 2017 — with a few caveats.
First, was that it was abandoning its SoCal home and heading north to the Bay Area, where it would stay for the next two years. Second, was that it was downgrading from four stages to two. Lastly, instead of neatly dividing the stages based on genre, they were now split on popularity, with the biggest on one stage and the smaller ones on the other.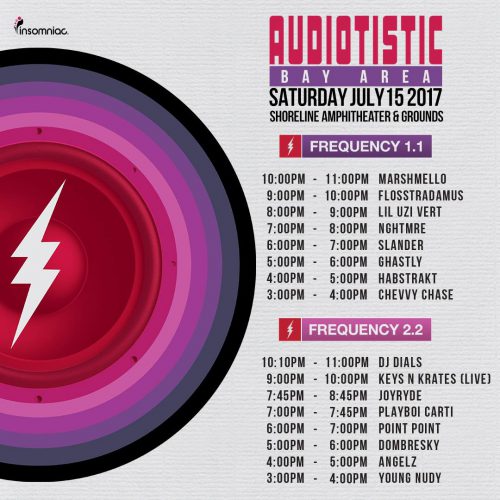 Now, after two successful years in the Bay Area, Audiotistic has finally returned home to SoCal for a night that looks as good as ever.
Porter Robinson, Lil Uzi Vert, Chris Lake, and many more will all take the stage on December 29, just two days before the Insomniac's NYE festival Countdown. This looks like a real win-win for Insomniac, check out the full lineup for more details.
Last year Countdown NYE was a two-day festival, but it didn't feel like it. The first day felt sparsely populated, with the attendance more than doubling on New Year's Eve itself. By removing that first day and having a completely different festival take its spot, they can grab the people staying the whole weekend for Countdown and people interested in more diverse musical genres. It seems like a good move, and it'll be interesting to see if they continue it in the future.
Whatever happens, I'm excited to attend my first-ever Audiotistic, and I hope that this gave you some insight into how it came to be!
---
Connect with Audiotistic on Social Media: