Welcome to The Landing, EDM Identity's weekly post highlighting fresh tracks you may have missed!
---
In each edition of The Landing, we intend to highlight some tracks that have landed in our inbox each week that you may have missed, or perhaps shine a light on new music for you to fall in love with.
This week's edition of The Landing features fresh tracks from Andy Moor & Somna & Monika Santucci, Nora En Pure, Kendoll & VNSSA, ICARUS, and more!
Listen to some of our favorite tunes from this week and past editions in our playlist and read on for more details on the tunes added below!
The Landing || Volume 097
---

Andy Moor, Somna and Monika Santucci celebrate AVA Recordings 250th release with "Free Fall"!
AVA Recordings is a label that is known for out-of-the-box trance tracks and artists. Never one to reject up-and-coming artists, AVA has the distinction of curating a diverse music catalog from amazing artists around the globe and helping launch and progress careers. This is one of many reasons why the label has stood for 11 years and is now celebrating its 250th release.
As with many of the milestone releases, label-owners Andy Moor and Somna team up to release a beautiful melodic progressive track. This time they collaborated with singer Monika Santucci and the sultry and vibrant "Free Fall." The result is a gorgeous vocal trance track that is sure to take listeners through an emotional journey. Let go and surrender to the sounds of AVA's 250th release! – Abisola
Download or stream "Free Fall" on your favorite platform and check out the official lyric video on YouTube!
---

Raiden x Tom Tyger crank up the energy on new release, "Electric".
It's been some time since Raiden and Tom Tyger teamed up to drop "C'est La Vibe", and this DJ/producer duo has collaborated again to bring us "Electric", released on Nicky Romero's Protocol Recordings label. This track is a lot of fun and blurs the line between big room and basement club sound.
"Electric" features a progressive house vibe sprinkled with underground sound elements.  This track incorporates a driving bassline, catchy lyrics, and funky melodies, and when combined, it is truly representative of its title. This is a track we will be hearing in sets at festivals in the upcoming year. Give it a listen and prepare yourself for festival season 2019! – Bill
Stream "Electric" on Spotify or watch the video on YouTube.
---

Josh Bailey Comes Back Home to OHM Music With "Jaiya".
If you are looking for music with emotional pull then look no further than OHM Music's very own Josh Bailey. In 2018, Josh stepped back a little to focus on his musical vision, releasing just a few pleasure-enhancing beats that include the fun-filled drive of "Snapback" while dropping us in a groove with his Summer Mix 2018 and putting the pep in our step with "Pari". This week, Josh Bailey gets us warmed up for the winter ahead with "Jaiya" and we couldn't be more pleased with the result.
I can feel all of my inhibitions fade away as the sweet essence of trance fills the room. This is a track that will pull you out of yourself as you float weightlessly among the soft melodic flow. As I am met with in-your-face stabs of synth soaked power, "Jaiya" finds a magnificent balance in sound as this is an auditory anthem perfect for the big festival dance floor and intimate club setting alike. – Maria
Stream "Jaiya" on SoundCloud.
---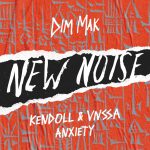 Kendoll & VNSSA drop heavy bass with "Anxiety" on New Noise.
Budding house DJs Kendoll & VNSSA release a funky breakbeat, heavy bass number, "Anxiety." Courtesy of Dim Mak Records, "Anxiety" is part of their New Noise music discovery imprint, offering copyright free music for listeners and streamers alike. New Noise hosts new artists and cutting-edge music, curated by Steve Aoki and the Dim Mak crew.
If you're faced with stress these holidays, remember the recurring hook, "Relax, you can handle it, just chill and get a grip." Then, proceed to space out to the far out sounds of "Anxiety." Spacey, wobbly rhythms and heavy bass meld with sly, sultry vocals. An upbeat BPM from start to finish drives the rhythm amid plentiful otherworldly sounds. – Darris
Download "Anxiety" on Hive or stream "Anxiety" on SoundCloud and several other services.
---

REZZ and Blanke scramble frequencies with "Mixed Signals"!
REZZ has undeniably become a household name in the electronic music scene in 2018. Snagging top billed spots at festivals across the globe her aggressive and dark sound have permeated airwaves and speakers everywhere.  With the release of her sophomore album A Certain Kind Of Magic as well as a handful of insane singles and collaborations, there is no slowing down Space Mom as she continues to dazzle fans with new releases.
"Mixed Signals" is the most recent concoction from REZZ and Blanke. The track takes on the best attributes of each artist and merges to become a heavy energy-boosting alien track. With staple REZZ keys, the intro builds up into an electric drop where we get sound wafts of Blanke. After hearing this track I immediately looked into Blanke's productions and if you are a fan of REZZ take a peek at his. You will find something you like! – Zach
Stream "Mixed Signals on SoundCloud and Spotify!
---

Wooli and Samplifire provide the perfect bass-heavy remix to Seven Lions' "After Dark"!
It's always great seeing producers remix each others' works. It completely reinvents the song, sometimes in an entirely new genre! Seven Lions and Blastoyz came together on "After Dark" and made an ominous psytrance track. It's a different sound for Seven Lions, but it's still an awesome song.
Bass music producers Wooli and Samplifire joined together and flipped "After Dark" on its head. Their version is wildly different than the original by Seven Lions and Blastoyz, but in the best way possible. It still incorporates Fiora's beautiful vocals but leads up to a dubstep-heavy drop. It's a track that is guaranteed to get your energy up! – James
Stream "After Dark" (Wooli X Samplifire Remix) on SoundCloud!
---

Nora En Pure puts her spin on "8 Letters"!
Coming in hot after the release of the absolutely majestic Polynesia EP and a performance during FRIENDSHIP, Nora En Pure has another fresh tune for listeners to soak in. Taking the title track from Why Don't We's 8 Letters and giving it her own twist, this remix is a solid addition to any playlist that blends both chill and dancey beats. While the original is a pop tune through and through, Nora En Pure alters "8 Letters" to bring it to the electronic space and offers up a solid take. Much like her original work, expect a track that will have you imagining you're in paradise as your worries melt away with each passing note. – Grant
Stream "8 Letters" (Nora En Pure Remix) on SoundCloud!
---

ICARUS remixes RÜFÜS DU SOL's "Lost In My Mind".
One of my favorite duos in the dance music scene right now, ICARUS has been leaving a lasting impression on me with release after release. Now, they're breathing new life into RÜFÜS DU SOL's recent single off SOLACE, "Lost In My Mind," to have us drifting off in their expansive soundscape. The remix, which was paired with a take on "No Place" by Will Clarke for the SOLACE Remixes Vol. 3 package, is an absolute gem that completely reinvents the tune while still retaining all the emotional elements that were found in the original. This is a must-listen so strap in and take a trip! – Grant
Stream "Lost In My Mind" (ICARUS Remix) on SoundCloud!