Icarus sat down to chat about their latest releases, how they approached their BBC Radio 1 Essential Mix, and so much more!
---
UK house duo Icarus has been quickly rising through the ranks of the electronic music scene with their stunning studio productions and sets that have left crowds speechless. The work of brothers Tom and Ian Griffiths has already been noticed by fellow artists and tastemakers in the scene as well as they took the stage at Together in Ibiza this summer and were given the nod for a BBC Radio 1 Essential Mix to show off their stylings earlier this year.
Recently releasing singles "Man of the Land", which saw Icarus team up with Real Lies, and "Echoes", their sweeping soundscapes leave a lasting impression that keeps listeners coming back for more. Currently on the road with RÜFÜS DU SOL on the SOLACE Tour, they've continued to spread the message of their music across North America, playing their hearts out in San Diego, Los Angeles, and more.
Listen to "Man of the Land" on Spotify below, download or stream the track on your favorite platform, and read on for our chat with Icarus to gain some insight into their work. Check out the full list of upcoming dates of the SOLACE Tour to see if they'll be playing in a city near you!
Stream Icarus – Man of the Land on Spotify:
---
Congratulations on the release of "Echoes" and more recently "Man of the Land", both tracks are absolutely fantastic and ones I've really loved listening to. When you're both in the studio is there a certain way you go about your production process and does that differ when you create a track with vocals?
Thanks so much! Glad you're enjoying them. To be honest we don't have a set process when writing. Sometimes we'll start with a chord progression and go through different sounds until something catches our ear. Or we'll start with a lead line idea, or write to an acapella, or even start with a drum groove. It varies every time.
With "Echoes" we used mainly the Korg MS20 Mini, so we messed around with that for a while until the arp idea came about and built the track around that. "Man Of The Land" was a slightly more drawn out process. We started the main chord and bassline idea and wrote it as sort of a 'groove' that we knew we wanted to get a spoken word vocal on. The demo was then sent on to Real Lies and when it came back with Kev's vocal on it we instantly loved it. It took about a month get it to where we wanted.
"Echoes" features some sweeping, progressive soundscapes that are absolutely stunning. Where do you draw inspiration from when you're looking to create instrumental tracks that paint pictures in the minds of listeners like this one?
Thank you! Inspiration comes from different places. It can be from some music one of us has listened to, the current mood we're in or even the weather outside! Sometimes we're influenced by the shows we've played over a weekend too. With "Echoes" we knew we wanted to write an instrumental club track. We tend to use vocals quite a lot in our records so it was refreshing to work with more music for that tune.
With the release of these two tracks, you've shown off the direction you seem to be heading stylistically. Can fans expect more releases like this to surface as we approach the end of the year?
We're glad that's coming across. We do feel like we're in a nice flow with our music lately. We have two more pieces of music dropping before the year's out. They're not exactly like "Echoes" and "Man Of The Land" but we do think they make sense as a collective.
Playing as DJs but also bringing a live band for select shows creates two different experiences for fans to take in your music. How different is the preparation for the live shows compared to those where you're both just behind the decks, and do you look at them from a different perspective?
They're both very different situations. For one, with the live show, it's purely Icarus music! Well, remixes too. 😉 When we first did that we felt very proud afterward that people had come to see us play all our own music. We do still want to take people on a sort of journey with our live show, so we use our DJ experience to structure the set. We mix tracks together to keep the vibe of a DJ set and only have minimal breaks to address the crowd or bring singers on. We feel that live vocals give our show another dimension too.
With a DJ set, we wait until we're in the room to assess the atmosphere. We've tried planning sets in the past and it doesn't feel right. You can't react to a crowd like that. Plus, it's way more fun just mixing off the cuff! We think there's a balance of being a DJ and keeping a crowd happy/dancing but we also feel it's important to represent yourself as an artist and play what you want to play, or what you feel represents you and your project.
It seems like there has been an influx of artists incorporating live elements in some capacity to their sets lately, whether fully live or by bringing in specific instruments. What do you feel has contributed to this shift in the electronic music scene?
The DJ 'boom' has been going on for several years now and it seems that now people are getting hungry for different experiences as well as going to well-curated club nights. Obviously, DJing isn't going anywhere and we hope it never does, but live electronic music did seem to be put on the back burner for a bit when DJing came to the forefront of pop culture. It feels like an exciting time for live electronic music.
You've also been joining RÜFÜS DU SOL on their SOLACE Tour, which has already taken you to cities like Los Angeles and San Diego, but with upcoming dates in New York and Toronto as well. What has the tour been like so far, and are there any specific stops that you're excited to be playing at?
The Tour has been amazing so far and we're very grateful that the Rufus boys asked us to join them! We've never been part of anything like this before and it's such a great experience. We're learning a lot every night. The RÜFÜS DU SOL show is very inspiring to watch and the fans are so passionate, the whole experience is pretty humbling.
All cities have been cool to play in their different ways but a couple of highlights would be House Of Blues in Houston and Shrine Hall in Los Angeles. Both of those had such an amazing atmosphere. We're looking forward to all of the shows in the coming weeks as this is the first time we've ever played in The USA!
When you're on the road playing show after show and traversing the entire continent, is there a certain routine that you get into so that you remain in a healthy place physically and mentally?
It's quite hard to keep a proper routine going when traveling this much but we're all making sure we exercise, meditate, eat well, sleep as well as possible and not hit the alcohol every night! With a tour this long it could be easy to fall into bad habits but we're pretty disciplined and enjoy being healthy, so we're doing OK. 🙂
Earlier this year you guys were asked to create an essential mix for Pete Tong's renowned BBC Radio 1 show. What were the first thoughts that ran through your minds when the opportunity was offered to you, and what was the curation process like to create the vibe you wanted in that set?
It was an honour to be asked. It's every dance music producer's dream, right?! Once the excitement has calmed down you start to realise the magnitude of the task at hand! It's such a big deal in our world and obviously, you want to do your absolute best so we spent a good few weeks on it. It takes time to pick the tunes, figure out good mixes, figure out how you want it to flow etc. Plus there's two of us so we need to discuss everything and make sure we're both happy with the direction it's going in. We ended up very happy with the mix we presented and hope listeners enjoyed it too.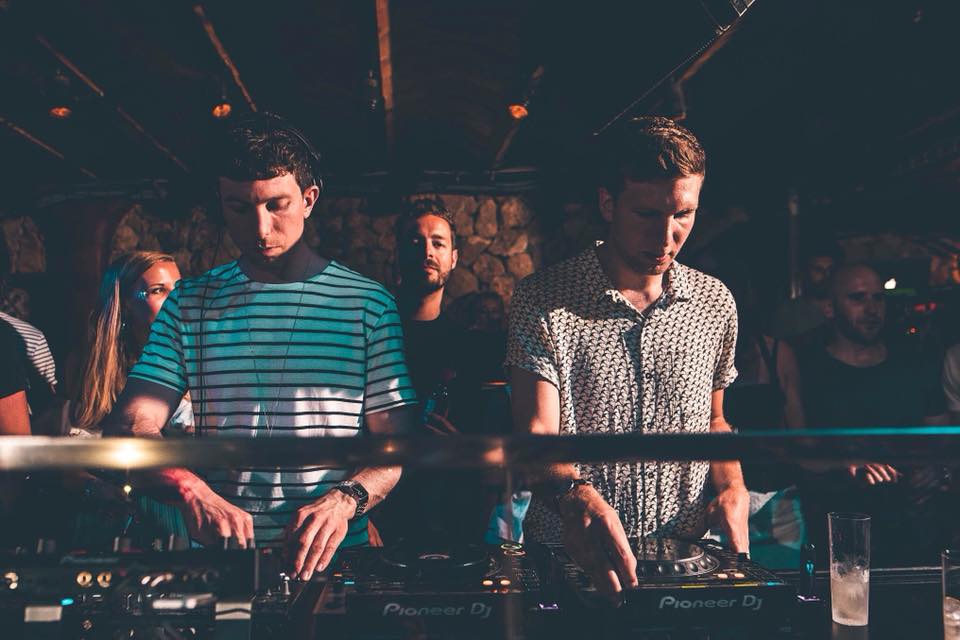 Your sets give listeners tracks that make crowds want to dance the night away while still incorporating elements that create an intimate atmosphere that keeps everyone coming back for more. Do you enjoy playing in front of crowds and picking up the vibe they're giving off more than creating a set in a studio?
Yes, we both do. It's a pretty cool feeling to really connect with a crowd and feel the same energy when you're DJing in a club or at a festival. It's the reason we all do it! Creating sets in a studio environment is still fun because it can be completely self-centered if you're only mixing for personal enjoyment but nothing beats playing to people, for us.
What do you both feel have been the biggest struggle that you've faced either artistically or professionally and how have you worked to solve or overcome it?
The biggest struggle was undoubtedly getting our career's to a stage where we could make a living from it. That took 8 years from deciding it was what we wanted to do to being able to quit the numerous part-time jobs we'd had to support the music! The only way to overcome that was to just keep going. There were a few moments along the way where we thought it might not be the right path for us but we're glad we stuck it out!  
Finally, as we're quickly approaching the end of the year, what has been a favorite moment that has stuck out to you as special?
We've had a few this year but playing Marble Factory in Bristol on our first live tour was a huge milestone for us. Hometown shows are always really fun but putting on our own gig and having people actually buy tickets to come and see us felt incredible.
---
Connect with Icarus on Social Media:
Website | Facebook | Twitter | Instagram | SoundCloud | YouTube