Kick off next year with Destructo's Let's Be Friends Again Tour, which will hit major cities like Brooklyn, Miami, Los Angeles, and more!
---
Gary Richards, otherwise known as house wizard Destructo, announced the return of his successful Let's Be Friends Tour yesterday, aptly named Let's Be Friends Again. The tour will kick the new year off right, beginning early January in Chicago before hitting 14 other major US cities. Much like the Let's Be Friends Tour's 2018 edition, Let's Be Friends Again is set to conclude in March, with a closing out show in Houston.
This year's tour included support from some of the scene's freshest artists and Destructo will be joined by some great acts and rising stars in 2019 as well. Attendees will experience an exciting lineup of up-and-comers, including Parisian tech/deep house producer Sirus Hood. London's Redlight will also join the party, along with Noizu and J. Worra who will be bringing his infectious house/techno tracks aboard Destructo's music cruise FRIENDSHIP this month.
Along with the tour announcement, Destructo also released two new remixes of "Fucking Shit Up" yesterday, his hard-hitting collaboration with rap legend Busta Rhymes. The first remix is Troi Boi's take on the track, offering up his signature trap stylings, while the second is Destructo's own G-house reimagining of the original.
Check the full list of dates below, see who is playing in your city with Destructo, and snag your tickets to the Let's Be Friends Again 2019 tour before it's too late!
Stream Destructo – Fucking Shit Up (Remixes) [Feat. Busta Rhymes] on Spotify:
---
Destructo Let's Be Friends Again 2019 – Tour Flyer: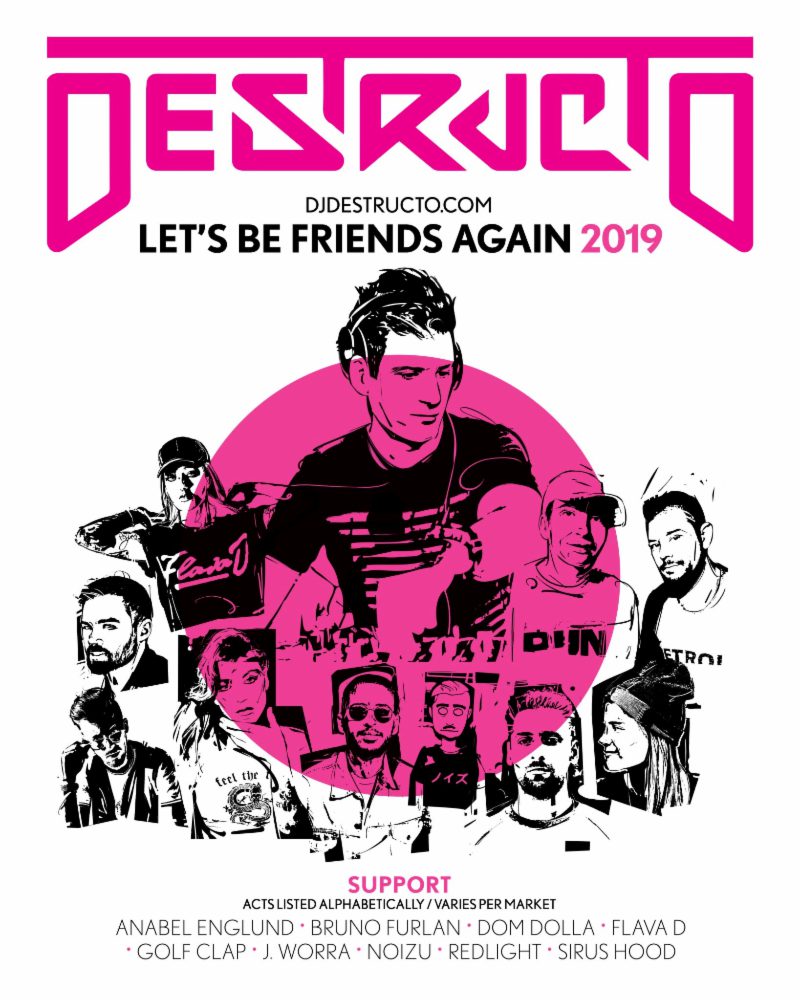 ---
Let's Be Friends Again 2019 – Tour Dates:
January 11 – Chicago, Illinois @ Park West with support from Sirus Hood, J. Worra
January 12 – Brooklyn, New York @ Lost Circus with support from Redlight, Sirus Hood, J. Worra
January 18 – Washington, D.C. @ Soundcheck with support from Noizu
January 19 – Denver, Colorado @ Temple with support from Noizu
January 25 – Toronto, Ontario @ Uniun with support from Bruno Furlan
January 26 – Pontiac, Michigan @ Elektricty with support from Burno Furlan
January 31 – Tallahassee, Florida @ TENN Nightclub with support from Sirus Hood
February 2 – Miami, Florida @ Ground
February 8 – San Diego, California @ Spin with support from Flava D
February 9 – Tempe, Arizona @ Shady Park with support from J. Worra
February 16 – Los Angeles, California @ Sound with support from Flava D
February 21 – Seattle, Washington @ Q Nightclub with support from Flava D
February 22 – Portland, Oregon @ 45 East with support from Golf Clap
February 23 – San Francisco, California @ Temple with support from Anabel Englund
March 1 – Austin, Texas @ Cedar Street Courtyard with support from Dom Dolla
March 2 – Houston, Texas @ Spire Nightclub with support from J. Worra
---
Connect with DESTRUCTO on Social Media:
Website | Facebook | Twitter | Instagram | SoundCloud | YouTube