Prepare yourself for FRIENDSHIP's Maiden Voyage with a major lineup featuring RÜFÜS DU SOL, Boys Noize, Dixon, Claptone, and so many more! 
---
With just a month away before All My Friends Festival comes to Los Angeles, don't think that DESTRUCTO's mind has forgotten about the first-ever edition of FRIENDSHIP. Few details surrounding the music cruise that is set to embark on December 11 have been released, but what feels like an eternity of waiting, the information about who will be taking the stage has been released!
The inaugural FRIENDSHIP sailing will feature some major headliners like Dixon, RÜFÜS DU SOL, Boys Noize, 2MANYDJS, Claptone, and Jackmaster. Dita Von Teese will be on board as a special guest and Giorgio Moroder will be the first-ever Guest of Honor. Shipfam who have made the jump to become Friendshippers will spot familiar names like Kill the Noise, Justin Jay, Anna Lunoe, Shiba San, and more.
Selling out in just 48-hours, the maiden voyage of FRIENDSHIP is a journey you'll definitely want to be joining. Those looking to set sail who haven't purchased a cabin can enter their contest for a chance to win a cabin for four!
Things are about to get crazy on the Celebrity Equinox this year, so stay tuned for more details and additional announcements as they surface. Meanwhile ready to groove on SHIP with this special FRIENDSHIP playlist curated by Destructo on Spotify!
Are you ready for the first FRIENDSHIP voyage? Check out the full lineup below and let us know in the comments!
---
AMFAMFAMF Presents FRIENDSHIP 2018 – Lineup :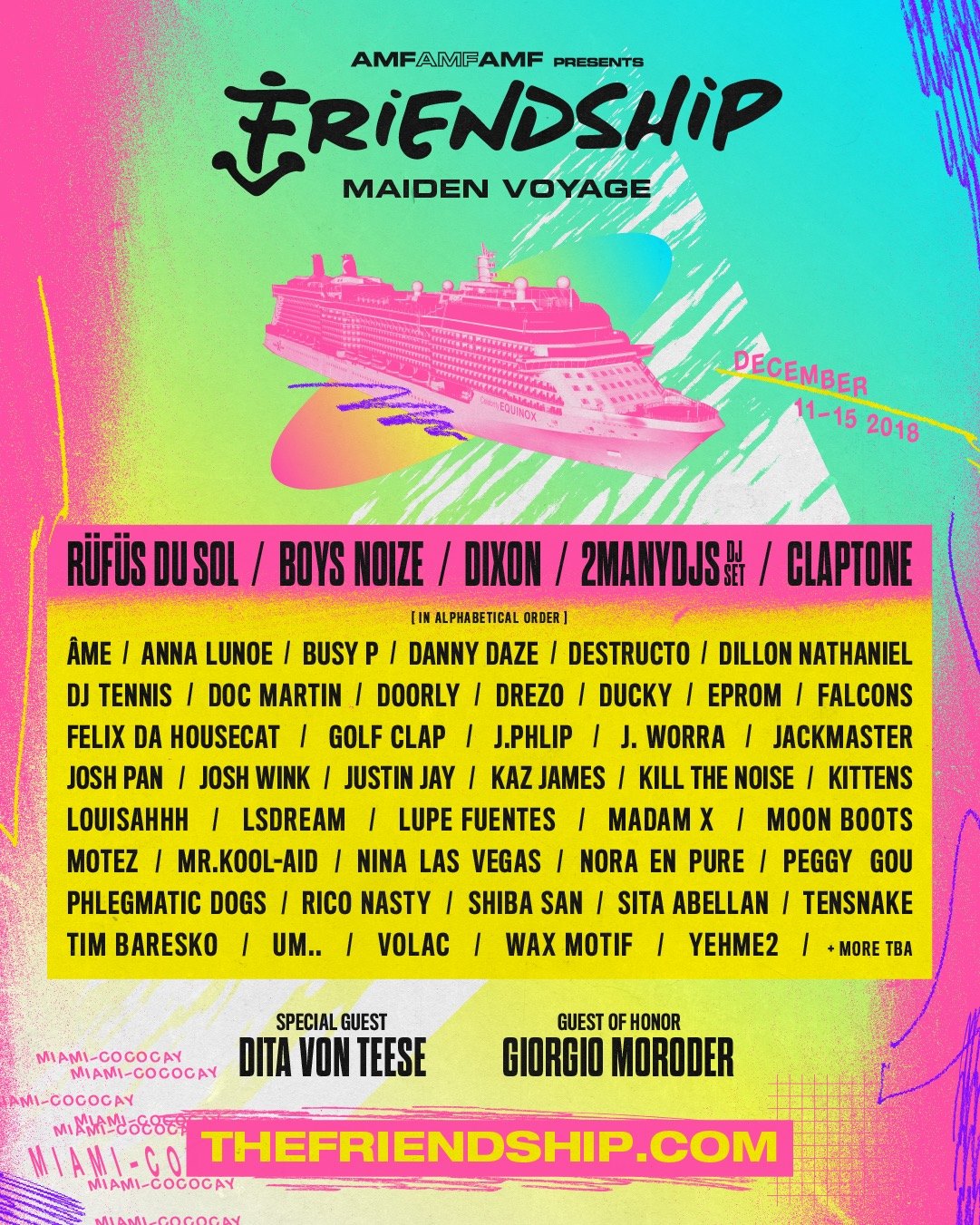 ---
AMFAMFAMF Presents FRIENDSHIP 2018 – Lineup By Artist:
2MANYDJS
ÂME
ANNA LUNOE
BOYS NOIZE
BUSY P
CLAPTONE
DANNY DAZE
DESTRUCTO
DILLON NATHANIEL
DITA VON TEESE
DIXON
DJ TENNIS
DOC MARTIN
DOORLY
DREZO
DUCKY
EPROM
FALCONS
FELIX DA HOUSECAT
GIORGIO MORODER
GOLF CLAP
J.PHLIP
J. WORRA
JACKMASTER
JOSH PAN
JOSH WIN
JUSTIN JAY
KAZ JAMES
KILL THE NOISE
KITTENS
LOUISAHHH
LSDREAM
LUPE FUENTES
MADAM X
MOON BOOTS
MOTEZ
MR.KOOL-AID
NINA LAS VEGAS
NORA EN PURE
PEGGY GOU
PHLEGMATIC DOGS
RÜFÜS DU SOL
SHIBA SAN
SITA ABELLÁN
TENSNAKE
TIM BARESKO
UM..
VOLAC
WAX MOTIF
YEHME2
---
Connect with DESTRUCTO on Social Media:
Website | Facebook | Twitter | Instagram | SoundCloud | YouTube
Connect with FRIENDSHIP on Social Media: