Fans flocked to Avalon Hollywood last weekend to witness Destructo and DJ Diesel at Let's Be Friends 2018! 
---
On December 1, fans, family, and friends gathered together at Avalon Hollywood for a special night of music courtesy of Destructo, aka LA brand AMFAMFAMF's own Gary Richards, and DJ Diesel, otherwise known as NBA legend Shaquille O'Neal. Aptly named Let's Be Friends, the event also promised more surprise special guests and a night that would stretch far deep into the night in Hollywood.
As soon as I heard that this would be DJ Diesel's debut LA performance, I knew that I would have to witness this monumental event firsthand.
As a long-time Shaq fan and avid viewer of his show Shaqtin' A Fool, which highlights the greatest basketball fails of the week, I realized that the opportunity to see one of my heroes' debut DJ performances would, most likely, not come around again. Because seriously, who wouldn't want to be able to brag that they saw Shaq in the flesh, not merely on the courts, but behind a DJ booth at an LA nightclub?! Plus, I've always been a fan of Destructo as well, so I was extra hyped for this event.
Fast forward to the day of the event and I, along with two of my fellow Shaq-loving companions, pull up to the Avalon in our Uber, passing a line so long it could only be to see one of the greatest NBA stars of all time. Thankfully, our tickets allowed us immediate entry, which meant less time outside, less shivering, and less of a possibility that I would convince myself that I NEEDED to purchase and devour a street dog pre-show (I definitely enjoyed one on the way out, however).
Once inside, we realized that we still had about an hour until Destructo would be taking the stage.
We grabbed a drink to pass the time and bobbed along to the opening act, observing the room while we waited. Before leaving my house, I expressed concerns of being both over and underdressed to my friends, who confidently assured me that both notions were absurd and that my heels and leopard pants were perfectly suited for such an exciting occasion. Looking around, I still felt just as uncertain as I had while getting in the Uber.
There were plenty of people in heels, but then there were also plenty of people in sneakers. Lakers' jerseys decorated the room but also suits and tie-dyed tees. Leggings, jeans, mini skirts, you name it, someone in the audience was wearing it. I suppose that's what happens when you have a mini-festival in a nightclub, though.
By the time Destructo came on, I was so engulfed in people watching that I almost wouldn't have noticed if not for the stark change in visuals.
Three massive screens framed the stage and suddenly came to life, all showing Destructo's signature Project X-esque footage. As the crowd sang along to his classic "Party Up", shots of half-naked girls, alcohol, and drunk partygoers flashed on the screens, adding to the illusion that we too were all at this same party.
After amping everyone up with a few of his most singalong-friendly tracks, including "Dare You 2 Move" which was accompanied by its music video, Destructo spent the last half of his set exploring his house roots. Everyone danced, my group and I bought another round of overpriced drinks, Boys Noize was introduced onstage as one of Destructo's oldest friends, and the visuals continued being one of my favorite parts of the night.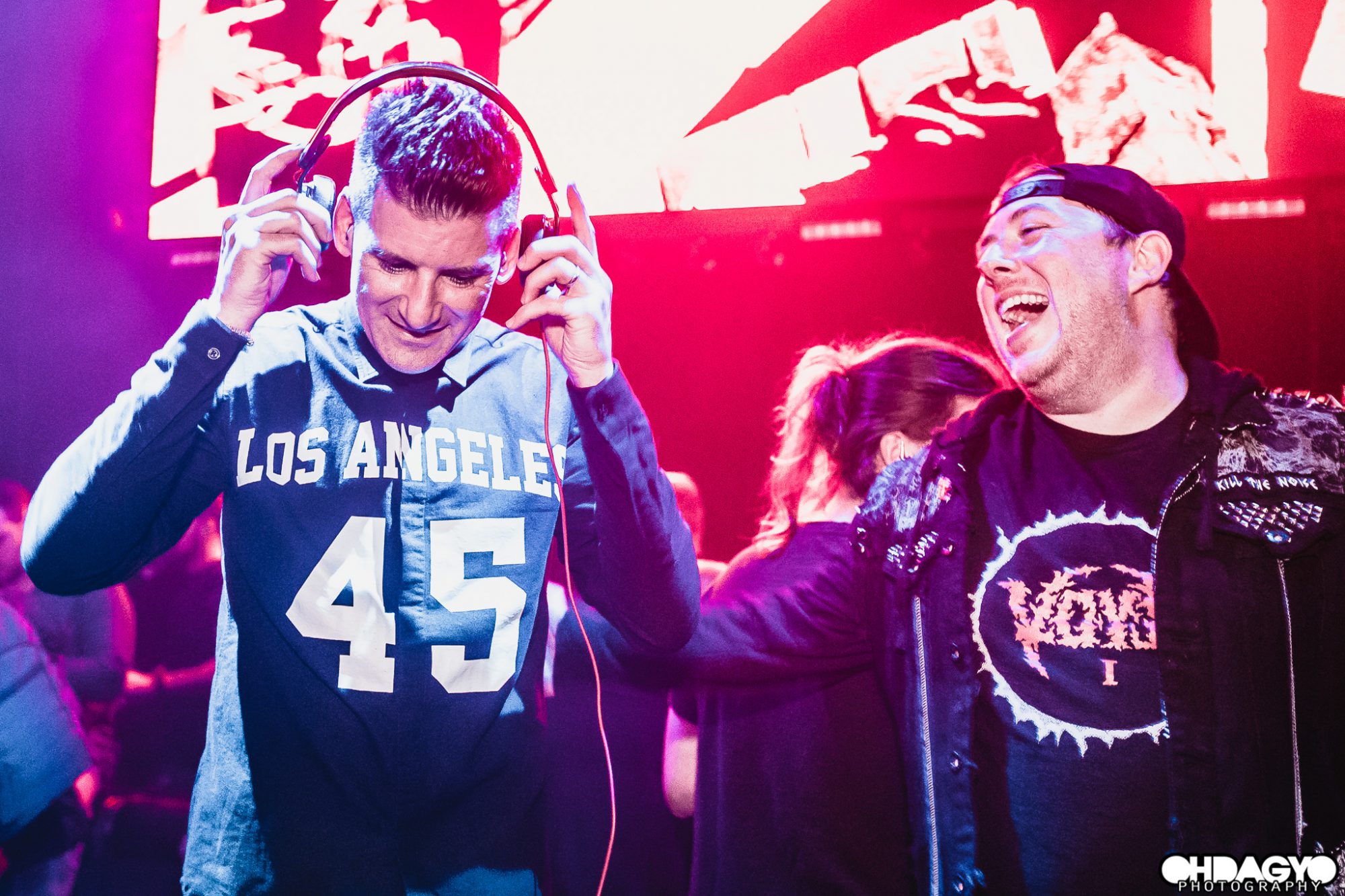 As the lights dimmed and Destructo exited, nothing could have prepared us for what happened next. 
The crowd suddenly went wild, as though they could sense what was about the happen. It seemed as though all at once, every Lakers jersey in the room made a mad rush for the front, desperately trying to secure a great spot for what they had come to see. Hoots and hollers echoed off every chamber and then, he appeared. As the entire room cheered and scantily clad girls in barely there 80's era Lakers uniforms appeared on the screens, DJ Diesel took the stage.
From that moment on, it was a madhouse inside Avalon. My friends and I quickly sought refuge on a nearby set of stairs which doubled as an escape from the chaos of the floor and a way to see above the rest of the crowd.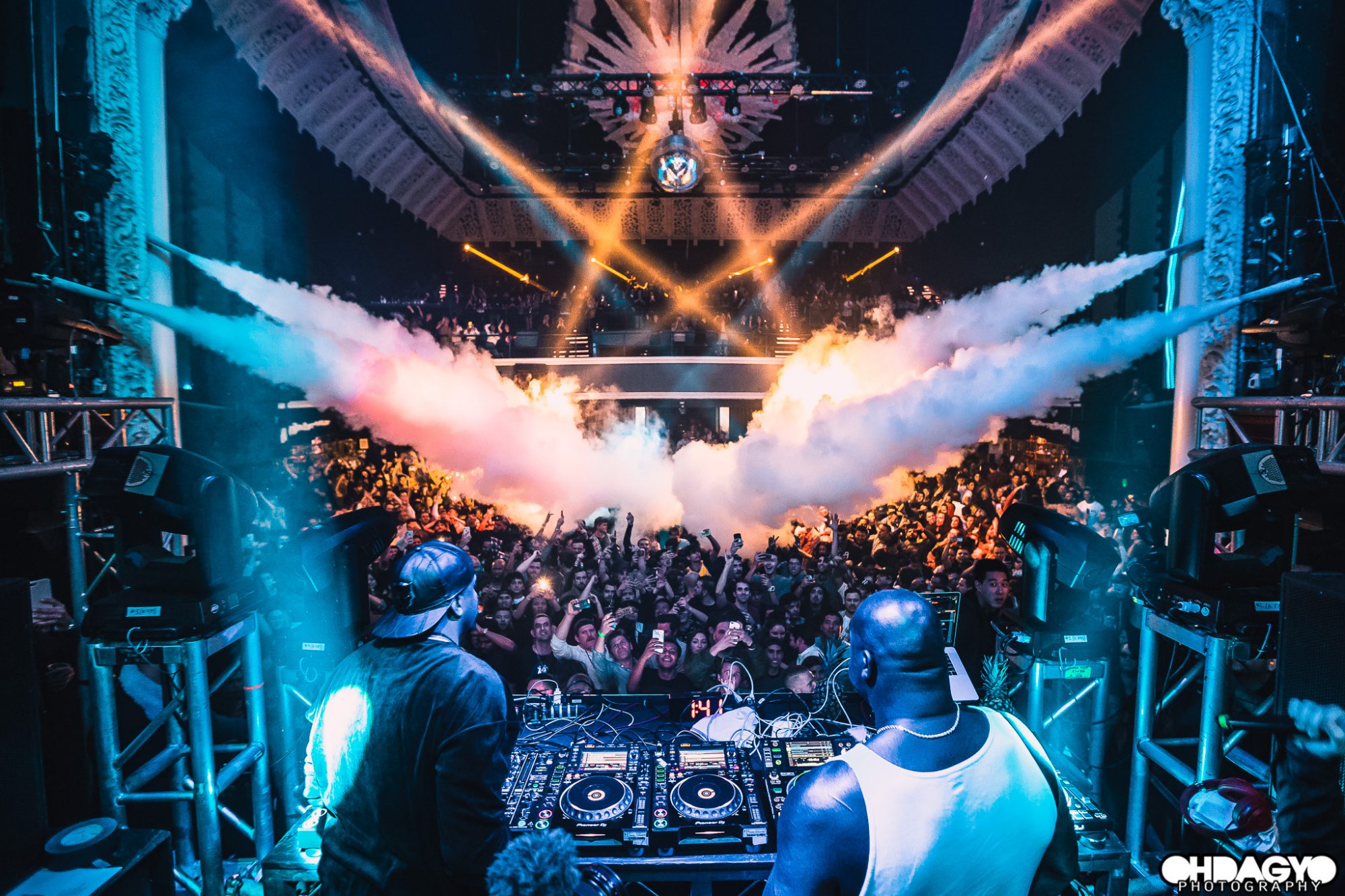 During his set DJ Diesel seemed to gravitate towards hardstyle and trap, with the occasional rap anthem wove in.
After about a half hour of head thrashing and doing our best to avoid being sucked into one of the many nearby mosh pits, my group and I decided that we had seen what we came to see and that it was time to finally go home. After all, it was nearly 2:30 in the morning and there was a street dog waiting outside with my name on it.
Overall, I do love Avalon Hollywood as a venue and this show was a memorable one. The way that the screens inside the venue were set up so that the audience was surrounded by visuals really added to the experience. As always, Destructo impressed and brought both his electro and deeper house stylings to the show. And as for DJ Diesel, well, I can't say that I exactly fell in love with his music, but I can now cross seeing Shaq live off my bucket list, and for that, it was all worth it.
---
Connect with DESTRUCTO on Social Media:
Website | Facebook | Twitter | Instagram | SoundCloud | YouTube
Connect with DJ Diesel on Social Media: