Not sure what to get the raver in your life this year for Christmas? Check out our holiday gift guide for some ideas!
---
With the holiday season already here the rush to find a perfect gift before those shipping deadlines hit can turn into an overwhelming experience for many. But if you've been stumped on what to give your friend who has had their life consumed by the festival scene in 2018, don't fret, because we've got you covered!
This year, we've compiled some of the essential items in the scene that will surely be a welcome addition to any raver's collection of gear. Check out the list of items below and make sure to get your orders in soon so your gifts will arrive in time for the holidays!
The Essential Raver 2018 Holiday Shopping Guide
---

Light up the night with these GloFX Pixel Pro Glasses!
Does your friend talk nonstop about REZZ? Are they obsessed with anything that glows? Maybe they throw light shows and need that extra added touch to make their performances pop? Whatever the case may be the Pixel Pro glasses from GloFX fit the bill and will be a beloved addition to their collection of rave gear.
Pictured: GloFX's Pixel Pro Glasses – $49.99 via GloFX
---

Get their flow on with a GloFX Space Whip!
Looking for a compact light toy for your friend to get their flow on with? GloFX has you covered with their Space Whip Pro. Offering flow artists 13 modes and 34 brilliant colors, this flow toy provides plenty of creativity while also making it the perfect way for you to get a sick light show too.
Pictured: GloFX Space Whip Pro – $79.99 via GloFX
---

Turn back the clock and give them some insight into the history of raving.
If the raver in your life just started their path into the scene or is looking to gain some insight as to how things used to be, then there are plenty of books to help them on their quest. For those who are constantly picking up flyers and posters after events, Rave Art: Flyers, Invitations and Membership Cards from the Birth of Acid House Clubs and Raves should give them a head start.
Of course, the two offerings from renowned rave photographer Michael Tullberg are also valued additions to any electronic music lover's collections. Dancefloor Thunderstorm and The Raver Stories Project shine a light on the scene from an insider's perspective, giving readers plenty of stories to explore and photos to check out.
Pictured: The Raver Stories Project – $13.81 via Amazon
---

Keep your friend hydrated and get them a stylish bag.
No one wants to waste time at a festival while standing in line for a water refill, and when funds are limited there is nothing worse than spending $5+ on a water bottle that you might not be able to reuse. Make your festival experience a little more enjoyable next year and grab a hydration bag for your friend (and you too).
Looking for the perfect hydration bag? Check out some of our top selections!
Pictured: Vibedration Festival Hydration Pack, 2L Capacity, Galaxy Edition – $44.99 via Amazon
---

Protect their hearing with a pair of quality earplugs.
Your friend will definitely want to be listening to those sick beats for a while longer so you should help them protect their hearing while they attend show after show. Earplugs are a crucial accessory for any festival fanatic who spends hours in front of the speakers and there are plenty of comfortable options to choose from as well.
While our top recommendation for serious attendees remains ACS Custom, you don't have to break the bank when selecting a good pair either. Vibes High Fidelity Earplugs come in at $24.99 and offer a blend of perfect protection and comfort. We also recommend EarPeace and Etymotics for other affordable options, they're even great as stocking stuffers!
For more information on choosing a good pair of earplugs, check out our post!
Pictured: Vibes High Fidelity Earplugs – $24.99 via Amazon
---

Give them the gift of fur to keep them warm during those cold weather events.
Heading to a festival like SnowGlobe or Countdown NYE to close out the year? Keep your friend warm with a stylish fur coat so they don't freeze! Dolls Kill carry quite a few cute options that even include ones that even light up, and if coats aren't their thing then you can always spring for some light up fluffies!
Of course, there are plenty of faux animal fur-offerings via Spirithoods as well for those who want to express their wild side with a stylish coat, hood, or throw. Don't forget that 10% of their profits go towards the conservation of endangered animals!
Pictured: Glacier Flashing Lights Cropped Jacket – $125 via DollsKill.com
---

A Bluetooth Speaker for them to bump those beats anywhere.
If you've ever tried listening to some good music by way of your small laptop or cell phone speakers then you'll know exactly how important it is to have a solid Bluetooth Speaker at your disposal. All it takes is a quick connection and those muffled sounds turn into booming beats that get the party started or keep things going after the last drop pummels the crowd at a festival.
While Bluetooth Speakers can range in price, we've found two solid options that won't break the bank while still giving you high-quality sounds. The Soundcore Motion B comes in at $35, has a 12+ hour runtime and is also waterproof, so don't be afraid to bring it to those pool parties when the warmer weather approaches! Looking for more bass? The UE Boom 3 brings a higher cost but also offers a variety of settings along with the ability to pair multiple devices together to really bring the house down.
Pictured: UE Boom 3 – $129 via Amazon
---

Start off their vinyl addiction and give an album from their favorite artist!
While streaming music continues to be the most common way that fans get their dose of electronic beats, a resurgence in the realm of vinyl has been slowly picking up momentum for a few years now. Whether these fans are just diehards looking to complete a collection, or just music lovers who appreciate a physical form of media, artists are fanning the flames of this movement by releasing their work on the medium once again.
Looking for more info on vinyl or want to gift a record player? Check out our Vinyl Lover's Guide for some ideas!
Pictured: Kaskade Christmas Vinyl – $60 via ShopKaskade.com
---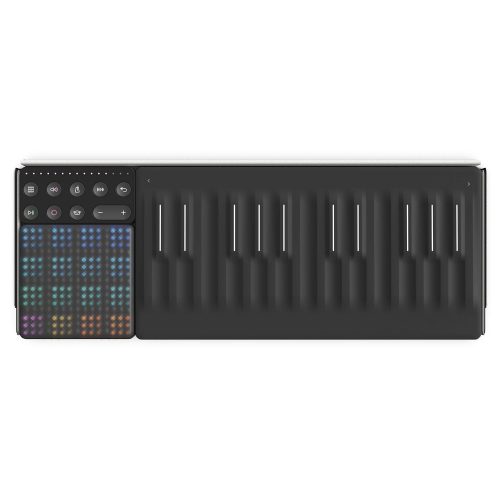 Give your friend the ROLI Songmaker Kit so they can create some dope beats!
One of the latest items to hit the market, the ROLI Songmaker Kit is a state-of-the-art, portable system for music producers. Featuring touch responsive playing surfaces and the ability to easily expand with different modules, this kit will help any producer build tracks wherever creativity strikes them.
The Songmaker Kit gives producers three different blocks to play around with, the Seaboard Block, the Lightpad Block M, and the Loop Block. When combined, these three allow for the creation of melodies, drums, and effects while also allowing for artists to easily record loops.
Additionally, this kit comes with hundreds of sounds to toy around with, three signature sound packs, and a software bundle that includes Ableton Live Lit, Tracktion Waveform, and more. Check out Laidback Luke's review of the ROLI gear for a look at the different components!
Pictured: ROLI Songmaker Kit – $599 on Amazon
---

The DJ2GO2 is perfect for artists on the go!
Did your friend express interest in picking up some DJing skills and not know where to start? Looking for something for the artist who is always on the go? The DJ2GO2 from Numark is a low-cost piece of hardware that you can add to any artist's collection as it features a good balance of mixing controls and portability. It also comes with a software download of Serato DJ Light too!
Pictured: DJ2GO2 – $79 via Amazon
---
What are you planning to give as a gift to the raver in your life during the holiday season this year? Let us know in the comments!