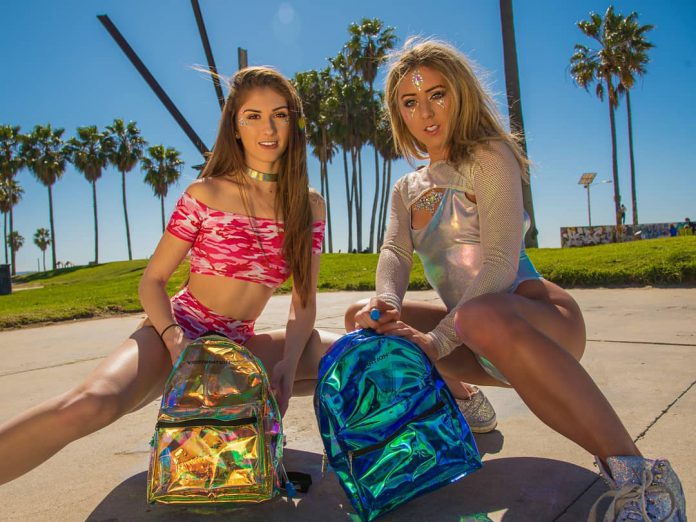 Avoid blowing tons of money on water bottles and wasting time on trips to refill stations this upcoming festival season with a hydration pack.
---
Hydration packs are one of the must-have festival essentials if you're looking for a product that will save you money from buying water bottles and trips to the water refill station. These packs will also allow you to dance, sing, hug, and trade kandi without having to ask someone to hold your water bottle. There are quite a few options when it comes to finding the perfect hydration pack, but we've narrowed down the options to fit your price ranges, fashion preferences, and storage needs.
As always, check your event's allowed and prohibited item list to find out the maximum amount of backpack pockets or hydration bladder capacity to help you make the right choice. For example, Ultra attendees will want to check out our recommendation on the Camelbak HydroBak because of its lack of actual backpack pockets.
Pick up one of our recommended staff picks, but make sure to share our guide with your friends or they'll mooch water off you at your next event!
The Essential Festival Hydration Pack Staff Picks for 2018
---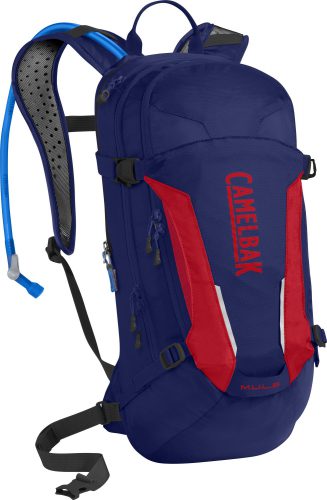 The trusted Camelbak M.U.L.E. remains one of our top picks for multi-day festivals
Camelbak remains on the top of our list because of their build quality and lightweight material, while still giving you room to store your belongings. The Crux reservoir tip has an on/off lever that prevents water from leaking while you're dancing the night away. And for all of the headbangers out there, the water tube is magnetic, so you won't accidentally smack someone in the face while your face gets melted.
The M.U.L.E breathes well to prevent your back from becoming a swamp haven and the waist belt will help hold it in place to prevent chaffing. You won't need to run to the water refill stations as much with its 3L capacity, either. Camelbak has been producing this product since 1996 and it's hard to not see why this remains our favorite.
Pictured: Camelbak M.U.L.E. – $84.99 – $140.99 via Amazon
---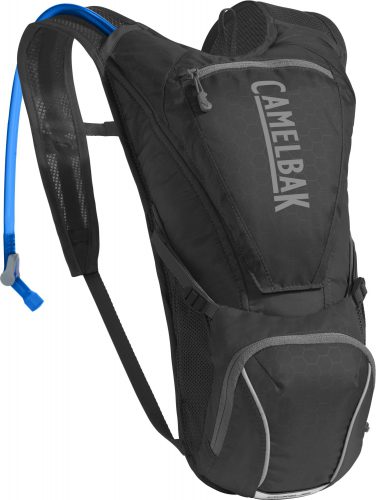 Camelbak Rogue scales back the bulk, but still provides all the essentials
The sleeker option of the Camelbak Rogue gives you the same reservoir system found in the M.U.L.E, but with a slightly smaller 2.5L bladder. There are two pockets for things like your keys, chapstick, but do make sure to read our guide on how to keep your valuables safe before throwing anything important in there.
The Rogue does give you the flexibility of picking out a few color choices besides black, including green, blue and red. The smaller size and the mesh back are perfect for those looking for a one-day event or small festival who don't need to carry a lot beside a ton of water.
Pictured: Camelbak Rogue – $48.00 – $70.00 via Amazon
---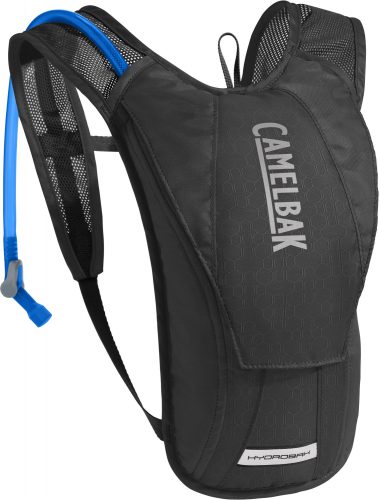 The Camelbak HydroPak contains no backpack pockets making it perfect for festivals like Ultra
For the minimalist in all of us, the Camelbak HydroPak does one thing and does it well: provide you 1.5L of water. This is our recommendation for those attending Ultra or other festivals that require hydration packs to have no backpack pockets.
We don't think the rules are ideal either, but this option still beats carrying around water bottles all night.
Pictured: Camelbak HydroPak – $48.99 via Amazon
---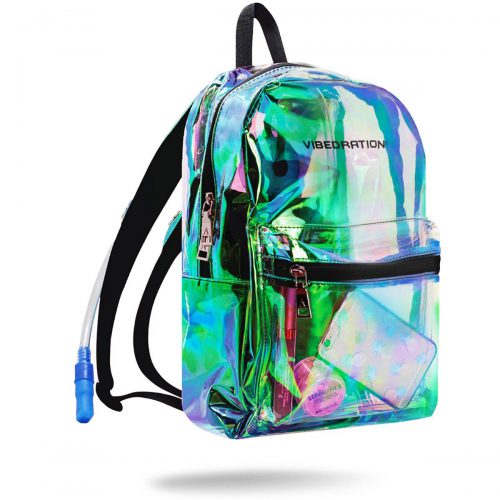 For the fashionista in all of us, the Vibedration Transparent Rave Hydration is worth a look
Speed through bag check lines with Vibedration's newest transparent hydration bag. Not only is this iridescent bag eye-catching, it's also super functional for events. You can choose from a variety of transparent colors like Emerald Sky, Electric Blueberry, and Orangesicle.
Vibedration includes a 1.5L bladder in their hydration packs with an additional mouthpiece to keep you raving all weekend.
Pictured: h2o Pack 1.5L Transparent- $69.99 via Amazon
---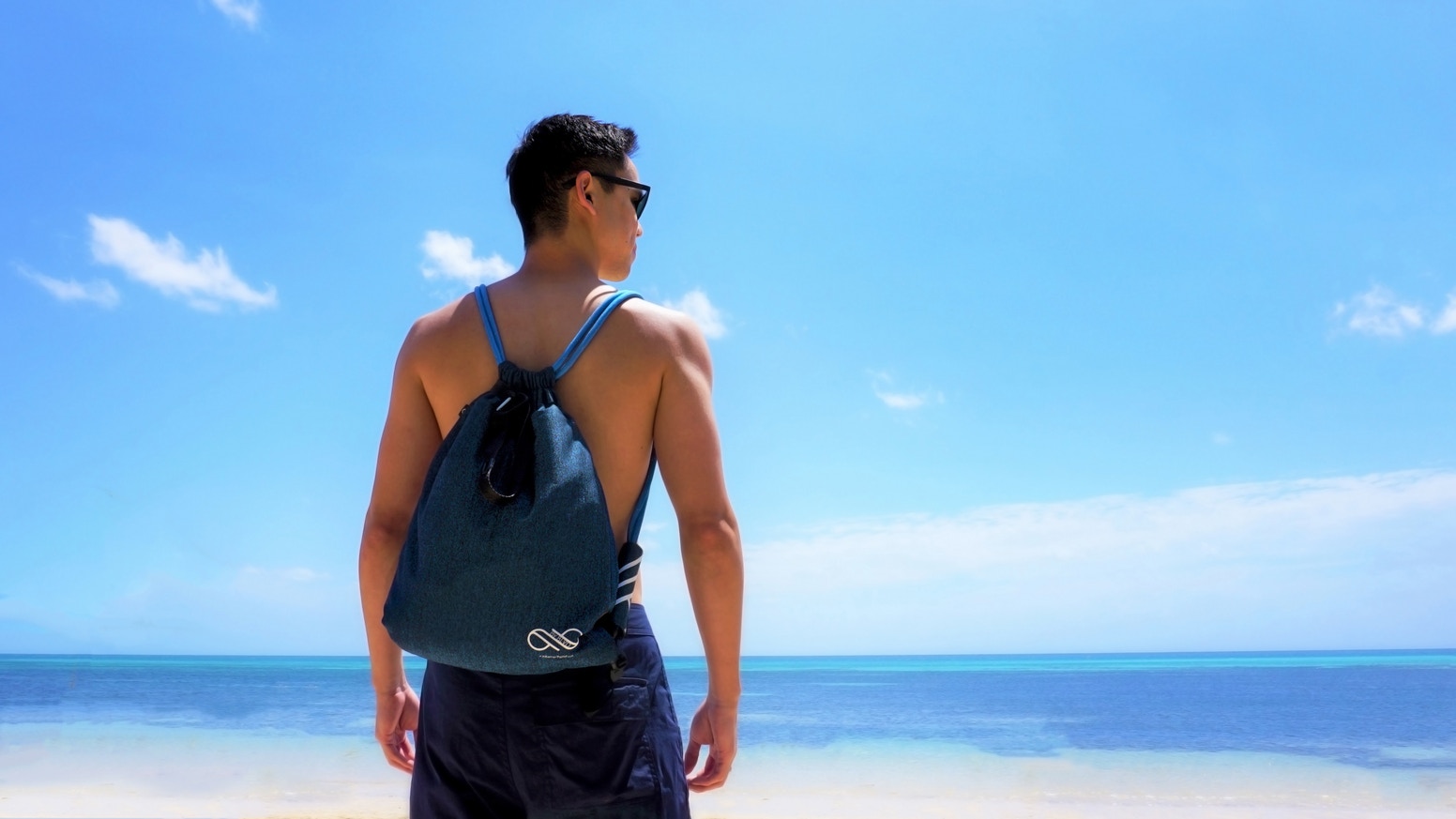 Those looking for the most comfort need to look no further than the Roam ByBLVD drawstring bag
Rather than sport a hydration backpack this season, try Roam ByBLVD a drawstring bag designed to hold a 1L hydration bladder, an external battery, and more. It is at the lower end of our bladder options, but the comfort of the bag makes up for it.
The bag is made from a blend of soft fibers and Ultra High Molecular Weight Polyethylene making it more difficult for people to slash and grab your belongings at events. It also includes a steel reinforced lockable strap.
Pictured: Roam ByBLVD  – $59 via Backerkit
---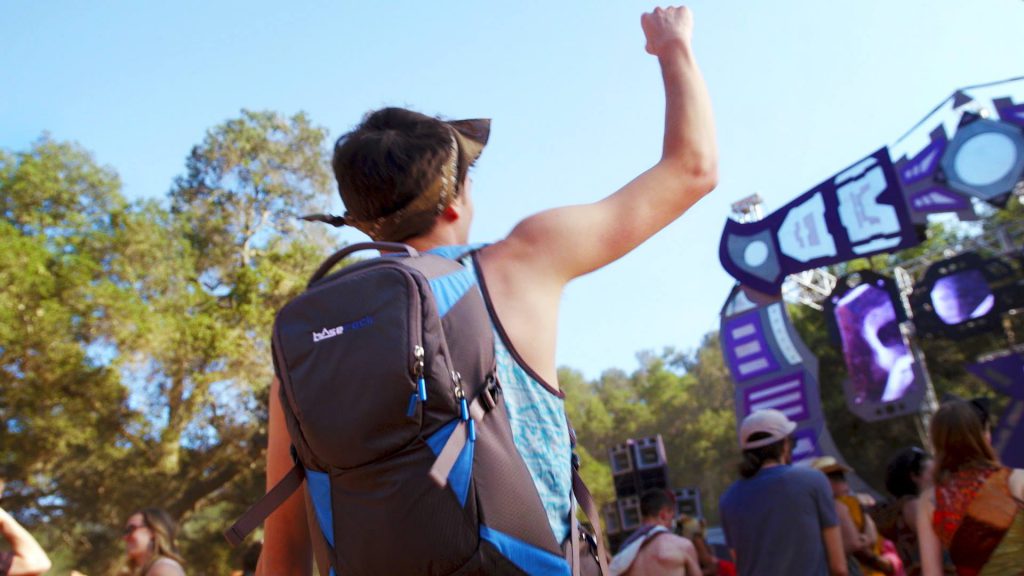 Want the ultimate immersive festival experience? Check out the Baserock with Hydration Backpack
How many times have you gone to an event that lacks bass in the back? There is no longer a need to sacrifice room to dance just to feel the bass rush through you. The Baserock picks up bass frequencies at an event to create an enveloping festival version of a PlayStation rumble pack controller. Included is a 2L hydration bladder with five secure zipper pockets and ripstop water-resistant fabric.
You'll get even more use out of it with its ability to create the experience by picking up the frequencies from your headphones while on the go. If you're interested in learning more, make sure to check out our interview with the creators of Baserock.
Pictured: Baserock Core +Hydrationbackpack – $389 via GetBaseRock
---
Stay hydrated this upcoming festival season and let us know in the comments what new hydration bag you'll be showing off!