Welcome to The Landing, EDM Identity's weekly post highlighting fresh tracks you may have missed!
---
In each edition of The Landing, we intend to highlight some tracks that have landed in our inbox each week that you may have missed, or perhaps shine a light on new music for you to fall in love with.
This week's edition of The Landing features fresh tracks from Alex Prospect and Jakka-B, ATLiens, Cubicolor, WAVEDASH, and many more!
Listen to some of our favorite tunes from this week and past editions in our playlist and read on for more details on the tunes added below!
The Landing || Volume 090
---

ATLiens is back with sexy freeform bass tune, "IMMA" feat. Badrapper.
Everyone's favorite masked experimental bass duo is back with some serious wub-tastic heat. Featuring their signature creepy buildups and distorted vocal bits, ATLiens holds nothing back with sexily dark track "IMMA".
In the midst of spooky metallic grating and earthshaking pounds, "IMMA" goes deep with some subterranean, bone-rattling wubs. Every brief moment of silence exaggerates each alien-like bass bobble, making "IMMA" one of the hottest freeform tracks to drop as of late. Check out ATLiens' new tune today! -Jayce
Stream "IMMA" on SoundCloud!
---

KUURO and Clockvice join forces on "1000 Cuts"!
DJ duo KUURO has been blazing the bass music scene with a string of releases on Monstercat. Their tracks always bring an immense amount of energy and "1000 Cuts" is no different!
On their newest release, they team up with Clockvice and the result is an aggressive, in-your-face bass tune that is surely going to be a hit in the festival circuit! We can't wait to see what new tracks these guys whip up next. -James
Stream "1000 Cuts" on SoundCloud!
---

WAVEDASH releases "Deathwish", the first track on NGHTMRE and Slander's Gud Vibrations label.
Riding high on the momentum from their Gud Vibrations sets around the country, NGHTMRE and Slander have created their own record label to expand their brand.  Austin's own, WAVEDASH has the distinct honor of being the first artists to release on Gud Vibrations.  This track is a perfect initial release for this new label, a hard banger with dub stylings.  If this is any indication as to what we can expect from the Gud Vibrations label, I personally cannot wait to hear more! -Bill
Stream "Deathwish" on Spotify or SoundCloud!
---

Just in time for Halloween, GRAVEDGR drops the spooky "Be Wary".
Released on Carnage's Heavyweight Records, GRAVEDGR's "Be Wary" takes us on a little journey through the cemetery.  GRAVEDGR, an actual gravedigger by trade, is using insights from his daily work life as inspiration for this spooky track.  Munchy and screechy, this track has an exciting bassline, aggressive lyrics and an ominous feel.  This is definitely one you want to crank up the volume for! -Bill
Stream "Be Wary" on SoundCloud!
---
AJ Salvatore creates a magical, lighthearted remix of his single "Better".
AJ Salvatore has made quite a name for himself in a short while. He has been featured in Huffington Post, played EDC Orlando, and his track original track "Better" is almost at 1 million plays on Spotify.
In honor of this 1 million play mark, he took the time to craft a silky smooth remix to "Better." The minute I heard this track, I instantly had it stuck in my head. The melodies are catchy, the vocals by Bri Tolani are unbelievable, and finally, the drop is mesmerizing! You'll want to keep this song on repeat the minute you finish it. – James
Stream "Better (AJ Salvatore Remix)" on SoundCloud!
---

After being showcased in several industry heavyweights' sets, ONHELL's "Rake It Up" remix is finally released!
There are few artists I can go on and on about, but Space Jesus is one of them. The last several times I've been lucky enough to catch one of his sets, he's dropped an unexplainably seductive remix. Each time it's caught the entire crowd off guard, forcing everyone to get low to the ground and crank out some dirty dance moves along with a serious case of bass-face. Finally, that remix is released; ONHELL officially dropped his highly anticipated "Rake It Up" remix today, and I couldn't be more excited.
Probably one of the greatest sonic combinations in bass music is rap and dark, gritty experimental bass, and ONHELL's "Rake It Up" remix is the definition of that. Layered against a sexy slew deep grungey wubs, Yo Gotti's and Nicki Minaj's original lyricism hits perfectly against every beat. This is undoubtedly my favorite remix of any song ever, so definitely check it out today! – Jayce
Stream "Rake It Up" (ONHELL Remix) on SoundCloud!
---

Network X sounds the alarm in his quest to conquer the nightlife on "Blitz".
As one half of the DJ duo Darkness Falls, Network X has gone rogue and we couldn't be more impressed with the solo work that he has been serving up! The man who brought us "Krypton" is back for go-round number two on OHM Music with a hair-raising auditory firestorm that will inspire even the most cautious of hearts to head straight into the trenches! So it's time to gear up for battle as Network X sets the stage for the ultimate "Blitz"!
Smothered in the dark essence that trance fanatics like me crave like crazy, "Blitz" navigates our senses through sensual twists and turns. Suddenly we are met with the siren of war and are pulled even deeper into a tech-driven subdimension. As we infiltrate the sweat-soaked dance floor, it is tracks like these that give us the fuel and give in as captives to the rhythm, until we say we have had enough! – Maria
Stream "Blitz" on YouTube!
---

Jakka-B and Alex Prospect collaborate on "Snakebite".
Two of our favorite hard dance producers teamed up to drop an innovative new track. The latest Alex Prospect x Jakka-B song is not your usual hardcore track, as while it has that usual hardcore kick but adds quite a few creative elements! One such addition is the Indian pungi, the instrument also known as the snake charmer's flute comes to mind. I suspect the addition of the pungi may have a lot to do with the title. The second and very interesting piece is the addition of a rap sample (which may be a sped up auto-tuned version of Big Sean's lyrics from "I'm Gonna Be"), which isn't often heard in heavy hardcore tracks. With Alex prospect and Jakka-B going the experimental route, it will be interesting to see if this style will catch on. Check out their collab and let us know what you think! – Abisola
Download or stream "Snakebite" on your favorite platform!
---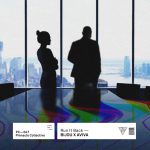 BIJOU and AViVA bring the bass on the killer "Run It Back"
BIJOU is a staple of the G-House scene, churning out hits filled with rap samples and bassy drops; AViVA is an up-and-coming producer who christens herself "the first lady of dark electro". They compliment each other perfectly on "Run It Back", an absolute banger of a track that has all the potential to become a festival anthem.
The opening is classic BIJOU: pitched down vocals, subdued house beats, a slow build to the chorus. But once it hits, it hits hard. BIJOU's drops have always been hit-or-miss, sometimes fist-pumping and other times shoulder-shrugging, but rarely have they felt as refined as they do here. By throwing waves of low bass in between screeches of a high synth, kept on track by a four-to-the-floor beat, the track maintains a lurking aggression that makes you want to bang your head and dance at the same time. The track truly succeeds by the collaboration of the two artists: in BIJOU, by reigning in some of AViVA's scattershot impulses; and in AViVA, using her dark electro chops to improve upon BIJOU's weak drops. Together, they've created a Bass House track for the ages. – Erik
Stream "Run It Back" on Spotify!
---
Louis The Child's collab with Big Gigantic and NoMBe, "Save Me From Myself", is exactly what your weekend needs.
Freddy Kennett and Robby Hauldren, or as you may know them, Louis The Child, have approached and explored the music scene in a way that is truly unprecedented. They have formulated unique, futuristic and playful sounds that have in turn built them an audience of attentive, passionate and inspired music lovers. This summer the talented duo swept us off of our feet with their single, "Better Not", which is also featured on their new EP, KIDS AT PLAY.
Although Kids At Play consists of nine tracks, my favorite is "Save Me From Myself", an unanticipated collab with NoMBe & Big Gigantic. This track caught and held my attention from the first second when I heard the soft and faded strings. Louis The Child has been able to play around with so many sounds, instruments, vocalists and other artists – which is a talent in and of itself. "Save Me From Myself" is not the type of sound or vibe you might expect from the duo, however it exceeded all of my expectations. The sound throughout the entire track is very controlled yet dense with the thoughtful construction of sound supporting vocals and vice versa. I hadn't thought about how a collaboration between Louis The Child and Big Gigantic would turn out, nor one with NoMBe, however this track and entire EP as a whole is one you need to hear – ASAP! – Whitney
Stream "Save Me From Myself" on SoundCloud!
---
Ethereal vibes are in vogue with Cubicolor's new track "No Dancers"
Evoking an intimate, personal feel, Cubicolor's latest release on Anjunadeep "No Dancers" is a track that plays in the space between a driving and chill progressive house track.  The artists shared that "'No Dancers' [is] an intimate song, but one that we wanted to work just as well in clubs as on your headphones or in your bedroom. The song is a searching; for something to believe in, something real, and always treading that balance between a desire to lead, and a desire to follow.
Between the airy synths and subdued but still present drum kick, the amazing Tim Digby-Bell provides the vocals for the track and in doing so captures the exact essence of this tension between leading and following.  The chorus, "take me where you go, I'll follow" invokes a common feeling found in life and resonates deeply to drive home the point. – Tim
Stream "No Dancers" on SoundCloud!
---

The Magician and Kideko collaborate on "Jalisco"!
Known for his highly curated sets, original tunes, and sick remixes, The Magician has continued to dominate festivals and nightclubs around the world. Now, he has come together with UK-based artist Kideko to create a fresh new tune dubbed "Jalisco" that features Mexican trumpet sounds and a massive brass drop that is simply epic. – Grant
"'Jalisco' was created from a Mexican mariachi trumpet sample. We know Mariachi comes originally from Jalisco state in Mexico, so that is why we called it like that. The big brass drop sequence reminds me hard-core/rave in late 90's in Belgium but pitched down. Then Kideko got that little vox sample out of his hat."

– The Magician
Stream "Jalisco" on Spotify!
---

Jenaux works with Kelli-Leigh on a powerful new tune dubbed "Love & Devotion"!
Innovative producer Jenaux has continued to push boundaries and bring the funk back with his solid releases while working with major artists like Gramatik, GRiZ, and Rudimental amongst many others. Now, he's teamed up with Kelli-Leigh for a fresh offering to the electronic music gods to show you their "Love & Devotion". Released on October 26 via AWAL, Jenaux's latest track is one that you'll most definitely want to be tuning into if you're looking for a progressive twist on classic styles of dance music paired with vocals that pack a punch.
Stream "Love & Devotion" on SoundCloud!