Get ready for the sinister bass annihilation of Kompany and his New Reign EP, out now on Never Say Die!
---
Released on renowned label Never Say Die, Kompany has just released his long-awaited New Reign EP. Filled to the brim with tracks that have been dominating dubstep sets recently, Kompany's latest collection is a ravenous behemoth, lacerating heavy dubstep norms, and erecting a new breed of bass in its wake.
If you're looking for something new to add to your grimy bass music collection, check out the New Reign EP and read on for an in-depth review of each track. Stream or purchase your copy your favorite platform today!
Listen to Kompany – New Reign EP on Spotify:
---
New Reign begins with "Rapture" and its tranquil harmonizing intro. A slight buildup turns up the intensity before plunging into guttural clamoring. This track is a ticking time bomb waiting to erupt into delectably gross scrap metal bass shrapnel.
Energy is high by the time "Rapture" leads into the second track on New Reign entitled "Override". The wubs get a little wonky in this one with each wet bass bobble. It's a mixture between the experimental side of bass and trap, meshing together to create a wonder of a track.
If you thought the headbanging began and ended with "Rapture", you will be pleasantly surprised with the third track on New Reign. "Stomp" vomits crunchy bass jabs that are filthily chaotic yet beautifully precise. Traversing through gooey soundscapes, "Stomp" is bass sludge that's simultaneously weird and heavy, making it one heavy-hitter of a track.
New Reign wraps up with "Buck", a murderous titan of a tune cutting down everything in its path. Each maniacal swipe off a bass sword is clean-cut, biting with an unmatched volcanic exactitude. A brief whimsical interlude ties each blistering bass detonation together with ease. "Buck" ends with a haunting orchestral bit, leaving you in awe of what reckless endeavor New Reign sent you on.
What is your favorite track on the release? Leave us a comment and let us know!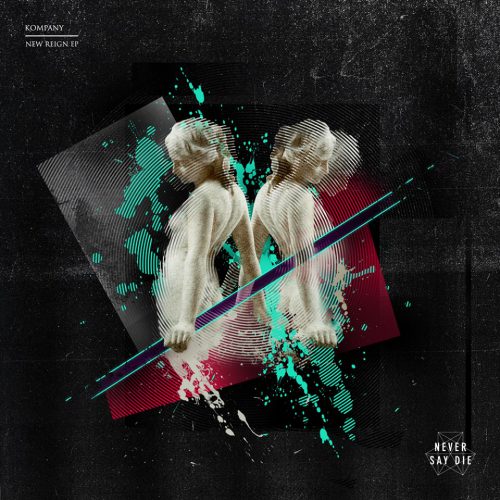 ---
Connect with Kompany on Social Media:
Facebook | Twitter | Instagram | SoundCloud