Collaboratively released off of Bassrush Records and Kannibalen, Kai Wachi's "Bodied" is a spitting geyser of gut-wrenching dubstep.
---
Since seeing Kai Wachi for the first time on Black Tiger Sex Machine's Ceremony tour, I have regarded this trap and bass artist as one of the filthiest in the game. With drops heavy enough to ravage your eardrums, Kai Wachi combines disgustingly violent bass onslaught with meticulous sound design. The result is unpredictable but consistently mind-blowing, and such is the case with his latest track, "Bodied".
Following his two-track Ichor EP, "Bodied" is exactly the kind of dark, groggy dubstep track I've been looking for. Demolishing sound barriers and floating seamlessly through savory dubstep paradigms, "Bodied" snakes through your body and embeds itself deep within your bones. Get ready for this track to ravage your mental and rearrange your organs with each adamantine bass whomp. Listen to Kai Wachi's latest release on your favorite platform today, and read on for an in-depth look at the track!
Listen to Kai Wachi – Bodied on SoundCloud:
---
The tune begins as a mystery.
Vibrated bass swells with an ominous fervor as chirps bubble. The vocals rush in and the energy kicks up, shredding into a buildup and dissolving into subterranean basskicks. Distorted clicks stipple in and out of each layer, making this already one of the best sonically developed dubstep tracks I've heard in a while.
A chilling interlude lurks in and features beautiful vocalizing, and there is no forewarning of the impending bass extermination. Breaks of riddim-like squelches pulse fervently against a massive bassline before "Bodied" reaches its end.
The tune reminds me of another one of my favorites of Kai Wachi's – "Cerberus", a powerful track that transcends the simplicities some dubstep has been reduced to today. Both of these creations slip with such ease between murderous bass attacks and utter tranquility, manifesting a completely unique style belonging to Kai Wachi and Kai Wachi only. Don't know what I mean? See for yourself and catch Kai Wachi at Lost Lands this September. I'll see you there!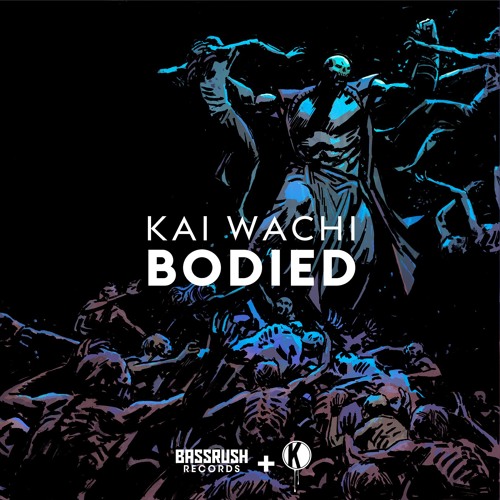 ---
Connect with Kai Wachi on Social Media:
Facebook | Twitter | Instagram | SoundCloud