Space Laces takes a refreshing spin on dubstep with his newly released EP, Overdrive.
---
Space Laces is undoubtedly one of the hottest producers of 2018. Shortly following the release of "Rumble", a noteworthy collaboration with Excision, Space Laces has recently released his Overdrive EP. Though this legendary bass producer has been throwing down for a while, we have recently been hearing more of his distorted and unique sound – and we can't get enough of it.
Jam-packed with six insane tracks, Overdrive gets heads knockin', bones crunchin', and elbows throwin' with a heavy onslaught of bass. Grab a copy of the EP on your favorite platform today and read on for a deeper look at the release!
Stream Space Laces – Overdrive EP on Spotify:
The title track "Overdrive" kicks off with an upbeat intro, slashed and diced with an occasional sonic blip and cymbal crash.
The track's pace quickly ascends before slamming headfirst into an apocalyptic drop. Unrelenting in nature and massive in size, "Overdrive" makes you feel as if you're being chased down by a ravenous T. rex. This track will get your adrenaline pumping and your heart skipping a few beats, especially with the latter half of the tune. Try to remember to breathe while you're listening to it.
Next is "Kaiju", which we featured in a recent edition of The Landing. Combining booty-shaking bass-house with sludge-like dubstep, this track will have you putting your shuffling and headbanging skills to the test. "Kaiju" is an expertly crafted piece with tornadic momentum in each bloodthirsty bass slap.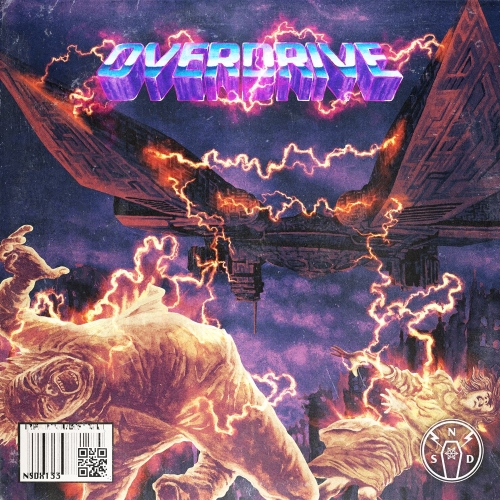 I've always recognized Getter as a versatile artist in the bass scene, and I was so happy to see him and Space Laces come together on this track.
Beginning with an unsuspecting trap intro, "Choppaz" takes a turn for the gross with incendiary bass stomps lined with sub-aural layers of pure grime. It has a completely different vibe from "Cheeseburger", the next track on the EP. Marked by curling tendrils of slippery wobbles and bass hiccups, this succulent bass tune has an extraterrestrial vibe that'll leave you with the nastiest of bass faces.
"Torque" snatches your attention with rapid-fire sound design and disintegrates your spine to ashes with aggressively shrill pulses. Balanced with a monotonous yet bone-crushing bass, "Torque" is a multi-dimensional track with a combustible energy.
Last on Overdrive is an IVORY remix of "Cruise Control". With a beautifully haunting intro reminiscent of the ballads of ancient Greece, this track subtly transitions into an epic battle of alien-like warbles and clicks. We're met with teeth-grinding vibrational impact with each sticky surge of bass. This remix is the perfect ending to the Overdrive EP and has us hungrily waiting for Space Laces' next sonic endeavor.
What's your favorite track on Space Laces' Overdrive EP? Leave a comment and let us know!
---
Connect with Space Laces on Social Media:
Facebook | Twitter | Instagram | SoundCloud