Trance legend, Paul van Dyk, releases his newest collaboration with Plumb in anticipation of the album release, Music Rescues Me.
---
Paul van Dyk is a name that has shown up on almost every major festival around the globe this year from EDC Las Vegas to Creamfields UK.After the success of last year's album, From Then On, I anxiously awaited his next album. While I heard rumors that his newest album was called Symbols, I found myself surprised last month after he revealed on his socials that his ninth album, Music Rescues Me, would be coming October 12.
More importantly, I felt a strong sense of joy as the album title signaled that we would finally hear the full version of this mysterious ID — a song that fans for the longest time referred to on the 1001 tracklist as "Music Rescues Me" or "All the Stars." This long-awaited ID has appeared randomly in his sets over the years since 2012. While many of us at Dreamstate So Cal 2017 and Paradiso 2018 heard the club version of the track with vocalist Johnny McDaid, I was shocked to see Plumb's name featured on the title track releasing today.
Plumb's voice on "Music Rescues Me" adds a lighter, softer touch compared to the original track with Johnny McDaid.
The sweetness in the tenor of her voice melts with the song creating a blissful, emotional trance track. Paul van Dyk's melody pairs with the lyrics so perfectly that you can still enjoy the song whether you choose the "Music Rescues Me" rendition with Plumb or Johnny McDaid. When it comes to either version, the song holds true to its theme, conveying the power of music with regard to saving its listeners. It's a familiar emotion most of us have felt our entire lives when it comes to the music we love. Pretty sure I survived my teenage years through the power of music.
Stream "Music Rescues Me" ft. Plumb on YouTube: 
While "Music Rescues Me" released today, I can't wait to hear what other tracks Paul van Dyk's newest album contains within. In his interview with Billboard, he mentioned:
"Music Rescues Me is deeply rooted in the power of music to heal and its remarkable, limitless force in our lives. It's an exploration of trance, a journey through the breadth and depth of a genre that continues to enthrall me as an artist."

– Paul van Dyk
For those ready to travel, Paul van Dyk announced a special album launch event at the London warehouse club, Printworks, for October 12, 2018. If you can't come to London next month, don't fret! Paul van Dyk has released the dates for his Music Rescues Me North America Tour kicking off in Atlanta, GA on November 9. He'll be making a stop at one of my favorite events, Dreamstate So Cal, so start making your plans because you don't want to miss out on this album tour! Read on below to see the full list of tour dates.
---
Paul van Dyk Music Rescues Me North America Tour Flyer: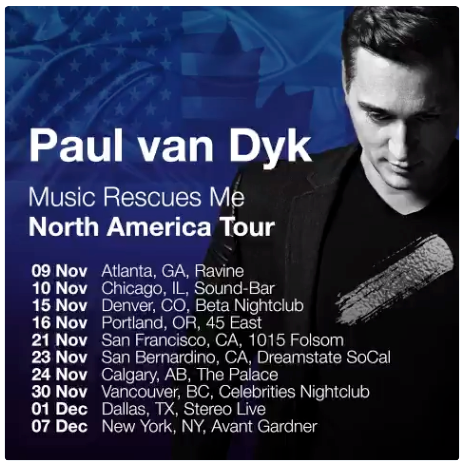 ---
Paul van Dyk Music Rescues Me North America Tour Dates:
November 9 – Atlanta, GA, Ravine
November 10 –  Chicago, IL, Sound-Bar
November 15 – Denver, CO, Beta Nightclub
November 16 – Portland, OR, 45 East
November 21 – San Francisco, CA, 1015 Folsom
November 23 – San Bernardino, CA, Dreamstate SoCal
November 24 – Calgary, AB, The Palace
November 30 – Vancouver, BC, Celebrities Nightclub
December 01 – Dallas, TX, Stereo Live
December 07 – New York, NY, Avant Gardner
---
Follow Paul van Dyk on Social Media:
Website | Facebook | Twitter | Instagram | Soundcloud