Creamfields UK gave attendees a memorable weekend of music and opened up my eyes to the world of camping and festival life in England. 
---
While there are no shortages of festivals in the United States, traveling to another event in a foreign country can become an incredible, wild adventure. Last year's 20th anniversary of Creamfields looked amazing from pictures and videos so I just had to attend this year! After months of planning, I made it to the lush, green fields of the venue, and the beautiful area of Daresbury added an earthy touch to the electronic-only event.
Event organizers provided a variety of ticketing options for their festival attendees.
Aside from Tomorrowland Belgium, I have never seen so many different options for camping at an event before. Camping ticket tiers started with standard and then moved up in price with bronze, silver, and gold. Those of us who preferred not to carry tents could purchase pre-pitched lodging known as Dreamfields, but were still required us to purchase camping tickets to gain entrance. Those who camped had the option to attend the festival for four days, and those who didn't could only purchase tickets good for two, giving preference to staying on site.
After walking a mile to get from the north gate ticketing office to the south gate entrance, I was glad I didn't have to bring any camping equipment. By choosing Dreamfields, I just needed my luggage, snacks, and beverages. I saw people with trolleys full of camping equipment and essentials waiting in the entrance lines, and the "no ins or outs" rule forced attendees to bring only what they could carry or drag inside.
Each entrance let people inside in waves to avoid an overwhelmed security. Overall it was a fairly painless process, as I was asked a few questions about my giant suitcase and if it had any prohibited items and waved in.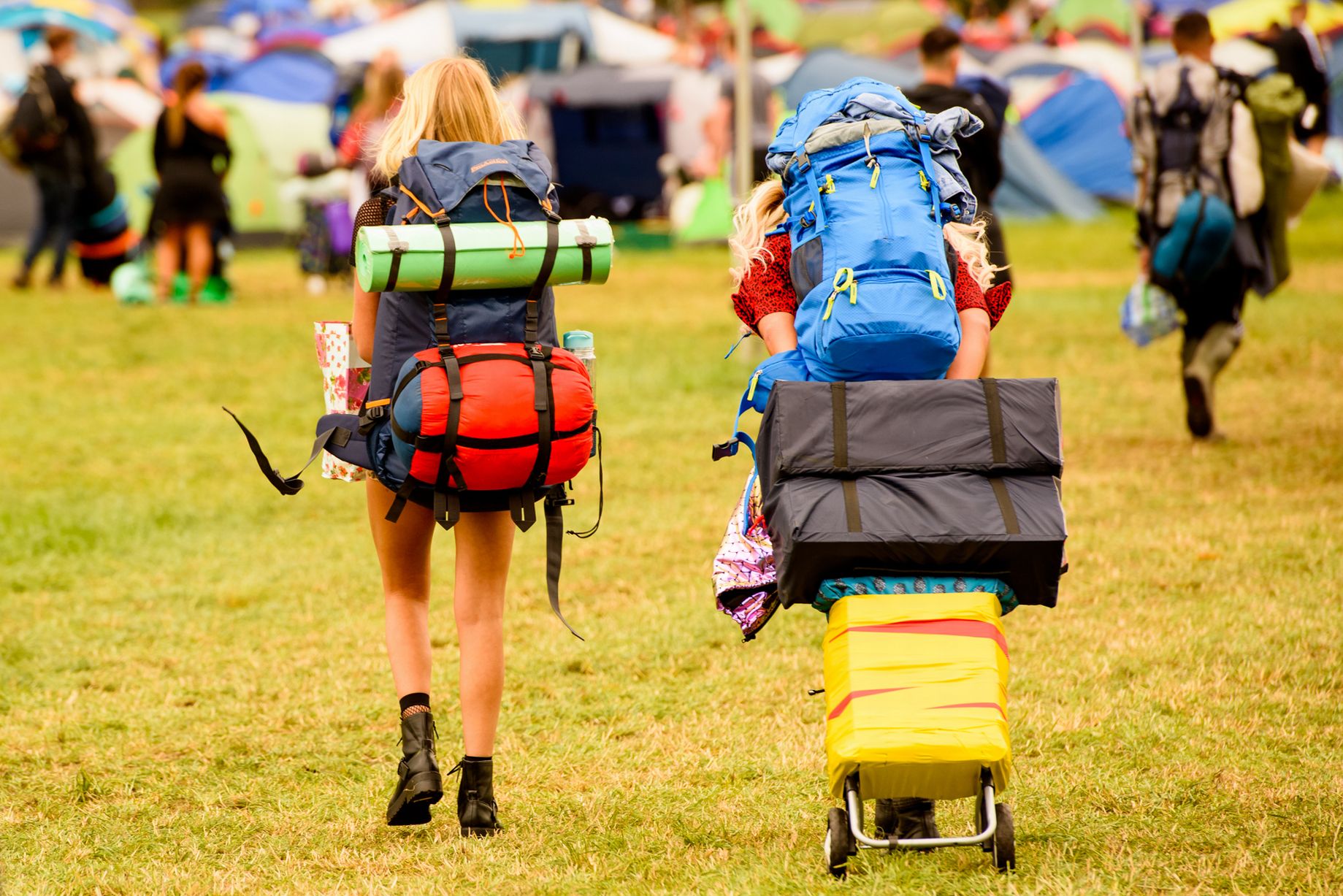 After I made it through, I headed to the Dreamfields area.
My tent was close to the entrance and a few friends. I had plenty of space for my bags and a power strip. While I loved how clean everything looked, I felt like they could have made the experience a bit more glamorous for the amount of money being charged. For example, I would have liked a longer mirror and better LED lamps.
The communal bathrooms and showers were rather nice and kept in good condition, but placed in one area. There was plenty of hot water which meant you could get a hot shower at almost any time. Though Dreamfields included a pizza vendor, more food was definitely needed.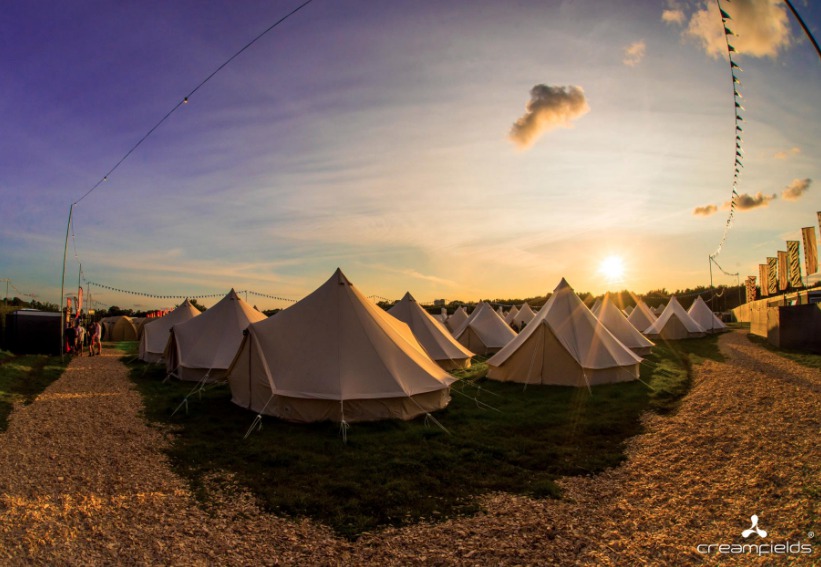 After settling into my expensive tent, I took a quick nap, changed clothes, and put on some makeup for the first day of Creamfields.
I made sure to purchase the Creamfields lanyard which had the set times for each stage. In the future, I hope that the event will consider utilizing an app for the set times, as it would be amazing to see set times prior to the first day of the event, and also all on one easy-to-read schedule.  Anything would be better than having to flip through a booklet that seemed to fall off the lanyard more than it stayed on.
While I didn't know quite a few of artists playing on Thursday, I found the idea of three silent discos rather fun, and they definitely prepared me for what was to come in the following days. Despite not having music blaring out on the first day, six hours went by fairly quickly. There were quite a few moments where the silent disco crowd broke out to sing songs like Calvin Harris' "One Kiss", Creamfields attendees were clearly not afraid to belt out the lyrics to their favorite tracks.
Thursday's silent disco night gave me a chance to check out all the different food vendors. I noticed most of the food offerings cost between £6 to £12. The burgers and pizza were good but I definitely felt like there needed to be more variety of tasty food vendors with decent pricing, and I was only able to find one vegan street food vendor.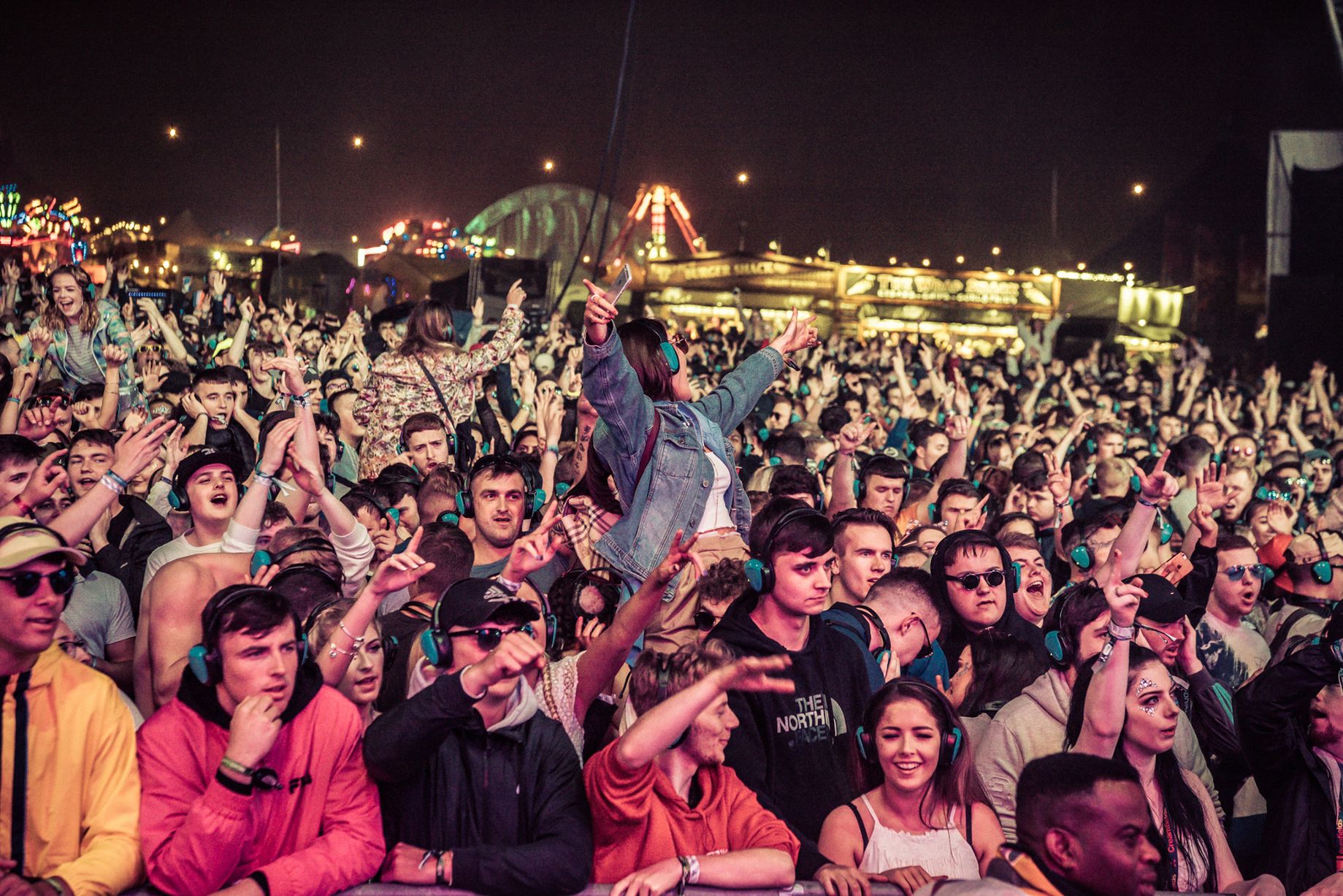 When Friday came around, the crowd was ready for the speakers to come alive with the sound of music.
Entering through the silver and gold camping entrance was a breeze, and I never had to wait more than five minutes to get into the venue. After a few minutes of figuring out the set times and the event map, I made my way to check out each stage that was open.
I found the Steelyard to be the most impressive stage with one huge screen and lighting equipment. The Steelyard design reminded me of the Ultra Megastructure with all of the moving panels, but the panels had LED lights and lasers attached to them. They could tilt move up and down and when they would retract into the ceiling they formed an arch of six boxes in four rows.
There were quite a few acts that I saw at The Vault but found myself staying at the Paradise and Steelyard stages. I caught Patrick Topping and Green Velvet, and they put on one hell of a set. Post Green Velvet, I checked out Armin Van Buuren at the Generator which was packed for his performance.
By the time it came to see Carl Cox at the Steelyard, there were only two hours of the festival left to go. He took us on a groovy house and techno journey that left me exhausted from dancing. Part of the exhaustion was due to the wet weather, which forced me to replace my comfy dancing shoes with wedge rainboots that I ended up wearing the entire weekend. While they kept me from slipping into the mud, they are not my go-to dancing shoes for a four-day event.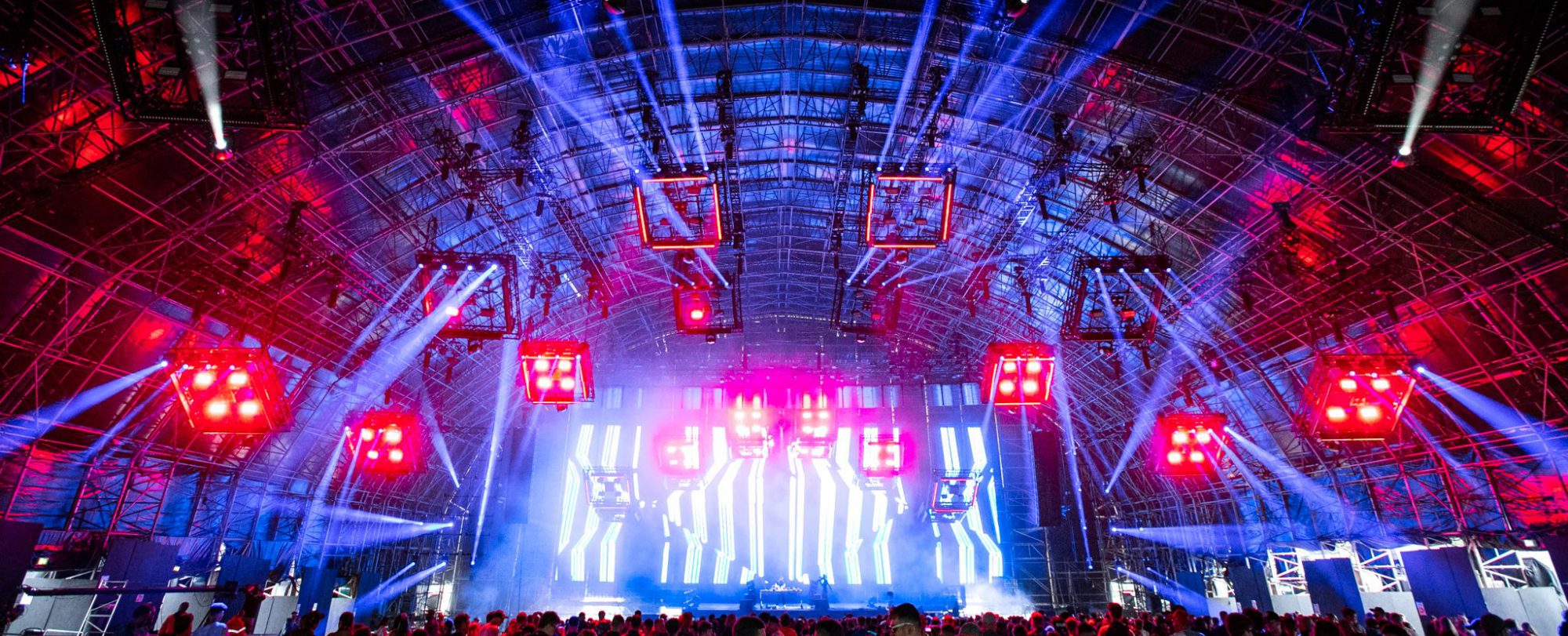 After a good night's rest, I was ready for Saturday's chaotic schedule of conflicts.
While it is easy to pick must-sees based on the daily lineup, the set times released on opening day of the festival created numerous conflicts. Many attendees came early to see the Kaleidoscope Orchestra pay tribute to Avicii with a beautiful mashup of his greatest hits.
Other than the orchestra, I hung out at The Vault to do my best dancing in the mud as I watched Liam Wilson, Alex M.O.R.P.H., Solarstone, and Guiseppe Ottaviani. I skipped a section of Guiseppe Ottaviani's set to see Galantis, which was on the way to the Generator stage. Sadly, their set didn't inspire me to stay so I went to see Ilan Bluestone. He did not disappoint playing a mixture of his songs and Above & Beyond classics. I was surprised to see Giuseppe De Luca join Ilan on the decks throughout the show.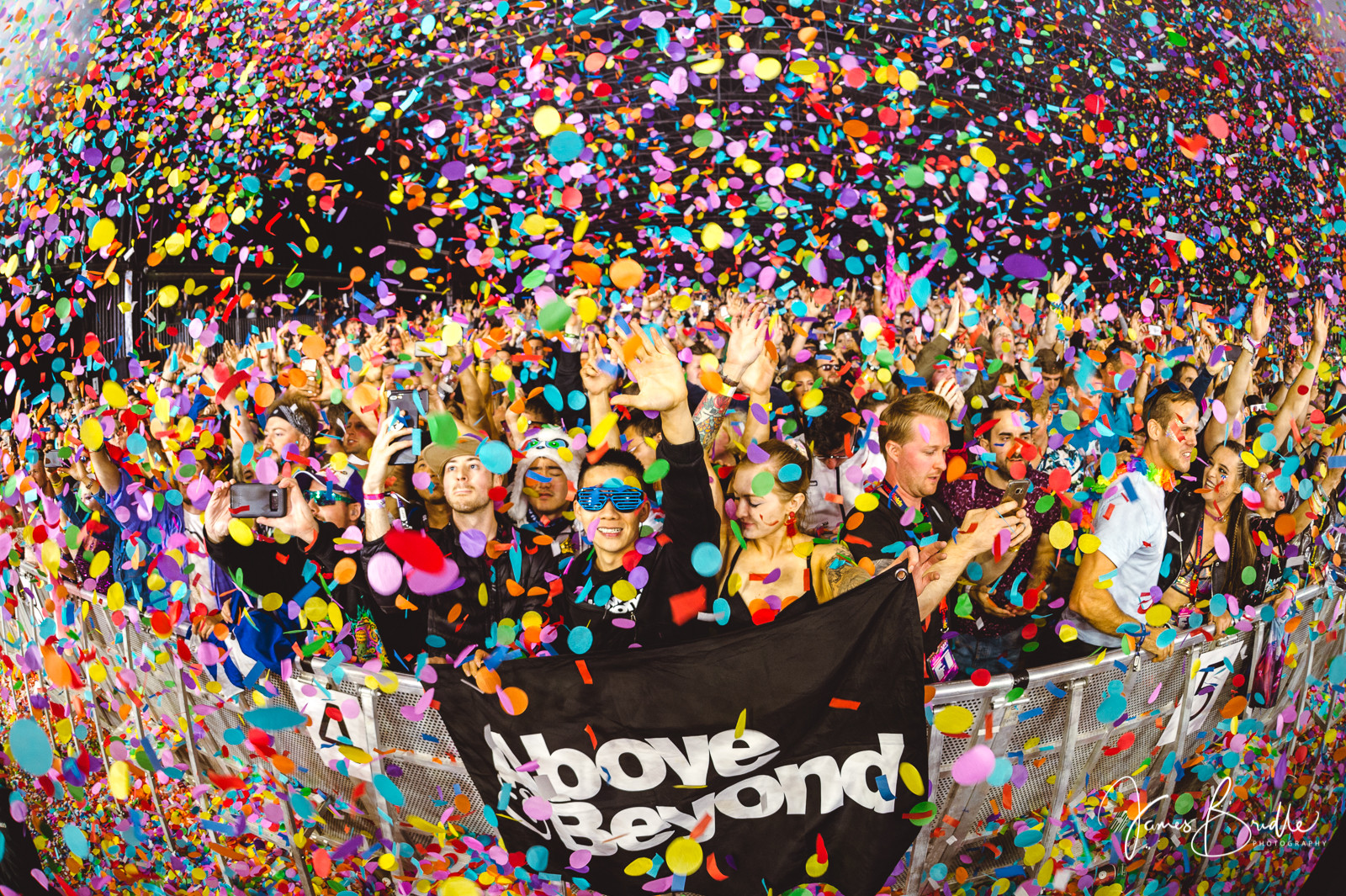 After Ilan Bluestone's set, I found myself staying around for Virtual Self, Grum, and Above & Beyond's sets. While Grum played some amazing tracks, he was unable to keep the energy level up following Virtual Self for me. I feel like it would have been better to see him play earlier or later on in the night.
Above & Beyond's set featured several Common Ground tracks as well as tracks from Ilan Bluestone and Andrew Bayer. They played tribute to Avicii by playing "Tim" by Arty and dedicating "Northern Soul" to Aretha Franklin, I teared up a little for both moments. As the set concluded, I made my way to the Warehouse stage to catch some Pete Tong before closing out Saturday with Loco Dice.
Like all four-day events, it is important to remember that the festival is a marathon, not a sprint.
Despite how hydrated I stayed and ate twice a day, my body felt exhausted. While Saturday had the best weather of the weekend, the rain came back for Sunday, which some people capitalized on for mudslides or mud wrestling. Still, I did my best to pump myself up to see Idris Elba and Eric Prydz Presents HOLO.
Idris Elba's set at the MK stage was quite enjoyable, and he managed to sneak in the Bond theme song into his own track "Badman". After Idris Elba's set, I went in search of the Pepsi Max Stage for some trance with Paul Van Dyk. After catching it, I cannot wait to hear more tracks from his upcoming album, Symbols. Sadly, I had to leave the trance crowd to get a good spot at the Steelyard for HOLO. While I waited at Steelyard, I was lucky enough to witness Kölsch deliver a solid set as the visuals behind him looked like test runs for Prydz.
As Eric Prydz's HOLO show took over the Steelyard stage, the crowd roared with enthusiasm and excitement.
While people did pop up occasionally for shoulder rides, I enjoyed the totem-less scenery before me. As a short human, I saw a great deal of the show without any obstructions. While the production was absolutely insane for the performance, I didn't have the same love for this set as I did for his b2b show with Adam Beyer in Miami or his Ultra ASOT performance this year. Yes, the holograms were stunning but I felt like the set list did not create an amazing story to go with the visuals.
I've seen Eric Prydz several times but this was the first performance where the crowd was extremely active from singing the chorus of "Every Day" or clapping to "Pjanoo." As he closed with "Generate" into "Opus", Creamfields UK finished as I walked back to my tent one last time.
If you are wondering what to wear to Creamfields, tap into your 80s fashion side and you will fit right in.
The 80's fashion continues to thrive at Creamfields with many youth sporting vintage clothing from the era. I saw many people decked out in funky prints, denim jackets, members only jackets, biker shorts, and more. Quite a few attendees dressed like ravers with sequin kimonos or fringed outfits. Unfortunately, I definitely think the cold and wet weather deterred people from wearing more rave-inspired outfits.
As for hair and makeup, glitter continues to be a major festival beauty staple with glitter beauty tents set up all around. Some tents had body and face gems for purchase. A few of the glitter tents also offered festival braids with options to add colorful hair extensions.
While the festival made me more aware of the perks at camping festivals here in the United States, the attendees made my experience more enjoyable.
Compared to events in the US that I've attended, it seemed like more attendees across the pond didn't shove or push to get to their "desired spot". In fact, I found several attendees to be really polite and extremely friendly. Some of my friends even received free beer and food from several of their festival neighbors. I appreciated the warm and friendly local attendees of Creamfields and would definitely come back to party with them again.
On top of this being a memorable festival experience for me, the mud and rain made things even crazier, yet I survived and had an amazing time.
For those thinking about escaping to a different country for a painless festival experience, I definitely suggest considering Creamfields UK. There are no language barriers and the public transportation in the UK moved fast and efficient even with the holiday weekend, just make sure to bring a friend to help you bring all your gear in if you plan on camping!
While the festival looked a bit humble compared to other festivals I've attended like EDC Las Vegas, it was the high level of variety in artists on lineups and enjoyable atmosphere that made Creamfields UK shine brightly for me. I look forward to new ways they'll change next year for #Creamfields22!
---
Follow Creamfields on Social Media: