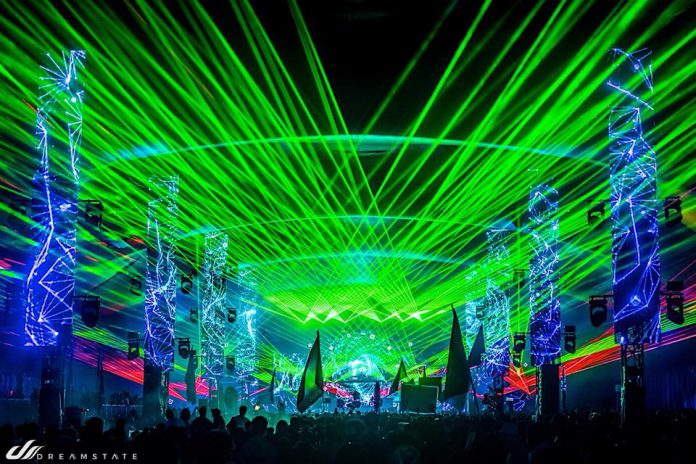 Looking to relive those unreal vibes from #TranceGiving? Check out these livesets from Dreamstate SoCal 2017!
---
Dreamstate SoCal has once again left us absolutely impressed as trance artists have brought their best for headliners to dance the night away to this weekend. Drawing thousands to the NOS Events Center in San Bernardino, Insomniac Events brought a lineup of epic proportions for their annual edition of #TranceGiving.
Four stages pumped out both quality beats and positive vibes from the start of the event until the final beat dropped. Dreamstate also saw the debut of many artists like Factor B and Orkidea at the event, while highlighting the project from John O'Callaghan and Bryan Kearney, KEY4050.
Sets from artists like Menno de Jong showed off the power of the production elements featured at The Vision stage, while The Dream featured lasers that pummeled the crowd during GAIA's performance.
Whether you were jamming out to some classics at the Timeless stage or having your mind wrecked by the hologram visuals at The Sequence, many memories made over the weekend can now be revisited. Livesets from the weekend have begun to surface, so check out the list of artists below and bookmark this page as it will be continually updated with the latest!
What was your favorite set from last weekend? Who surprised you the most? Let us know in the comments, or feel free to join in on the conversation on Facebook!
Dreamstate SoCal 2017 Livesets
---
Andrew Rayel
SoundCloud | Mixcloud | YouTube
---
Arctic Moon
SoundCloud | Mixcloud | YouTube
---
Armin van Buuren
SoundCloud | Mixcloud | YouTube (Pt1) (Pt2) (Pt3) (Pt4) (Pt5) | Facebook Video
---
Ben Gold
SoundCloud | Mixcloud | YouTube (Partial)
---
Blastoyz
SoundCloud | Mixcloud | YouTube (Partial)
---
Bryan Kearney
SoundCloud | Mixcloud | YouTube
---
Captain Hook
SoundCloud | Mixcloud | YouTube (40 Minutes)
---
Cold Blue
SoundCloud | Mixcloud | YouTube
---
David Gravell
SoundCloud | Mixcloud | YouTube
---
Factor B
SoundCloud | Mixcloud | YouTube
---
Fadi & Mina
SoundCloud | Mixcloud | YouTube
---
Ferry Tayle
SoundCloud | Mixcloud | YouTube
---
GAIA
SoundCloud | Mixcloud | YouTube | Facebook Video
---
Giuseppe Ottaviani
SoundCloud | Mixcloud | YouTube
---
Greg Downey
SoundCloud | Mixcloud | YouTube
---
John Askew
SoundCloud | Mixcloud | YouTube
---
John O'Callaghan
SoundCloud | Mixcloud | YouTube
---
Judge Jules
SoundCloud | Mixcloud | YouTube
---
Liquid Soul
SoundCloud | Mixcloud | YouTube (24 Minutes)
---
Key4050
SoundCloud | Mixcloud | YouTube | Official YouTube
---
KhoMha
SoundCloud | Mixcloud | YouTube
---
Khromata
SoundCloud | Mixcloud | YouTube
---
Kristina Sky
SoundCloud | Mixcloud | YouTube
---
Manuel le Saux
SoundCloud | Mixcloud | YouTube
---
MaRLo
SoundCloud | Mixcloud | YouTube
---
Menno De Jong
SoundCloud | Mixcloud | YouTube
---
Orkidea
SoundCloud | Mixcloud | YouTube (Part 1) (Part 2) (Part 3)
---
Outsiders
SoundCloud | Mixcloud | YouTube
---
Paul Van Dyk presents AEON
SoundCloud | Mixcloud | YouTube
---
Rank 1 (Live)
SoundCloud | Mixcloud | YouTube
---
Robert Nickson
SoundCloud | Mixcloud | YouTube
---
Roger Shah
SoundCloud | Mixcloud | YouTube
---
Sam Jones b2b UCast
SoundCloud | SoundCloud #2 | Mixcloud | YouTube | Facebook Video (SAY NO TO VERTICAL VIDEO)
---
Shugz
SoundCloud | Mixcloud | YouTube
---
Simon O'Shine
SoundCloud | Mixcloud | YouTube
---
Stoneface & Terminal
SoundCloud | Mixcloud | YouTube
---
Sunny Lax
SoundCloud | Mixcloud | YouTube (Part 1) (Part 2)
---
Thomas Datt
SoundCloud | Mixcloud |  YouTube
---
Vini Vici
SoundCloud | Mixcloud | YouTube
---
Follow Dreamstate on Social Media:
Website | Facebook | Twitter | Instagram