Enjoy your time at Creamfields this weekend with information on where to park, what not to bring, the festival map, and more!
---
With each edition, Creamfields gets bigger and better. In preparation for Creamfields, you can get familiar with our lineup post to see who is scheduled to play over the weekend. Unfamiliar with most of the artists? Check out my top 5 picks for Creamfields 2018 to find out who I'm itching to watch. Oh, and don't forget to explore all of the new stages such as SILO and Generator as well as the famous Steelyard. I'm definitely excited to see these new and additions to the layout.
Interested in set times? Sadly, these will only be distributed on lanyards for £10 at the event and no app is listing them either. However, you can take a look at the daily stage lineup to gauge which artists will be playing at each stage.
Most importantly, remember to be safe at the event, wear your earplugs, and don't to party too hard over the four days of festivities. We can't wait to see you at Creamfields and be sure to follow our Instagram for all the action!
---
Creamfields 2018 Essential Info:
Dates: Thursday, August 23 – Sunday, August 26, 2018
Hours: Thursday (5pm-11pm), Friday (3pm-11pm), Saturday (2pm-4am), Sunday (12pm-11pm)
Venue Address: Warrington WA4 4AG, UK
Tickets: Purchase HERE
Facebook Event Page: RSVP HERE
Acceptable Forms of Identification for Entry
An in date photographic driver's license or provisional license,
A valid passport (not a photocopy). Out of date passports will NOT be accepted.
A Proof of Age Standards Scheme Card (showing the PASS hologram) more information on the pass scheme website
An in date Armed Forces Photo ID Card
A national photo identity card issued by the country of origin (other than the United Kingdom
Please note the following:
All persons, ticket holders, guests, press, and media must be searched on entry
No person is permitted on site without a valid ticket or pass
All tickets must be carefully checked prior to entry onto the site
The promoter does not store prohibited items. Items left at the gates will be discarded.
The promoter is not responsible for abandoned items
The event management reserve the right to refuse any item not detailed above that they deem inappropriate or dangerous to bring in to the event
---
Creamfields 2018 Open and Closing Times: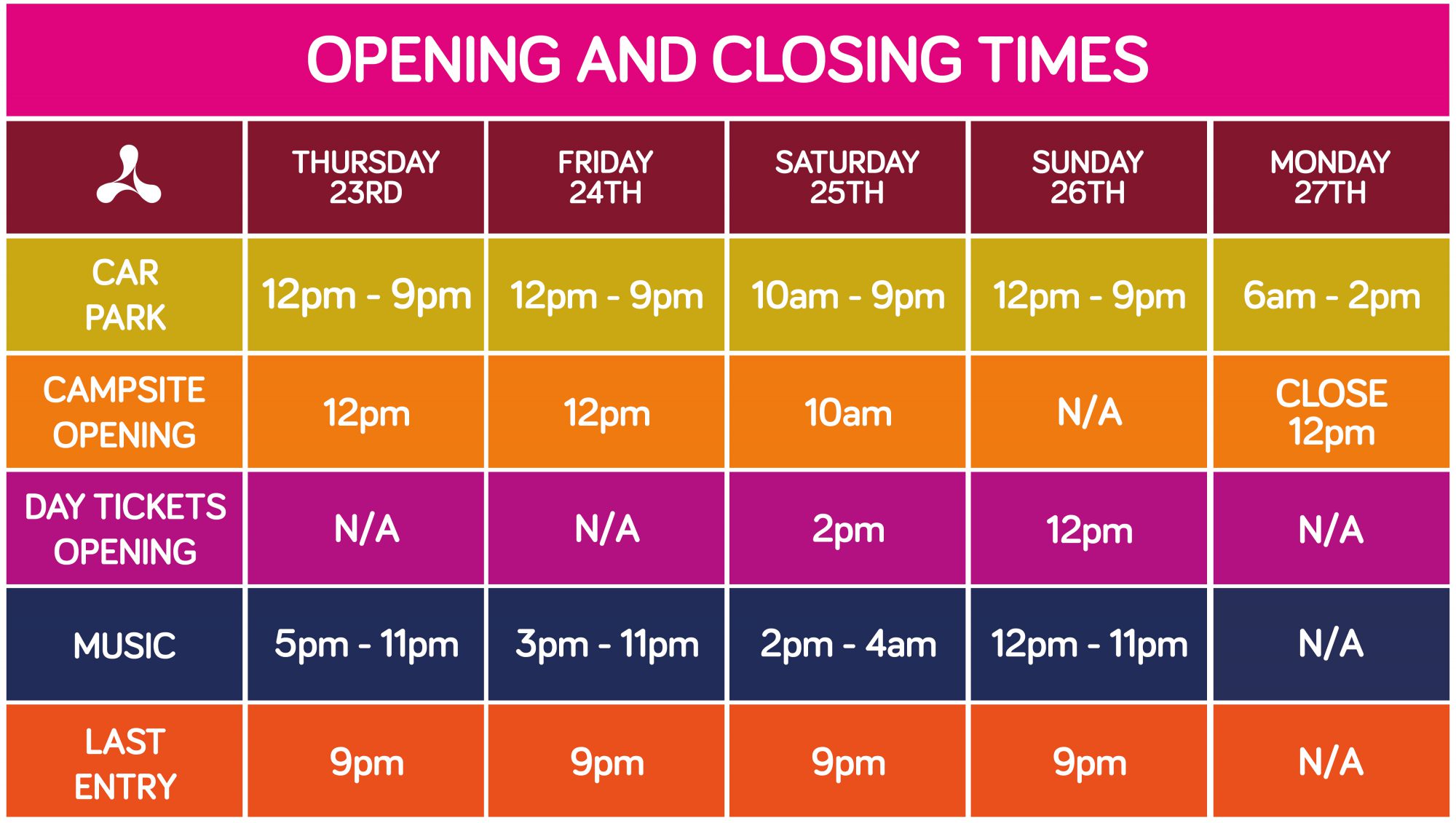 ---
Creamfields 2018 Daily Lineups: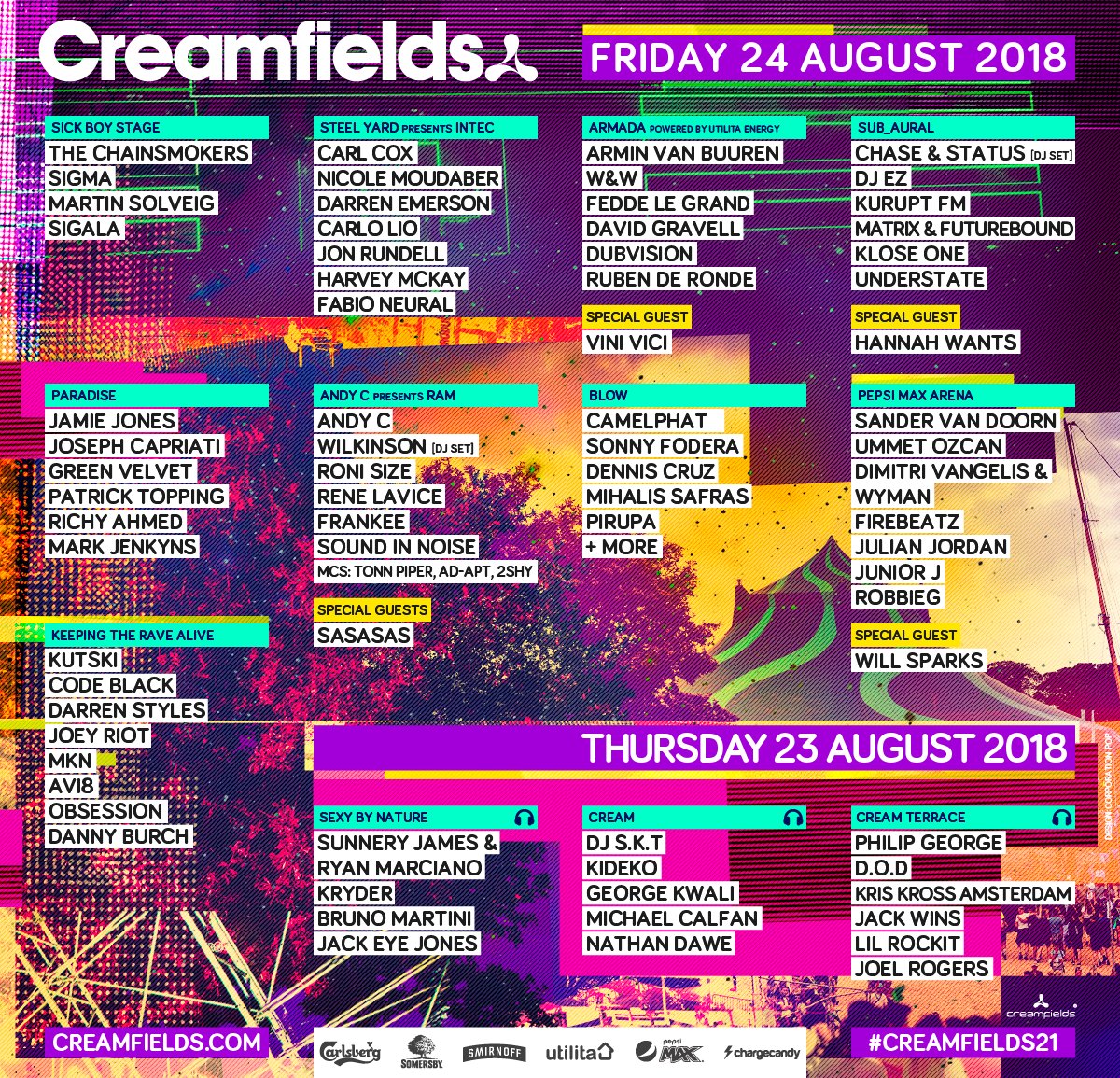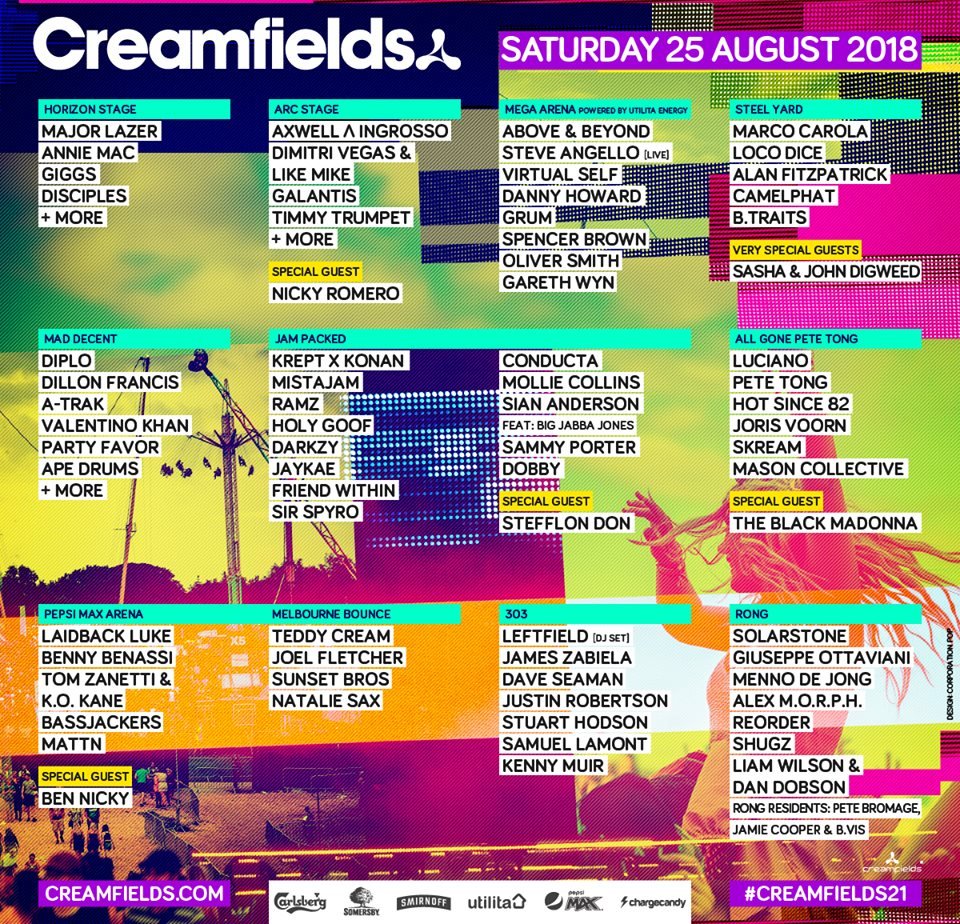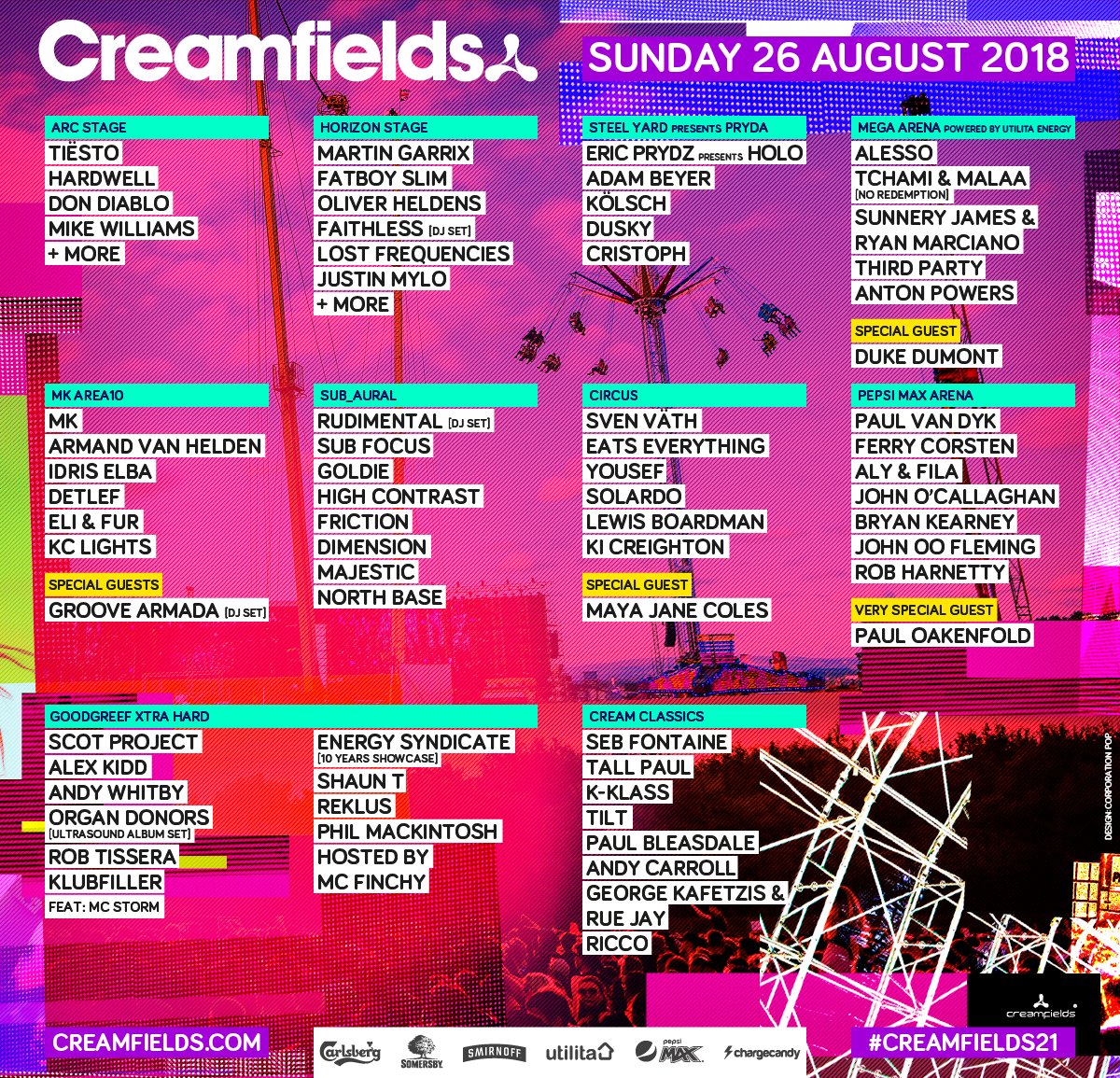 ---
Creamfields 2018 Festival and Parking Maps: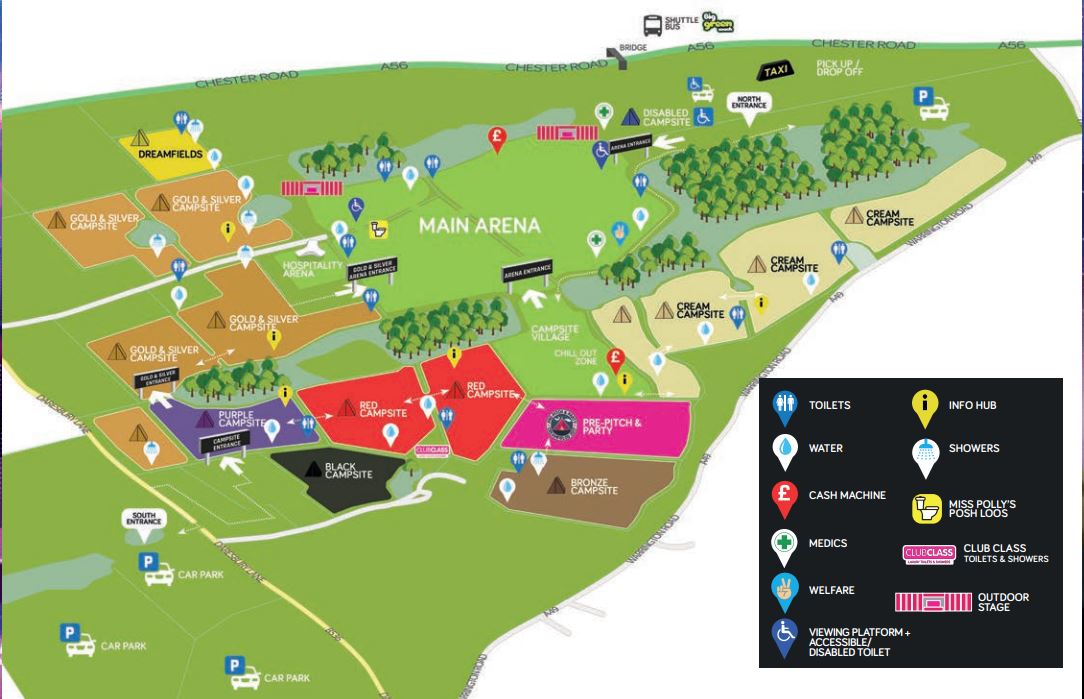 Be sure to check out the Creamfields 2018 Info PDF for a pocket-sized guide to the campgrounds and parking. Take the South Gate to gain access to the campgrounds. For those not camping at the event, use the North Gate.
---
Creamfields 2018 Approved and Prohibited Items Chart: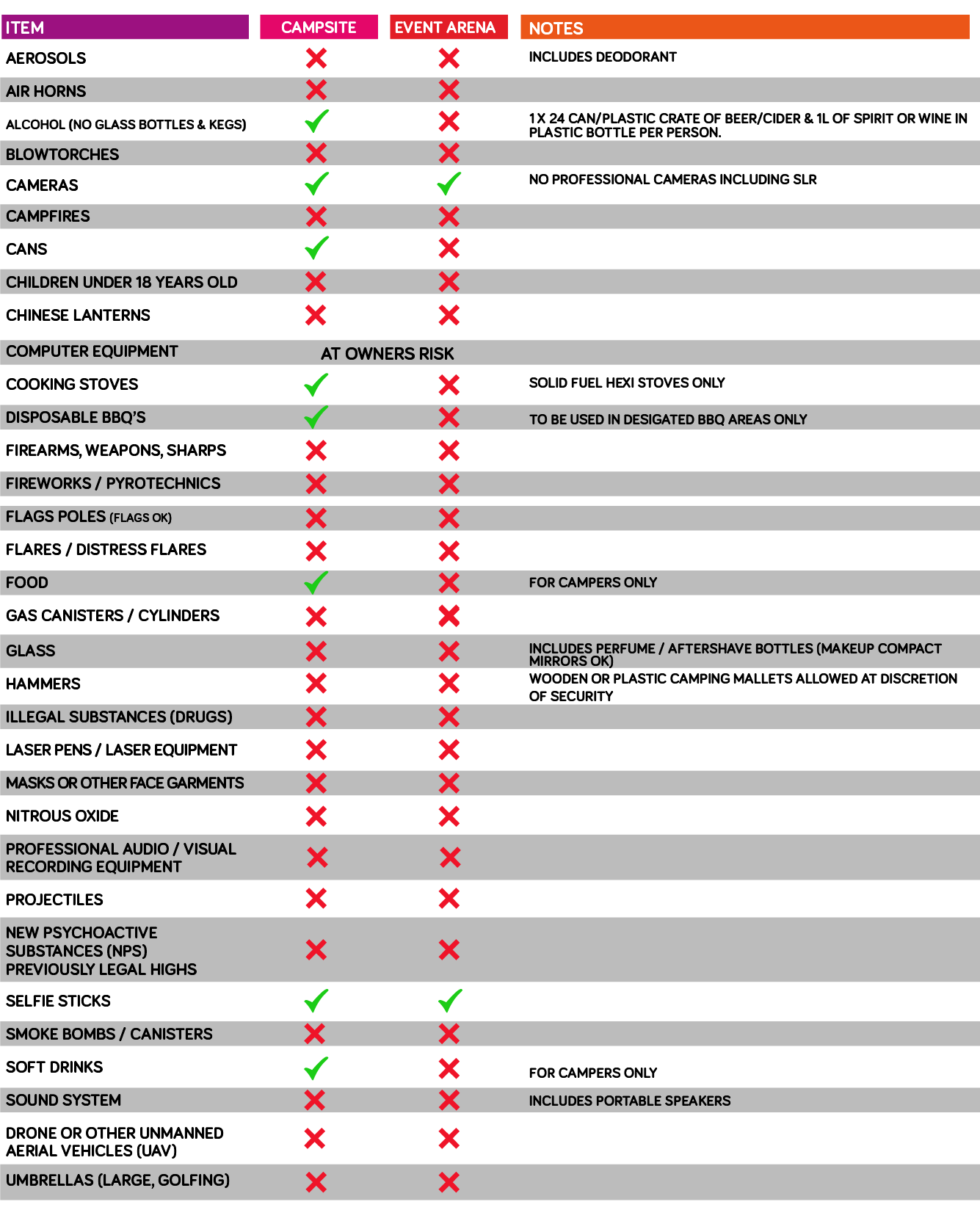 ---
Reminder To Mind Your Belongings:
Unfortunately, many people have reported pickpockets, bag slashings, and theft of wallets, smartphones, purses and other valuables during this festival season. While this small number of bad apples in the bunch doesn't define an entire crowd, there are opportunistic people who come to these events to take advantage of unsuspecting partygoers and it's important to be mindful of your valuables while at Creamfields.
Looking to keep your valuables safe? Purchase lockers located within the campsite village and only available to camping ticket holders. The lockers include a mobile charging facility which requires a 12v car charger (not included and no USB ports).
Large lockers are sold out but regular lockers (22cm wide x 15cm depth x 9cm high) are still available. The vendor supports the lockers for 24hours with appointed staff to assist if needed. Lockers are mostly for small valuables and monitored by CCTV for your safety and the security of your valuables. Check on the locker purchase page for more information HERE.
Other options, especially for day ticket holders, is the cloakroom facility located at the main entrance into the event area. Patrons cannot leave their items overnight with the cloakroom option as must pay for the facility each day.
Looking for tips to keep your belongings safe? Check our post highlighting some ideas!
---
Connect with Creamfields on Social Media: