This year, the Boombox Art Car will be providing a home for both rising stars and legendary trance artists at EDC Orlando!
---
The Boombox Art Car will be making its return to the Sunshine State this year on November 9 & 10 for EDC Orlando. With this year's lineup with heavy influence favoring music for house, techno, and bass lovers, this mobile stage will be a great way to escape with some trance vibes and sets from rising stars.
Taking the stage on the Boombox Art Car this year at EDC Orlando are legendary trance artists like Talla 2XLC, Jochen Miller, and Suzy Solar, along with EDMID favorite OMAIR. Also adding to the fun is Nifra who continually pulls out all the stops for her sets all over the globe. This day of trance vibes will be perfect for those looking to get a taste of the classics paired with some artists who are pushing boundaries as well.
Additionally, we were stoked to see that EGZOD, YDG, Sharps, and Jayceeoh will be taking the stage and providing some quality sounds to get down to at Tinker Field. These rising stars are some of the most forward-thinking artists out there, so don't sleep on their sets if you get a chance to check them out. Check the full lineup for the Boombox Art Car below and let us know who you're most excited to catch this year in the comments!
Will you be heading to EDC Orlando this year? Tickets are on sale now via orlando.electricdaisycarnival.com/tickets grab yours today!
---
EDC Orlando 2018 – Boombox Art Car Lineup: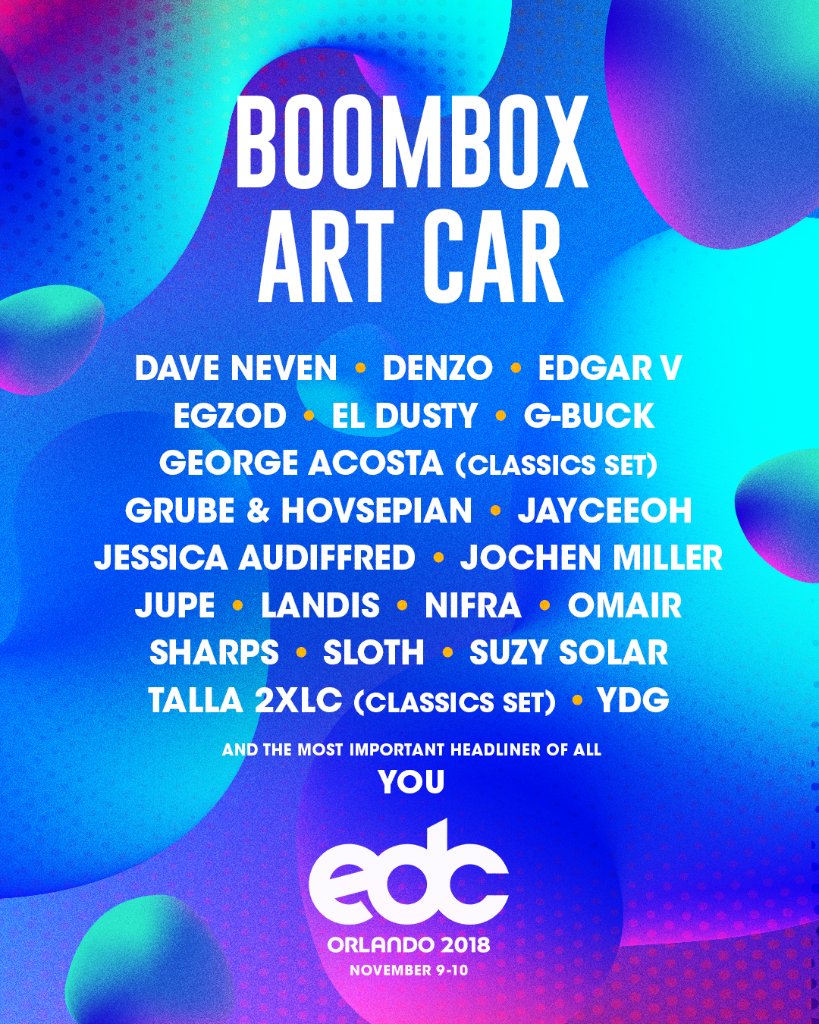 ---
EDC Orlando 2018 – Boombox Art Car Lineup by Artist:
Dave Neven
Denzo
Edgar V
Egzod
El Dusty
G-Buck
George Acosta (Classics Set)
Grube & Hovsepian
Jayceeoh
Jessica Audiffred
Jochen Miller
Jupe
Landis
Nifra
Omair
Sharps
Sloth
Suzy Solar
Talla 2XLC (Classics Set)
YDG
---
Connect with EDC Orlando on Social Media: