After an epic performance at EDC Orlando in November, we wanted to catch up with rising star EGZOD!
---
From Nice, France to Miami, Florida, EGZOD is poised to make a huge mark on the growing electronic music scene. His music style combines the sounds of cinematic production with a variety of influences stemming from the realms of bass music to chillout. Each track he's released takes those who tune in on a different journey with no two songs sounding the same.
His recent set at EDC Orlando was a result of two years of hard work that paid off as he took the stage on the Boombox Art Car. With the end of the year on the horizon, we're looking forward to seeing his #WorldBass style take off in 2018! Read on for our chat with EGZOD as we discuss his music, what he misses from France, collaborating with other artists, and more!
Stream EDMID Guest Mix 094 || EGZOD on Mixcloud:
---
Is there a story behind the name EGZOD?
I wanted to find a name that represents the concept and vision I had in mind. Egzod stands for the idea of "departure" or "escape" in French and I wrote it in phonetic so everyone could spell it the same way.
On each track I want the listener to feel like he or she is going on a journey; which is the reason why I use a lot of cinematic and exotic sounds.
Who are some of your inspirations as an artist, and what led to you becoming a producer?
I started DJ-ing when I was 12 and after some years I got bored of playing other people's music so I decided to create my own music. Music production then led me to audio engineering eventually. Daft Punk, Joachim Garraud, Justice, and DJ Snake inspired me a lot as an electronic music artist.
Back in September, you released "Everything" in collaboration with Clips X Ahoy. What led to you working together and did you approach that production process differently than "Wake Up"?
I recently moved to Miami so I wanted to connect with local artists. We first connected on Twitter, and we both liked each other's work. He sent me that work in progress, and I directly felt inspired, so I brought my own touch and finished it. Yes, the process was different; "Wake Up" was actually supposed to be a remix at first but then I decided to make it an original.
Your music is defined as "#WorldBass". Can you share what that classification means to you?
I wanted to have a tag that represents my music and vision. "#WorldBass" simply means bass music blended with world music sounds (Eastern, Asian, African, etc.).
Back in November you took the stage at EDC Orlando and played a seriously awesome set. What was it like playing at the festival?
Thank you! It was just amazing especially because playing in a big festival such as EDC was something I've always wanted. Besides, everything started in Orlando 2 years ago so it was even more meaningful to me to play EDC for the first time in Orlando.
Originally you're from Nice, France. Did you find the move to Miami difficult to adjust to, and is there anything you miss from France that you can't get here?
I actually first moved to Orlando 3 years ago to study at Full University. It was hard at the beginning because I didn't know anyone here and my English was really bad. But then I met the right people that helped me to move forward.
Besides my family and friends, I miss the food A LOT, especially the cheese!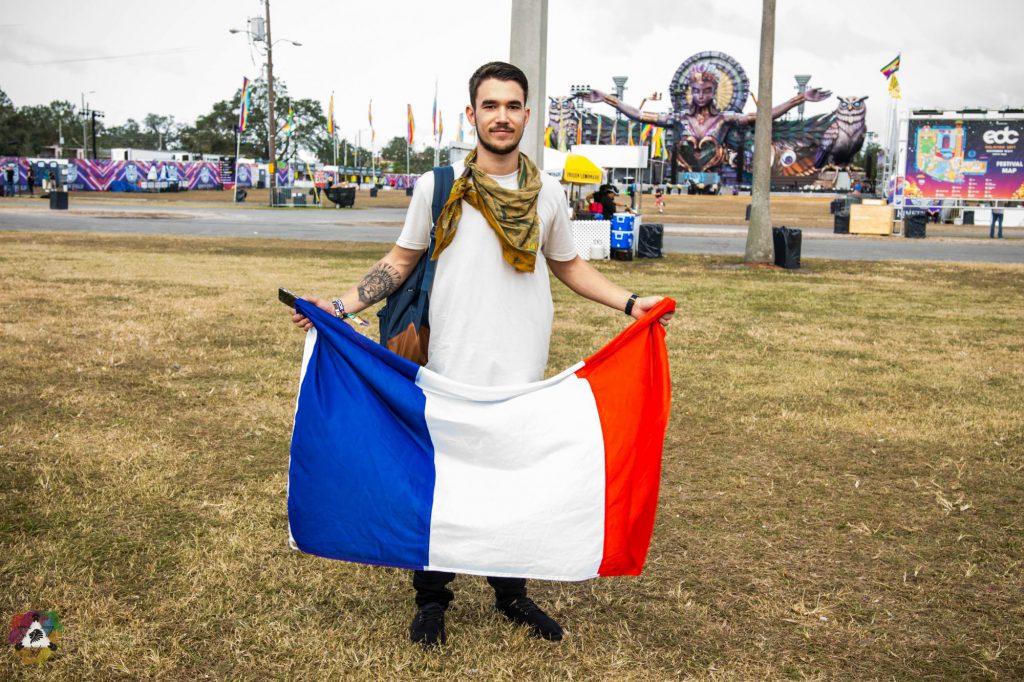 If you could only choose three artists to listen to for the rest of your life, who would they be and why?
I would pick Tribalistas, Daft Punk, and Nina Simone because I grew up listening to them.
Looking back on the year, what was your favorite moment from 2017?
2017 was a great year. One of my favorite moments was probably when I heard one of my songs being played on the radio for the first time by The Chainsmokers on Sirius XM.
What is in store for fans of EGZOD in 2018?
Early next year, I will be releasing 2 tracks on NCS, including a collaboration with the singer Anna Yvette, and 1 track on Snavs' label, Riotville Records.
Finally, what toppings make up your favorite slice of pizza?
Pineapple and ham!
---
Follow EGZOD on Social Media:
Website | Facebook | Twitter | Instagram | SoundCloud