If you've followed the trap and bass community at all in the past few years, the name Jayceeoh will no doubt ring a bell.
The man has been in the music scene for a long time, but has taken a jump to electronic music in the past two years. With many awards, and tracks under his belt he's been slaying the festival scene recently. A perfect mashup of trap and hip hop. We had the chance to sit down with Jayceeoh at Das Energi. We'd like to thank V2 Presents for their assistance in the interview, and for throwing such an amazing festival. Keep reading as Jayceeoh discusses collaborations, production, crazy tour stories, and more!
Click HERE to check out the full review of Das Energi 2016!
---
I want to start by talking a bit about collaborations, you recently released a new single "Elevate" with NEVVE on vocals. Can you talk a bit about how you met NEVVE, and how that track came to fruition?
Jayceeoh: Well that track came to fruition through my buddy Good Will who works with a lot of really dope top liners. He's like "Dude I got this sick vocalist, I want her to do a song with you. She's got this song, that she wrote, but doesn't have a dope track to it." And she had already written the vocals, and they sent it to me, and they were like "Yo this could be your single if you make that shit fire." So I made that shit fire, and it is what you hear now, it came out incredible. And it's been doing great, we're over one million streams on Youtube and Soundcloud combined in less than 2 weeks.
Do you have any other collaborations in the pipeline that your fans would be excited to hear about?
Tons. The biggest collaboration is mine and Redman's new group 1000volts. But on the Jayceeoh side of things, I just did a record with Morgan Page. It should be coming out within a month or two. On the 1000volts project, we did a record with Zeds Dead. We're hitting the studio with Datsik, Brillz, and a couple other people for that project. I have a lot of other projects in the works with a lot of dope up and coming trap guys. So tons of records in the pipeline.
If you had to pick 2 artists from the electronic community, and 2 artists from the hip hop/rap community that would be dream collaborations for you, who would they be and why?
That's a good one. On the electronic side, it would have to be… let me bundle Jack U together. Just because those guys are such trendsetters, and just set the standard that anything goes. On the electronic side, those are two people who kill shit, and [they're] just super open to making anything fly. The way I DJ, how I come from being like a hip hop dude, and then a club guy, then a trap guy. I want to bring all types of influences to my sound. They do that perfectly. On the hip hop side, I'd love to do something with Kanye, and someone who I used to work with, Wiz Khalifa. I was one of Wiz's first DJs and early on in the game before he blew up. He was like "Come on the road for like 60 shows." And he wasn't super poppy yet, and the money wasn't good enough. I was already touring and playing clubs on my own. I made a decision that I couldn't do it, and then my buddy DJ Bonics took over and he's still with Wiz. But I'm still homies with Wiz, every time we're in the same city, we get up and smoke ridiculous amounts of weed. But we've yet to make an official track, so that's someone I think I need to make a song with.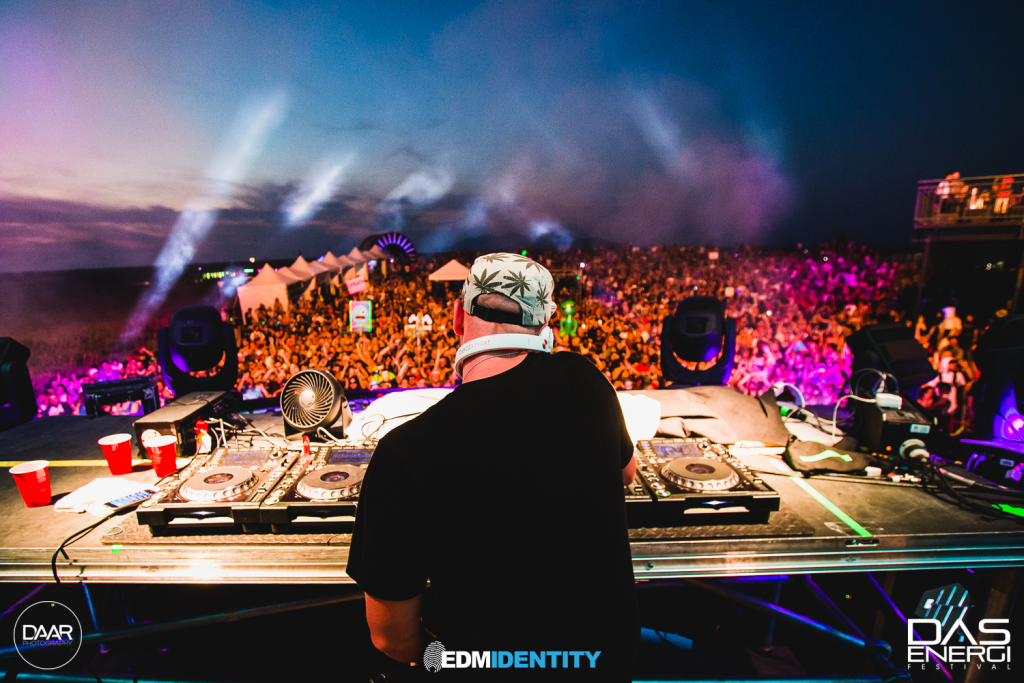 You've started working in 1000volts with Redman, can you talk a bit about what that's been like?
It's been a dream come true. I grew up as a 90s hip hop fan. That's how I started DJing and loving music and hip hop. Redman was one of my favorite artists. So it's like a dream come true to work with him on just one song "Turn Me Up Some". To have that grow into a whole group, where we're doing a whole album and collaborating with some of the biggest names in electronic music… It's really bridging the gap between where I come from and where I am now. That real hip hop shit, and that real trap shit combined together. Our live show is going to be out of control. I don't know if you've seen Redman live but his energy is ridiculous. And if you've seen me DJ you know I throw down. That together is 1000volts.
What are some of the differences you've noticed between working with someone from the hip hop community like Redman, and working with other producers in the dance music community?
It's completely different. Dealing with rappers is its own battle. Especially someone like Redman who is already an icon. He's not some young guy who is thirsty to get some shine. He's a legend already, he's set for life. But having him be willing to work with me is like a blessing for me. They [rappers] aren't always as responsive. I know he's going to get back to me but when? And this guy chain smokes blunts all day every day, he's the highest guy alive next to Wiz. Dealing with electronic producers is a lot different. It's people more on their hustle, more like me. In the electronic world you kind of make it happen yourself. So all the artists are more on point with their shit because they have to be. Rappers are just like "I'm a rapper. I get paid to rap, I smoke weed, I fuck bitches."
Let's switch gears a bit and focus on Jayceeoh. In the past couple years you've kind of exploded recently in the festival circuit, but you've been active in the scene for much longer than that. Is there one particular thing you can accredit the recent boom in exposure to?
I wish there was one thing. It's really just been tons and tons of hard work. Putting out releases non-stop. Just throwing darts at the wall non-stop. Showing and proving that I can produce my ass off. It was hard for me, I come from the hip hop battle world. So for me to break out of that and be accepted into electronic music was a hard thing. People were like "Oh he's just a hip hop battle guy, he just wants to do this for X, Y, and Z." So I had to really prove why I'm here and why I deserve to be here. Over the last few years I've probably put out 50 records, and tons of official remixes and collabs with big artists. Now all the major artists now who I am and they fuck with me. And that's why I'm here, it's because of hard work and determination. Nothing was given to me, I worked hard for every booking that I've got.
You have a very long list of accolades, DJing for some big names in the hip hop community, bookings at a lot of major festivals, and especially winning VH1's Master of the Mix show. Is there one thing or goal you haven't quite hit yet, that you've aspired to achieve? And if so, what is it?
It's kind of like, I'm on the path to right now. I'm on the up and up right now, but I haven't hit that blowing point. I want to be a point where I play every festival. Yeah I play some dope festivals each year. But I want to be that guy that's on every festival with my name big. I want to be a headliner.
Are there one or two festivals you can pick out of the bunch that are above everything else, where once you play them you can sit back and say "I've made it."?
Not really. If it's just playing at the festival, I've done EDC, I've done Coachella. It's more like I want that night-time, main stage slot. Maybe not main stage, but I want the prime slots. It's working your way up the ladder to being the more featured artists at these big festivals.
So next year, closing out Das Energi is what it's going to be right?
I could see that. Next year, 1000volts closing out Das [Energi].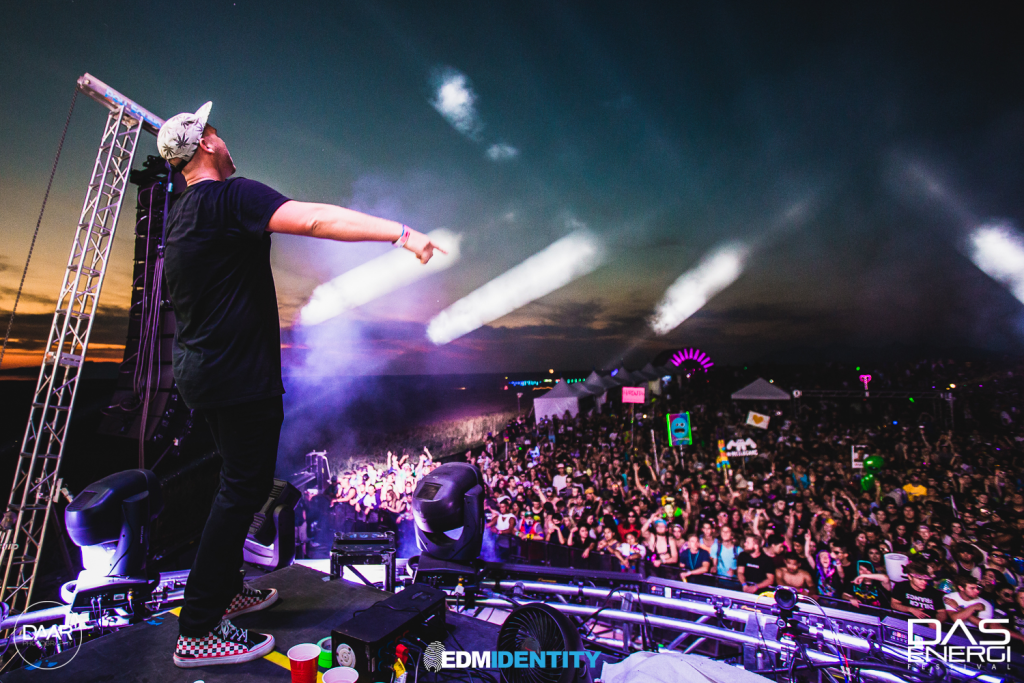 It seems you're kind of an innovator, in that you're not solely a producer, or solely a DJ, you incorporate a lot of things into your shows, and have an extensive background in a lot of areas. How important is it for you to always be innovating, and always be pushing the envelope?
It's just natural to me. It's the most important thing. I always draw inspiration from everything I see and hear. Everyone I run into. If I find something that's dope, I'm like "That's dope. How can I incorporate that in my own way? Into my production or my stage show." I'm always very hard on myself. If I'm not 120% killing it, I feel like I suck, to my own detriment. Sometimes when I should be happy about things, I'm kinda bummed. But that's what pushes me to be great. When I won Master of the Mix, I was never satisfied. A lot guys when they made it to the next round they were like "Oh I'm cool." I was like "I'm not cool. Until I take this shit over, I'm hungry as hell." I have that battle mentality still, even though I'm not a battle DJ anymore. I'm very competitive. Not that I want to knock the next man down. I just want to prove that I'm as good as or better than everyone else doing the shit.
Who are some of your favorite artists or producers right now? From any genre.
I'll just stick to electronic, just to simplify things. NGHTMRE is a great story. I met Tyler before he released any music. He came through, we actually made a record that never came out with B-Sides. Ricky Remedy is a super underrated dude. He's incredible. There's a lot of talent. I love how there's kids popping up out of nowhere that just have incredible sounds. I find inspiration from everyone. Even tonight, seeing Marshmello and what he's done from a branding side of things. I get inspired by that just from the marketing side, aside from the music. I've known Ookay for years, and now "Thief" popped off for him. Seeing all these different things, seeing what took those people to the next level. Thinking about what I have to do to make myself jump up, it's a never ending cycle. But I'm a hard worker, my management kills it, and we just grind it out to achieve our goals.
So this is your second year playing Das Energi, I saw in a previous interview that you really like Das and it's one of your favorite festivals to play. What makes it so special to you and what's your favorite thing about the festival?
Well what I love about Das is like… Last year was my first year, and they took a risk and put me on main stage at a great time. And they believed that I could hold it down. And I held it down. The crowd was incredible, and a lot of people said that it was their favorite set of the festival. Getting that feedback is what I thrive off of. I'm in a position where I put out all this music and a lot of people know me. But I don't always get the right looks that I need. But if you give me the right look, see what the fuck happens. Das Energi is the perfect example of that.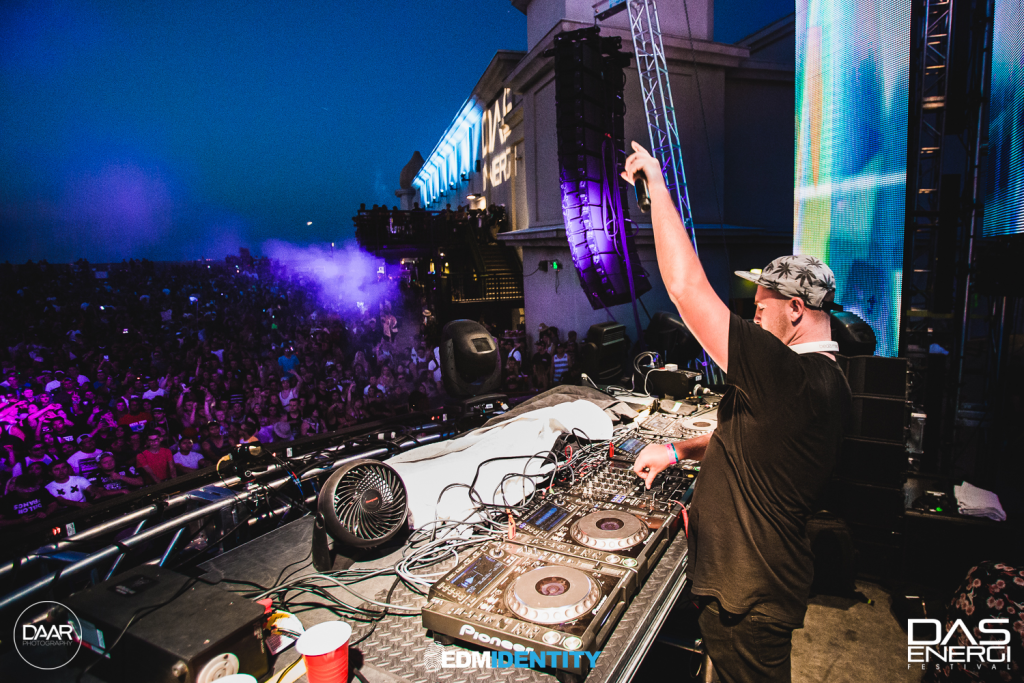 Do you have any crazy tour stories? And if so, what's the craziest one?
Jayceeoh: Oh man, what's my go to on this one?
Manager: The fight one is pretty good, that one is old school. There's a lot of old school ones. When the dude was freaking out on the plane…
Jayceooh: That's too long of a story. I'll just do a quicker one. I played a festival in Guatemala, Empire Music Festival. We get picked up [from the airport] in a bulletproof car, it's time to go to the festival, it's like a 3 hour drive from the hotel. We get picked up in a bulletproof car. Our driver speaks zero English. All we heard about was how the police are so corrupt, how they'll kidnap and extort you. So we leave the hotel, half way through the city, the driver didn't run any red lights or do anything. Next thing you know we're getting pulled over by the police, like ten motorcycle police. They pull us out of the car, on the way to the festival. I'm sitting in there with my laptop out. I'm thinking they're going to steal my laptop and take my kidney just to get my laptop back. So we had to sweat that out. And our driver didn't speak any English. We kept trying to communicate saying "artista." After about a half hour of sweating it out, they let us go and we made our set. That's a wild one, there's plenty more, crazy, x-rated stories, but we'll save those for my biography.
Now we have two bonus questions for you: If you could only have one food for the rest of your life, what would it be?
Man I love to eat. Probably, I'm gonna say sushi. But if I wasn't who I am, getting fat when I eat a lot, I'd pick barbeque. But sushi is a little more clean so I'd rather go with sushi.
The last question: If you were stranded on a desert island, and could only bring 3 things with you, what would they be and why?
A hot ass chick, an endless supply of sushi… Wait that would go bad… I'd have a spear fishing rod, I'd go spear fish my sushi. And then probably a crate of matches so I could make fires and cook whatever I catch on this island.
You're one of the only artists who actually put thought into it. Everyone else is like "I'm going to take a laptop, iPod, and headphones." And then they only live for a couple days.
Yeah once your laptop dies what happens… Three hours later you're like fuck.
Those are all the questions we have. Thanks for taking the time to sit down with us!
Appreciate it, thanks!
---
Catch up with Jayceeoh on Social Media:
Facebook | Twitter | Instagram | SoundCloud