SHARPS is an up and comer on the festival scene but he's been exploding recently and he doesn't show any sign of slowing down.
Over the past year, he's been making a name for himself. With a residency at Aston Manor in Seattle, and bookings at festivals like Paradiso and Das Energi. SHARPS is an artist that we'll be keeping a close eye on in the coming months. We had the chance to sit down with SHARPS and Fransis Derelle together for an interview after coming off their back to back performance at Das Energi. We'd like to thank V2 Presents for their assistance in the interview, and for throwing such an amazing festival. Read on for SHARPS' take in this interview on inspirations, career goals, the electronic music scene, and more!
Click HERE to check out the full review of Das Energi 2016!
Stream SHARPS – Ready For War Tour Mix on SoundCloud:
https://soundcloud.com/sharpsmusic/sharps-ready-for-war-tour-mix
---
What was your inspiration in becoming a DJ?
I went to a festival, and I saw how much fun it looked like they were having and I said "I could do that." It's definitely harder than it looks but that's what got me into it, festivals.
In the dance music community it's important to have a specific or unique sound. What would you describe your sound as?
I'm all about bass music, hard, literally shake the whole building. The grimier the better.
https://soundcloud.com/sharpsmusic/rl-grime-core-sharps-remix-2
So you just played a b2b with Fransis Derelle, other than each other, if you could play a b2b with anyone, who would it be and why?
Mine would be RL Grime, I have mad respect for the dude. He barely uses the mic, and just lets the music speak for itself. He kills it, he's an OG.
What's your favorite event that you've played?
[Fransis Derelle made mention of Red Rocks]
Das Energi is up there for sure, but Paradiso last year.
Seems like these have a common theme being beautiful venues, here you're on a beach, you have The Gorge, and Red Rocks.
Beautiful venues for sure. They're all so different. I had no idea there was literally going to be a beach right outside [at Das Energi].
What is it about the electronic music scene that speaks to you?
There's no judging, some dude headbanging next to me, or some dude with some weird dance on the side, it's doesn't matter, it's just all about the music. No hate.
https://soundcloud.com/sharpsmusic/flux-pavilion-nghtmre-feel-your-love-sharps-evix-remix-1
We've talked about favorite events you've played, what's your favorite event you've attended?
Electric Daisy Carnival for sure. EDC Las Vegas.
What was the favorite EDC you've attended?
Mine was the first year they went to Vegas. 2011. It's like a big playground for adults. It's the perfect place to have it, in Vegas.
If you had to pick 2 – 3 dream collaborations of artists you would want to make a track with, who would they be and why?
DJ Snake, because he literally makes everything and kills everything he touches. NGHTMRE because he's been a big influence, literally changing the game right now. Probably back to RL Grime because he's the man.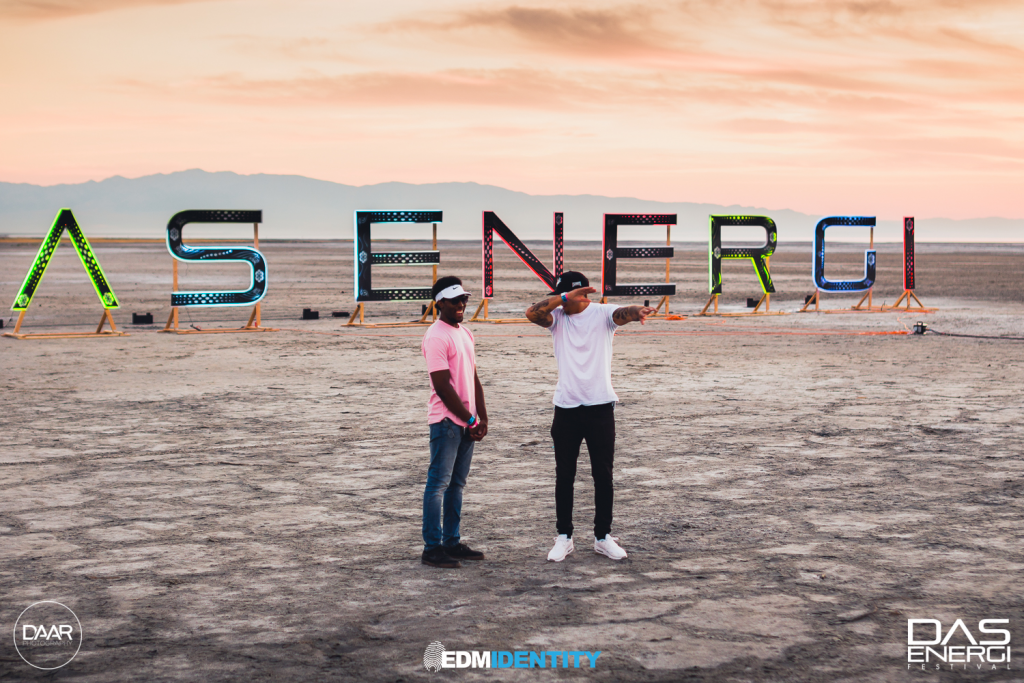 What 2 – 3 festivals are a goal for you to play? Once you play it you can say "I've made it so to speak."
Shambhala because it's just dirty, grity, get lost in the wilderness. EDC because it's just a landmark of EDM and dance music. And then Tomorrowland.
Das is Utah's biggest festival at this point. It's on a beach, and this is the biggest year so far. What is it like playing such an incredible festival?
This is my first time playing in Utah but the love they give is insane. I'm from Seattle and I feel like I get good love from my hometown but I get more love from Utah than I get from my hometown. It's crazy, they just love music. They don't care where you're from, who you are, you play music, they like it and they get down.
Well that was all we had. Thanks for taking the time out to talk with us.
No problem. Thanks!
---
Connect with SHARPS on Social Media:
Website | Facebook | Twitter | SoundCloud