In its entirety, Defqon.1 is an experience that is indescribable. There is not one single word that is powerful and all-encompassing enough to be fit for it.
---
Ever since learning of Defqon.1 roughly six years ago, visiting this festival has been a dream of mine. I can try to describe parts of it, but that is about the extent of my recollection of this perfectly imperfect weekend. Only thing I can say for sure is that I now have an even more burning desire to return each year from now on.
As with any festival, I had my highlights, disappointments, and surprises. Delete's VIP set, MYST, Phuture Noize: Black Mirror Society, Rebelion, and Rebel[UT]ion, Power Hour and lastly the meetup were my biggest highlights of Defqon.1.
Though there were few moments I wasn't the biggest fan of, I had some disappointments. Crypsis & Chain Reaction Presents: Unlike Others, Project One, The Endshow, and the second half of Act of Rage's set just didn't cut it for me. To round out the weekend, I was most surprised by Bass Modulators not sucking, "Pinsir" in the Endshow, and Rebel[UT]ion's performance after Delete VIP. Read on for my full review of Defqon.1!
I arrived a good half hour late to the festival grounds on Friday.
This meant that I was too late for Headhunterz' set and thus decided to just explore. I headed over to the BLACK stage, where Endymion's 20 years special set was taking place. I stayed for a few songs before I realized that despite my love for these guys, I really don't feel the vibe and I really don't have sufficient knowledge of their catalog to fully enjoy this set.
Thus I headed on over to the BLUE stage to catch the last 25 minutes of Bass Modulators. I am the first person to trash on Bass Modulators, but this set positively surprised me. The highlight of their set was the 2K18 electric-guitar edit of "Dragonblood" – their Defqon.1 2016 anthem – supplemented by a live performance of said guitar. This performance made me see that anthem in a very different light.
They were surprisingly good and refreshingly exciting. Another big positive is that their new songs finally don't sound like Noisecontrollers 2.0. Finally, they found their musical identity again.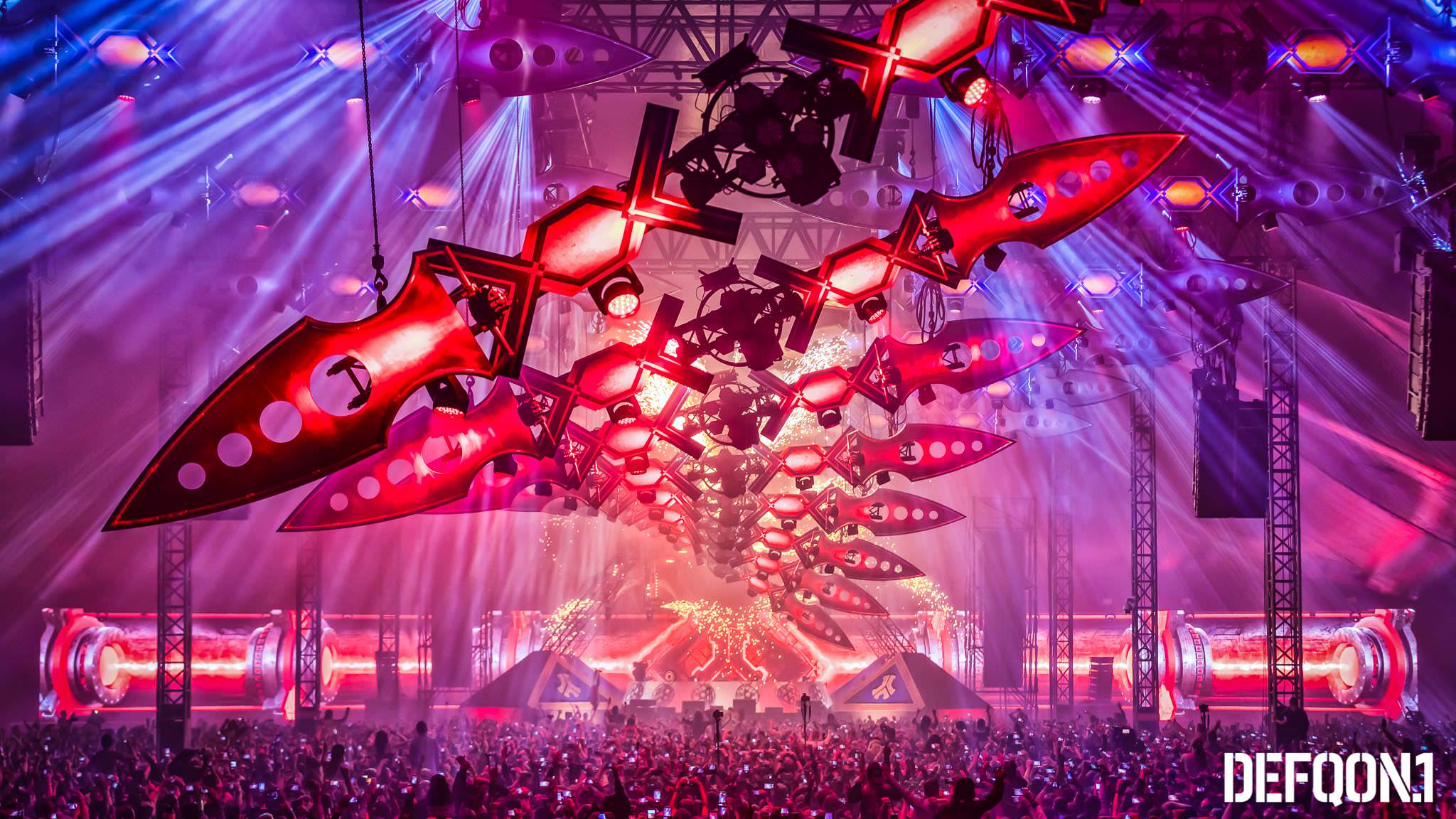 Next up was Atmozfears, who played a mixture of bangers and fresh unreleased tracks.
I got to hear most of the big Atmozfears bangers like "Accelerate", "Reawakening" and "Lose It All" but surprisingly not "Keep Me Awake" or "Release". The set consisted of notable tunes such as a fresh edit of "Enya" (with Sub Sonik), "I Still See Your Face" remix, "Breathe", "Drop The Bomb" (a literal nuke on the dancefloor), and Demi Kanon's "Closer".
I also enjoyed Atmozfears' remix of "Psychedelic", "Bring On The War", and finally a track-of-the-year contender: his collab with Demi Kanon – "The Humming". This again, much like "Enya" with Sub Sonik is sampling a melody by, you guessed it: Enya. The kicks on this one tear everything to pieces. Two artists considered mainly euphoric through the body of their work made a track with kicks that sound like they are a combination of their own mashed together with Rooler and Malice's kicks. It's a phenomenal experience in music and I recommend everyone to listen to this masterpiece.
Up next was Team Paradox, who played their newest collaboration "The Solution" and a multitude of solo projects.
Made up of sensational artists B-Front and Phuture Noize, Team Paradox began the set with "The Paradox", the namesake of their special combination. If I'm being completely honest, I was initially much more impressed by the Phuture Noize side of things. He played banger after banger: his Qapital anthem, "Anthem of Freedom", "There's A Lot Going On Bootleg", "Suicidal Superstar", and several others truly made this set for me.
However, B-Front also kept up his side of things relatively well by playing "Lost" with Alpha2, "Inner Creativity", "Silent Scream", his bootleg of "Smells Like Teen Spirit" and several other notable contributions. But most of these tracks were less hype than that of Phuture Noize.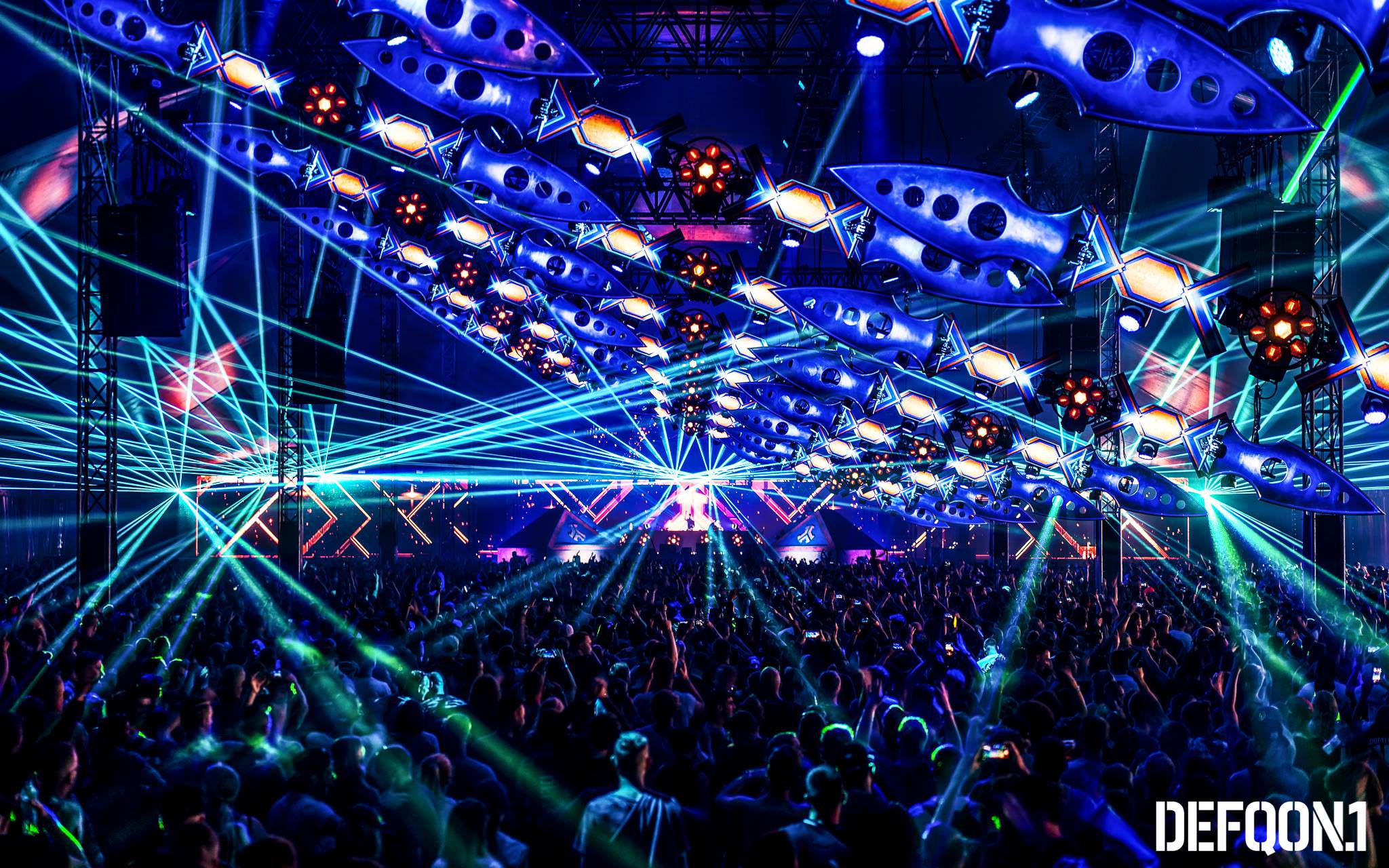 Then B-Front blew me away with the next few tracks he played.
B-Front set the tone with the original "On The Go" by Max Enforcer & Frontliner – a timeless classic ahead of its time by at least 5 years, "Mysterias" – his magnum opus, "New Form of Life" with Frontliner – track of the year if released this year – and closed it all with "EVP" for good measure.
I was completely blown away especially by the B-Frontliner track, as it has been in release limbo for over three years. Premiered at HardBass 2015, this track has been very rarely played if at all and never had a sufficiently good recording of it for people to enjoy. I never in my life thought or hoped to ever hear this track live and boom – first big event 4th set. Team Paradox delivered an amazing set and they also completely wore me out. I left before Frequencerz to go to sleep because I needed the energy for the next day.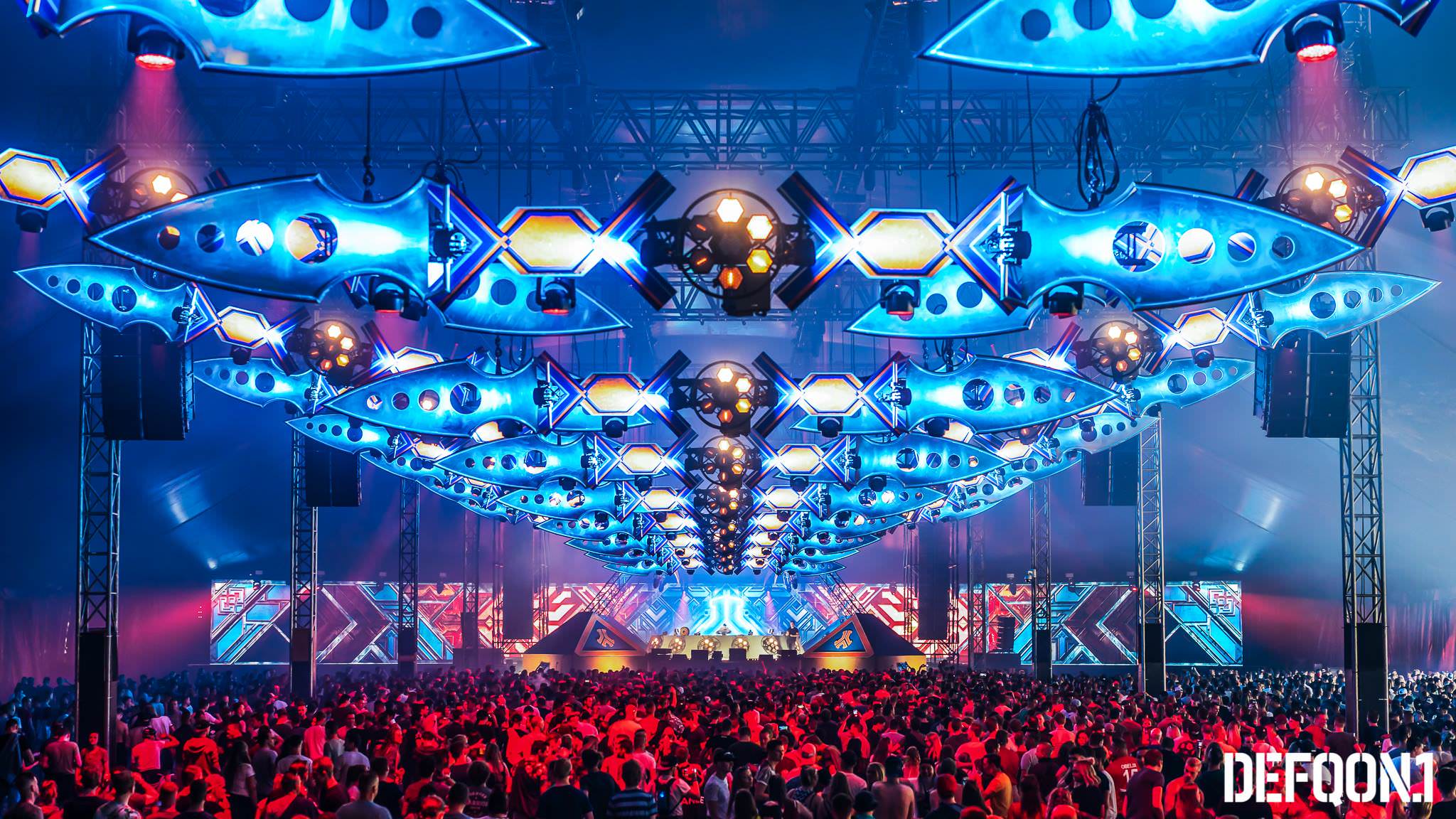 Saturday brought forth more music, a meetup, and an epic Power Hour.
After a good four and a half hours of sleep – because a group of Spaniards decided it was a great idea to picnic right next to our tent until 3am and discuss shit very loudly – I awoke at circa 8am and got to the showers as fast as possible in order to avoid the literal traffic jam that was to come later. The shower facility at the camping was great though, even if a bit too small all things considered.
Moving on from there, we had breakfast and met up with a few of my friends from Reddit. We talked a bit and got ourselves some merch, where I myself snagged a snapback cap with this year's logo on it. Then the day officially began when we went on to the first sets of the day: RVAGE, Degos & Re-Done, and Chris One. Their sets were enjoyable but nothing all too special.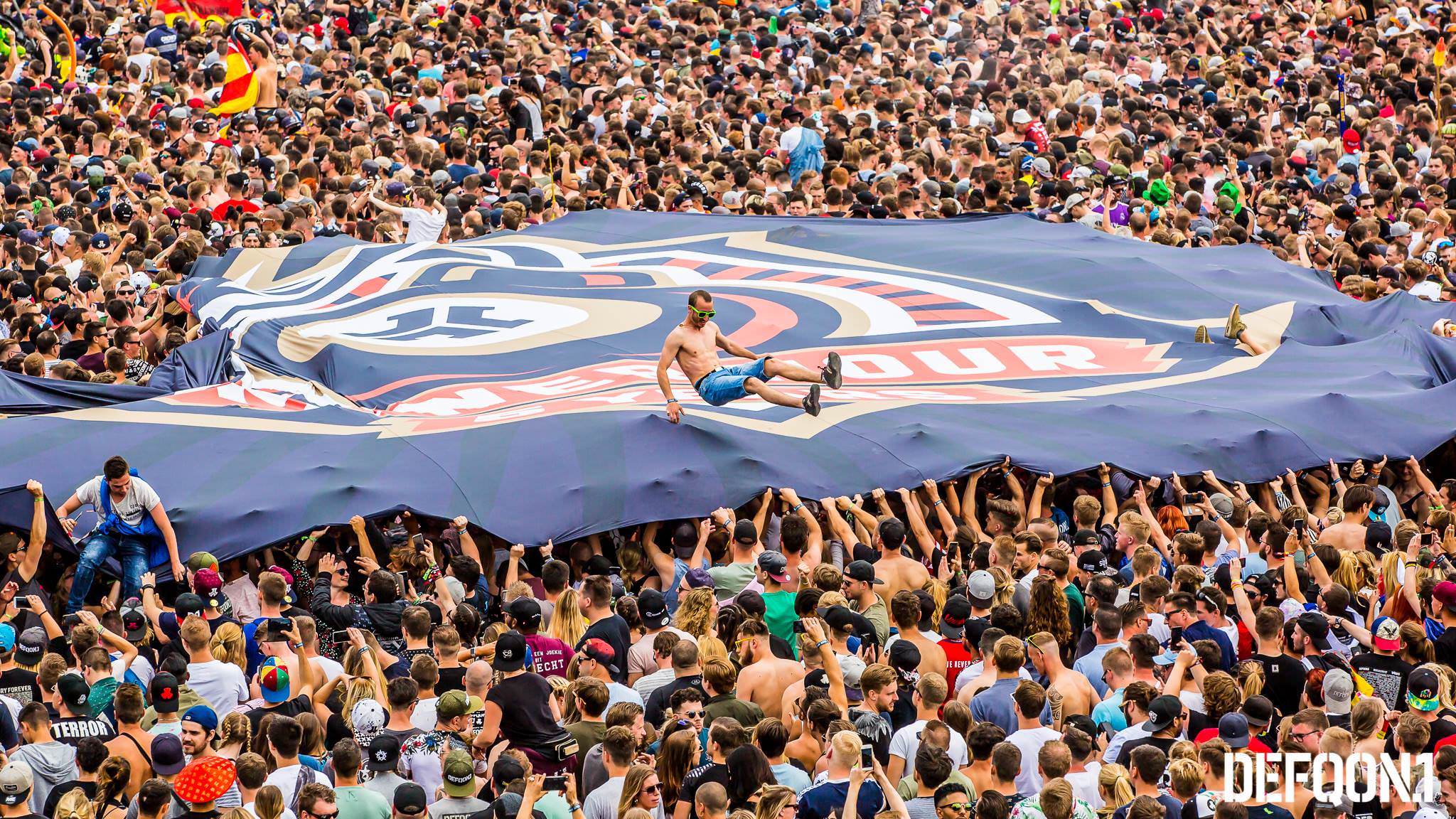 The first major highlight of Saturday came at around 2pm when all of us from the r/hardstyle subreddit met up at the PURPLE stage.
We arranged the meetup to be during Euphorizer's set, but I missed the memo and just wandered around in the BIG CHILL and at RED while the set took place. I managed to get there in time for the important part: the group photo and the individual photos.
Gerard Henninger, one of the official event photographers himself offered to take our pictures pro bono to commemorate our meetup. He has a little series called "The People of X", with 'X' being the group of people he likes to document. We were chosen this year by him to be taken pictures of and it was an amazing experience. After this, it was time for Power Hour.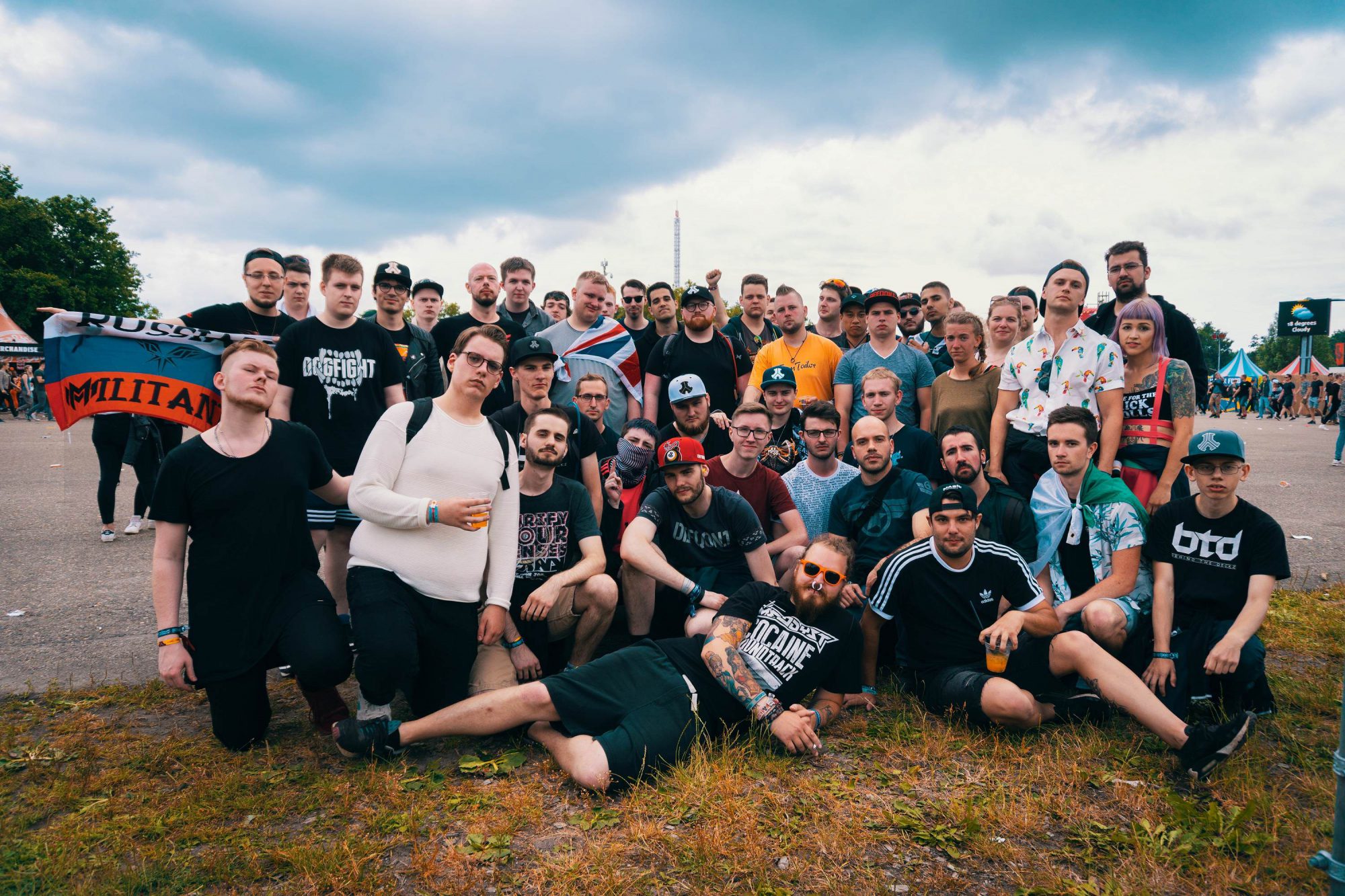 Held since 2014 on the RED stage the Power Hour is an hour of madness, and it is amazing.
Power Hour contains a shitload of edits and fast cuts, more than one track per minute on average and amazing theatrics and dancers on the stage. Not to mention the boatload of blowup dolls, beach balls, and other things that are thrown into the crowd.
Worthy of mention was Villain's #rowyourboat challenge, which was something that I enjoyed but thanks to the crowd's unwillingness to try out new things, it failed miserably. People standing around not taking part and obstructing the view, and people jumping up too soon being part of it.
The biggest highlight, however, was the crowd control part. The left-right, the links-rechts, the "JA JA! DA GAAN WE!" part. It was insane. This was the third time Power Hour featured this move, and I predict it to be a mainstay for as long as Power Hour exists. No matter how many times, this will always blow newcomers away and even for experienced festival goers it's always a fun time.
After Power Hour concluded, I could barely stand. So, I took a break in my tent back at the campsite. I came to around 19:45, halfway through Radical Redemption's set. It was a set I set out to see before the festival, but I really needed the rest. I picked myself back up and decided to go back to the festival so I would at least catch the last three sets. And thus, we arrive to one of my top five sets of the weekend.
Up next was Rebelion, who played an amazing set.
I sadly missed the first three tracks, "Bring It On", "On The Run" and their remix for B-Freqz' "Psycho", but I did catch "Empire", their newest album's title track while walking into the tent. My feet still hurt, my back still hurt, but then the familiar melodies and kicks that I loved so much came on, and the adrenaline rush that came made the pain go away completely. Rebelion played banger after banger after banger. But the part that really truly stands out is always their encore.
Their encore began with "Wall of Death" a track that sounds like absolute garbage at home but surprisingly hits super hard live. I expected it to suck and fall flat but it reverberated incredibly hard in my chest so I take that as a plus point. Their live edit of "Dead Wrong" followed and it was as expected a dance floor killer, with many people completely fooled by the triple-fake-out buildup. Followed it up with Power of Truth, that is a mainstay in most of their encores, as expected.
Now, all that is left and needed is "DRUG$$" and we can call it a day. But then the unexpected happens.
Rebelion made a remix of a meme-track called "Maren-Kessel Tunnel Rave" originally a track that is intentionally made in a bad way and trashy as fuck. So what do Rebelion to make it even crazier? Well they do this:
We are lulled into thinking that it's another "Power of Truth" or another "Dead Wrong" edit from the first few kicks, but then "SWITCH" is heard and a cacophony of kicks erupt and fill the air. An absolute slaughter of sound, of music, and of good taste sweeps over the floor. But it is So. Much. Fun. A fantastic set that I would love to experience again one day.
Warface played a rather safe and standard set, but it was enjoyable.
Warface's three standout tracks were his new collab with Radical Redemption "God's Fury", his collab with Malice & Rooler "Watch Your Back" and the follow-up to that auditory nuke, a yet to be named track with an even more insane buildup but slightly less insane drop.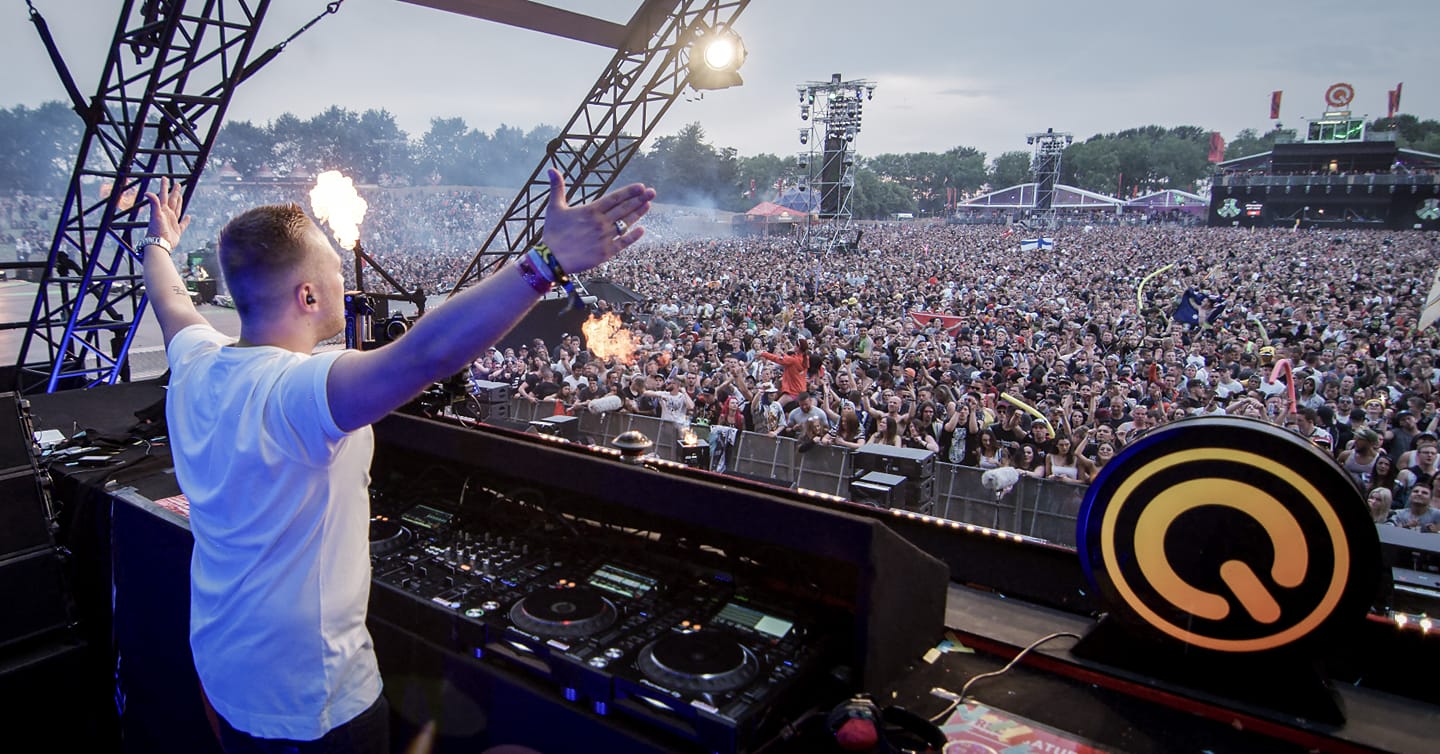 Up next was Sub Zero Project!
Sub Zero Project's set was great, but they only really had three standout moments. First up was their new solo track "All For One", a magnificently crafted track with a decent melody. Then came their collaborative effort with Timmy Trumpet featuring DV8 on the vocals with a massive banger called "Rockstar", a track with two very lethal drops and amazing atmosphere.
But the most important track of the three and the most exciting one was their collab with Phuture Noize, called "We Are The Fallen". A beautifully atmospheric, melodic but hard collab that is a masterclass in composition and pacing. A true beauty and in my top 10 favorite tracks this year.
Overall their set was a very good set and just barely missed my top 5 of the weekend.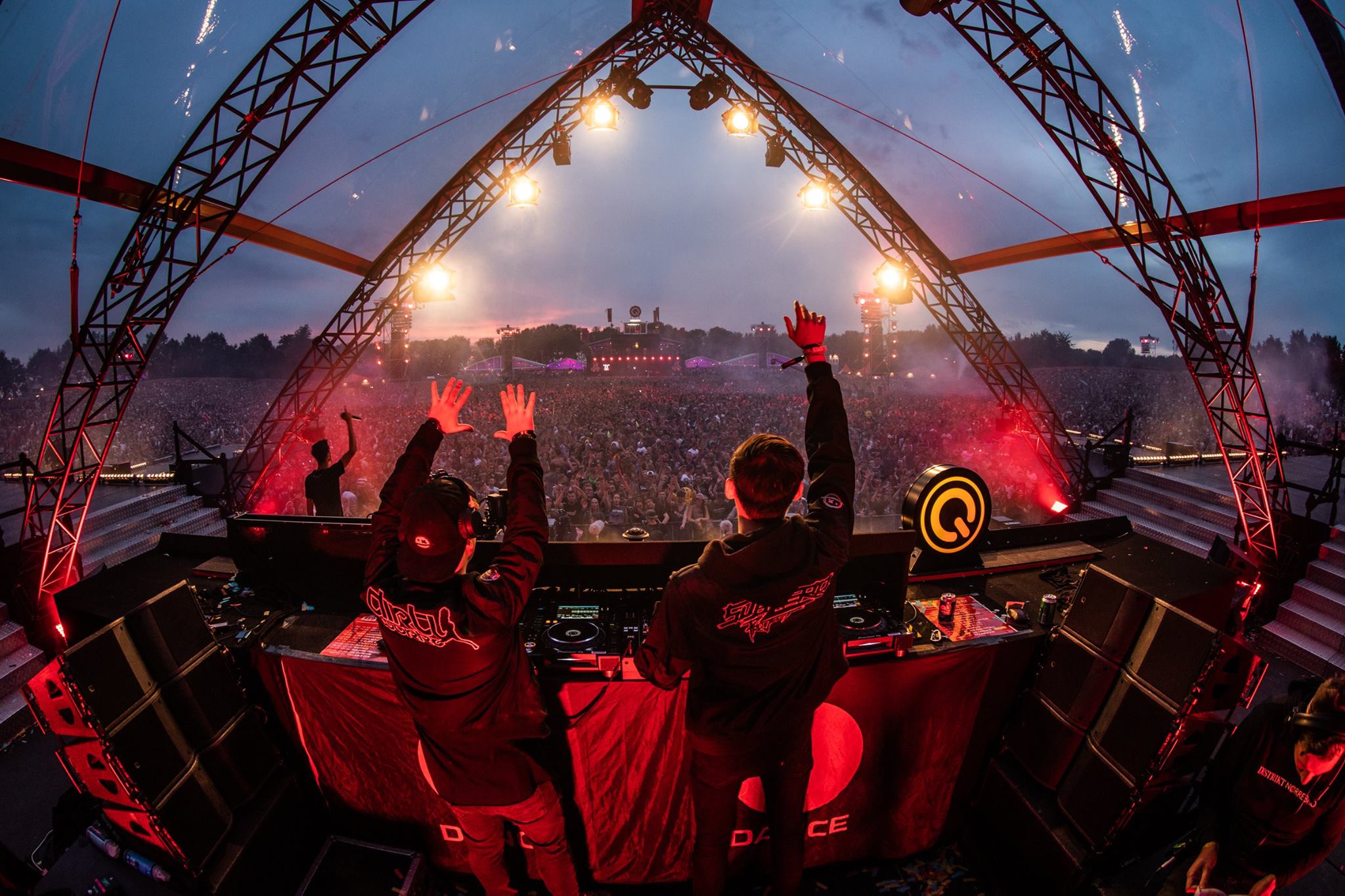 Next up was the Saturday Endshow with theatrics and a light show unparalleled in the EDM world.
This time around, the Saturday Endshow was to be darker and more "hallowed" than the years before, thus it began with a much more aggressive and gritty intro track in the form of JDX – "Ignis Daemonium". The atmosphere was rather well preserved throughout the next two tracks: Wildstylez' "Children of Drums" and Phuture Noize's "Circles & Squares". Both are very strong track-of-the-year contenders.
But then Sound Rush and Villain's "One" dropped and I was just completely disinterested. It's a track that is imitating Headhunterz' and Wildstylez' sound too much and the only original part of it feels like to be Villain's vocals. The most disappointing part about it is that Sound Rush are also blatant about it, as its working title was "The Headhunterz Tribute".
Thank God the next track was a refreshing palette cleanser in the form of Neroz' "Pinsir" – a meme that got out of hand. A meme that spawned in a hardstyle forum that then got translated into an actual dance move, into an actual track, into a Power Hour sensation last year and now it seemingly had an entire stage and Endshow dedicated to it. It's amazing how far things can go.
The next two tracks, however, were a bit mediocre. In my opinion, "Maximum Force" by Project One and "Change The World" by Bass Modulators are simply not tracks fit to be featured in the endshow. What's worse is that "Maximum Force" is the official anthem of the festival so it gets a buy-in no matter what.
Thankfully, the closing track was a masterpiece. The third part of D-Block & S-Te-Fan's "Angels & Demons" saga, "Ghost Story" is a worthy closer track and a worthy successor to both "Angels & Demons" and "Twilight Zone". We need more music of this quality in the scene, especially from the bigger acts.
Sunday started off with MYST, one of my favorite artists.
MYST playing this early is rather a shame, as most of the set had to be toned down in terms of loudness, but a 90-minute set by one of my favorite artists was still something that I couldn't ever turn down. And by God what a set it was. It had everything I had hoped for and more.
He naturally played his biggest hits, some being "Before You Go", "Fire & Ice", and "Never Look Back", but he also went on to support other artists and their tracks. Most notably he played Radical Redemption's "America", which is the only track to have custom visuals prepared well in advance by the stage team.
Others included "Smack Bitches" and Ran-D's "Demolition Time" both very fun floor bangers, and a rather deep cut in the form of Chain Reaction's "Out With A Bang", released in 2010. Another surprise was that he played Regain's "The Greatest Show" and E-Force's "Do Or Die" – Both tracks that usually don't fit MYST's profile so to speak. This set was amazing throughout and I couldn't be happier for MYST and how much he has grown. Here's to hoping he gets to play at a primetime spot next year!
After resting, I went back to see Phuture Noize: Black Mirror Society.
The Phuture Noize Black Mirror Society set was absolutely breathtaking and I loved every second of it. From that point onwards, one of the best two hours of my life began.
It wasn't a perfect set as the visuals were underutilized and the promised special edits were never there; in fact, only one single edit of "Fire" was there. But Black Mirror Society itself is about embracing imperfections so it never bothered me at all. I got to hear the best of the album and I loved every minute of it.
The best moments were by far and away the singalong to "Anthem of Freedom", "Suicidal Superstar", "Circles And Squares", and ending to "We Are The Future". The atmosphere was thick and filled with energy and the closing of the set was one of the most emotional ones on the weekend. I'd pay a good amount of money to go back in time to experience it again. Overall this was my second favorite set of the weekend.
Deetox' was a set I went in with zero expectations but it surpassed any I could have had.
Deetox: Bring The Riot was a great set with lots and lots of bangers all throughout: "Unstoppable", "Within Me (Apexx Remix)", "Bring The Riot 2K17", and many more. She wrapped up her set with "Chaos Reign" and her collab with DJ AniMe entitled "Smash". I enjoyed her set a lot and I wish to see her again next year.
Delete VIP was a set I was insanely hyped for and for a good reason.
Every Delete VIP set so far has pushed barriers and broke through them with ease, no matter how hyped it was. This set surpassed any and all expectations I could've ever had and then some. The amount of variety and artistic expression in his simplistic kick fiestas is mind-blowing.
My buddy who was with me is very new to hardstyle, so much so that he knows only maybe a handful of artists. This set broke him. He enjoyed every single second of it and was completely mind-blown from it. It was a set that is comparable to a fucking Tsar Bomb being launched into the tent for 30 minutes straight. It was phenomenal.
By far, Delete VIP had my favorite set of the night. I had no clue what track was playing for most of the time, only recognized a handful of the VIP edits but I didn't care. Every kick was a hit in the chest with a fucking battering ram. Every melody was the sweetest of music to my ear at that moment. The residual energy that the music left me with helped me to stay sane throughout the rest of the night. This was the best set of my life that I experienced and I don't expect that to change anytime soon.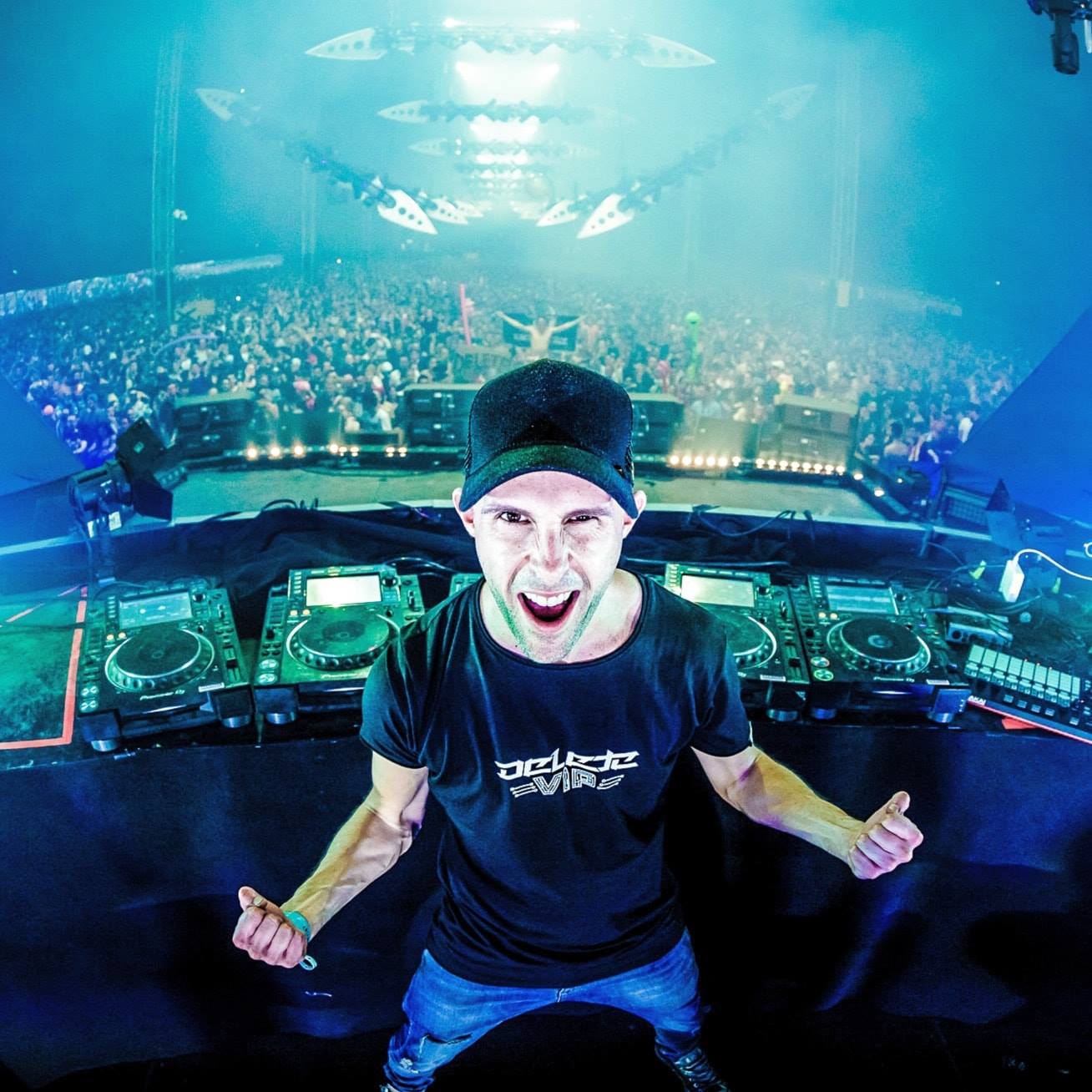 Maybe it has to do with my unyielding love for these Scottish lads, but Rebel[UT]ion's set managed to keep the energy of Delete VIP, and I was so happy.
I was prepared to be disappointed with the Rebel[UT]ion set, but I wasn't. It was amazing. They played banger after banger and revamped some of their older Rebel[UT]ion bootlegs with fresh kicks and fresh drops. It was fantastic.
Right off the bat, they started with the most unexpected track of the night. They made a bootleg of Eric Prydz' "Generate". Now Rebel[UT]ion are excellent remixers and bootleggers, so most of the time, any project they tackle is destined to shine from the get-go, but this one surprised me. So, what do you get when you let a couple of ambitious and talented remixers have their hand at remixing a masterpiece of music? Well, the result is bound to be great at worst and amazing at best. In my opinion, it was an amazing remix and I wanna hear it more and more.
Another highlight of the set was their bootleg of Kid Cudi's "Day 'N' Nite x Memories", which received a fresh facelift from its first iteration at Q-Base last year. The two old kicks got switched out completely and given a fresh, modern and harder pair of kicks.
Following the trend, they themselves made a bootleg of GRAVEDGR's "Rampage", but theirs had a bit more grace and finesse – as strange as that may sound – compared to Deetox' bootleg. It was the better one of the two and it completely blew me away live.
Their encore only changed in that they switched out the "middle-man" in the form of "Power of Truth" to their bootleg of Tommyknocker's "Demolition" and closed with "Maren-Kessel Tunnel Rave" as expected. Those last 5 minutes really tired me out and thus it was a hard-fought battle to drag myself over to the RED for the closing. This was my fourth favorite set of the weekend.
The weekend wrapped up with The Closing Ritual, a well-made two-track endshow.
The first track being "Our Church" and the accompanying visuals and show was amazing. But the kicker was Wildstylez' bootleg of Against The Current's "Legends Never Die". Fantastic visuals overall and amazing atmosphere. We just stood there for a good half hour before we even started to move. It was cathartic and emotional. I already want to go back so badly.
From a production standpoint, the sound was fine and the visuals were great at Defqon.1.
I was mainly at the BLUE and RED stage, with occasional visits to BLACK, INDIGO, SILVER, and WHITE. What was not fine was the overblown bass at RED that completely muddled all sound. That alone makes me want to give it an overall rating of 8/10 instead of a 9/10 I would have given otherwise.
Visuals were overall great. Q-dance are masters of stage theatrics and lightshow works, but whenever they try their hand at LED screens, they don't do so well (with the exception of the BLUE stage in 2017 and at Qlimax 2015). They hyped up this year's BLUE LEDs too much and it ultimately fell flat. Unless you were at least half the dance floor away from it, you couldn't clearly see it all, and when you were that far, most details faded.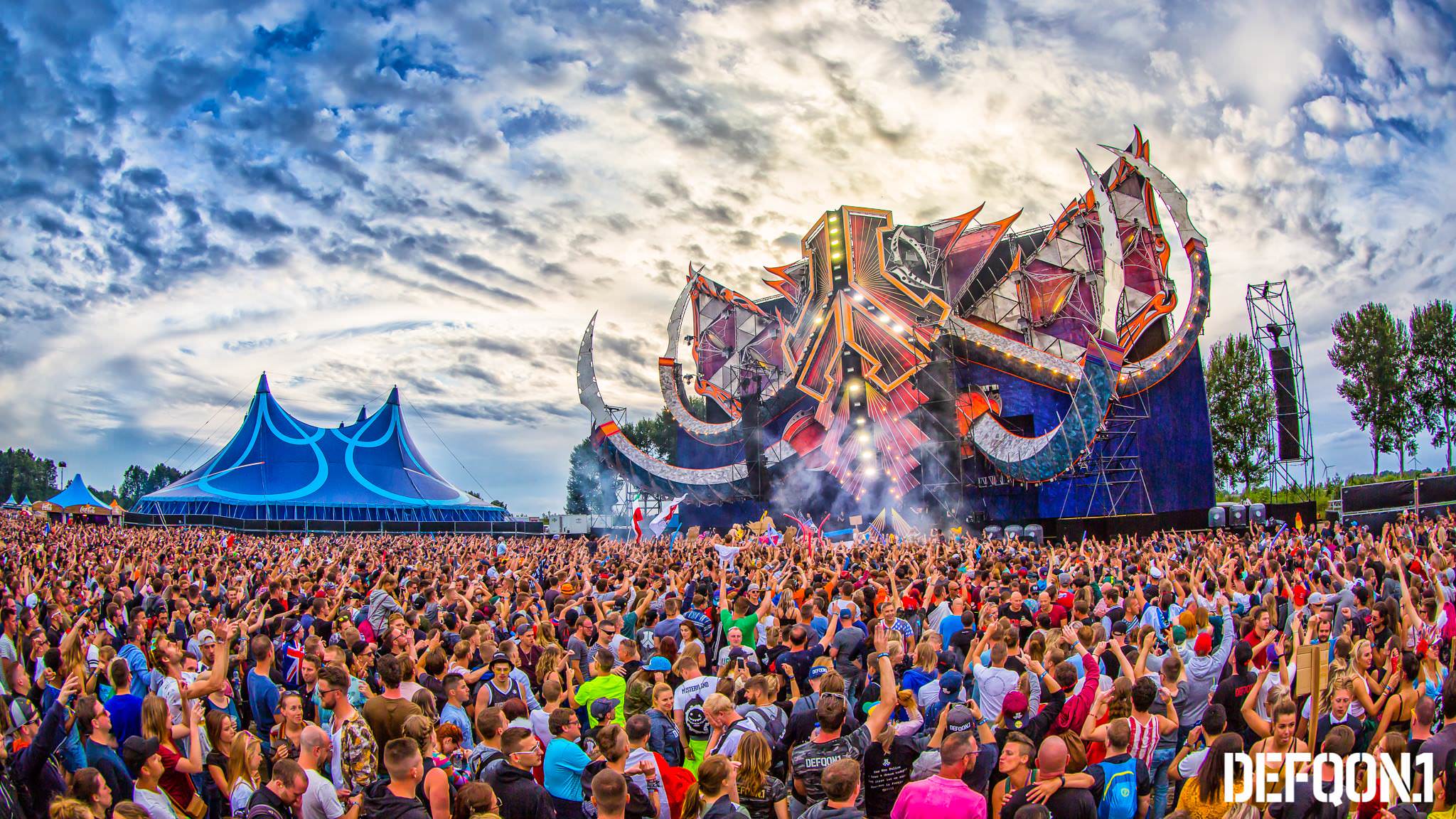 But what was the biggest drawback of it all, was that BLUE's visuals were criminally underutilized.
Too many bog-standard animations for even the LIVE acts, that are generally all pre-recorded sets with synchronized lights. It just felt lazy to see the same generic animation loop run for 2 minutes straight while a track with vocals played. I feel like this is an area for improvement for future years of Defqon.1. It was still a nice stage, just not living up to the hype.
With that in mind, both the U.V. and RED stages were amazing, and BLACK as well since it was a miniature version of Qlimax' 2016 stage.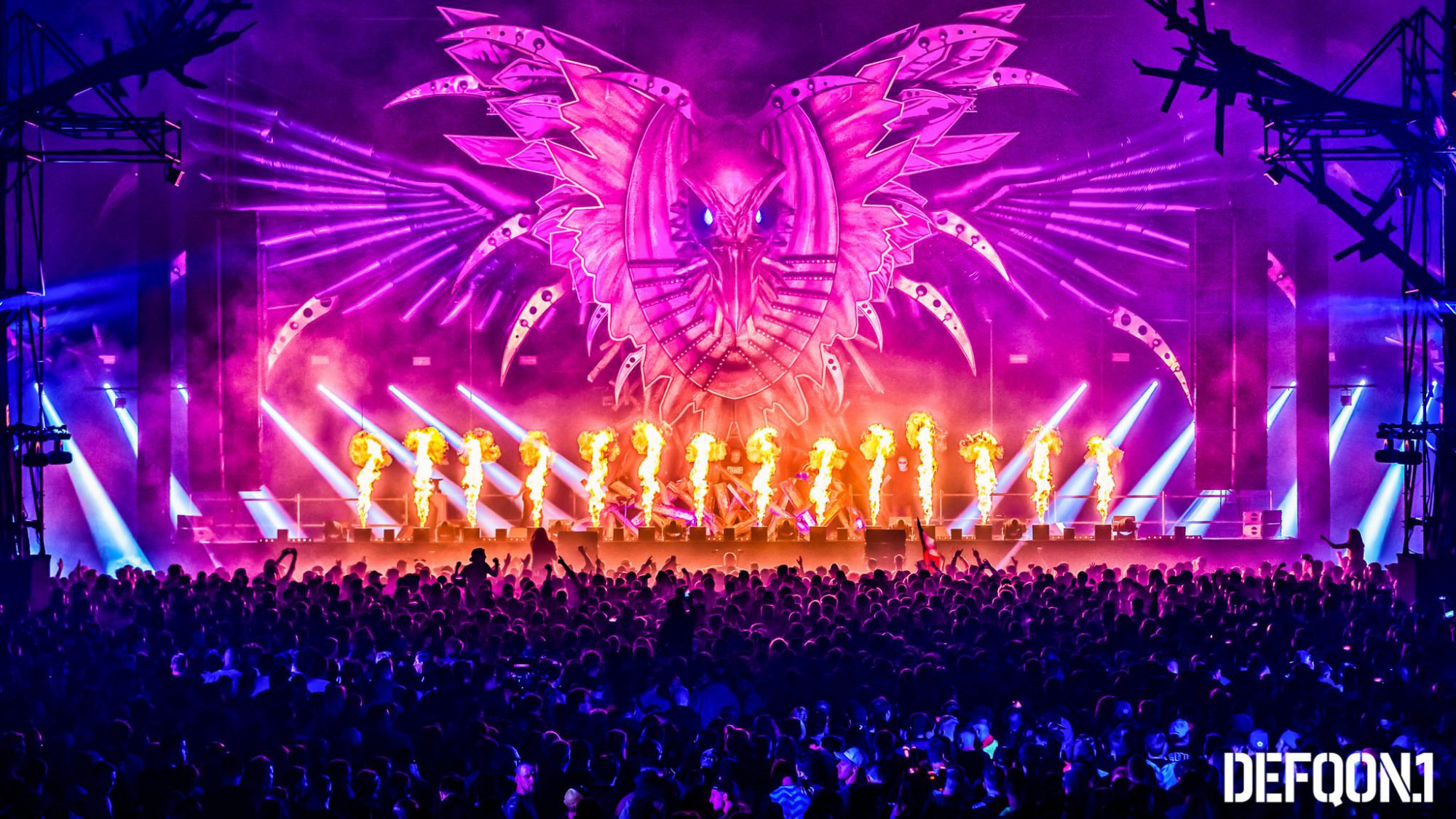 In conclusion, Defqon.1 2018 was the single best experience of my life, and I wouldn't trade it for anything in the world.
It was completely worth all the sweat and tears that went into me actually getting there and if anything, it motivated me to keep on trying harder and harder. I will definitely try to get back and I plan on keeping it a tradition.
Though the weekend is sadly over, keep the energy going and check out these Defqon.1 2018 livesets!
---
Follow Q-dance on Social Media: