OUTPUT Club announces The Roof Summer 2018 lineup featuring Victor Calderone, Dubfire, DJ Tennis, and many more!
---
We're counting down the days until we can celebrate the best season of all: summer. In New York City, start your summer by attending one of the best clubs in the world, OUTPUT. Known for its strict no recording, videos, or photos policy, this club took "Club of the Year" at the inaugural Electronic Music Awards as well as earning a spot on DJ Mag's Top 100 Clubs in 2017. Once again, OUTPUT's roof will transform into a sweet getaway with great music as a part of their summer event series, The Roof.
The Roof will definitely be the top spot to catch electronic music acts in New York this summer. Not only does the event feature some of the hottest artists but it also has the best ambiance. For The Roof events, you'll be enjoying sweeping views of the Manhattan skyline, breathtaking sunsets, and a full bar serving signature boozy slushies at OUTPUT's multi-level open-air roof deck.
Celebrating its sixth season, The Roof opening weekend kicks off Friday, May 11 through Sunday, May 13.
OUTPUT has each summer weekend fully stacked with talent. Starting bright and early on Saturday and Sunday, the club will feature a rotating roster of incredible talent. Their acts include Dubfire, Victor Calderone, Francesca Lombardo, Thugfucker, and so many more! They've also got select Friday nights planned and will feature live performances from full bands and top-tier electronic musicians, starting from 5 pm.
For those looking to party during the week, don't worry, OUTPUT has got you covered! The club will be throwing free weekday gatherings beginning at 5 pm featuring a wide variety of local and international talent including house music icon The Scumfrog, Jesse Calosso, Jean Pierre, Blas Cordero, Alex Cecil, Gavin Stephenson, Iman Rizky, and more! Additionally, they've reserved the big summer holidays: Memorial Day, Independence Day, and Labor Day for Everyday Afrique to give attendees a taste of fresh African rhythms and Caribbean vibes.
If you're in New York this summer, dance, drink, and relax at one of the best clubs in North America this summer! Check out outputclub.com for advance tickets to The Roof events and more information.
Excited for OUTPUT's The Roof event series? Let us know in the comments.
---
Output The Roof Summer 2018 Lineup: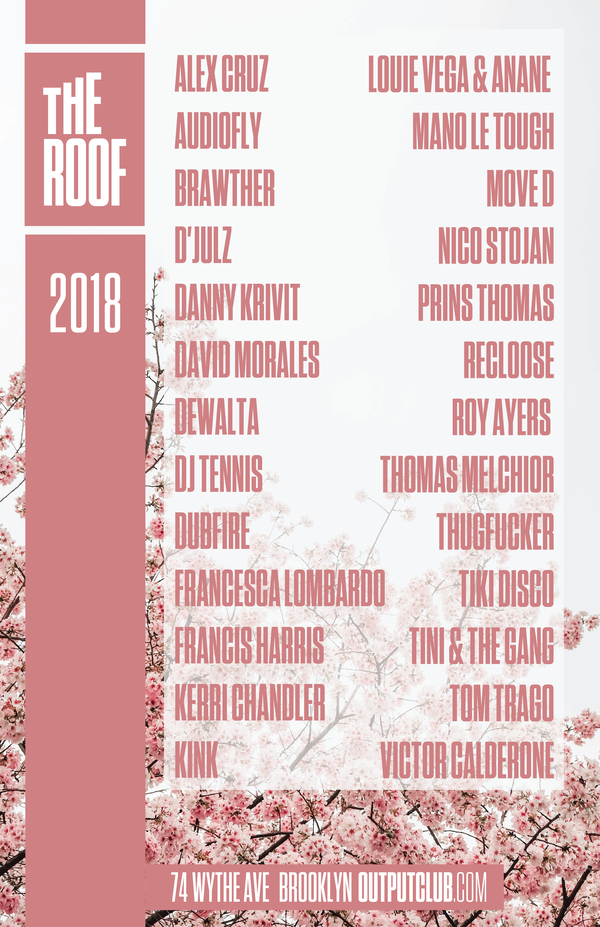 ---
OUTPUT The Roof Summer 2018 Dates:
Friday Night Live May 11
Roy Ayers (live)
Sunday, May 13
Resolute on The Roof
SIT
Move D
Lauren Ritter
Saturday, May 19
Tiki Disco
Sundays on The Roof May 20
DeWalta
D'Julz
Nicolas Matar
Thursday, May 24
Arcana Presents
Jesse Calosso
Jean Pierre
Blas Cordero
Friday Night Live May 25
KiNK (live)
Giorgia Angiuli (live)
Saturday, May 26
718 Sessions
Danny Krivit
Sundays on The Roof May 27
Nico Stojan
Christian Voldstad
Monday, May 28
Everyday Afrique
DJ Moma
Cortega
Silent Addy
Kashaka
Underdog
Rich Knight
Saturday, June 2
The Ritual with
Anané and Louie Vega
Sundays on The Roof June 3
Tom Trago
Brawther
Recloose
Friday Night Live June 8
Stavroz (live)
Crussen (live)
Saturday, June 9
Dubfire (classic house set)
Nicolas Matar
Sundays on The Roof June 10
Mano Le Tough
Jade
Ray Zuniga
Friday, June 22
SNBRN
Saturday, June 30
Tiki Disco
Sundays on The Roof July 1
Audiofly
Wednesday, July 4
Everyday Afrique
Saturday, July 7
David Morales
Sundays on The Roof July 8
tINI & the gang
Sunday, July 15
Resolute on The Roof:
Daniel Bell
Thomas Melchior
Kalabrese & Rumpleorchester (live)
Saturday, July 21
718 Sessions
Danny Krivit
Wednesday, July 25
M.B.T.S.
The Scumfrog
Saturday, July 28
Tiki Disco
Sunday, July 29
DJ Tennis
Sundays on The Roof August 5
Francis Harris
DJ Fett Burger
Saturday, August 18
718 Sessions
Danny Krivit
Wednesday, August 22
M.B.T.S (Most Below The Surface)
The Scumfrog
Saturday, August 25
Tiki Disco
Sunday, August 26
Kerri Chandler
Sundays on The Roof September 2
Prins Thomas
Monday, September 3
Everyday Afrique
Saturday, September 8
Tiki Disco
Sundays on The Roof September 9
Thugfucker
Francesca Lombardo
Galen
Saturday, September 15
718 Sessions
Danny Krivit
Sundays on The Roof September 16
ItaloJohnson
Saturday, September 22
Deep & Sexy
Alex Cruz
---
Connect with Output NYC on Social Media: