Coachella is finally here, get all the essential information you need to know before heading out to the Polo Grounds for Weekend 1 and Weekend 2!
---
Coachella is finally here! Starting this week, attendees from all over the world will be making the great exodus to the Empire Polo Grounds, where they'll spend the next weekend (or two) dancing away the harsh stresses of reality and acting as though spending 15 dollars on a slice of watermelon is no big deal.
We know just how stressful preparing for Coachella can be, you've spent the last month furiously scouring the web for outfits that are both trendy and unique, plus snapping the perfect Instagram doesn't just happen — it takes some serious planning! Don't stress, because we have your backs! We've highlighted all of the essential information you need to know before heading to the desert below, so you can spend more time last-minute packing and less time frantically Googling.
To get you even more ready for the weekend, make sure to check out James and Zach's top bass, EDM, and non-EDM acts, as well as some acts playing the Do LaB stage! Plus, no road to Indio is complete without the ultimate soundtrack, so we've teamed up with Party Favor to bring you our exclusive PARTY FAVORites playlist!
---
Coachella 2018 Essential Info:
Dates: Weekend One – Friday, April 13 to Sunday, April 15; Weekend Two – Friday, April 20 to Sunday, April 23
Hours: 11 – about 12:30 AM daily
Venue Address: Empire Polo Club, Indio, CA
Tickets: Tickets are sold out, but you can still buy them off of StubHub HERE
Facebook Event Page: RSVP for Weekend One HERE; RSVP for Weekend Two HERE
Acceptable Forms of Identification for Entry
ID is not necessary for entry as the event is all ages, but if you are 21+ and planning on purchasing alcohol once inside you will need a government-issued form of identification
Unacceptable Forms of Identification for Entry
Anything other than a government-issued passport or ID.
---
Coachella 2018 – Weekend 2 Set Times: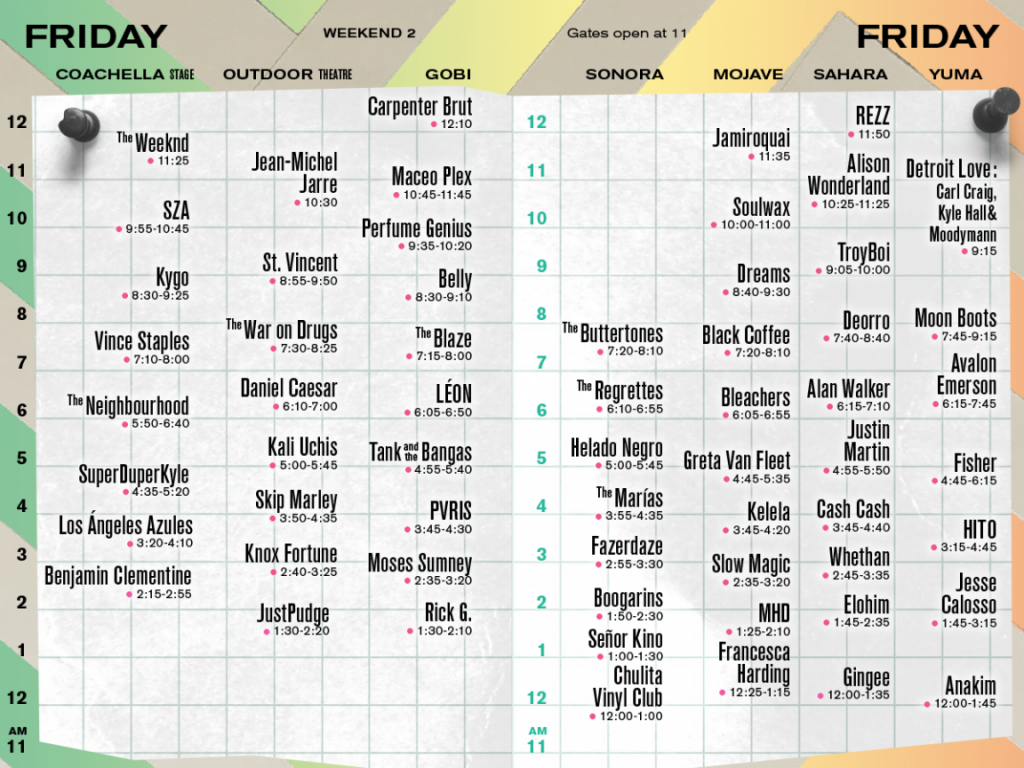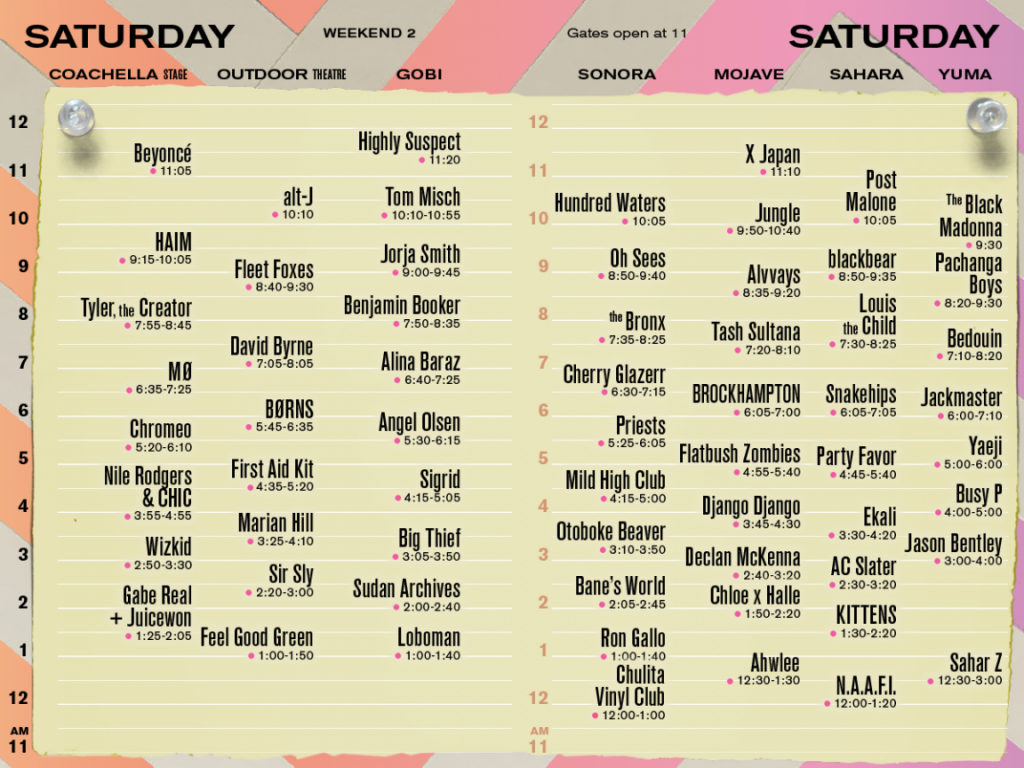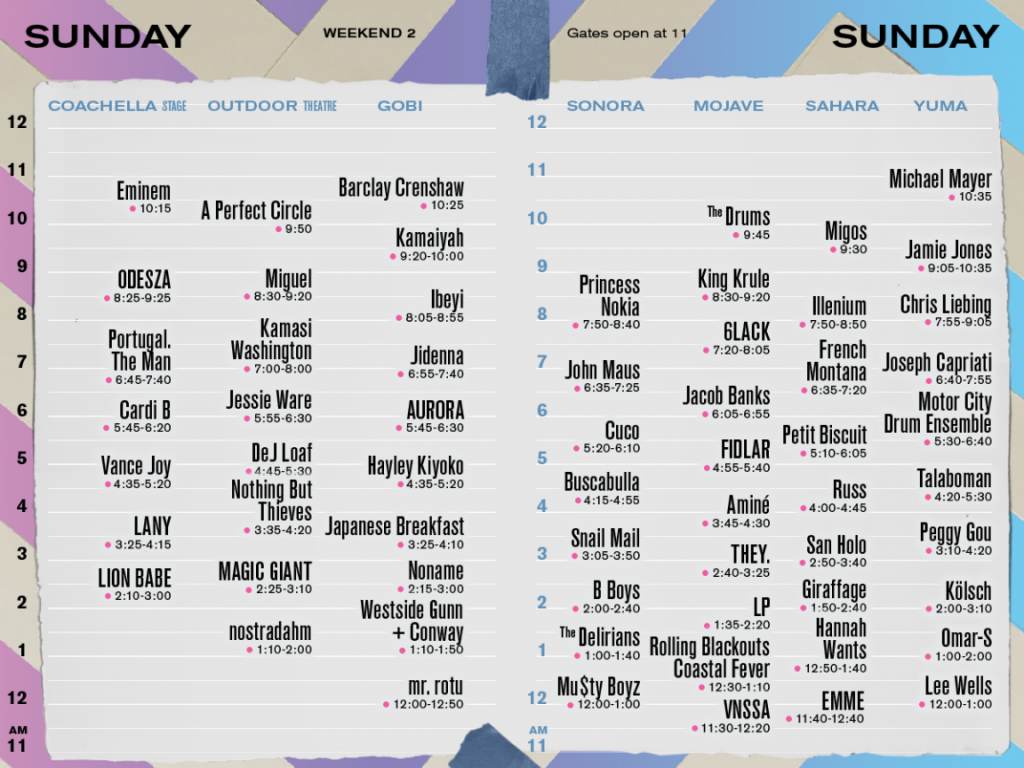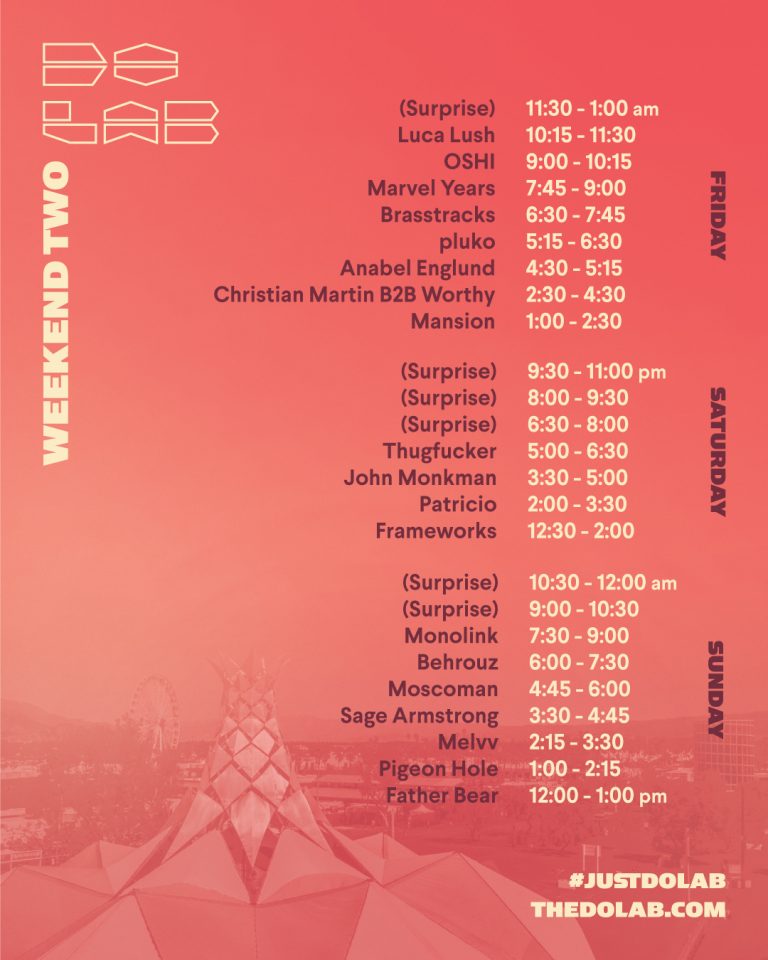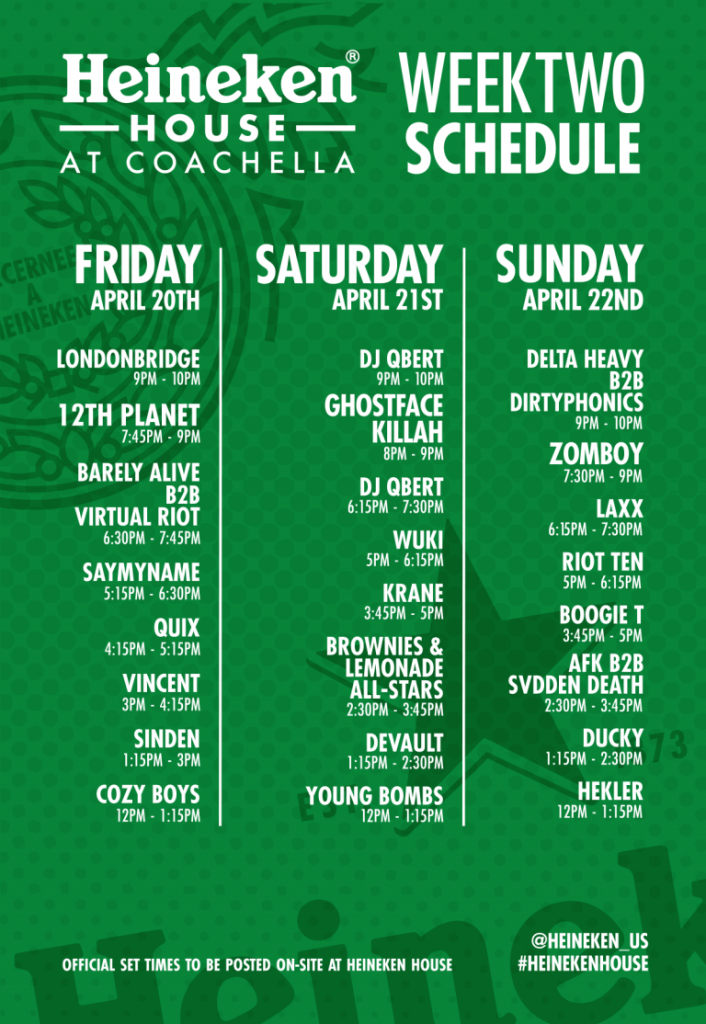 Coachella 2018 – Weekend 1 Set Times:
Friday | Saturday | Sunday | Do LaB | Heineken House
---
Coachella 2018 Festival Map: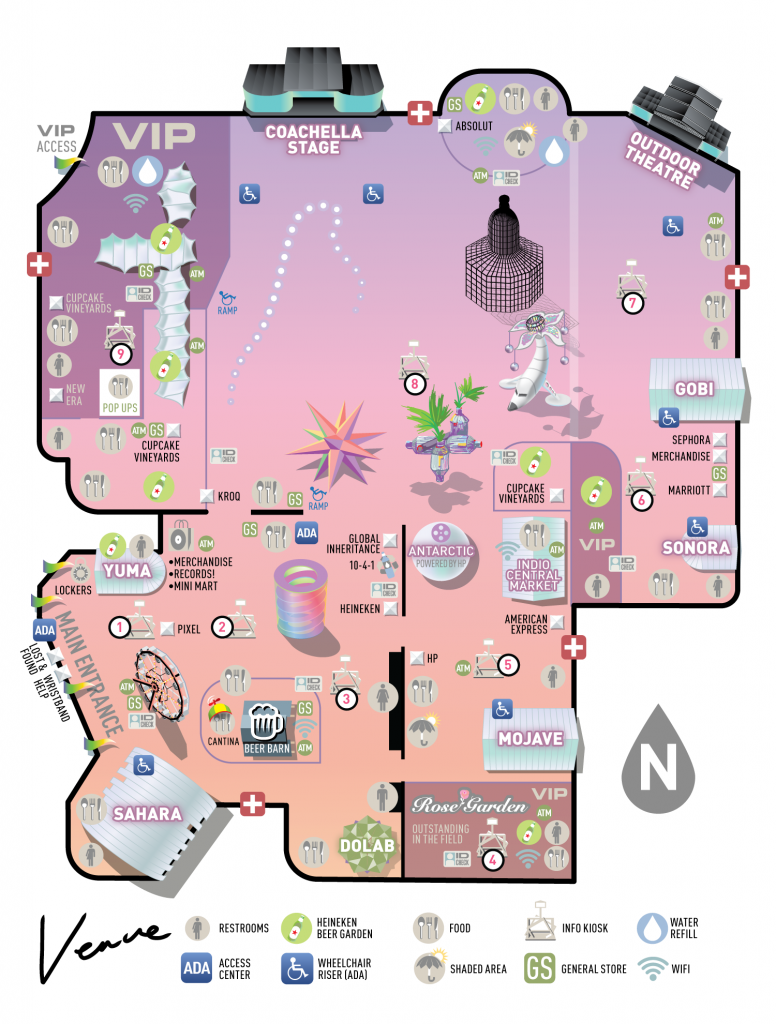 ---
Coachella 2018 Parking Map: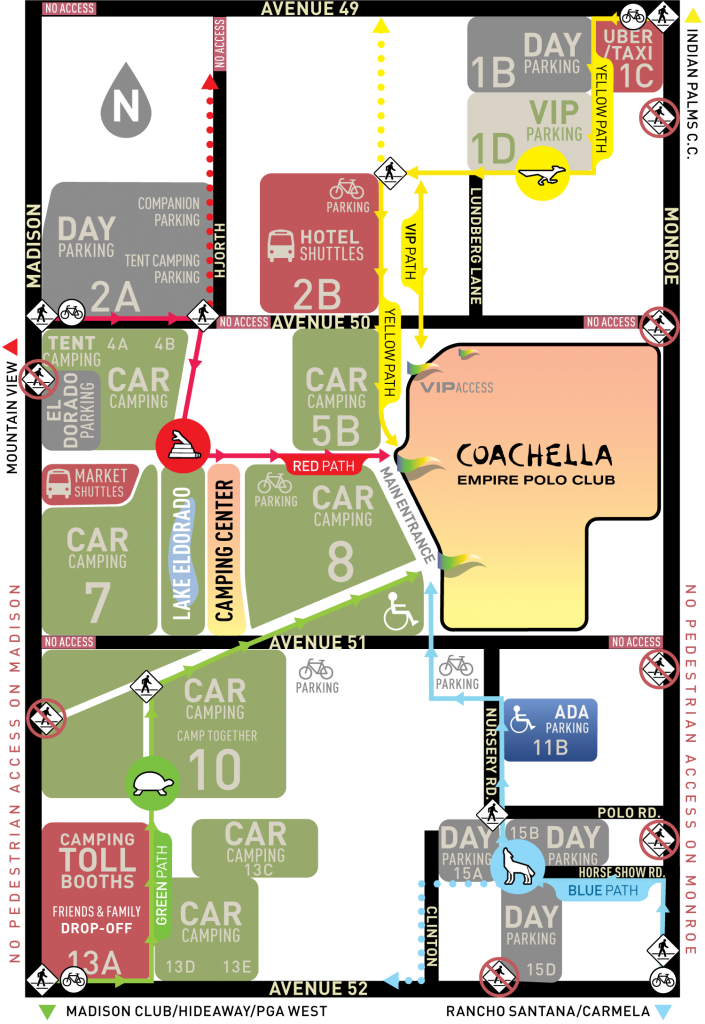 ---
Coachella 2018 Camping Maps: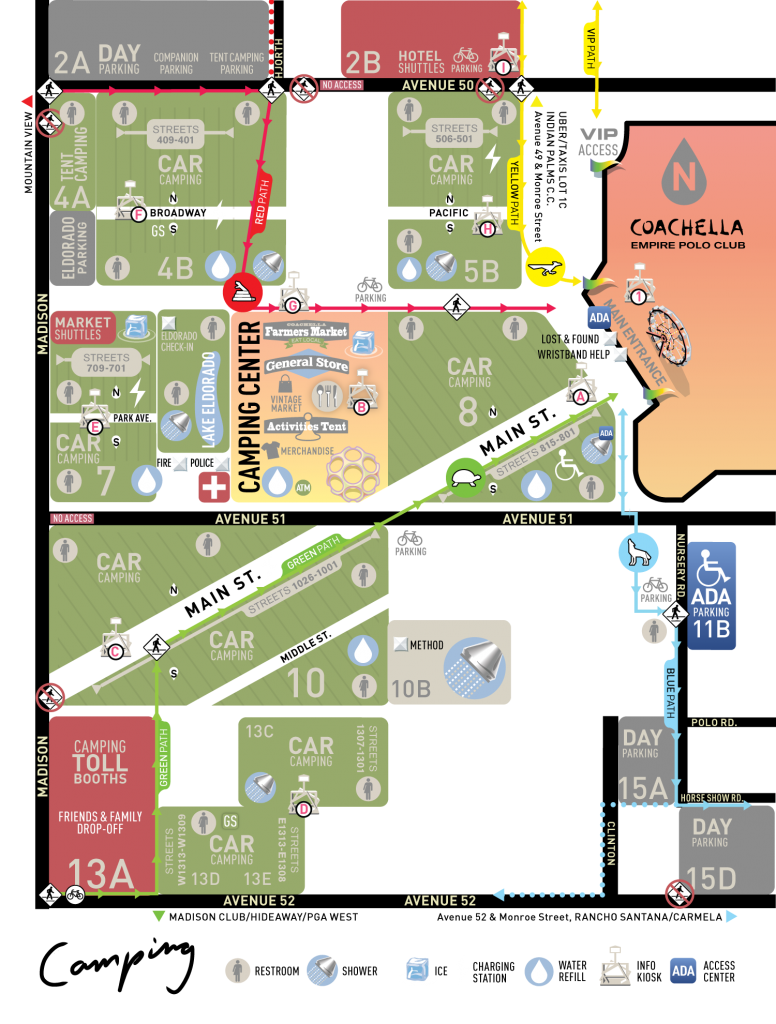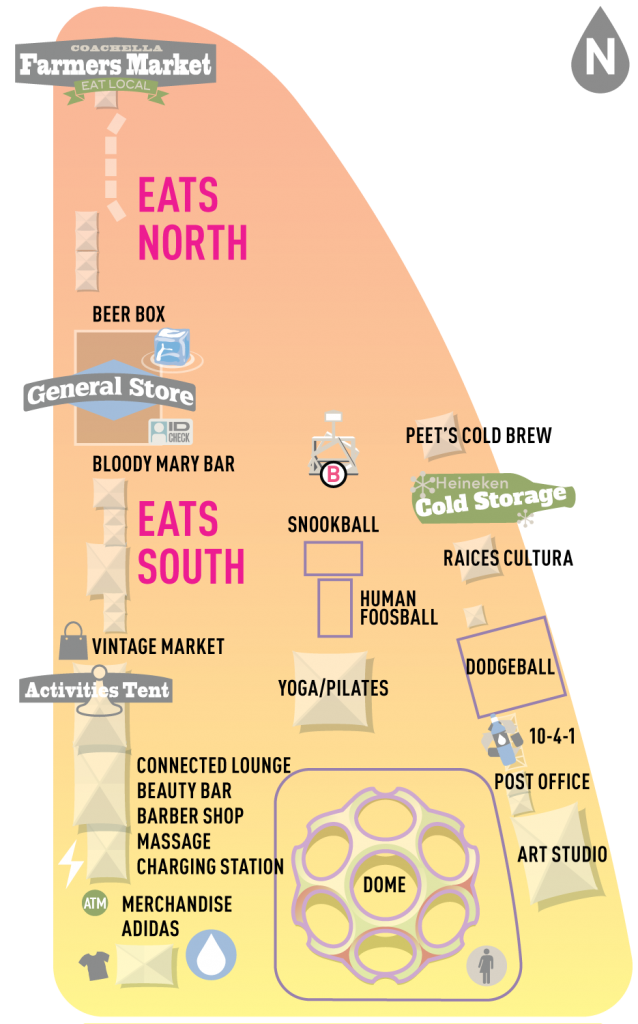 ---
Coachella 2018 Directions:
---
Coachella 2018 Do's & Don'ts:
Prohibited Items
NO Aerosol Products/Aerosol Cans
NO Air Horns
NO Audio Recording Devices
NO AVPs or MODs or Liquid Refills for E-Cigs
NO Bicycles, Skates, Scooters or Skateboards
NO Chairs or Coolers
NO Chains or Chain Wallets
NO Detachable Lens Cameras
NO Drones or Remote Control Aircraft, Cars or Toys
NO Drugs or Drug Paraphernalia, Marijuana, Marijuana products
NO Fireworks, Explosives or Road Flares
NO Flags
NO Flyers, Samples, Giveaways or Promotional Items
NO Glass or Metal Water Containers
NO Glow Sticks or LED Gloves
NO Guns, Ammunition or Tasers
NO Hula Hoops
NO Hoverboards or Segways
NO Instruments
NO Kites or Sky Lanterns
NO Knives, Weapons or Sharp Objects
NO Laser Pointers
NO Massagers
NO Metal, Steel or Aluminum water bottles
NO Outside Food or Beverage
NO Pepper Spray or Mace
NO Pets or Other Animals
NO Selfie Sticks, Tripods or Narcissists
NO Sharpies, Markers or Paint Pens
NO Stuffed Animals
NO Tarps
NO Tents or Sleeping Bags
NO Toy Guns, Water Guns or Sling Shots
NO Totems
NO Umbrellas
NO Video Cameras
Permitted Items
YES Baby Blankets
YES Baby Strollers
YES Backpacks (Medium)
YES Blankets (Small) & Beach Towels
YES Binoculars
YES Bota Bags (Empty)
YES Cameras (Non-Pro Digital and Film) and GoPros/FlipCams
YES Chapstick and Lip Balm
YES Sealed/Unopened Cigarettes and Lighters
YES Dancing Shoes
YES E-Cigs and Vape Pens (Mid-Sized) and Single-Use Minis/Cig-a-likes
YES Hydration Packs, i.e. CamelBaks (Plastic, Empty)
YES Ear Plugs
YES Eye Drops
YES Fanny Packs and Hip Bags
YES GoPros
YES Gum
YES Hand Sanitizer and Baby Wipes
YES Hats
YES Laptop Computers and Tablets
YES Makeup
YES Misters (Empty)
YES Mobile Phones and Chargers
YES Parasols
YES Purses and Handbags
YES Service Animals (See ADA Guide)
YES Smiles
YES Sunblock (Non-Aerosol)
YES Sunglasses
YES Walkie Talkies
YES Water Bottles (Empty, Plastic, Reusable, non-metal, 40oz)
---
Coachella 2018 Camping Information:
All camping attendees must be 18 years of age or older and have valid ID or else be accompanied by a parent or legal guardian. Sorry, no exceptions.
Each camping attendee must have their own valid festival pass for entrance.
All on-site camping opens Thursday at 9:00a and closes on Monday at 10:00a each weekend. Early arrival is highly recommended.
CHECK IN TIMES: Cars driving in to check in for Car Camping, Tent Camping and Lake Eldorado can check in Thu from 9:00a-2:00a and Fri-Sun from 9:00a-8:00p.*time subject to change
Check-in for pedestrians is 24-hours.
Please be advised all car/tent camping lots will be on lock down between the hours of 10pm – 2am nightly. If you need to leave prior to 2am on Sunday, you need to do so before 10pm.
All camping attendees are subject to search upon entry.
No camping is allowed between weekends.
All general Car Camping and Tent Camping attendees can visit each others' campsites.
There will be on-site security at all times.
First aid stations will be open 24-hours.
Feel free to bring your own food and beverages into on-site camping.
Please refer to Camping FAQs for additional Camping questions.
Venue/promoter are not responsible for any materials misplaced, lost or stolen. It is recommended that you do not bring valuable items. If you do bring valuable items, please lock them in your car. Do not leave valuable items in your tent.
All campers are expected to behave in a manner that is courteous to other campers.
Noise curfew is at 1:30a.
Prohibited Items:
No wrapped or sponsored vehicles. Your vehicle will be turned away at the toll booth if it has ads, marketing, sponsors or company logos on it. This does not apply to the logos from rental car companies.
No branded or logo'd pop-up canopies or tents are allowed.
No glass containers of any kind.  Remember, no beer bottles
No weapons, knives (including cooking and steak knives)
No drugs or drug paraphernalia, No marijuana or marijuana products
No glass solar panels
No extra car batteries
No animals allowed in the campground. (See our ADA page for more information.)
No open flames. (GPS, we are not talking about you.)
No candles
No tiki torches, fireworks or any types of explosives or ammunition.
No squirt guns/water toys
No tanks of compressed air, helium, nitrous (haha), etc.
No party balloons.
No slip-n-slides.
No metal tent stakes.
No Scissors
No drones, remote control aircraft or toy cars.
No hoverboards, motorized scooters, electric bikes
No full length or vanity mirrors
No sports equipment (golf clubs, bats, hockey sticks, things of that nature).
No sledgehammers
No work out equipment (kettle balls, dumbbells, barbells, stuff like that)
No amplified sound
No large speakers
If you're unclear about an answer, just assume the answer is no.
---
Reminder To Mind Your Belongings:
Unfortunately, many people have reported pickpockets, bag slashings, and theft of wallets, smartphones, purses and other valuables during this festival season. While this small number of bad apples in the bunch doesn't define an entire crowd, there are opportunistic people who come to these events to take advantage of unsuspecting partygoers and it's important to be mindful of your valuables while at Coachella.
Looking for tips to keep your belongings safe? Check our post highlighting some ideas!
---
Connect with Coachella on Social Media: