Fresh off the release of his debut album Coalesce, Triceradrops gives us a glimpse into his dark dynasty where the underworld beats reign supreme!
---
In an industry saturated with artists hungry to make a name for themselves, there are only a few who have the goods to break free from the pack. Dripping with unyielding passion, raw talent, infectious charisma, and the drive to express his soul through the beats that control the dance floor, Triceradrops has thundered onto the scene leaving us breathless in his wake.
With four years of dance floor dominance under his belt, it truly all began with one incredible moment in time. When Triceradrops took to the stage at Dreamstate SoCal 2016, the trance family was rocked to the core as a fury of dark rhythms enveloped every inch of their conscious state, opening the door for what would ultimately become a breakout year.
This month, Triceradrops hit a new milestone in his high octane career with the release of his debut album Coalesce on Christopher Lawrence's own Pharmacy Music. With the world at his fingertips, we simply had to grab the chance to pick the brain of such a rare and stylized artist. So, read on below and get to know the man behind the beats!
Stream Triceradrops Pharmacy Takeover Guest Mix on SoundCloud:
---
Your debut album Coalesce dropped this week and you have chosen the perfect title to reflect the character of the LP. Can you talk about how the album's inspiration, journey, and vision corresponds to the concept of coalescing?
My inspiration comes from a lot of places… pain, joy, and pressure. I drew a lot of influence from a special person in my life for both good and bad experiences. But, always coming back for the better, helping each other grow and showing me random music. [Laughs] I'm forever grateful for that!
I tend to give myself deadlines so I can feel the heat constantly and be consistent with my productions. I've had the idea since the beginning of 2017 after playing Dreamstate. I knew I had to utilize the exposure that I was blessed with. Releasing tracks throughout the year, trying to figure out what I really wanted to do was part of the battle. Getting let down and lagged on by certain people just pushed me.
After meeting with my friend Ronnie Alting for some medicine for my grandma, I vented to him about all the tracks I had and how people were lagging on release dates and commitment. "Bro just do the fucking album! You're halfway there anyway!" So hearing others saying releasing EPs would be better promotion for the tracks, I just said fuck it after that chat with my friend. It was time to grip my dick and get to work and finish this album!
I contacted Christopher about remixing "Faith in Future" and he gave me the green light! So it was a tough year, to be honest, dealing with life itself. We all have our own battles but I chose music to be my outlet and therapy. Turn the negative energy and transform it into something beautiful. In the end, I wanted to prove myself that I can do it, and by believing in myself I would attract the support I have today.
Coalesce means to come together to form one mass. So I narrowed it down to the four artists/friends who have earned and proved to me in my heart that they got what it takes to be a part of this project with me. I saw the drive and hunger that I had when I was younger in both Sidekicks and No Cliu. I showed them what I know and watched them use the knowledge on their own. Now, look at them both having high debuting EPs on Pharmacy! Barakuda, without him throwing these forest parties with Psytribe, I would not have a scene. Honored to have such a dude on my album with a vast knowledge of the genre. Diabolus is just another dark mind ready to break out as another one of my closest friends from the start of it and all I needed to pick that brain and make something disgusting.
So, basically, this album is a summary of my whole career so far; the way my mind progressed and grew as a person and artist. The contrast I wanted to give you all was to show you that I'm not a one trick pony and my influences coalesce into forming something new and fresh for myself and my fans!
The Coalesce album art is everything we would come to expect from you and more. What was the journey like alongside Son Vu when designing the visuals for the album and does the artwork tell a specific story?
I had Son on my mind seeing his work every other day because he would send me previews of other stuff he's been working on. But we basically talked about it all at Oregon Eclipse Festival on that psytrance stage. We knew the cover had to be dark and psychedelic! We kept pitching ideas to each other, bouncing back and forth. He then mentioned that he was working with 3D now! I gave him full freedom to do what he likes. It's not art if the artist is held back ya know?
The artwork basically has bodies floating around forming a DNA strand. Four different planets resembling influence and the years I've been in the game which is now four years! The artwork is meant for you all to make your own story too. It's whatever you want it to be, just like my music. HUGE thank you to Son Vu though brotha! I love you for the hard work you did as we both progressed together, as you worked on the art and I worked on the music, parallel with each other!
Included on Coalesce is a remix of the classic Christopher Lawrence track "Faith In The Future". What kind of pressure did you face when taking on such a massive and revered track such as that and what were some of the production elements that went into the remix to make it all your own?
"Faith in the Future" is easily one of my favorite tracks from Christopher. I remember hearing that lead for the first time and I was like woah, trance can be serious? To be honest, I knew exactly what I wanted to do to the track and that was to make a full-on psychedelic experience out of it. I felt the pressure of people not accepting such a change from the original so I did not know what to expect. I had to put faith in my own future. 😉
I didn't receive any MIDI on this; just audio samples. So, I used my ear to figure out some of the leads and used my own sounds to make it my own! I feel every remix I make has to almost sound like a new original, so I usually add my own leads to compliment the track's own leads. Using the sample from X-Men fit so perfectly because, in the movie, Charles has to face his future and overcome his doubt. I relate in some ways so I made that much more personal for myself too… right before it goes into that big drop!
You have fast become a master of dark psytrance floor bangers. What brought you to follow the path of the dark side rather than choosing to embark on the more uplifting side of the trance genre?
I don't want to crown myself as the master of dark psytrance. There are darker sounds out there aside from my own music such as the forest and twilight side of psytrance and of course industrial techno! This all comes back to Christopher though. I will never forget this because it's all his fault I went this deep into the dark side. My first release, "Floor Bomb" & "Synesthesia" was sent to the boss himself! I was so excited to be fusing trance and psy, and on "Synesthesia" the break was actually uplifting as fuck.
I was a trance head still and wanted to fuse psy and tech trance four years ago. So, I get the email back from Christopher and he said "Julian I love "Floor Bomb"! Such a twisted and fun track! "Synesthesia" though is something you want to send to WAO 138. If you want to release it on Pharmacy, you need to change the break into something darker." In my head, that's when it all went to hell and I was just like oh you want dark, eh? Here we go then! It went from that to Christopher declining songs from me for being too dark! [Laughs] So here we are four years later and now I'm just the dark guy! I embrace it though and without that email, who knows what the fuck I would have been making!
Along with psytrance, psychedelic techno is another subgenre that holds strong within your creative wheelhouse. For those who are unfamiliar with psychedelic techno can you describe the elements that make psychedelic techno stand apart from psytrance? And can you give a Triceradrops track example for each?
The kick and bass are definitely what makes it techno; that muffled fat sub bass. People like APTA, DNS, Diatek, Mr Peppers, Dennis Slim and Hefty all have a huge influence on me for their techno sounds. There is also Triforce on Zenon Records who are doing something similar, just more hypnotic!
Track 1 off Coalesce, "Hellucinogen" is one I would call spacey and hypnotic but the drive at 142 bpm just makes it so aggressive. "Doom", from my EP End Creation is another one with its swinging techno bassline and psychedelic noises going off everywhere. Instead of psy bass going boom duga boom duga boom duga… Techno bass is all that "mmm bass" if that makes sense. [Laughs]
When you take to the stage at major events, what do you want your fans to take away from your performance? In essence, if I was a first-time Triceradrops set attendee, can you describe a little bit of what I can expect out of your performance? 
Something newer than your average headliner, I always try to pump out a new tune for a major show or any in general! I always play my own music or bootlegs so you're NEVER going to hear the same set from me again. I don't believe in playing the hits, I believe in keeping it fresh for my fans and myself.
Example…I already got a new track for the release party coming on Feb 17th. Just because I made the album does not mean I'm gonna ride it ALL out and stop making new music and just play that over and over! One thing I love about playing is how rowdy I've seen my fans and crowds get! The faces are just priceless too! People making that bass face cause it's so dirty and just no limits. I feel people just lose themselves during my sets, as do I playing.
Can you talk about your journey thus far with Pharmacy Music and how the label has helped launch your career? And, in what ways has the Pharmacy label helped to mold you into the artist that you are today?
Well, it all started with that remix competition for Beyond The Limit. I entered as J Noriega and when I got the email that I won, I knew I had to do a follow-up. Triceradrops was born shortly after and ever since then, I knew I had a home. Christopher and Sara have been nothing but great to me… patient and caring. Basically, instead of holding me back they gave me the freedom to create whatever I wanted, to a strong outlet. Promo is great! They send my tracks out to a huge list of A-list DJs. Without them, I wouldn't be here. Simple as that… I wouldn't have the drive to make the music or a career.
Without that first email landing in my inbox saying that I won the competition, and not just won, I was Christopher's favorite remix out of all of them; that was the spark to the fire you see burning today.
I'm forever grateful for what they have done for me and I will forever keep releasing music with Pharmacy and help in finding new artists to join the Phamily. I will look for other labels to branch out to of course. I still have goals to land some other psytrance labels.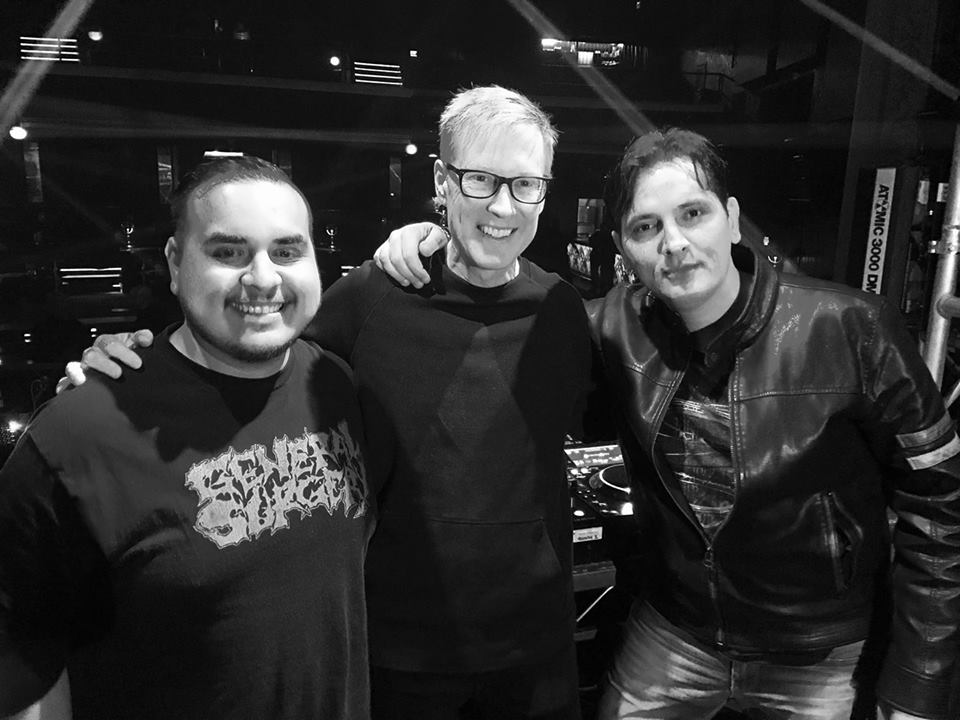 As a true musician, you have a history that includes playing guitar and expressing your creativity as a member of several punk and metal bands. Do you feel like this experience translates when it comes to the musical choices you make as an electronic dance music producer and can you give some examples?
Always. And I've been playing guitar for 15 years now. I developed my ear that way for structure; writing solos… shredding… all helped. It's an extension of my musicianship. When I make certain leads I'm playing them out while using the cutoff and other knobs rather just click and arrange. I treat leads and melodies like riffs or licks on the guitar and the Touch mode on Logic X is one of my biggest tools. Give it a "Live" feel. I've actually been incorporating my guitar recently too, so that's something brand new I did for the first time, live at Pulsar's Desert Party a while ago!
Can you tell us a fun fact about Triceradrops that most people may not know about you? And do you have any funny or interesting stories about your life as a touring DJ?
I produce hip hop and have 3 brothers that rap! I play live bass on my own beats, haha. I blast it on my Instagram but if I wasn't a music producer I'd definitely be a Chef. I love cooking so much!
Stories hmm… Mexico was a crazy one so basically, I went to play about a year ago and my friend and I thought it'd be smart to rent a car. NOPE! We got flagged down by cops and they planted drugs on us! We lost some money but it ended up being a great trip.
I visited a gorgeous place called Tolantongo when I was out in Hidalgo. So assuming they would have an atm or something we went with our tour guide and had cards only. We now just call him Tio. Haha, I ended up sleeping in the tiniest tent with these two dudes and I was smacked in the middle with both of these bastards snoring at my face! For the most part… I got more stories but you'll have to hear them in person. I gotta do voices and more stuff! [Laughs] Writing it out doesn't do justice!
So, with your debut album written in the books, what is up next for you? Any major plans for the 2018 season?
I really want to tour the world, spread my frequencies around and show them what I got. That's probably the main goal is to travel around outside the USA and show them what we're about. I really want to see how Israel would react to a set of mine out there. I think it'll be something fun to experience on both sides!
I'm also going to push to launch my first techno ep under "Noriega" and start the next chapter as a producer. I just want to make all my ideas come to life from movie scoring and making more kickass music in more genres. Music is my life!
---
Connect with Triceradrops on Social Media:
Facebook | Twitter | Instagram | SoundCloud