Darren Styles will be bringing Happy Hardcore to Academy this Friday, February 16! 
---
Fresh off his electrifying set at HTiD USA, Darren Styles will be heading back to Los Angeles for a set at the brand new Academy LA nightclub. The last time he threw down in LA was during his final back to back show with Gammer. Styles entered the hardcore world DJ-ing in the underground at 16 and never looked back. Since then he's played under numerous aliases such as Force & Styles, DJ Force & the Evolution, Styles & Breeze, Infextious, released numerous number one hits and is considered a pioneer in modern-day happy hardcore.
Styles had a busy 2017 and this year is shaping to be just as eventful. Last year he played numerous events such as Defqon.1, revived his Zero Hero alias with fellow hardcore artist Stonebank, linked up with Da Tweekaz for a Tweekacore sent and still found time to tour around the world. This year he's already played HTiD Australia and HTiD USA, released "The Sky is Falling" with Stonebank and Emel, and dropped his latest track "Switch" and it's only February!
Los Angeles is definitely seeing more happy hardcore acts come through the city as the genre finds its place in the current electronic music scene and so its great to see Academy LA bring Darren Styles to town. Shows like this are pretty rare, so if you're a fan of hardcore, this is one show you definitely don't want to miss!
Grab tickets to catch Darren Styles at Academy LA via Ticketfly!
Stream Darren Styles & Stonebank – Sky is Falling (feat. EMEL) via SoundCloud:
---
Darren Styles at Academy – Essential Info:
Date: Friday, February 16, 2018
Ages: 21+
Hours: Starts at 10PM
Venue Address: 6021 Hollywood Blvd Los Angeles, CA 90028
Tickets: Purchase HERE
Facebook Event Page: RSVP HERE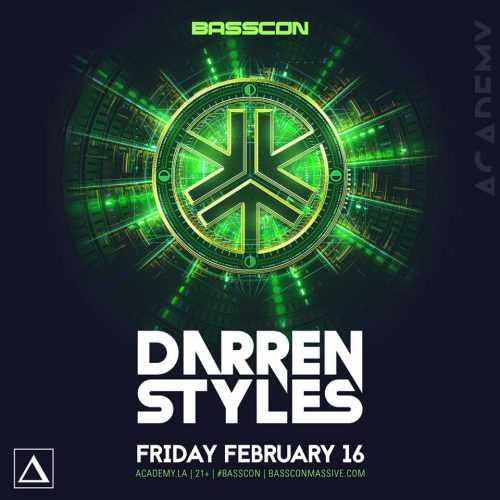 ---
Follow Darren Styles on Social Media:
Website | Facebook | Twitter | Instagram | SoundCloud
Connect with Basscon on Social Media: