Get ready to get hardcore with our playlist featuring the artists of HTiD USA 2018!
---
The time has finally come for HTiD to return to the United States. After last weekend's successful HTiD event in Australia, the premier hardcore event brand is bringing together an illustrious group of artists to grace the Bay Area. It's been two years since the last edition of HTiD USA has been thrown, but the event quickly sold out showing that the love for hardcore music in the US is as massive as ever!
HTiD pulled out all the stops for their 2018 US event. Veterans hardcore artists Darren Styles, Hixxy, S3RL, and Dougal are among those that are featured on the lineup. Representing the Bay Area is local powerhouse No Left Turn and Seattle native Jimni Cricket rounds out the DJ lineup. Of course, it's not a hardcore event without a proper MC; rounding out the full lineup are MC Nugget and That Sober Kid Feenix who will be hosting the event.
Heading to the HTiD this weekend? Get hyped for the show with our playlist of curated tracks from artists playing the event!
Stream the HTiD USA 2018 Playlist on Spotify:
---
HTiD USA 2018 Playlist – Tracklist:
Darren Styles, Christina Novelli – Sun Is Rising
Darren Styles, Gammer – Tom Riddle
Darren Styles, Re-Con, Whizzkid – Jump Up
Darren Styles, Stonebank, EMEL – Sky Is Falling
Darren Styles, Dougal, Gammer – Party Don't Stop
Darren Styles – Us Against The World
Darren Styles, Gammer – Feel Like This
Darren Styles – Come Running (Atmozfears Remix)
Darren Styles – Skydivin'
Gareth Emery, STANDERWICK, HALIENE – Saving Light (Hixxy Remix)
Hixxy, Re-Con – Superhuman
Hixxy, Klubfiller, MC Storm – Just Accept It 2014
The Timespan – Shout Now (Hixxy & Sharkey Remix)
Visa – Fly Away (Hixxy Mix)
S3RL – Pika Girl
S3RL, Lexi – Genre Police
S3RL, Krystal – Whirlwind
S3RL, Mixie Moon – Music Is My Saviour
S3RL – Mtc Saga
Dougal, Gammer – Snakebite
Dougal, Gammer – The World
Dougal, Gammer, Jenna – When I Close My Eyes
Dougal, Chris Fear – Bring Back The Rave
Darren Styles, Dougal – Don't Give Up
No Left Turn, Saiyan, Reese – Air Raid 2010
DJ Luna-C – Edge of Madness (Jimni Cricket Remix)
---
HTID USA 2018 – Essential Info:
Date: Saturday, February 10, 2018
Hours: 9PM – 4AM
Ages: All Ages
Venue Address: The Regency Ballroom – 1300 Van Ness Ave, San Francisco, California 94109
Tickets: Purchase Here
Facebook Event Page: RSVP Here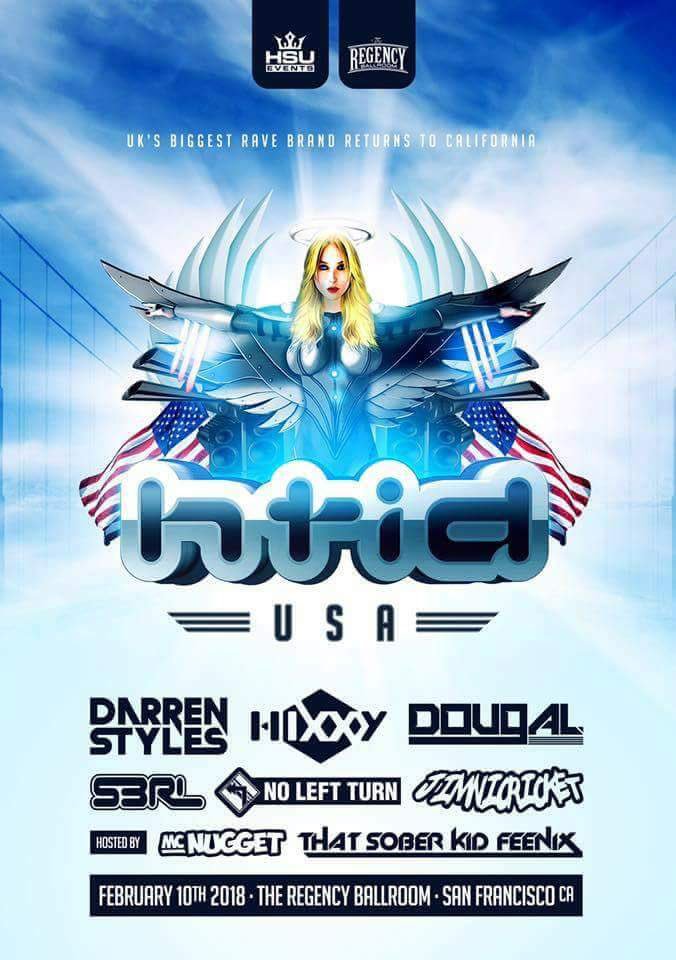 ---
Connect with HTID USA on Social Media: