Da Tweekaz share details about their successful year ahead of their Qlimax debut.
---
Da Tweekaz have pushed the boundaries and definitions of Hardstyle and Hard Dance since 2006 and this year has been no different. Their infectious, feel-good music, sunglasses, and laid-back attitude are everywhere in 2017, including the beloved EDC Las Vegas and Escape: Psycho Circus.
In addition, Da Tweekaz went b2b at Defqon.1 with Darren Styles with their Happy Hardcore alias Tweekacore this year. And now they are only days away from their debut performance at Qlimax in the Netherlands.
Read ahead in our interview with Da Tweekaz discussing their debut at Qlimax, the importance of Hardstyle events in the US, and the tight-knit Tweeka-family.
---
Being invited by Q-dance to play Qlimax this year is a huge honor and shows your contributions to the scene are absolutely making a positive impact. What went through the two of your minds when you heard the news you would be playing?
Well, first feeling was one of disbelief. Our management likes to (sometimes) play cruel jokes on us – tends to keep us on our toes. But, they remained quite serious, so we quickly figured out that this wasn't a joke. Afterwards, we had a meeting with Q-dance about it, had a good talk and at that moment it really became tangible. So, of course, we were over the moon.
At the moment, though, it's nerve-racking and stressful (good stress, though) as we want to get as much new material finished for our set as is possible.
At the Hard Dance Event during ADE this year, the two of you were part of the "Branding Of An Artist" panel with MC Villain and Phuture Noize. What were three of the most important points discussed?
Hmmm! That is a tough one. A lot of things were discussed during those 45 minutes, but I think the most important points were:
If you believe in your own brand, eventually other people will start to believe in it too. Don't just find something that is cool that you can't stand for yourself, but find something you can easily relate to and something you like.
Be persistent. Keep going and never stop. It will look dark at times, but if you are persistent enough and you stick to it, there will be a light at the end of the tunnel.
Seeing as there are so many different artists out there you kinda need to peacock a little bit. Stick your head out of your comfort zone, but not too much! That pretty much sums up those 45 minutes haha!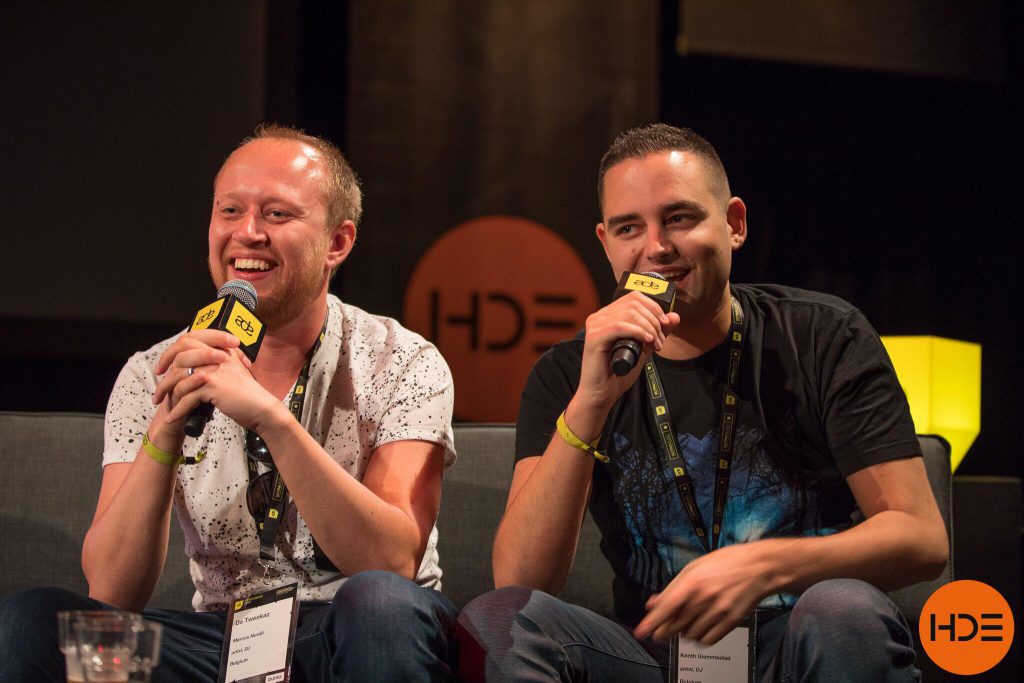 Hardstyle has a tight-knit community who share their love for the music and each other. What is a memorable moment you shared with the Tweeka Family in 2017?
There are actually too many to list. We have a Facebook Group for our die-hard fans – so they're very active on that and it's so awesome to read their stories, see their pictures and watch their videos.
Also, we see a lot of them at many events all over the world. We try and meet up with our fans as much as possible because we know, for them, most of the time it's a once in a lifetime opportunity to actually just say "hi" to us. That humbles us because it's sometimes difficult to realise that it's not always easy for fans to be able to meet their idols.
And it's great to know people look up to us. Of course, Defqon.1 was amazing and we met a lot of fans there and a lot of them were also there for our first set as Tweekacore.
The Tweekacore b2b set with Darren Styles was a highlight of ours at Defqon.1 this year. Will we see more from Tweekacore in the future?
Yes, that was an awesome experience. Honestly, we didn't expect such a huge reaction to the set. But that place was just fully packed! It was unbelievable. Even Darren couldn't believe his eyes. Let's just say we're working on something very special which we hope to announce very soon.
So, in short – yes, lots of plans with Tweekacore. 🙂
What is the dynamic between the two of you when it comes to handling the different aspects of touring, production, and DJing?
We're basically in it 50/50. We both come up with crazy ideas, we both produce in the studio. One of us is better with putting up the idea and melody, the other is better at mix downs and all the technical stuff, so it really works out well.
On stage we both give it 110% – so that makes an act that does 220% on stage. All the time. 🙂 It goes without saying that touring can be hard at times, but we've got each other and also seeing our fans at every booking just keeps motivating us.
There seems to be a good amount of festivals in North America featuring Hardstyle, like Escape: Psycho Circus and Project Z, but club nights are scarcer. Do you think Hardstyle needs nightclubs to grow and survive here?
That's a good question. We feel that, at least in Europe, nightclubs are very important for the growth of a scene. Festivals are great of course, but the nightclubs and indoor venues need to be the bridge between the seasons and nightclubs are so much more intimate for DJ's as well as fans. Because you're so close to each other and you know that the people standing there came all the way for you.
So, it would be great to see the club scene in the US pick up Hard Dance. We know there were a few in the past, but Hard Dance is still relatively new in the US and it leans very close to "Bass" which is big over there. I think that fans, maybe not the core fans, are sometimes confused between the music styles.
But for the moment, it's great to see Hardstyle pick up some momentum in the states. And we're very happy to see the big organisations really latching on to it and putting up quality festivals. It's very important that the quality remains high.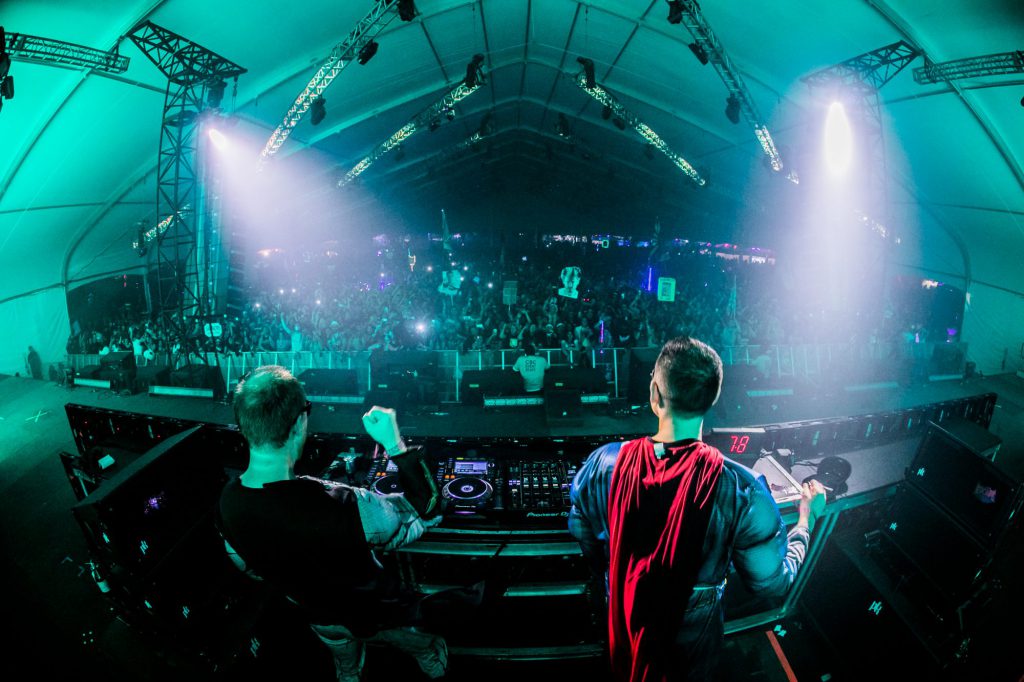 Your latest track "Komon" sampled a DnB vocal sample that fit perfectly with your euphoric Hardstyle flavor. What are the difficulties when it comes to creating genre-defying tracks?
We don't usually intend to create genre-defying tracks. We just hit the studio, come up with ideas and work it out. In the case of "Komon", well, we wanted something with a real festival feeling, generally for our festival bookings in Europe, and we noticed it worked really well.
So, once the Summer season ended over here, we released the video clip and the track and it just took off. It was actually so much better than what we anticipated. So, I guess if fans see that you're 100% supportive of the music that you make, then they are too.
The "genres" are not much more than words to us. We're Hardstyle, that's for sure. But if we can incorporate something different into our music without losing the Hardstyle touch, then that's just a plus.
Speaking of incorporating other styles of music, any chance we could see a bootleg of a popular anime theme song?
Is it wrong to say we haven't really delved into the world of Anime? 🙂 We love gaming and love Disney movies, that's a shock, right? So, give us a heads up on Anime we should be checking out, and who knows. 🙂
We did make a Pokemon DJ tool a while back. Back when Pokemon was a super hype over here. That's not exactly anime, but just thought we should share it. 🙂 It was a fun track to play.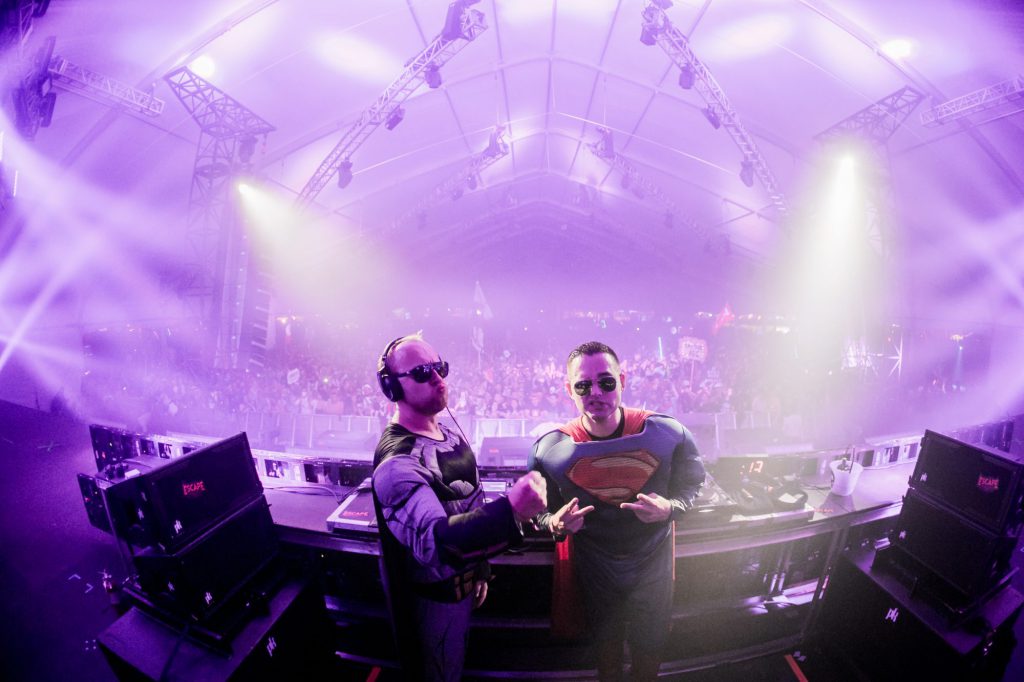 What sparked the idea to wear sunglasses during your sets?
I believe it all started during one of our first bookings as Da Tweekaz ever. We made the anthem for a club in Denmark, Club Whiplash, and we weren't really supposed to play at said event. But all the sudden, after being at the club for more than 8 hours partying, they asked if we could play a set at 6 in the morning.
We looked like complete crap so we decided to put on the sunglasses so that people wouldn't notice how drunk/tired we were. It worked back then, and believe me, it works now too! =)
Finally, would you rather fight 100 duck-sized horse or one horse-sized duck?
Not sure if we would be fighting those cute little duck-horses though. Seems too cute to be stomping all over them. We might even want to bring a few home.
A horse sized duck… hmmm, well that sounds like a challenge. But, listen. We speak duck – so we've got a feeling we'll be riding that duck to all of our bookings. That would be a sight!
---
Follow Da Tweekaz on Social Media:
Website | Facebook | Twitter | SoundCloud | YouTube