Digital Motion Events heated up Red Room's Subculture Saturdays by bringing Woofax and Longwalkshortdock with RIM Visuals.
---
 glittery  dangling from the ceiling. My excitement was higher than usual to catch Woofax and Longwalkshortdock together again. This was my first time reconnecting with them both since our time hanging out at Motion Notion Festival. In addition, though I know and love Woofax's work from other projects, this was my first time catching him live on the decks.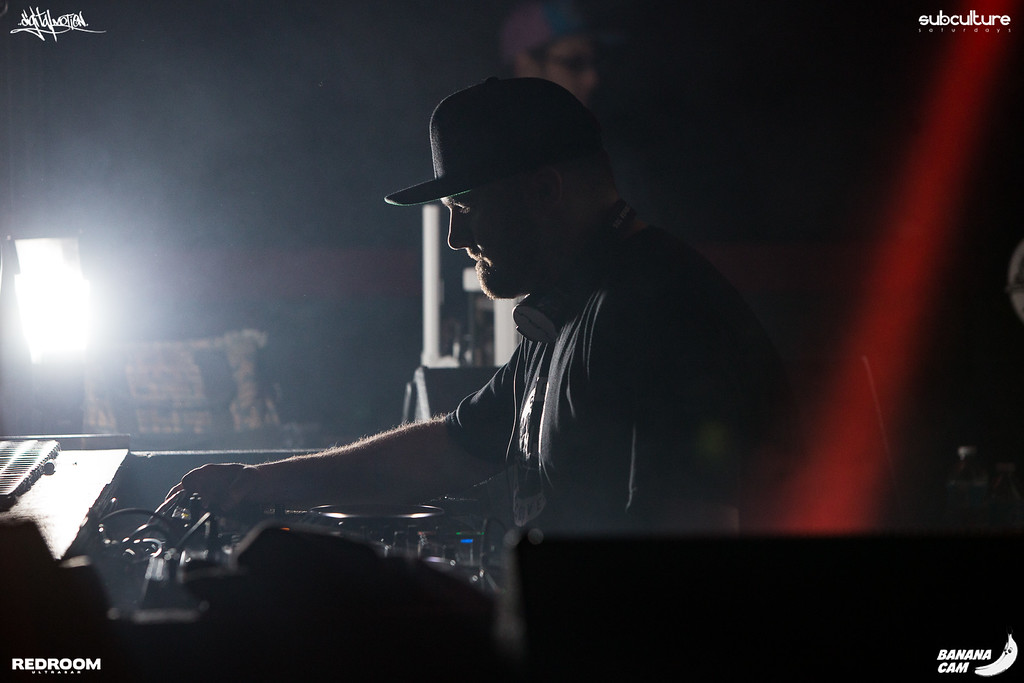 After a steady, ambient bass opening from Foggyswoggle, Woofax set the pace with some dank half step, occasionally throwing in some familiar retro RnB hits. The energy had a steadily increasing trajectory, yet his song choice was tastefully haphazard. The abrupt transitions between dissimilar genres were unexpected, yet smooth and seamless.
The Red Room's booming PK stack brought Woofax's gnarly

originals to a whole new level.
"Greazy" ripped with such force I could feel the ground quaking beneath my feet. Soon, we heard, "Who wants to headbang?" but it was clear he didn't need to ask. Nonstop banger after banger promptly ensued, interwoven with caustic melodic grime.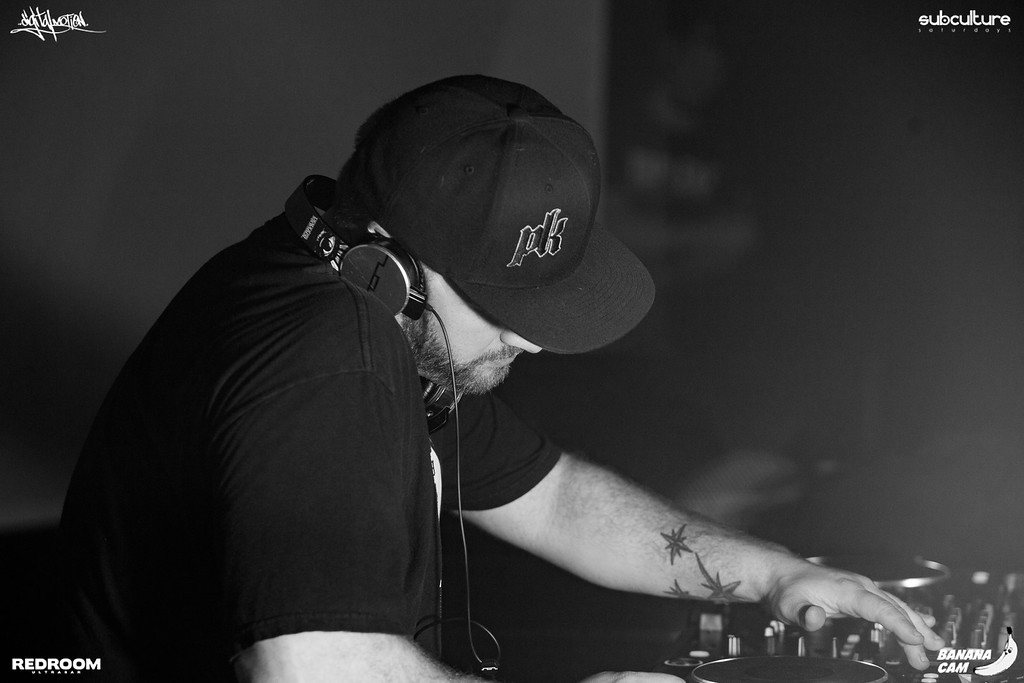 Meanwhile, Longwalkshortdock would comically appear on stage every so often casually drinking a beer, silhouetted against his all-white stage backdrop when the lights would illuminate. Woofax wound down with some smooth liquid DnB before shouting out to "the legendary PK Sound."
After a brief changeover, Longwalkshortdock's stage setup was ready to roll. Two opaque, white screens were angled adjacent upstage, with two translucent screens up front. His unique vertical music setup was placed through the gap in the middle.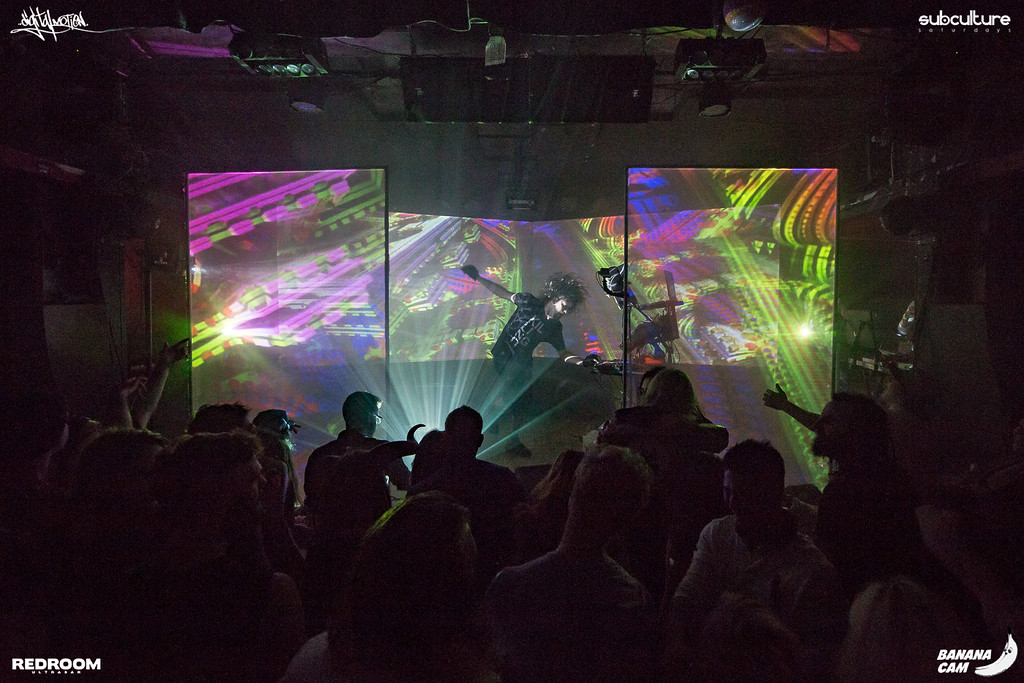 The music, performer, and visuals had three separate energies of their own but created one sensory mosaic overlaid atop one another. 
The show at Red Room was wholly intensified by RIM Visuals' mind-bending imagery. The interesting placement of the screens with the visuals' movement from the opaque back to see-through front screens created a hyper 3-D appearance. Longwalkshortdock's stage presence was amplifying the already infectious energy being literally in the middle of it all.
Longwalk's two-hour set was a crazy, upbeat journey through breaks, house, electro, drumstep, and of course nearly a full hour of drum and bass. The energy was constant, and the message on his shirt, "Killing It", was painfully accurate. Drop after drop with hardly any breaks, save for the long Star Trek fight-scene build.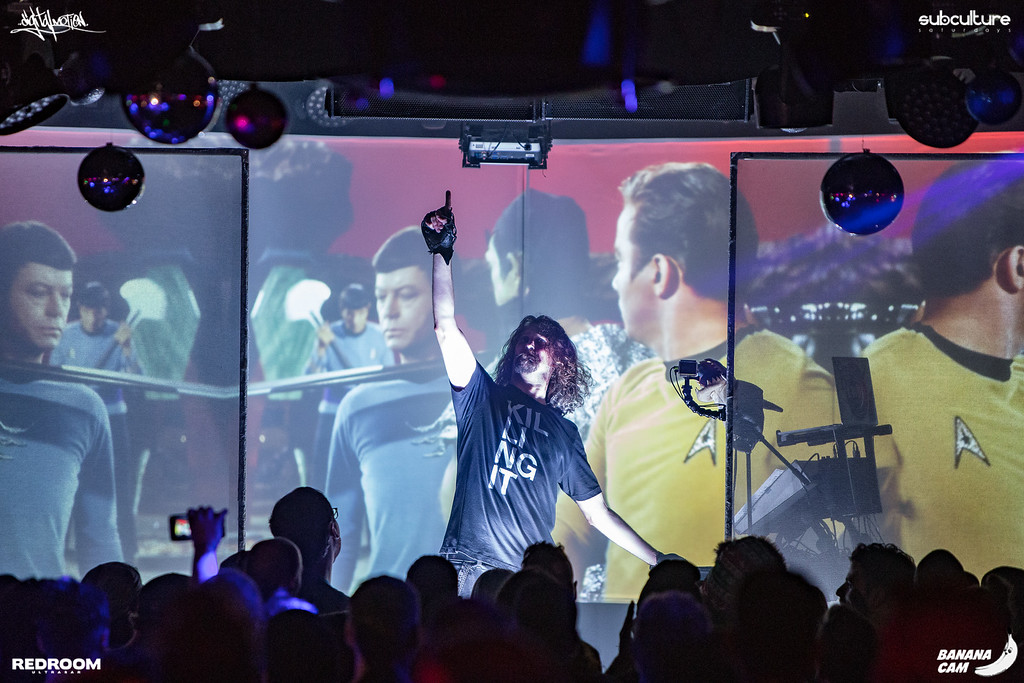 Just this year I caught LWSD at Shambhala and Electric Love, as well as several times in the past. His sets are dynamic and relentlessly energetic, but the live show with visuals is a whole other sensory experience.
Longwalk is also just endlessly entertaining to watch, bouncing every which way, making theatrical faces to the music, singing into a shark puppet, and of course insane headbanging. The man puts seasoned headbangers to shame. Despite currently anticipating full hip replacement surgery, he gives nothing less than full force energy.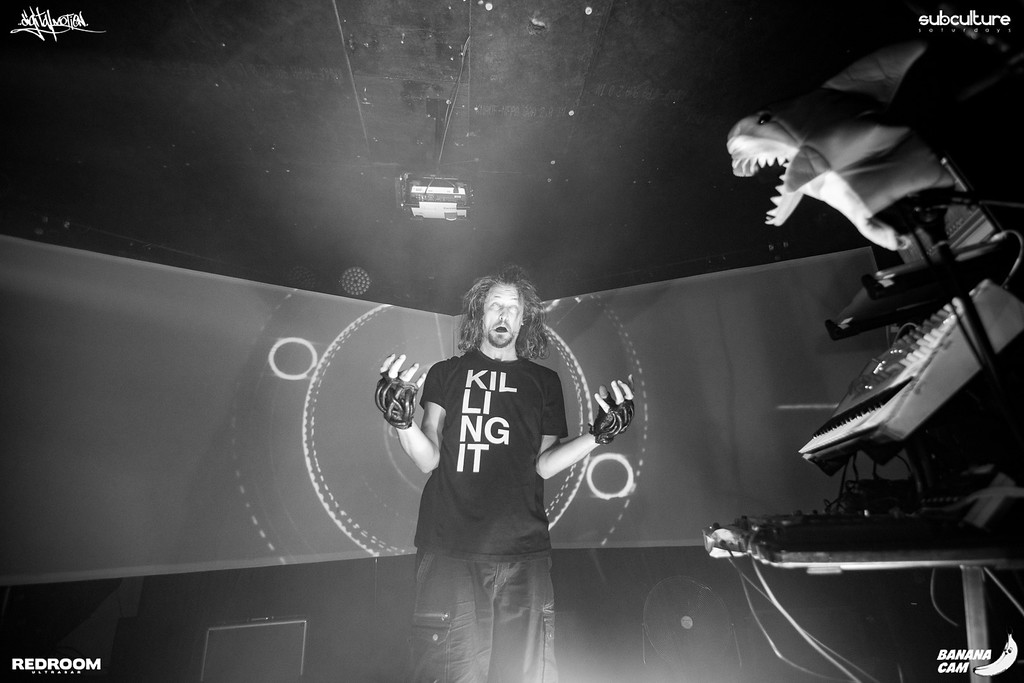 The Red Room somehow always tends to facilitate connection.
Connection was something that occurred on many levels at this particular show, and as always I felt like I left the space with much more than when I'd arrived. Except for energy, of course.
With what little energy was left, we ventured on a 4AM mission to The Naam for eats. The night ended with super quality, tasty food, and the best cup of hot chocolate I've ever had. I love Vancouver.
---
Connect with Longwalkshortdock on Social Media:
Facebook | Twitter | SoundCloud
Connect with Woofax on Social Media:
Facebook | Twitter | Instagram | SoundCloud