Shambhala is a place where the dream world and real world converge. It's impossible to put into words, but in my best effort, here are some of my most memorable moments from that weekend.
---
Shambhala is a land of pure wonder located on peaceful Salmo River Ranch in Eastern British Columbia. It's a magical playground with a cultural blend of hippie love and raver PLUR. The lineup is expertly curated, tastefully eclectic, and loaded with bass. Shambhala features some of the best artists in their respective genres, as well as BC-favorites including Datsik, Excision, and Stickybuds. 
Despite this being my third consecutive year in attendance, I knew I had no idea what experiences this year would bring. Shambhala is so dense with love, connection, incredible music, uplifting energy, and bizarre synchronistic happenings that are difficult to describe without bearing witness.
Here are some of the unexpected magical moments from the 20th Annual Shambhala that I will never forget…
---
Justice Served at the River
This moment felt like one of those small miracles that seem to happen at Shambhala. It occurred on Friday afternoon at Muscle Beach, one of the banks on the Salmo River, which runs right along the festival. I was watching a guy floating down the river on a very colorful innertube floaty with a mermaid tail attached. A topless girl abruptly ran up beside me and shouted to her friend, "Um, that's my floaty! It disappeared this morning, and there it is! Dude is just chillin' in it!"
She hastily jumped down into the water, and started swimming, having grabbed the attention of many curious bystanders. She dipped into the water to build enough force to throw him overboard. After the third big push, she dumped him into the water. The entire crowd lounging around the beach began to cheer. 
She told the guy off for several minutes, who responded with unintelligible nonsense. It was very clear he'd just been caught stealing her floaty. She swam up back to her friends, climbed up the hill and proudly walked away, awesome floaty in hand. The crowd vivaciously cheered her off. It was amazing. A lovely moment of justice and of connection with all who'd witnessed it.  
---
Rainbow Disco Party in the Fractal Forest 
This scene began with Stylust Beats at The Village stage, a life-changing set. The last half was a dark, deep, humanoid netherworld where I was standing in front of the giant PK subwoofers, literally enveloped in bass. I was surrounded by the most immense stage I've ever witnessed. I didn't know how to proceed with life. So, the only thing to do was head to the Fractal Forest, a beautiful forested stage pulsing with lights, color, energy, and funky beats. It's always a fun time at the Fractal Forest.
This particular moment can only be described as a rainbow disco party. Skratch Bastid was spinning synthy, funky disco noises, and the scene was completely bathed in light. Lasers, strobes, projection-mapped art pieces hung high above the crowd, the surrounding trees blasted with color. People were donned with colorful outfits while carrying carefully crafted, illuminated totems. It was so beautiful I was legitimately overwhelmed. I sat down, leaned back, and tried to take it all in.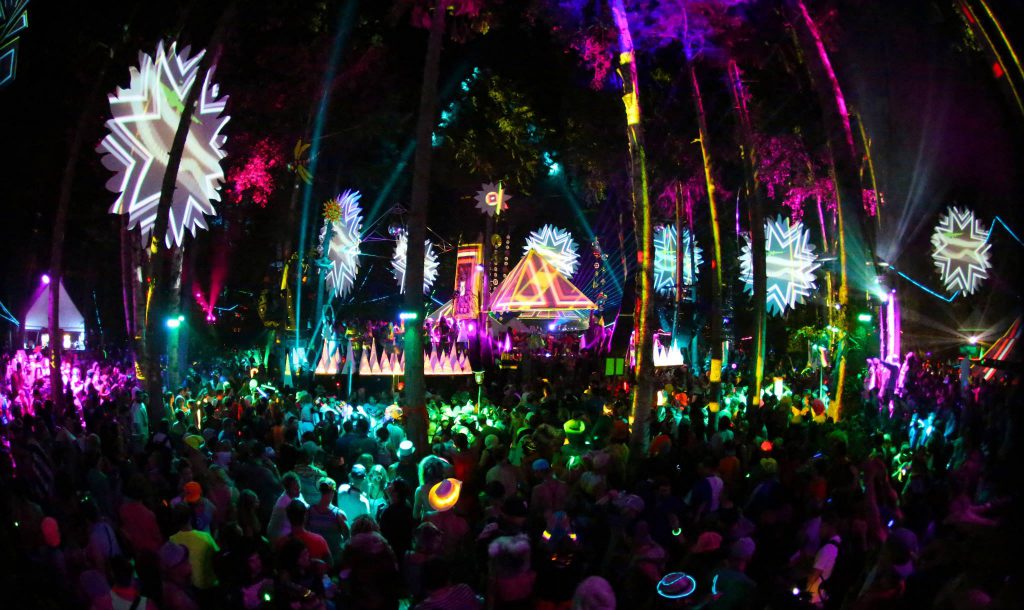 ---
Those First Raindrops, the Sound of Shambhala 2017
The wildfires currently ravaging British Columbia posed a very real threat to the longevity of the festival. On Friday it was very visible just how close the fires were. The smoke was thick, small bits of ashes were floating through the air. It was very concerning. The development of the situation was contingent on unpredictable factors like wind, dryness and other shifts in the weather. By Saturday afternoon, we had been informed that day three of the festival would, in fact, be canceled due to precautionary evacuation measures. It was heartbreaking news. But there was nothing anyone could do about it.
So, my crew and I did what we thought was best. We got ready as soon as possible and bolted to the dance floor. The festival literally partied like there was no tomorrow. The energy was bizarre and intense, even by Shambhala standards. Well into the night, I was told by a vendor that there might actually be a chance that Sunday could go on, as there was rain in the forecast. I personally didn't want to hope after already being let down, but still, a buzz kept going around that if it rained there would be a chance. I went to the information tent, for the third time that day, and was told it was "absolutely canceled" by the staff there. Still, the prospect of rain sounded promising.
Around 7am Sunday morning, raindrops fell. The following sound that erupted from the entire festival is something I will literally never forget. It was the most immense moment of solidarity and praise and release I've ever heard. People crying and cheering from every corner of the Farm. As a good friend aptly put it, "That…that is the sound of Shambhala 2017". 
It rained intermittently for several hours. We furiously checked the festival app for updates. Around 10am there was a notification saying that even though the rain had fallen, the festival was still definitely canceled. Damn… The letdown felt heavier this time. Feeling foolish, dismayed, and utterly exhausted, I slinked into my camp chair with a cup of cereal when I heard someone shouting from a megaphone down the hill from our campsite, telling people not to pack up and that Shambhala was back on. Indeed, soon after that first notification, there was a second one sent out saying that the third night was a go.
This was deeply surreal on so many fronts. I still don't really understand the contradictory notifications so close together. I don't know any details about how these decisions were made. The back and forth, however, was very emotional and even more draining. My only plan was to stay as long as possible until we were forced out. But many people had packed up and left entirely by the time that notification was sent. It was pretty devastating to many, including the artists who'd canceled their flights.
I'm not sure how that situation could have been better handled. I think the festival organizers did what they could in an extremely tough, ever-developing situation. I do know that the air was certainly much clearer after it had rained. Regardless, I had come to terms with the festival being cut short. So, day three felt like a gift. A second chance.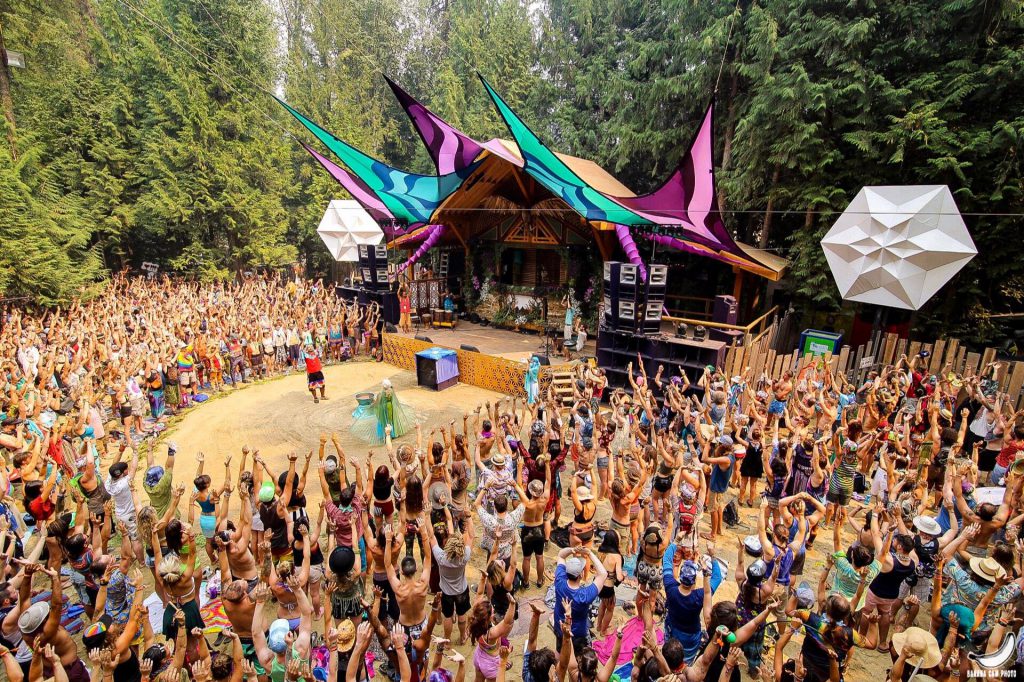 ---
A Surprise Set, Downlink at the Village
One silver lining of this catastrophe led to my favorite set of the weekend. Since many artists canceled their flights after being notified of the evacuation, much of Sunday night's artist schedule had to be reconfigured. Downlink was hanging out at the festival since he's native to the area, and a long-time friend, but he wasn't on this year's lineup. That night he stepped up and filled in for Delta Heavy. It was a shame to have missed the artists I'd been looking forward to, but catching Downlink at The Village was particularly powerful for me.
Downlink played the first-ever dubstep show I attended, the one that instantly converted me into a bass music lover. He was also one of my top sets of my very first year at Shambhala. Like an ensō, I felt as if something within my musical life had come full circle. I raged harder to that set than any other, on the ground still damp with rain. It was a very spiritual moment, sealed by tears of gratitude and disbelief.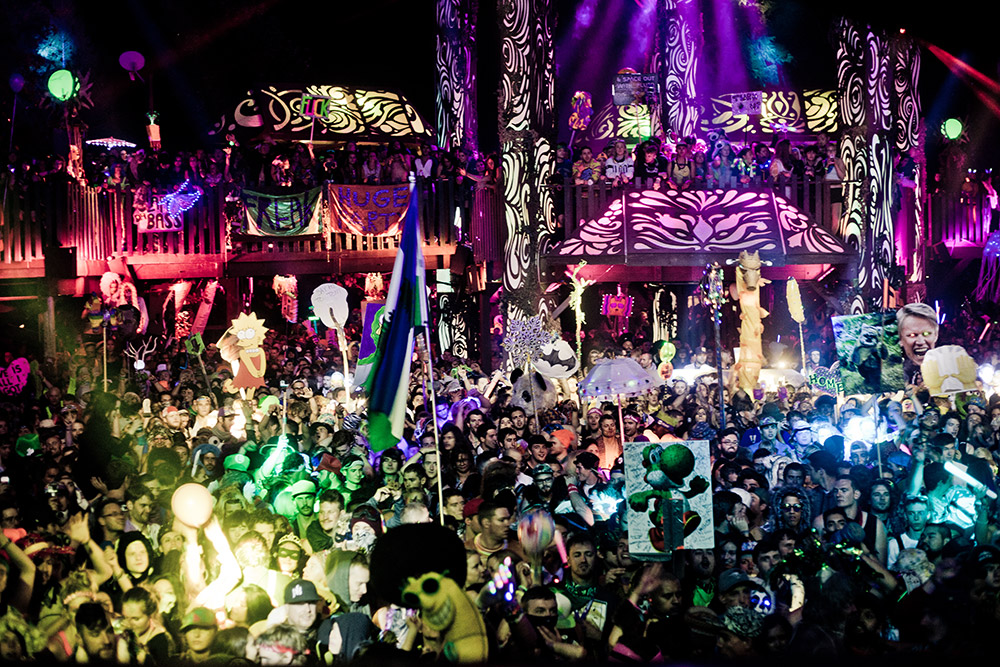 ---
Personal Closure and a Spirit Hood
The magic of Shambhala can sometimes reach the personal realm. My most profound Shambha-moment this year resulted in some closure from a personal situation that had occurred several months prior. I'd commissioned a custom spirit hood, at the behest of some friends, to be made for me by a friend of theirs. It was a long, drawn out process, and the final product didn't resemble what I had expected. When I voiced my concerns, the designer became offended. He unexpectedly blocked me on all communication fronts, then sold the hood before even letting me see it in person.
Since I had paid him upfront, I was out of my money and without a hood. I cut out the friends who originally referred me to him for being pretty insensitive about the situation, and I left my boyfriend that same day since I was already in a dark place. The entire situation left me pretty broken. Months later I had gradually moved on, but residual bitterness certainly remained. 
On Sunday, the gifted night, I was wandering through the vendor village visiting a vendor friend before he packed up. On my way out, I ran into the man who I'd commissioned to make me the hood. I told him my side of that story and how shattered I was afterward. I politely asked him for my money back, and to my surprise, he gave it to me…
Then he randomly led me into the Bolli Imports tent, where I noticed some beautiful spirit hoods hanging off to the side. I'd convinced myself months before that I no longer wanted a hood after that whole situation went down, and I had no intention of ever trying to buy one again. But for a split-second, I scanned the wall anyway and spotted a hood that jumped right out at me. Beautiful purple and black, my colors. I bought it. 
The sense of love and connection at this festival is palpable. I really believe that if I'd run into him anywhere else in the real world, I would not have gotten my money back. Surely it seems like just a coincidence, but that's what those the small Shambha-miracles are. Moments of synchronicity saturated with meaning. Every year I leave Shambhala with so much more than memories of music and fun times. But something much deeper. 
There literally aren't enough words to capture the wonder of Shambhala. It's like Brigadoon. Silly reference, but seriously, it's an elusive, magical place in the forest that appears briefly and affects so many people in such a profound way. The collective energy is something that I genuinely believe everyone should experience. Feeling so close to so many strangers. Being able to walk up to just about anybody and spark up a conversation at random. Give a hug or a small gift that will be sincerely treasured. Shambhala is a truly special place.
As Rich E Rich said at the end of his set, which marks the end of the music for the weekend, "it doesn't get better than this folks." He's right, it certainly doesn't.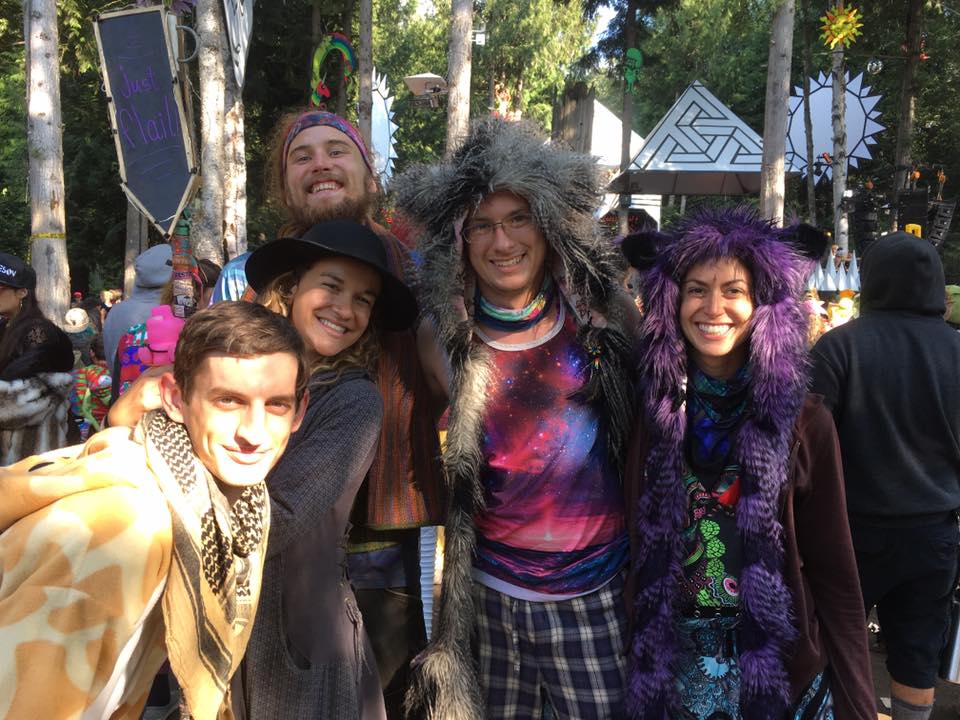 ---
Follow Shambhala on Social Media:
Website | Facebook | Twitter | Instagram
Featured Photo Credit: JoffreyPhoto.com