Woofax talks leaving Terravita, joining PK Sound, New Single, and more!
---
Matt Simmers, also known by his artist name Woofax, is the former sole music producer and audio engineer for electronic groups Terravita and Hot Pink Delorean. He is now working solo for the first time, and redefining his sound and artistic identity in the process. Matt opened up to us about his tumultuous departure from Terravita, and the process of continuing anew as Woofax. He also discusses his life as an audio engineer with Canadian powerhouse PK Sound, his undying love for music production, and his hopes for the future in his artistic endeavors.
He has a new release out today on Circus Records called "Greazy". Check out Woofax's bangin' new track, his thoughtful responses to our questions, and the insane mix he made just for EDM Identity!
Listen to Woofax's Exclusive Fall Frequency Mix on MixCloud:
---
In the past you've worked with dubstep group Terravita and electro act Hot Pink Delorean. What was your role in those projects, and why are you now working solo?
I might as well get this long answer out of the way first haha!. There's so many things I want to say about this. This is the first time I've ever talked about it publicly. I always knew eventually I needed to tell the truth about this though.
There were three of us in both of those groups. I wrote 99% and engineered 100% of all the music for Terravita and Hot Pink Delorean. I always encouraged my former band mates to write music for the groups as well, but they never really learned how. Other than lyrics and providing minimal feedback, I created all the musical content myself for almost 10 years.
I still have the project files to prove it. I also designed and curated the majority of DJ sets we would play, or they would play when I was busy in the studio. It worked well for a long time like that. They had their jobs and I had mine. We'd all perform together when it was possible. We all agreed we were equal partners.
I'd like to clarify that since Terravita's last release on Firepower records, I have NOT been writing the music. From what I understand, they've hired someone anonymously to do the job I was doing.
The past 2 years have been a massively difficult time for me. As much as it seems like the members of my former groups would rather everyone think I left on my own terms, the truth is I was forcefully removed from those projects with little to no restitution.
I've never been told I'm difficult to work with. In fact, I've helped out a lot of other artists with their own music careers for over a decade. Towards the end though, we were having massive disagreements. Even though I was writing and engineering everything myself, my opinions about the direction of the group and what should be released were met with more and more opposition. If I disagreed with what they wanted, I was accused of being hard to work with. They became completely unreasonable.
Eventually it became constantly their way or the highway. There was zero compromise. Towards the end, they sent me a text telling me I wasn't allowed to DJ as Terravita unless I dressed a certain way and lost 10 pounds. They even started wanting to control where I was when I was writing music. Even after sending them a dozen drafts and sketches for new music, they still always found some issue with what I was doing.
The way I saw the situation was: They wanted to become more image based, commercialize, make more money… and I wanted to make music that inspired me and enjoy my career. We wanted different things. People can change and drift apart after a long time. When members in a band stop compromising, they usually break up due to their differences. I came to terms that we had huge differences. That's OK. Neither of us were wrong for wanting different things.
It's how it all ended with them that I find so evil.
Years ago, I signed a LLC agreement with the 3 of them giving me legal ownership of 1/3 of our project. The biggest mistake I made was trusting one of them to file that paperwork. Not only did they not file the paperwork, but they lied to my face about it. Later when it all hit the fan, they used that leverage to remove me from the projects. I spoke to some lawyers. I started to try and fight it, but they withheld all the money I was owed and soon I couldn't afford anything.
Eventually they sent me an "exit letter" with a promise to pay me what I was owed once I signed it. An attorney explained to me it was actually a thinly veiled non-disclosure agreement. The lawyer told me that the document along with the promise to pay me basically meant something like: "If you want what you're owed, you have to sign this letter saying you won't tell anyone the truth of what we did to you".
It felt like a bad dream. Like I was getting raked over the coals after allowing them to use my music for 10 years. Terravita was a project I had poured my everything into for a decade and now I felt like I was being erased. I was in a really bad place because of all that.
I decided quickly that I no longer wanted deceptive and manipulative people in my life. I wanted to be around people who were truly talented and creative and who balanced their business and artistic aspect in a healthy way. I wanted to get away from egos and negativity and get back to making music which is what I really love. I didn't end up signing anything. I stopped trying to get my money. I made the decision to just walk away from it all.
A family member helped me get a flight back to my home town in the Northeastern US. There was a period where I was barely surviving financially with no clear future. On the bright side though, I realized how much happier I felt now that I wasn't dealing with those people. I noticed how less stressed I was. Even my creativity felt less stifled. A lot of close friends and colleagues who heard what happened reached out to give me support.
I was determined to keep going. I started making some phone calls to friends and ended up in Canada working for PK sound. I wrote an entire album of new music. I moved on from Terravita. I started Woofax.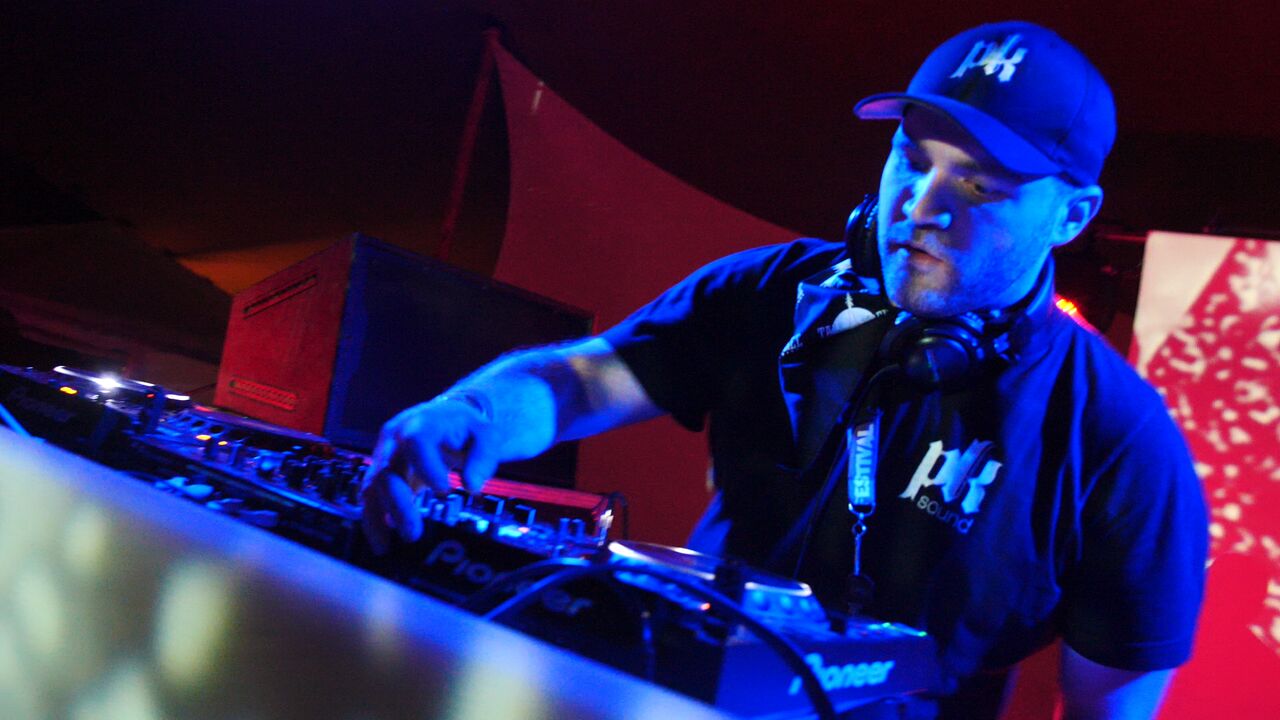 What, if anything, have you brought with you from those projects to Woofax?
I think the most important thing I brought with me was my knowledge. I can still make music, which is the most precious thing for me. A lot of people have told me that I brought the signature classic Terravita sound they loved over to Woofax. I guess it makes sense since I'm still the same person writing music on my computer that I was a few years ago.
Terravita and Hot Pink Delorean were just a few of many projects I have done in the past. For example, I used the name "Tremourz" and collaborated with J Rabbit to write "Sexy Party" a few years ago. I have several tracks under the "Tremourz" project name. My goal with Woofax is keeping a combination of all the music from of all of my past projects and also to bring more styles into it as it evolves.
Has your departure from those projects incited you to actively distinguish yourself or your sound?
Yes, definitely. I had a lot of tracks I made that never saw a release so I never pursued finishing them. Now when I have an idea, I just make it without question and follow through with it even if it's seems a little strange to me. I'm making things much more from the heart now. I'm making all these different tracks at new BPMs with different vibes in addition to the music I'm used to making.
I love the fact that I can release heavy dubstep track and then put out a ghettofunk tune and make 2 DNB bootlegs and some drumstep in the same month. Whenever I've been making multiple genres, it has helped me get better at engineering all of them. Even this past year, I feel like my mixdowns are still evolving. It helps me be more creative too. Going solo has also allowed me to think outside the box without having someone in the background saying, "Are the raver kids gonna listen to it? Is it popular? You should make more of this popular genre" etc.. It's the beauty of going solo.
Ironically, going solo has also allowed me to collaborate with artists and labels I had previously not been able to when I was in a group. I got along with tons of artists from different genres who I'd meet at shows and festivals and some of them have become close friends. I truly enjoy their music too so it's great when I can get a chance to work with them.
You're currently working for Canadian powerhouse PK Sound, arguably one the best audio system manufacturers in the world right now. What is your role there, and what has it been like working with them?
It has been, and continues to be an amazing experience. I'm the lead sound designer and work in the R & D acoustic lab at PK. My main job is to program new product's internal DSP and update our current line of products to make the best sound possible. I never expected after everything that occurred in my life that I'd end up working with such an amazing and passionate group of talented individuals. I'm forever grateful to have been given the opportunity to be here.
You're a mastering engineer for many artists including some on Datsik's label Firepower Records, and Funk Hunters' Westwood Recordings, and have done sound engineering work with artists like Excision, Crywolf, The Crystal Method and more. Does your involvement in those projects speak to your music? Are you involved in any other sound and audio works?
Every project I've ever worked on, I usually find something inspiring. Usually it's mastering and mixing techniques. I'm always trying to innovate and positively evolve my process for that. Musically speaking, I feel incredibly inspired all the time by every style of music. I could spend years doing nothing but writing music and I would still have ideas. My main problem is time. I'm busy at PK and doing so much mastering and mixing that I need to consciously make time for myself and my personal creativity.
As far as being involved in other audio projects: I'm a long-time beta tester for the software company Izotope and have done some factory preset content for them in the past. I was also one of the first Audeze Headphone ambassadors when they first launched the headphones.
You remixed "Push" by Super Square, one of my favorite Seattle-based artists. How did you connect with them? Will you be doing anything with them in the future?
Yes! They are awesome right?! That remix was through my good homie KJ Sawka who, in my opinion, is one of the most talented people in electronic music. He released the original track through his awesome label "Impossible Records" and asked me if I wanted to remix it. I kept hearing a liquid drum and bass vibe when I would think about the original. Honestly, the song is so well written that it was really easy to remix it. I'd love to connect with the Super Square crew more. I love their style and would be stoked to work with them.
Dubstep seems to be this generation's metal music. Why does metal speak so clearly to dubstep?
Dubstep at times reminds me of just the headbanger sections of metal tracks. I think there's obvious similar songwriting techniques in those sections. Also, to me I feel like it's the controlled abrasiveness that metal and dubstep can share sometimes. Guitar amps contain a lot of energy around 2.5khz which is easy to mimic in a heavy distorted synthesizer. Not every instrument can do that and sound good.
There's a lot of unique and amazing sounds coming out of British Columbia right now. Where is this coming from? Is it something in the water?
Haha, I swear it has to be in the water! I mean seriously just look at the Okanagan region alone and almost all the major OG players in North American dubstep all grew up or lived in the same area! Maybe it's the salmon run every year adding more nutrients into the water table, haha!
Not only are there a ton of already established artists, but there's a ton of really talented people just making dope stuff at home. I know that there's a ton of great artists popping up all over the world right now, but I do feel a major concentrated amount of talent in Western Canada.
You have a new single out today on Flux Pavilion and Doctor P's record label Circus Recordings called "Greazy". Are there any interesting details or tidbits that you'd like to share about it?
I made this track "Greazy" the night after my good friend Downlink played a show at the Middle East in Cambridge, MA. I caught this awesome vibe that night listening to the tracks he was playing and I wanted to capture it in my own track. I was getting mad at my snare in the track for a long time. It forced me to come up with a new technique to create snares that I'm still using now. Circus has been amazing to work with as well. The guys at that label are awesome people.
What is it about music and sound design that keeps you engaged?
To me, music feels like a bodily function. I need to make music like I need to eat and sleep and use the bathroom. It just needs to happen for me so I feel "right". The sound design and engineering aspects became this forever changing puzzle for me that I really love… Yes, I am that person who will spend an hour tweaking a percussive element, and I enjoy it.
What is one thing on your bucket list that you'd like to do in your lifetime?
I'd like to do my own bus tour some day. Not as a support act and not so I can play in front of bigger crowds. I want to design my own set, pick my road crew, my sound rig, and pick my tour support from artists who I really like. The reason this is on my bucket list is because I want to get on the road as an artists and curate awesomeness with my friends doing something we all love.
---
Follow Woofax on Social Media:
Facebook | Twitter | Instagram | SoundCloud
Feature Photo Credit: Leah Gair