Meet Heather Orman in this week's #IDSpotlight!
---
Name: Heather Orman
Rave Name: None
Age: 25
Hometown: Chandler, Arizona
Current City: Chandler, Arizona
Occupation: Barista at a coffee shop and juice bar
Facebook: Heather Orman
Instagram: @heather442o
---
What was your first electronic music event?
Bubble Bobble 2011
What/who influenced you to attend your first event?
A coworker who was a raver brought me!
What is one moment from an event that was special and why?
I love answering this question! So to set the scene, it was Global Dance AZ 2015 and it was me and my boyfriend's first anniversary! I had bought him a VIP ticket and was going to upgrade my guest list to VIP at the door. After arriving at the box office they told me upgrades are no longer available. I was super bummed but not gonna let it ruin my night!
We walked over to VIP so he could check out the exclusive area, and a couple with VIP wristbands we're standing by the VIP entrance. They had happened to overhear our story and gave me one of their VIP wristbands and lanyard so I could be with my babe!
I was completely floored and offered to pay but they absolutely refused! I ended up trading them my panda perlers because they were all decked out in Deorro gear. Hands down one of the nicest things a couple strangers have ever done to me, rave or not!
What is your favorite festival or event?
I have so much love for Global Dance Festivals because it is where I met my boyfriend, but I have to say ultimately my favorite is Phoenix Lights Festival. It's one of the Relentless Beats festivals that is completely Arizona based and the music, production, and vibes really can't be beaten!
What is your favorite electronic song and why?
Oh man, how to pick just one! I'm a huge basshead so anything bass music makes me happy! The Widdler – Froggy Style is always going to be my favorite, my two favorite things, bass and frogs!
Who are your favorite artists?
Excision. It will be my 8th time seeing him in Denver this February! I will always love Caspa and Rusko, Bassnectar, ODESZA, Ghastly (AZ fam represent), Sullivan King, Ponicz, LNY TNZ, PhaseOne. If it's bass I'm there really!
What are your favorite genres?
Bass music all the way! Riddim, dubstep, bass house, trap, hardstyle, and psytrance. The more bass, and the harder the better. 🙂 I came to EDM from the metal scene so I've always been more attracted to the harder side of EDM!
What do you feel your "Identity" is in the electronic music community?
I just really try to be friends with everyone haha. I am an admin of the Rave Family group and the PLUR Sisters group on Facebook! I am lucky that the Arizona music scene is large but tight-knit, everyone watches out for each other and our vibes are always out of this world! I really try to incorporate the warmth and happiness raving has brought me into every aspect of my life
Is there anything else you would like to add about yourself for the readers?
Outside of raving, I am also an amateur rockhound and college student. Raving has shaped my life 100% entirely for the better! I feel so blessed to have so many amazing opportunities and to have met so many beautiful people with golden souls. It is definitely bigger than just the music, it is truly a movement of all of us, connected, to a brighter future.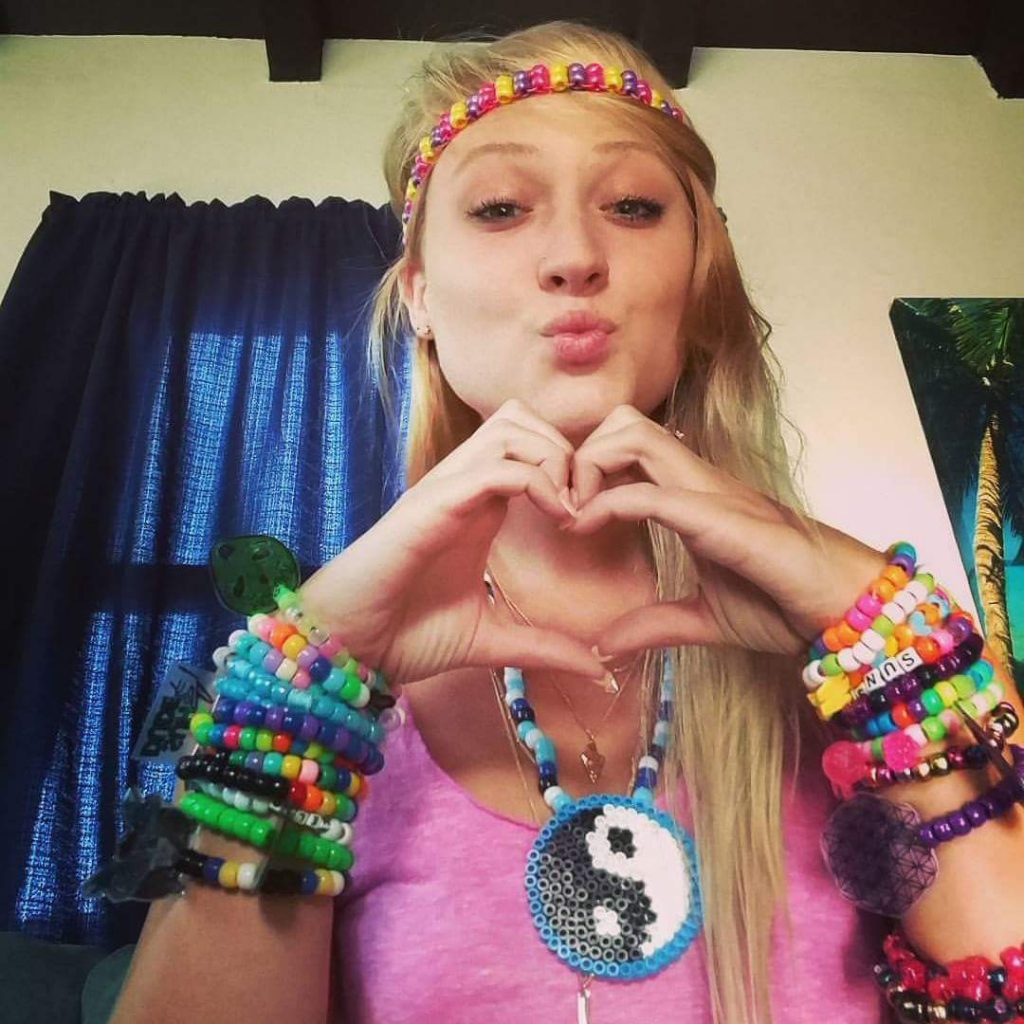 ---
Do you want to be featured in our weekly ID Spotlight segment? Click HERE for the submission form!