Dirtybird Campout East Coast has just dropped the second phase of their 2018 lineup, and you will want to sit down for this one.
---
The hype train has officially pulled into the station! After weeks of hinting at the phase 2 additions to the inaugural edition of Dirtybird Campout East Coast (and dropping a few lineup leaks via Chirp), the label announced the next phase of lineup additions – and they were every bit as good as we've been promised.
Over 20 new artists have been added to the festival's lineup, including house and techno powerhouse Green Velvet, plus a set from the gangbusters collaboration between Velvet and Dirtybird boss Claude VonStroke, Get Real. Fans will also be treated to sets by British drum & bass juggernaut LTJ Bukem, Dirtybird darlings Walker & Royce, venerable producer Seth Troxler, and multi-talented producer, DJ, and executive Destructo.
In addition to some of the top-billed talent, Campout has also added a smattering of up-and-coming talent, including artists like Danny Kolk, Dateless, Ryan Forever, and Sébastien V. With a lineup like this, the first-ever Dirtybird Campout East Coast is bound to be one of the best parties of 2018.
There are still a few more big names to be added to the lineup this January, so keep your eyes and ears peeled. Until then, if you haven't yet secured your tickets for East Coast Campout, what are you waiting for? Snag them now, and we'll see you in Florida!
Watch the Dirtybird Campout East 2018: Phase 2 Lineup Announcement:
---
Dirtybird Campout East Coast 2018 – Phase 2 Lineup: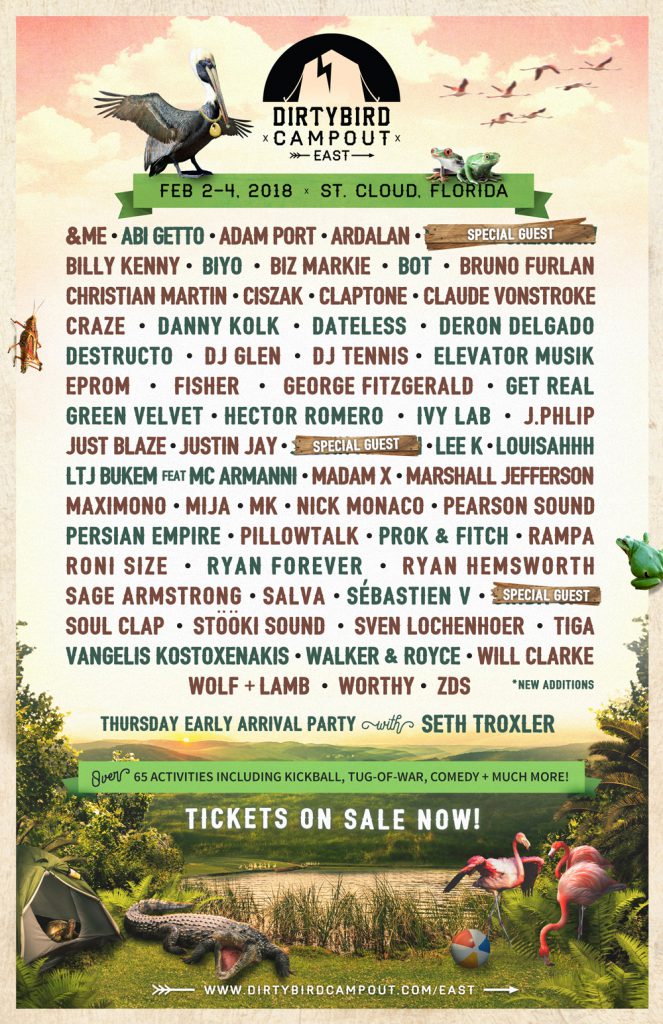 ---
Dirtybird Campout East Coast 2018 Phase 2 Lineup By Artist:
&Me
Abi Getto*
Adam Port
Ardalan
Billy Kenny
Biyo*
Biz Markie
Bot*
Bruno Furlan
Christian Martin
Ciszak
Claptone
Claude VonStroke
Craze
Danny Kolk*
Dateless*
Deron Delgado*
Destructo*
DJ Glen
DJ Tennis
Elevator Musik*
Eprom
Fisher
George Fitzgerald
Get Real*
Green Velvet*
Hector Romero*
Ivy Lab*
J.Phlip
Just Blaze*
Justin Jay
Lee K*
Louisahhh*
LTJ Bukem feat MC Armanni*
Madam X
Marshall Jefferson
Maximono
Mija
MK
Nick Monaco
Pearson Sound
Persian Empire*
PillowTalk
Prok & Fitch
Rampa
Roni Size
Ryan Forever*
Ryan Hemsworth
Sage Armstrong
Salva
Sébastien V*
Seth Troxler*
Soul Clap
Stööki Sound
Sven Lochenhoer
Tiga
Vangelis Kostoxenakis*
Walker & Royce*
Will Clarke
Wolf+Lamb
Worthy
ZDS
Plus more to be announced!
* – Phase 2 addition
---
Connect with Dirtybird Campout on Social Media:
Website | Facebook | Twitter | Instagram | SoundCloud