The Phoenix Lights lineup brought my group together from so many places this year.
Most of us arrived on Friday night, anticipating an amazing weekend ahead of us at Phoenix Lights. It was easier to make the drive the night before and not have to worry about arriving the day of, to go straight to the venue. We had rented an AirBnB near downtown because that's where the venue was originally located. The group I went with was a mix of people, many core members of my rave family and a handful I had met once or twice at other festivals coming from Denver, Sacramento, and Las Vegas. We did introductions and just got to know each other; started making kandi. It was a nice way to prepare ourselves for the festivities of the weekend.
I was pleasantly surprised with how everything came together…
A lot of people don't think about how much work goes into setting up a venue. There are the stage crews, the sound crews, lighting, water, vendor mappings, and so many permits to manage. It is not an easy thing to simply switch venues. Not to mention booking shuttles last-minute and deciding to offer free parking. Last minute venue changes are expensive and are logistical nightmares to be sure. That being said, I could not have been more impressed with how Relentless Beats handled the move. As we walked up to the security lines there was hardly any delay. Less than 20 minutes and we were inside the venue. As we entered the new house/techno stage was to our immediate right. The water, a couple of vendors, and the Relentless Rangers headquarters was right next to it.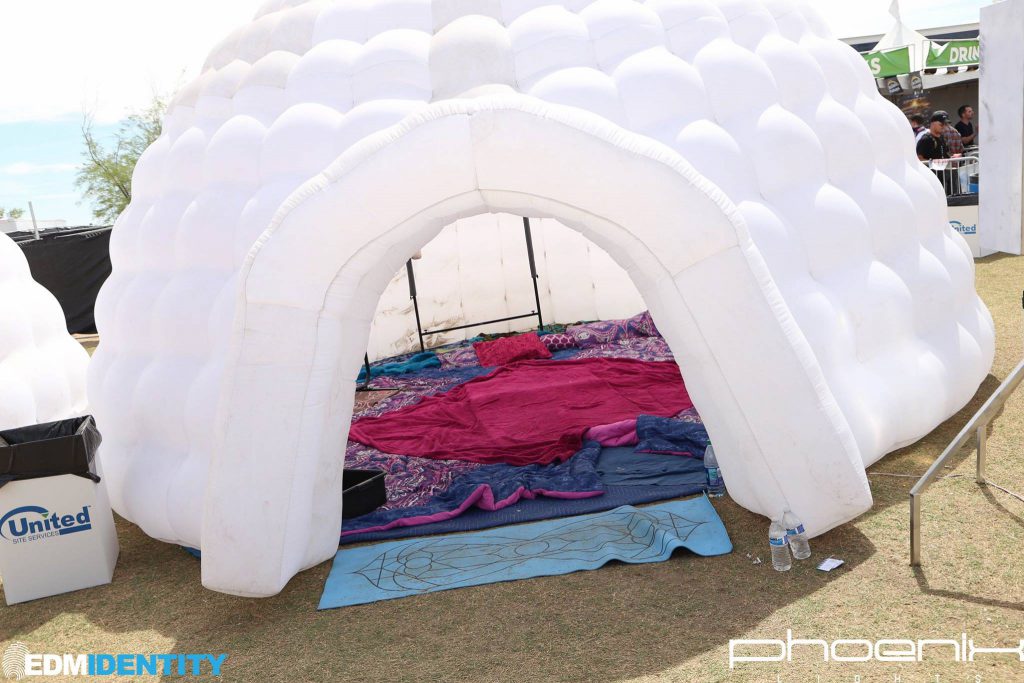 The stages were easy to identify and the walk between them was very short.
We walked into the open space where the Mothership or main stage was. At the very back were 3 giant igloos. Inside them were bunches of pillows and tapestries and carpet. These little oasis cooling areas were great additions on a warm afternoon and offered shade to those who needed it. Next to them was a long row of bars, that all took cash or card. At the end of that there was an ice cream truck right before the bathrooms and then the food vendors were just south of them right before the VIP area. The final stage was inside the warehouse but was facing the opposite direction of how they've set up the area for BOO or Crush AZ. I'm sure the switch in direction was to prevent noise pollution since the stages were in fact very close to each other.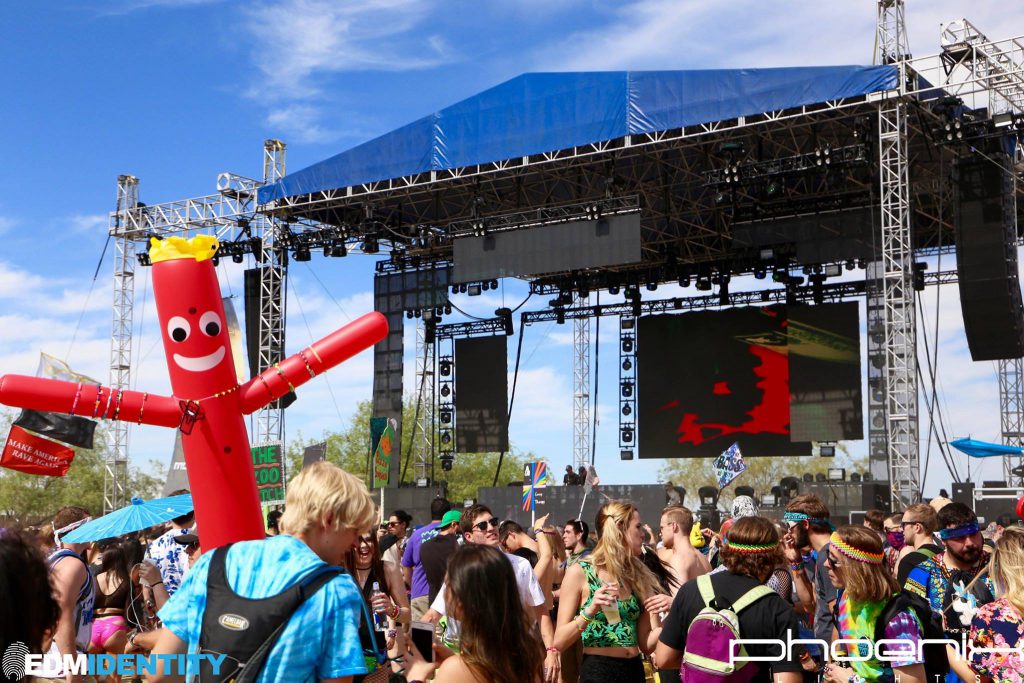 Re-connecting with old friends and making new ones is always my favorite part of festivals
It didn't take long before I ran into some friends that I met at Phoenix Lights last year! I greeted many of them by trading them kandi right off the bat. We went straight to Dr. Fresch B2B Bijou on the main stage then stayed for Shaun Frank! As Illenium took the stage I remembered the first time I saw him was at Phoenix Lights last year. His melodic bass sounds instantly captured me and I've been a huge fan every since. I had skipped his set at Beyond Wonderland specifically for this moment and the wait was completely worth it. The crowd was vibing and he played every one of my favorite remixes and originals. During his set, I met Austin and Lexi. A couple that was doing the long distance thing (AZ and UT) and were reunited once again at this event. They were just dancing and smiling as they walked through the crowd and their positivity was absolutely infectious. Afterward, I split time between Felix da Housecat and Ekali until arriving at the end of Tchami.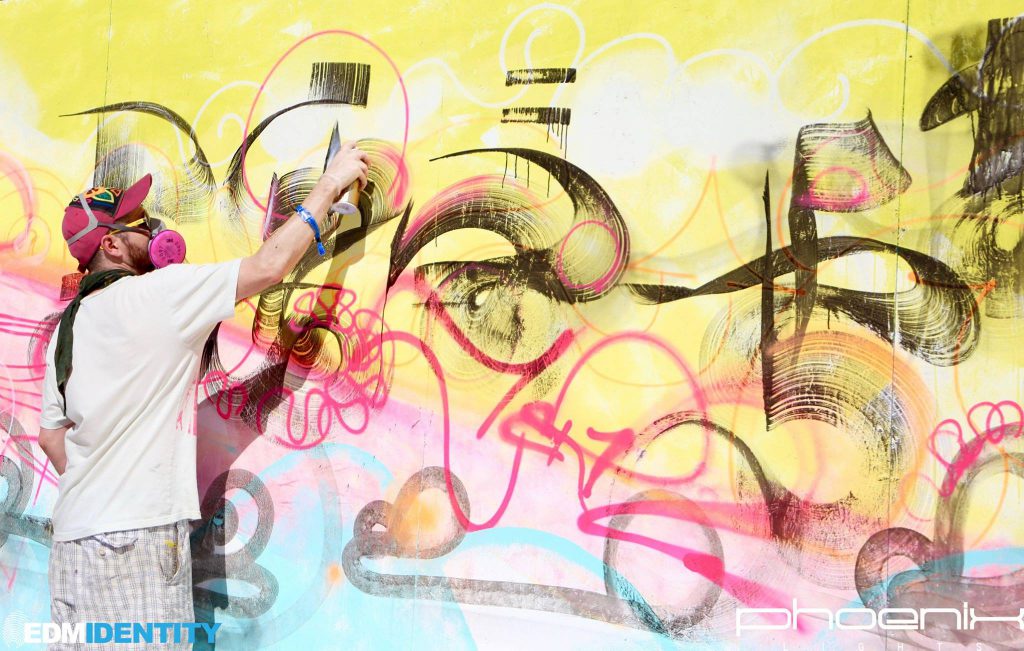 When you look into the crowd seeing tears you know the music has had an impact…
By the time Above & Beyond took the stage the whole group had come together again. Their set was one of the most beautiful I have seen so far in 2017. They played songs I recognized from their radio channel but had actually never heard them play live. I was in awe of how much they moved the crowd. Silent tears streaming down people's faces as I looked into the crowd. This is what music is, an emotional invocation to reflect on the journey of your life. A single moment amongst strangers that elevates everyone to the same level and unifies the human spirit. By this point, I was amped and ready for some house vibes with Pete Tong! As the first day came to an end most of us returned to our cars. A few of the group decided to hit up the after parties for Illenium and Cry Wolf. It didn't take very long to get out of the area because we were already near the gates when the event ended.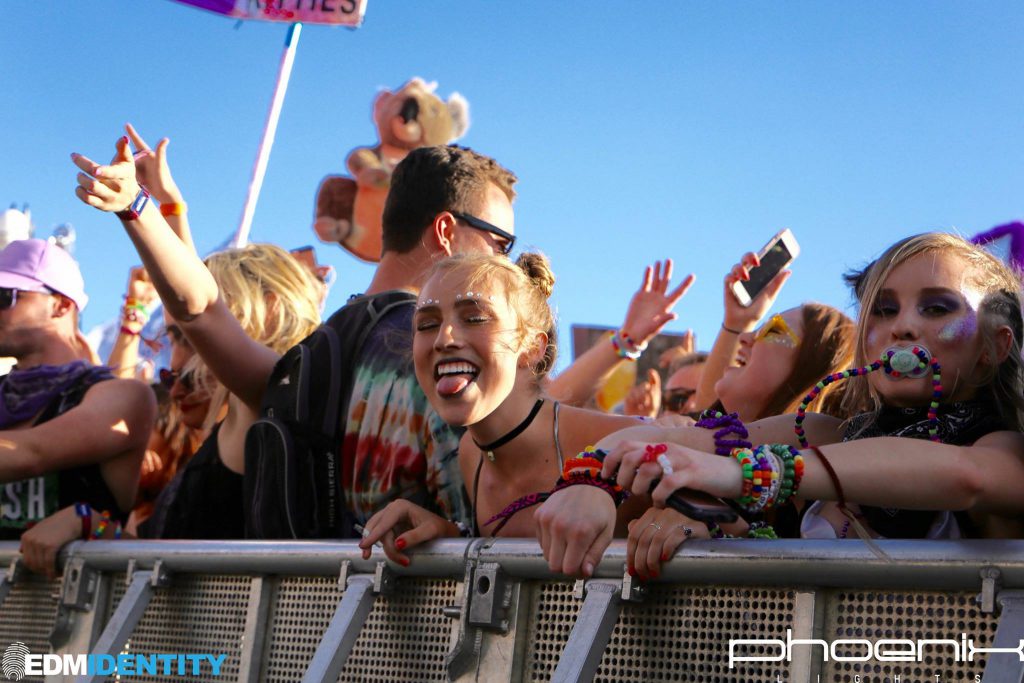 Codeko making a debut and K?D blowing us all away were definitely highlights!
The next day came quickly and by the time we had breakfast, all got showered and ready, it was time to head into the venue. A few of us had to make the drive back to San Diego after the event so we packed up the cars and were on our way. Parking once again went quickly and in less than 20 minutes we were past security and once again inside the venue. The first artists we wanted to hit up was Codeko and K?D. It was my first time seeing either of them. Both sets were unique and they absolutely killed it. Once again we knew it would be a day of great sets.
Having room to dance and not being on top of each other is always a great feeling…
The stages were so close together I got to see half of The Knocks Live, ended with Billy Kenny's amazing house mixes and came back to the main stage to finally see Thomas Jack after having missed him at so many other events. I could not have been more happy with the way the lineup was scheduled and how easy it was to get to each stage. I never felt over crowded or too far from anything. The only draw back was that the grass was extremely dry and periodically when the shufflers all banded together the dust that was raised was problematic to breathing. Relentless Rangers were periodically coming through with spray bottles and toward the end of the night they were handing out water bottles. Once again providing the unsung support that adds a special touch to Relentless Beats events.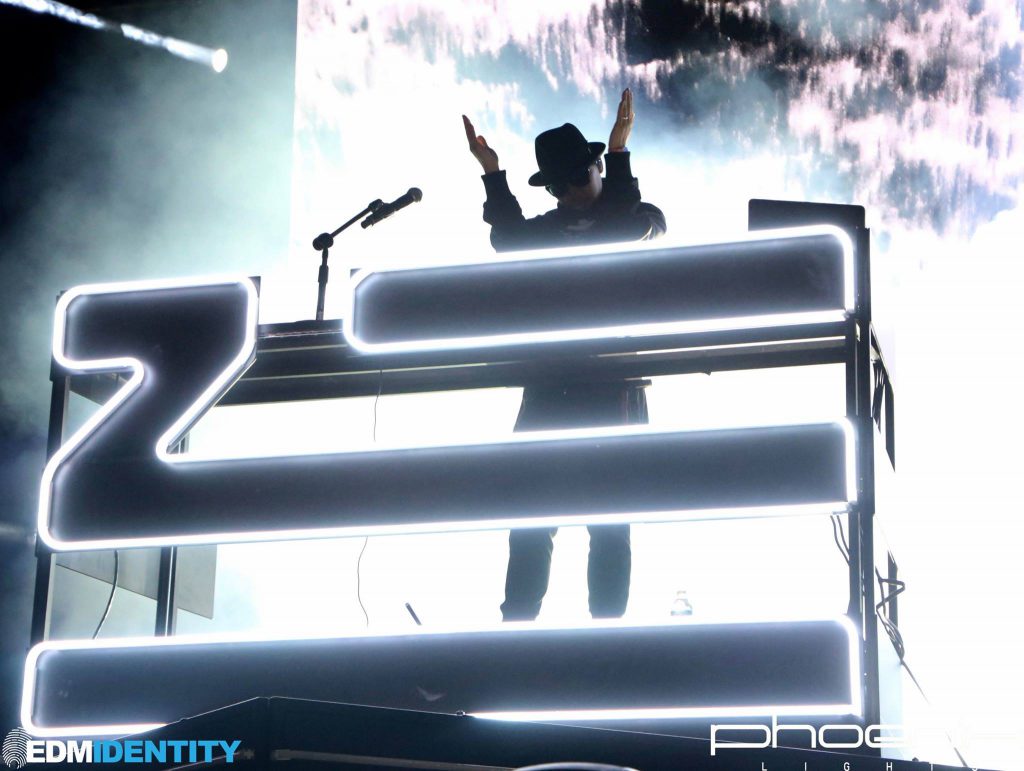 The music and great food carried us through the day.
By this time the group was fairly hungry so we got some fresh fruit and chicken strips before Oliver Heldens. I hadn't seen Oliver since EDC so this was quite the treat. His set was bouncy as ever and he was raging just as hard to his own music. You couldn't help but smile. We went into the warehouse to catch a bit of Cashmere Cat before coming back out for the rest of STS9. I ran into Austin and Lexi again. They told me that they hadn't been feeling well toward the end of the day yesterday so tonight they were determined to experience every last minute. I recommended they stay for Zhu even though their original plan was to see 21 Savage. I'm not sure if they did, but if they didn't they missed out. Zhu's unique style of house and his remix of "Bad and Boujee" inspired me to try and catch him again at another festival!
We stayed until the last song, what a great last day to this festival!
The day was over faster than I could have imagine. I split time at Griz and Justin Martin to end my night. Grant and his brother Gavin looked at me and asked if everyone around us was ready. Ready for what I wondered, to which they said, "for a god." I laughed, but I have to admit that Griz's abilities on a saxophone are nothing short of amazing. Leaving was hard but Justin Martin was on the way out of the event center and his unique sets get me every time. We gathered the group and walked out toward my car. Since I had driven them they would have to take the shuttle back to downtown to avoid taking a 30 minute uber. They would later tell me that they got right on the shuttles and were back at the AirBnB before I had even gotten out of Phoenix. That information alone was impressive – for an organization to book last-minute shuttles for attendees and it to run so smoothly is definitely something worth noting.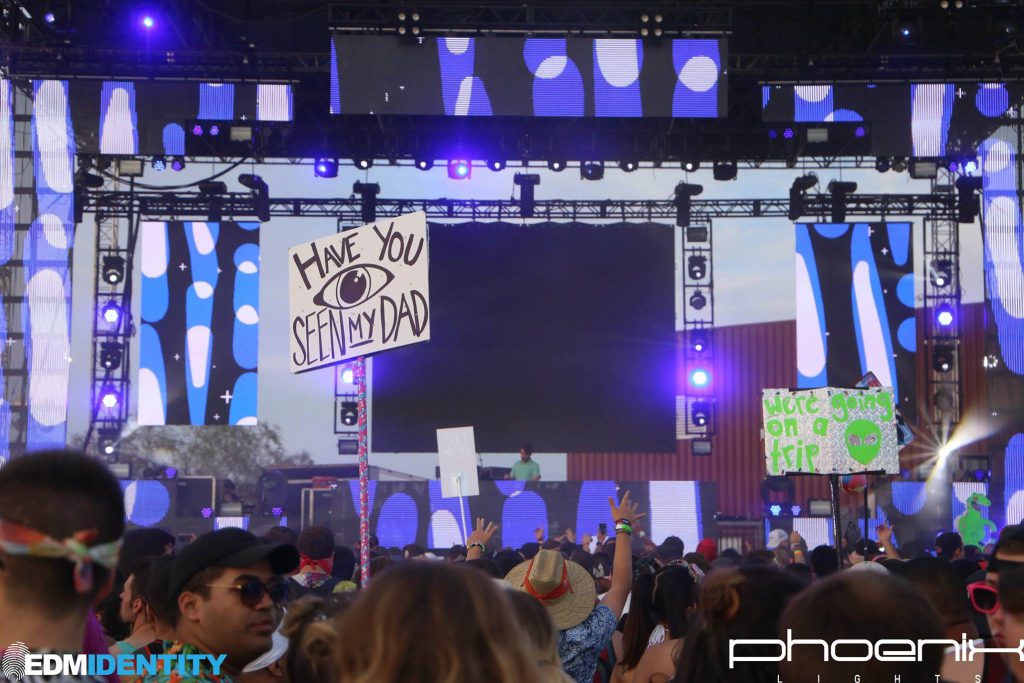 At the end of the day, no one even noticed the effects of a last minute venue change.
Phoenix Lights was one of the first festivals I had the pleasure of covering and I described it as being "… a pivotal step in the growth of the EDM community in Arizona…" and I still truly believe that. The venue change was handled with grace and although many I talked to said they thought the park would have been a better in regard to the dust, most of them frequently said they forgot it was supposed to be somewhere else. You can tell that everyone put a lot of effort into making this event as seamless as possible and I can't tell you enough how great they really did. I look forward to continuing to attend this event next year and seeing where it continues to grow.
Be sure to check out our Facebook album here!
---
Connect with Phoenix Lights 2017 on Social Media:
Website | Facebook | Facebook Event Page | Twitter | Instagram