On Saturday, November 4, get ready for a full night of trance with Simon Patterson!
---
There's something about North Ireland that helps produce some of the most dynamic trance DJs in the business. One such artist is tech trance virtuoso, Simon Patterson! Patterson has the ability to take on multiple genres within trance. Whether it's uplifting, melodic or pure banging tech, he will take you on a euphoric and hard-driving journey.
Patterson has been extremely influential in the scene. In the early 2000's, he was one-half of the dynamic trance duo Dogzilla. Their debut track, "Without You" went on to garner support from trance legends and fans alike. In fact, the track continues to live on with multiple modern remakes. One such remake was released earlier this year by his close friend, Will Atkinson.
Flash-forward and Patterson has continued to make waves. From "Apex" to "Evoke", "Brush Strokes" to "Now I Can Breathe Again", Patterson has shown he's able to create massive hits. Most recently in 2016, Patterson teamed up with Astrix, John Askew, Freedom Fighters, Sean Tyas, Will Atkinson and Blazer (recently replaced with Alex DiStefano) to create the VII. Together the crew created a new record label, brand and collective to push the boundaries of the tech trance sounds.
This special Avalon event will see Patterson exploring his entire discography with a night full of his styles, sounds, and mixes. This special Open-To-Close set should not be missed by fans of tech trance and cutting-edge style.
Stream Simon Patterson – "Roll The Credits" via SoundCloud:
---
Event Flyer: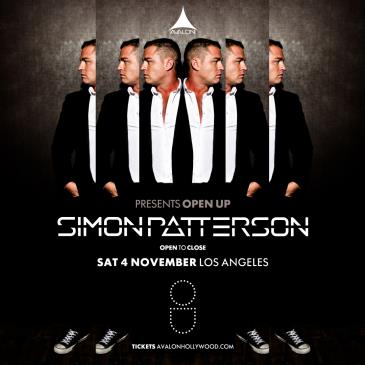 ---
About Avalon Hollywood:
AVALON is one of Hollywood's most historic landmarks. From The Beatles first West Coast performance in 1964 to ABC's hit television variety show The Hollywood Palace to Sasha's first West Coast DJ residency, the theater at Hollywood & Vine has been a show-business epicenter since opening in 1927.
---
Follow Simon Patterson on Social Media:
Website | Facebook | Twitter | SoundCloud