Are you getting hyped for Dirtybird Campout next month? This compilation will give you a taste of what's in store in October!
Stream or download the Dirtybird Campout West Coast Compilation now!
---
As we begin to finalize our packing lists and camping details for this year's edition of Dirtybird Campout, the Dirtybird Crew has brought us a gift to keep our booties bouncing all the way to Bradley, California. Released today, the Dirtybird Campout West Coast Compilation features tracks that are sure to get you moving as you pack up your gear and set off to the venue.
Check out our reasons why Dirtybird Campout is "Egg-cellent"!
Containing quality tracks like Will Clarke and DJ Funk's "Booty Percolatin'" and Shiba San's "Up & Down", the compilation impresses as it runs through many other notable artists on the label. The lead track of the compilation, a remix of "Barrump" by Billy Kenny, is the perfect way to set the mood and get things grooving as the previously unreleased tune has finally seen its time to shine.
Stream the 
Dirtybird Campout West Coast Compilation
 on Spotify:
Stream or download the Dirtybird Campout West Coast Compilation now!
Many favorites from the Dirtybird Fam are featured throughout the compilation, with notable tracks coming from the likes of Sacha Robotti, Walker & Royce, Justin Martin, and more. All of the artists with tracks on the album will be spinning at Dirtybird Campout as well, so the entire compilation gives you a taste of the spread of genres you'll be dancing to all weekend.
Having the honors of mixing the album start to finish to give this compilation some seamless transitions is beloved Dirtybird artist Ardalan. Using the tracks on the compilation, his mixing makes this a perfect hour-long set to get the party going or keep your car bumping all the way to the festival. Make sure to download the album ahead of your trip so that you can enjoy these beats from your campsite all weekend long!
---
Dirtybird Campout West Coast Compilation – Tracklist:
Claude VonStroke – Barrump (Billy Kenny Remix)
Will Clarke & DJ Funk – Booty Percolatin'
Eats Everything & Lord Leopard – War Rhythm
Shiba San – Up & Down
Justin Martin – Back to the Jungle (Chris Lorenzo Remix)
Walker & Royce – Hit Dem Draws
Gene Farris, Riva Starr – After Dark (Is When We Move)
Sacha Robotti – Melato Nina
Christian Martin, Ardalan – Flight of the Pterodactyl
Claude VonStroke & Jesse Rose – Bare Mountain
Don Rimini – Planet Earth
Fancy Fux – Stripper
Sirus Hood – Babylon
CVS – Aundy – (DJ Marky & SPY Remix)
Lux Groove – Gee Up
---
Dirtybird Campout West Coast Compilation – Cover Art: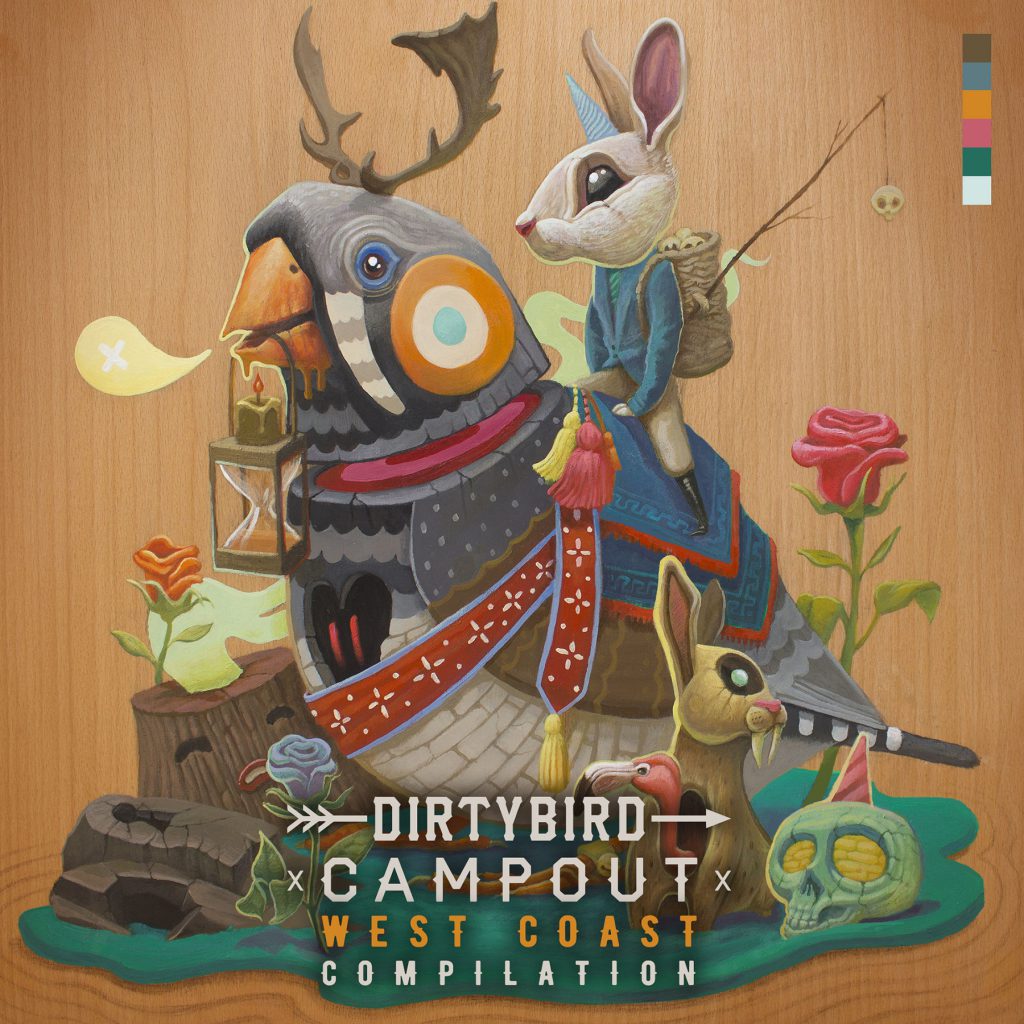 ---
Connect with Dirtybird Campout on Social Media:
Website | Facebook | Twitter | Instagram
Connect with Dirtybird on Social Media:
Website | Facebook | Twitter | Instagram | SoundCloud | YouTube
Featured Photo Credit: Miranda McDonald Photography