With ABGT250 just a week away, we knew we wanted to tell a story about the Anjuna Family – and by chance, Logan & Elizabeth Kendrick and their Anjunabeats Colorado flag crossed our paths.
---
Since 2014, Logan & Elizabeth Kendrick have repped Anjunabeats with their custom-made Anjunabeats Colorado flag at shows as they travel around the world, gathering signatures, making friends, and spreading good vibes. If you've seen Above & Beyond at EDCLV or caught an Anjunabeats show in Denver, you've probably seen them there with their unmistakable creation (and usually a squad of fellow label devotees, too!).
Read on to learn about their adventures (and some mishaps with the flag!), the connections they've made, and what makes the label so special to them and the Anjuna family worldwide.
---
What inspired you to make the Anjuna Colorado flag?
Colorado is an easy state to be proud of and you will commonly see Coloradans flying our flag. The idea came up as my rave family wanted to have flags for EDC LV 2014. The first time I saw Above & Beyond was at EDC in 2011 and have seen them there every year since.
Do you have any crazy stories about the flag?
Haha yes many, but the best is when the Anjunabeats tour came to Denver in 2016 we were up next to the DJ booth. I had just gotten signatures from Jason, Grum, and Ilan. Ilan decided he wanted to hold it up standing on the DJ table near the end of his set. I was ecstatic about it until I saw him let it fall into the crowd. In sheer panic, my whole crew took to the crowd trying to locate it. I even grabbed someone else's flag thinking it was mine but quickly gave it back once I realized my mistake, sorry Kelsey! Unfortunately, I didn't find it.
The Anjunabeats team, especially the tour manager, felt extremely bad and made multiple posts on their socials after the show about finding it. Sure enough about two weeks later I was contacted by a fellow Colorado Anjunafam whose friend ended up with it and they met with my wife to return it!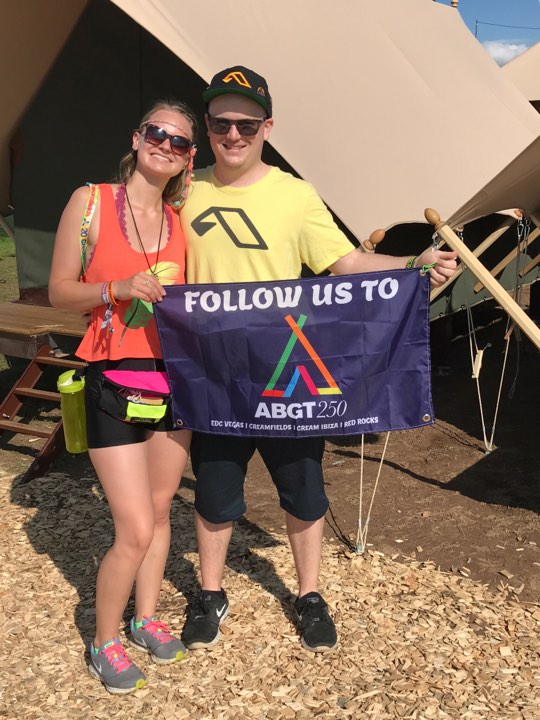 Why Anjunabeats? What makes that label the one?
My wife and friends and I listen to a large range of electronic music. From deadmau5 to Bassnectar to Ferry Corsten and so many other artists. Anjunabeats caught my attention when I really started branching out from the electro house and Dubstep shows that were so common in Colorado in 2010/2011.
I had listened to Tri-State a few times but honestly really got hooked by the music Mat Zo and Arty were putting out around then. As I said my wife and I saw Above & Beyond the first time at EDC in 2011 and that was around when Group Therapy came out which we both became obsessed with. No live performance ever made me feel the way that show did. What has made Anjunabeats far more important to me over the years is the community and friends I have found through it!
Have you made any connections inside the Anjunabeats Community over the years?
I have found more friends through music and specifically Anjunabeats shows than any other way. I have met Anjuna fans at Eric Prydz EPIC in LA and Pretty Lights shows in Telluride. There are two connections that stick out to me the most though.
At EDC 2012 a group of people commented on my wife's custom A&B shirt I made her for the event just before they took the stage. We spent the whole night and most of the weekend getting to know these people. Two of them, Andy and Bee from San Fransisco we became very good friends with and kept in touch. We continued to meet and go to EDC every year together through 2016.
Sadly they had to miss EDC this year, although that is because they saved their vacation time to join us and some other friends on trip to Creamfields and Ibiza! They also came to Liz and I's wedding in Colorado a few years ago which meant so much to us.
The second connection is one more obvious but the most important, the connection to my wife Elizabeth. We started hanging out with mutual friends and going to shows right around the time we discovered Anjunabeats. To keep this short there is no doubt in my mind the music, events, and love we both found contributed to the growth of our relationship. I have never seen Above & Beyond without her dancing right beside me.
I hate picking favorites because there's so much to love about the music. I'll try to pick some of the less obvious ones!
Alchemy
Peace of Mind (Any remix or mashup, I love it!)
You Got To Go (Kyau & Albert Remix)
World On Fire
Massive Attack – Teardrop (Bart Claessen & Tom Fall Remix) [Above & Beyond Edit]
Prelude
Hello (Album version)
Tranquility Base – Buzz (Buzztalk Mix)
Air For Life
1001
Honorable mentions for the rest of Anjuna:
Maor Levi & Raul Siberdi – Infatuation
Mat Zo – Synapse Dynamic (Arty Remix)
Andrew Bayer – Brick (feat. Alison May)
Soundprank – Don't Take it Away
Lane 8 – Nothing You Can Say (feat. Lucy Stone)
I'll cut myself off there. 🙂
Have you had any of the artists sign the flag, and are there any special stories associated with that?
Lane 8 (Daniel) was the first to sign it but the signatures include:
Paavo & Jono (We will find you Tony!) (Editor's Note: Tony's signature was added to the flag during the group's travels to Europe just in advance of ABGT250!)
Andrew Bayer
Ilan Blustone
Jason Ross
Grum
Two of the members of Fatum
Super8 & Tab
Kyau & Albert
Yotto
Theo Kottis
Luttrell
Josep
And Arty, who made a point to meet us the day after a show when the venue security made us leave before getting to ask him. That meant a lot to us – thank you!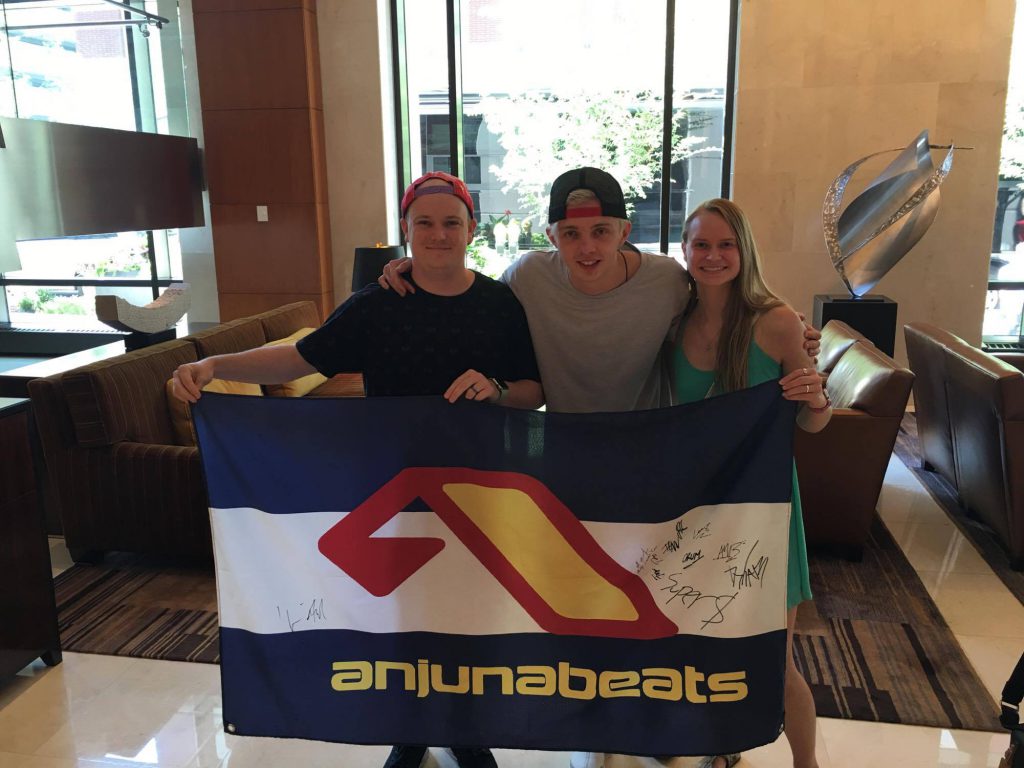 I know you and your crew are headed up to The Gorge for ABGT250 – is there anything in particular that you are most looking forward to about the event?
Yes, Sunny Lax! Have been dying to see him for years and never had a chance. Equally stoked that it's b2b with Genix! I'm also excited to finally see the Gorge although I'm sure Red Rocks will still be my favorite venue. 😉
Will you be bringing the flag to ABGT250?
The flag will be with us in a safe bag, we actually had a second one made after the mishap with Ilan and the one with the signatures my wife keeps safe in her purse. We also have a flag for our journey to 250 this year so look for it.
Is there anything else you'd like to add about yourself for our readers?
I want to thank the people who make this community so strong and fun and have taken the time to get to know people. Every day I see people online at shows build friendships. Some I may not be a part of but admire, yet I have a whole mountain of friends I am thankful for from this community. I can't end this without sending love to my closest friends who really are a family to me Elizabeth, Tommy, Matt Dupuis, Matt Olson, Adam, Lauren, Mikey, Krista, Sweeney, Jacob and of course Nick!
Also want to shout out the CO fam Erik, Ethan, Kaleeb, Zak, Julia, Adam Stark, Bryan, Ryan, Steven, Keith, Shea, Chris, Dominque, Michael, Eric, Ashley, Alex, Burke, Phil, Evan, Jenna, Larry, Richard, Bill, Mark and so many others that make these shows in Colorado so fun!
---
Follow Logan Kendrick on Social Media:
Facebook | Twitter | Instagram
Follow Above & Beyond on Social Media:
Website | Facebook | Twitter | Instagram | SoundCloud | YouTube