Blasterjaxx Talks Tomorrowland, "Temple", Maxximize, & More!
---
Throughout the years Blasterjaxx has fast become one of the most electrifying acts in the big room, electro, and Dutch house scene. Delivering energy soaked original productions like "Mystica", "You Found Me", and "Collide" on labels such as Spinnin' Records, Revealed Recordings, and their very own Maxximize Records, their music dominates the dance floor with live performances that always get the party pumping at full tilt.
While Thom takes the reigns behind the decks, he still works closely together with Idir in the studio. This duo has found the perfect balance on their quest to build their empire bigger than ever before. Now with their latest EP XX Files, under their belt, alongside performances at Tomorrowland and other clubs and events all over the world, Blasterjaxx refuses to get lost in the shuffle as their Maxximize brand spreads all over the planet.
Fresh off of the release of their XX Files EP earlier this year, Blasterjaxx has come back with a little twist, releasing the "Festival Edition" as a sweet treat for all of their faithful fans! We caught up with Thom Jongkind of Blasterjaxx to have a little chat and get up to date with the latest happenings with their music, performances, and more. Stream the XX Files EP below and read on for our chat!
Stream Blasterjaxx – XX Files [Festival Edition] on SoundCloud:
---
Let's start off by talking about your massive performance at Tomorrowland Belgium this year! What goes into your preparation for the event, and what kind of challenges do you face with the task of performing solo on the grand Tomorrowland stage? 
Tomorrowland is definitely one of the highlights of the year. We always prepare the Tomorrowland set really carefully, as we want to bring loads of new music and edits to the stage. Being alone on stage is still something I have to get used to, but the energy and vibe of the public are insane.
What are some of your most standout memories from the Tomorrowland event this year and how has your regular attendance at mega-events like Tomorrowland Belgium helped to shape your career as a popular touring act?
This time we arrived early, so I finally had the chance to take a walk around the festival and check out the mainstage from the public. Until now I only experienced the festival from backstage, but it actually looks really cool! Seeing all those people going crazy and the overall good vibe at the festival is really inspiring and reminds you what you doing it for. And that's something you need to take with you on the road.
The Blasterjaxx sound is gritty, high-energy, full of twists and turns, and packed with mind-blowing drops that shake us to the core in all the right ways! How did you envision and develop your sound when you started off in the industry and in what ways has your sound evolved throughout the years?
That's a really accurate description of our sound haha! When we began we really followed our feeling about what sounded good and what not. During the years we've gained a lot of inspiration from other music genres and used that to keep evolving our own sound.
Speaking of the Blasterjaxx sound, "Temple" was released last month, and stands as a true testament to the incredible musical vision that you are able to translate so well! What inspired your artistic decision to add the violin detail and can you paint a picture of the production process of the track?
We actually started this production from scratch. The melody that we've used is one of our old melodies back in the days, and after playing around with it for a while it all came together. The track is not too hard, but it is still very Blasterjaxx and we're very pleased with the end result and the support it gets!
Now, let's talk Maxximize! For your new fans who are unfamiliar with your radio show Maxximize On Air, can you give us the inside scoop on what they can expect when they tune in?
Maxximize On Air is our weekly radio show which provides exclusive new material by well-known artists as well as new DJs. We receive a lot of demos and use Maxximize On Air to give these talents a platform to put them in the spotlight. We also use Maxximize On Air exclusively for premiering brand-new Maxximize Records tracks. When tuning into Maxximize On Air expect loads of banging beats!
As Maxximize Records label bosses, what are some of the biggest challenges that you face when it comes to choosing the tracks and artists that you bring on the label? 
First of all, when started the label almost 2 years ago we never thought that it would go so well and grow so fast. It really exceeded our expectations. You can definitely tell there's still a lot of hunger for those big room sounds. Choosing tracks for the label can be challenging indeed as we receive many (good) demos, but important is to trust your gut feeling. Besides that, we also get the help of the experienced A&R team of Spinnin' Records.
Let's switch gears for a second and talk charity. A few years ago you teamed up with Electric Family to put out a bracelet with 100% of the proceeds being donated to the 20x20x20 Foundation, which aims to restore vision back to 20/20 for 20 million blind adults and children. What led you to the decision to choose this charity to work with and what other types of charity sponsorship have you been involved with since then? 
Back then Electric Family approached us and after hearing the story of their charity we were more than happy to get involved in this too. We're always open for initiatives like this and help the people who are less fortunate. For example, a few years ago we've done a show to help raise money for the victims of the typhoon in the Philippines.
Are there any charities that you hope to work closely with, in the future?
Not any specific charity in mind, but like said in the previous question we're definitely open for good initiatives.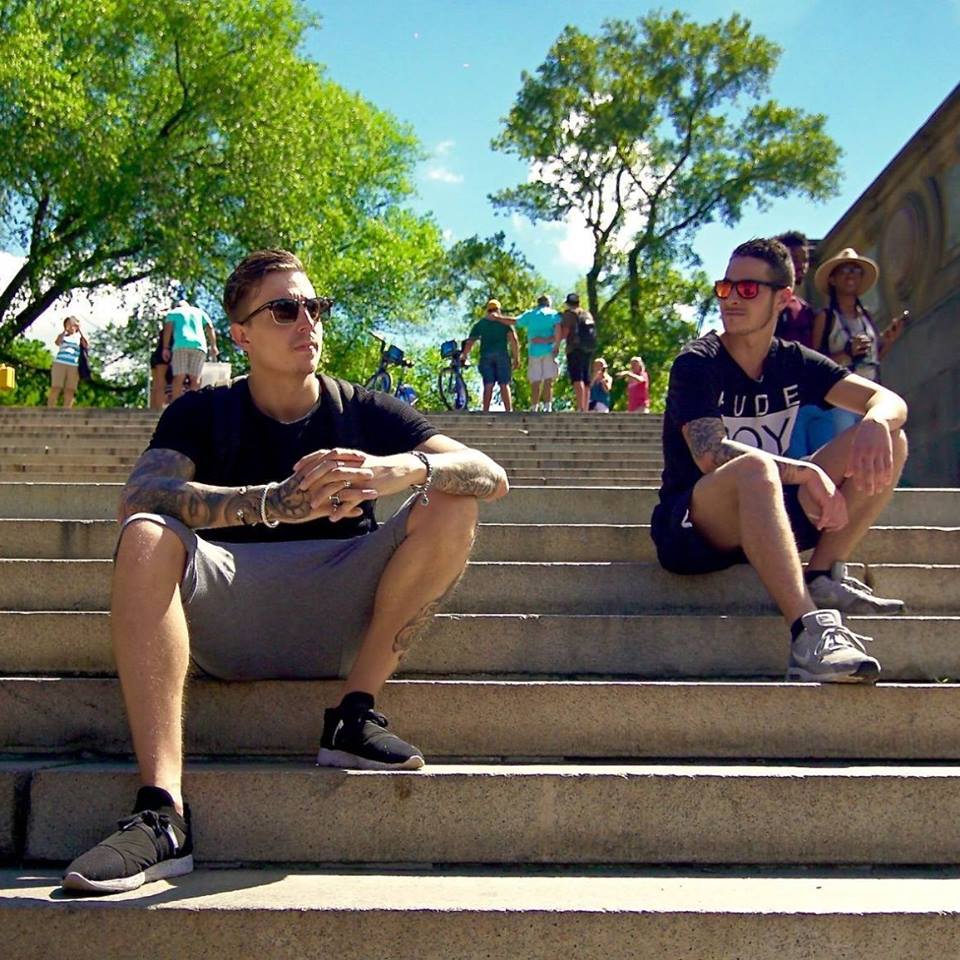 What are some of your passions outside of the electronic music world that your fans may not be aware of?
I guess the diehard will probably already know, but I'm a big fan of tattooing. Right now I have almost 30 tattoos and counting… Idir is a big fan of gaming, he will definitely beat you in FIFA.
Finally, if you could choose one major goal that you have yet to conquer in your musical career what would that be and why?
There's not one specific goal, but we strive to keep doing what we love and make people happy with our music!
---
Connect With Blasterjaxx on Social Media:
Website | Facebook | Twitter | Instagram | SoundCloud