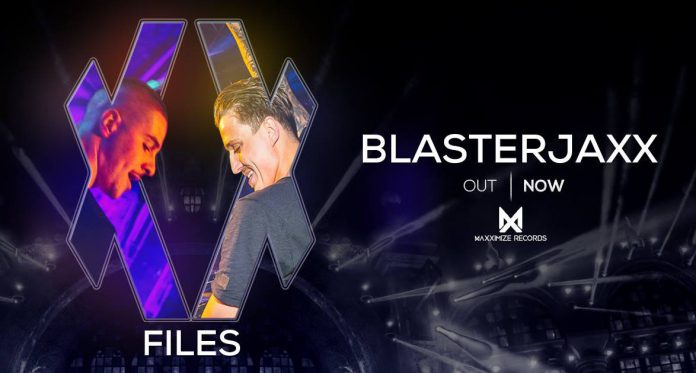 With a collection of eight pulse-pounding tracks covering the gamut between big room, electronic pop, and beyond, Blasterjaxx proudly presents their XX Files EP!
---
The anticipation has been unbelievable as Blasterjaxx fans waited patiently for some new music to get down and dirty too. With the release of the XX Files teaser in the form of "Collide", a track designed for the mainstage and perfect for the sing-along addict, packed full of fierce synths, insatiable drum beats, and addicting bass pulses, it was only a matter of time before the wait would finally come to an end. At long last, XX Files has hit the airwaves. The collection of tracks includes not only some new releases not yet heard by the masses but also a few unreleased anthems that have made their way along some online music platforms, painting a picture of the wildly creative journey that Blasterjaxx has been on as of late.
Blasterjaxx XX Files is out now on Maxximize Records. Grab your copy here!
Stream Blasterjaxx – XX Files EP on SoundCloud:
For starters, XX Files unleashes a handful of new tracks that have previously been featured in Blasterjaxx's sets and radio shows, all of which have been put through the paces to see how they do in the eyes of the fans.
"Demon Eyes" features a haunting female vocal with heightened euphoria and dark undertones packed with that big room flair that we all love so deeply. "Nightfall" teases with electrifying builds to unleash a stomping groove packed with a major punch! This is a track that will without a doubt get the dance floor pumping! "Revelation" sees them drop the tempo and intensity to show their skill in crafting the perfect electronic pop mood setter. But, even with a chill vibe, it's a piece that oozes with class and creativity. "Double Lives" combines an emotive '80s-esque ballad with full-force Blasterjaxx melodies that pump out the type of energy designed solely for the main stage. The drop on this piece is absolute insanity!
Stream Blasterjaxx – "Black Rose" featuring Jonathan Mendelsohn on YouTube:
If this isn't enough, Blasterjaxx has teamed up with Jonathan Mendelsohn, the man on tracks like Laidback Luke's "Till Tonight" and Dash Berlin's "World Falls Apart", to deliver the most powerful track on the EP called, "Black Rose". But, just when you think that these guys are getting comfortable in their big room/ electro pop pocket, they flip the script with "More" featuring Mister Blonde. This future bass track kicks off with powerful vocals and reverbed drums as the listeners are transported to a world where bass music reigns supreme. Finally, "Neptune" offers up another unique twist dishing out some crunchy beats, unique sound bytes, and a drop that dives into some tantalizing xylophone action.
Stream Blasterjaxx – "Neptune" on YouTube:
Now that I have your attention the next thing to discuss is where you can hear Blasterjaxx and these incredible tracks live and in action.
Blasterjaxx will bring the sound of XX Files to their faithful fans across the world over the next few months, with dates in the US at Premier Nightclub in Atlantic City, Surinam at the Phagwa Festival, Mexico for Mayan Madness, Germany at Bootshaus, Belgium for Daydream Festival, and the Netherlands rocking the stage at Kingsland Festival, to name just a few. Blasterjaxx have truly set the bar high with their XX Files EP and I have no doubt that as festival seasons jumps into full swing, these tracks will found a home in set lists all over the planet! For a list of their upcoming tour dates click here!
---
Follow Blasterjaxx on Social Media
Facebook | Twitter | SoundCloud | Website