Headed to the Mile High City for Global Dance Festival 2017? We've got your essential information covered, from set times to maps and everything in between.
---
In just a few short days, Global Dance Festival 2017 will be upon us! With four stages, a host of new activities and food options, and a brand new location, Global Dance is primed to be better than ever in 2017.
Will you be feeling the love with Kaskade on the Global Summit Stage on Friday night, or catching some funky techno beats courtesy of Green Velvet on Saturday? No matter what your flavor, there is something for everyone at Global Dance Festival. We've taken the liberty of collecting all the crucial information you need for this weekend in one place.
We've previously posted our guides for things to do inside and outside Global Dance Festival, as well as a playlist of some of the top artists on the bill to help you get hyped for the festival. We've got top artist picks from Erin and Carlos, too. Looking for a retrospective? Read about Carlos' 2016 Global Dance Festival Experience here!
---
Global Dance Festival 2017 Essential Info:
Dates: Friday, July 21 – Saturday, July 22
Show times: 3 pm – 11 pm
Venue Address: Sports Authority Field at Mile High Stadium – 1701 Bryant Street, Denver, Colorado 80204
Ages: All Ages | VIP 18+ | 21+ to drink
Acceptable Forms of Identification for Entry
All identification must be official documents issued and sealed by a US government entity or a verifiable foreign government and contain a clear photo, description, and date of birth. Centerplate recognizes valid State issued drivers licenses from the US or state issued identification cards from the US; valid issued drivers licenses from another government or government issued identification cards from another government; passports from the US or another government; and US military identification cards. Each unit must comply with applicable state, provincial or local law on acceptable forms of identification.
Re-Entry Information
Re-entry is not permitted except in certain emergencies and severe weather conditions.
Will Call Information
Location: Will Call is located in the Sports Authority Field at Mile High box office.
Will Call/Box Office Hours: July 21 at 8:00 am – July 22 at 1:00 pm
Lost and Found
Items found during the show will be taken to the Sports Authority Field at Mile High box office. Please call 720.258.3889 to inquire about any lost articles. Items will be held for 60 days.
---
Global Dance Festival 2017 Set Times: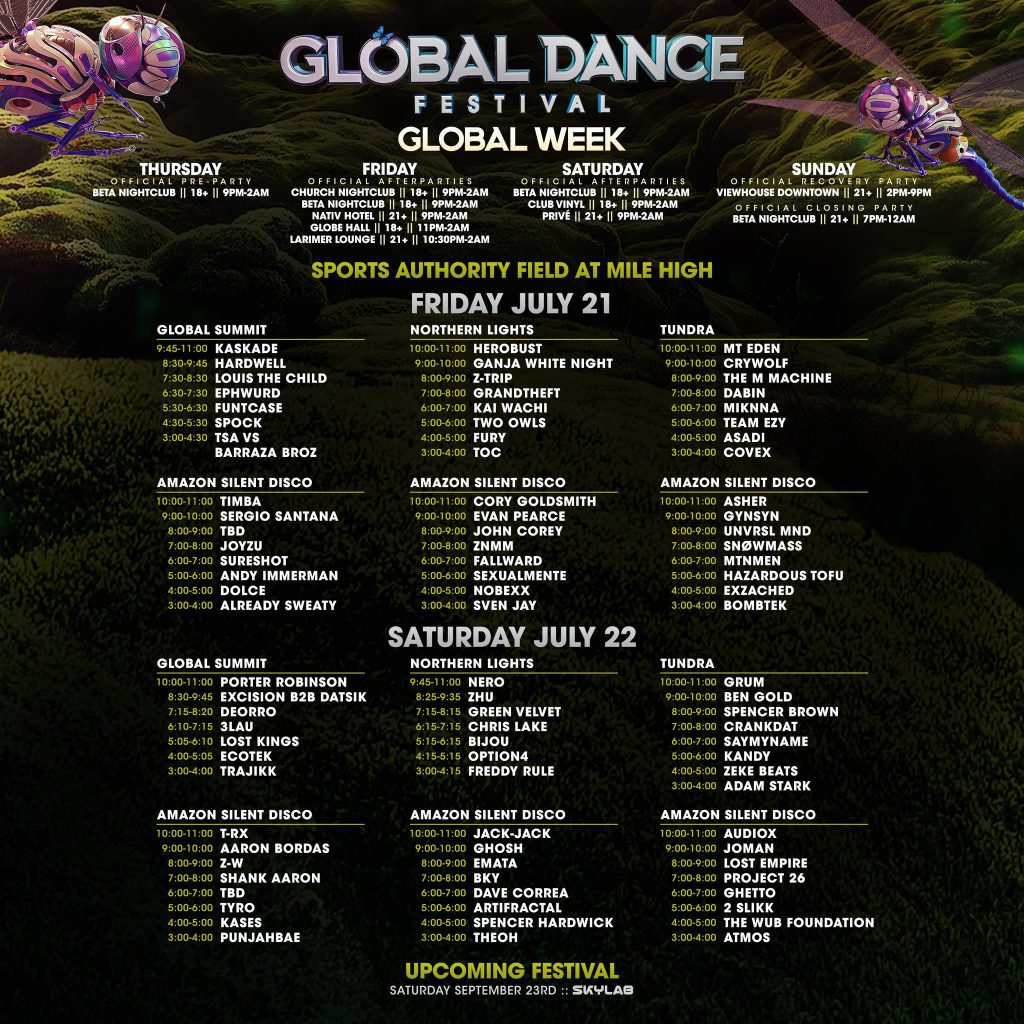 ---
Global Dance Festival 2017 Festival and Parking Maps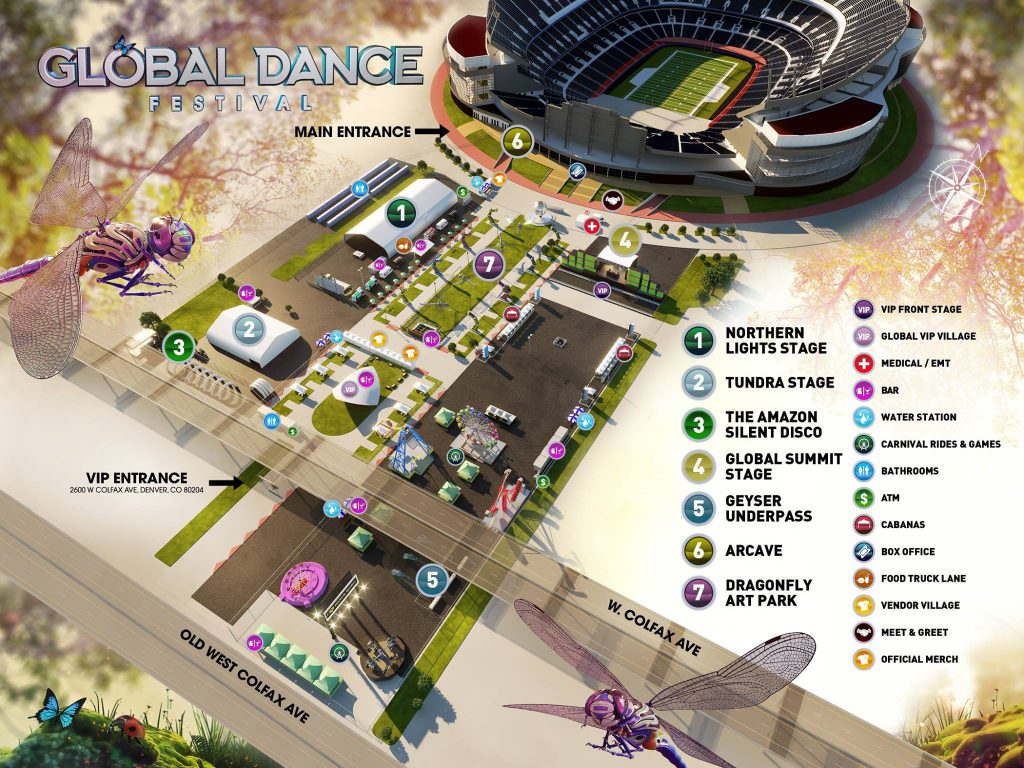 ---
Global Dance Festival 2017 After Parties
---
Parking Information
There is parking in lots at Sports Authority Field. Parking fee applies. Security will help direct all guests into parking areas. Please park properly.
Prohibited Parking
Parking in the neighborhood streets surrounding Sports Authority Field at Mile High is strictly prohibited. Guests who park in the neighborhoods surrounding Sports Authority Field at Mile High are subject to citation and tow by the City of Denver's Right of Way and Permit Enforcement Division. Towed vehicles will be taken to the Wastewater Management Facility at 2nd and Umatilla for two hours after the game. To find out if your car was towed to this facility, please call 720-913-1626.
Parking Lot & Tailgating Guidelines
Parking lot guidelines have been established in all stadium managed parking lots. Violation of parking lot guidelines may result in ejection from stadium property, arrest and the revocation of tickets and parking passes.
Parking will be $10 per space. 1 Vehicle = 1 Space.
Tailgating is allowed in the stadium parking lots, but the on-site stadium parking spaces are intended for vehicles, not tailgating equipment.
Tailgating is strictly limited to the area directly behind or in front of the lined parking space you have purchased. If you are arriving early to tailgate, it is highly advised that you back your car into a parking space on the perimeter of the parking lot to utilize the adjacent landscaped areas to set up your tailgate equipment.
Fans are not allowed to set up tailgate equipment in the empty parking spaces adjacent to them.

All tables, chairs, tents, coolers, barbecues, etc. must be within the parking stall or directly behind your vehicle. Overflowing into or blocking the drive lanes is prohibited.

A 16 ft. emergency drive lane must be maintained at all times.
Tents or canopies exceeding an 8′ x 8′ footprint and vehicles measuring more than 18′ in length and/or 8′ in width are not permitted in a lined parking space.
Exercise caution when parking in off-site lots and utilize only those which 1) display a special event parking sign issued by the City & County of Denver, or 2) are existing approved parking lots clearly managed by reputable companies. Specific pricing and availability of off-site parking lot locations is subject to change without notice.
---
Reminder To Mind Your Belongings
Unfortunately, many people have reported pickpockets, bag slashings, and theft of wallets, smartphones, purses and other valuables during this festival season. While this small number of bad apples in the bunch doesn't define an entire crowd, there are opportunistic people who come to these events to take advantage of unsuspecting party goers and it's important to be mindful of your valuables while at Global Dance Festival 2017.
Pay attention to who's around you and what's going on around you. Keep your wallet and phone in your front pocket(s) if you can. Treat your phone the same way you would treat cash; don't set it down on a table or bar and look away. If a friend isn't standing behind you in a crowd, be careful of your backpack or purse, and don't put valuables in a pocket that could easily be unzipped by someone behind in a crowded spot without you realizing.
Festivals, in general, are a very densely populated place and are a well-known place where pick-pocketing of unsuspecting people occurs. It's easy to find yourself in a crowded environment in a line, at a stage in the festival, elevator, or even out on the street where someone could slip your wallet or phone our of your pocket or bag in a matter of seconds. Stay alert, be careful, and make sure to not carry more than what you need!
---
Global Dance Festival 2017 Do's & Don'ts
Prohibited Items:
Rules subject to change without notice. Rules subject to security discretion.
Non Factory-sealed beverage/liquid filled containers (including thermoses, bota bags or wine skins)
Outside Food or Beverages OF ANY KIND
Alcoholic beverages, illegal drugs or drug paraphernalia
Marijuana
Non-Prescription Medications (Aspirin/Tylenol/ibuprofen will be available inside the venue)
Glass bottles or aluminum/steel cans
Laser pointers (will be confiscated & patron subject to ejection)
Purses, Bags, or backpacks over 12" x 12"
Audio or video recording devices, professional cameras or cameras with removable lenses (including GoPros)
Weapons or items construed as weapons (e.g., guns, knives, sticks, fireworks)
Bullhorns or noisemakers
Confetti
Glowsticks
Pets or Animals (except service animals)
Skateboards or inline skates
Personal property that is a potential hazard to others (e.g., chains, wallet chains or jewelry with spiked edges)
Opened packs of cigarettes
Eye Drops, Aftershave, Liquid Makeup
Un-Sealed Tampons and Maxi Pads
Un-Sealed Chapstick and Lipgloss
Markers, Pens or Spray Paint
Stickers, Flyers, Banners or Posters
Aerosol-Based Sunscreens
Acceptable Items
Camelbacks (They MUST be empty at entry and will be inspected)
One empty water bottle to be used at the free water stations
Fanny Packs
Non-Professional Flash/Still Cameras
Cell Phones
Sunglasses
Hats
Flags (No poles)
Lighters
Closed Packs of Cigarettes
Sealed/Wrapped Tampons and Maxi Pads
Earplugs
Sealed Chapstick and Lipgloss
Powdered Makeup
Glowing/Illuminated Costumes or Jewelry
Sealed Packs of Gum
Factory Sealed Cream and Lotion-based Sunscreens
Prescription Non-Narcotic medications only if in original container with original label (Name on the bottle must match ID)

Examples include hypertension medications, asthma medications, cardiac medications, and epi pens
Only the dose for that day will be allowed in
These guidelines are at security discretion
Totem Guidelines:
Maximum height is 10 feet. Maximize width is 4 feet at widest point.
Totems must be made from a lightweight material (e.g., foam, PVC / no solid metal).
Collapsible/telescoping camera extenders that follow the above guidelines are OK (lightweight/hollow aluminum/polycarbonate).
PVC, light wood or aluminum poles must be no thicker than 1 inch in diameter.
Inflatables attached to totems must be deflated upon entry.
Any item deemed dangerous will not be allowed.
Totems deemed inappropriate will not be permitted.
---
Connect with Global Dance Festival on social media:
Website | Facebook | Twitter | Instagram
Featured Photo Credit: TEK Photos