Leading up to the adventure I was about to embark on, flying from San Diego to Denver, I hit up a few friends to find out more information about parking, what the drive was like, and what times to get there so that we wouldn't be waiting in line for ages. It quickly became clear that this festival was going to be a little different from other festivals I had attended. Tailgating was a huge component of the parking lot, which was free!
The gates didn't open until 5pm, but we arrived at 3pm for a pre-game like nothing I had seen at other festivals.
At first when I heard "tailgating" I figured it was your typical, make mixed drinks at your car, but when we arrived on the first day it was obviously a much bigger experience. We saw full on tables being pulled out of trucks and set up to play beer pong and a couple of people actually pulled grills out of their cars. They were grilling hamburgers and hot dogs while the rest of their crew played corn hole and ladder ball. I had a blast getting to know fellow attendees and it definitely boosted the community aspect of the event. We decided to head up to the venue itself, it was time for the show. If you didn't know, there are two primary parking lots, both of which had many stairs leading to the venue so we began our ascent.
The altitude was definitely a challenge for me, after reaching every platform it felt like it was time to rest.
Coming from sea level in San Diego, I was more out of breath than if I had just ran the length of a street block. When we finally got in line it moved quickly but very soon after, a security guard told us to take our GoPros and GoPro sticks back to our cars. He also told us that if we had bandannas it was also probably best we return them to our car as well. If you had read our Global Dance Essentials these items were not listed as banned on their website, however they were listed on the e-mail that went out the first day of the festival, which I didn't even see until the second day. A mild speed bump but not the end of the world. Past the gates was a giant rock to our left and small valley to our right. We were above the amphitheater, this open space was where the second stage, as well as the vendor booths were located.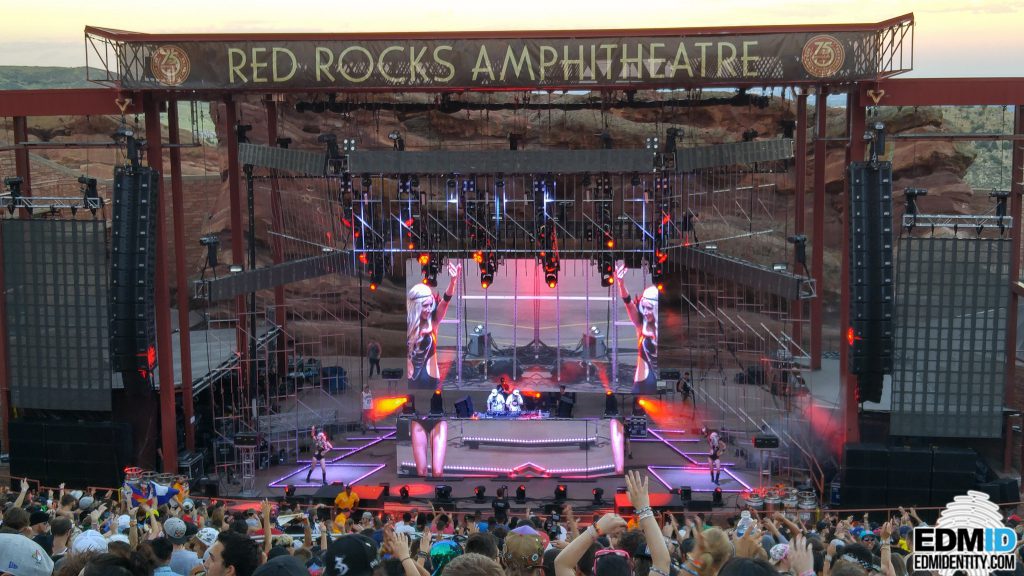 The food and drink options were plentiful but water stations could use some improvement…
The variety of food ranged from personal pizzas to burgers and hot dogs to burrito bowls and even nachos. There were also vendors that lined the stairs of the amphitheater as well as concessions in the museum located inside the mountain. The drinks at the top consisted of a variety of local beers on tap as well as Mike's Hard Lemonade. Down the stairs you could find wine, vodka tent, and a place to order blended drinks. Compared to other festivals I've attended the prices were fairly reasonable ranging from $8 to $15. The paid options were great, but their "water stations" consisted of drinking fountains or bathroom sinks to fill our camelbaks. Not an impossible task but it was definitely time-consuming when everyone was refilling.
The experience at the festival itself was fantastic and the venue was picturesque!
We walked past the booths and tables to arrive at the top of the amphitheater, Ship Rock and Creation Rock tower above our heads as we entered the space between them. Far below us was the main stage, even from all the way at the top the view was spectacular. As we scan upward past the words, "Red Rock Amphitheatre" that lines the top of the stage the whole Colorado sky opened before us. The mountains highlight the terrain and as we moved our eyes to the right, we could see the skyscrapers of downtown Denver. Taking seats in the shade, we moved forward as the sun set, and listened to Kozah and Ecotek before leaving to see AutoErotique. The ease of moving around was definitely not lost on us having just been to EDC Las Vegas a month before. My group was even able to walk through the crowd separately only to join back together in a short time. We stayed for half of Bear Grillz and then wandered back for some of Troyboi, only to return for Boombox Cartel. The sun was long gone by the time we returned to close out day one with Knife Party and by this time downtown Denver was shining brightly across the night sky. Their set, as we would learn all sets, closed out 15 minutes early. This, of course, is to allow people to leave the state park by the actual time listed on the lineup.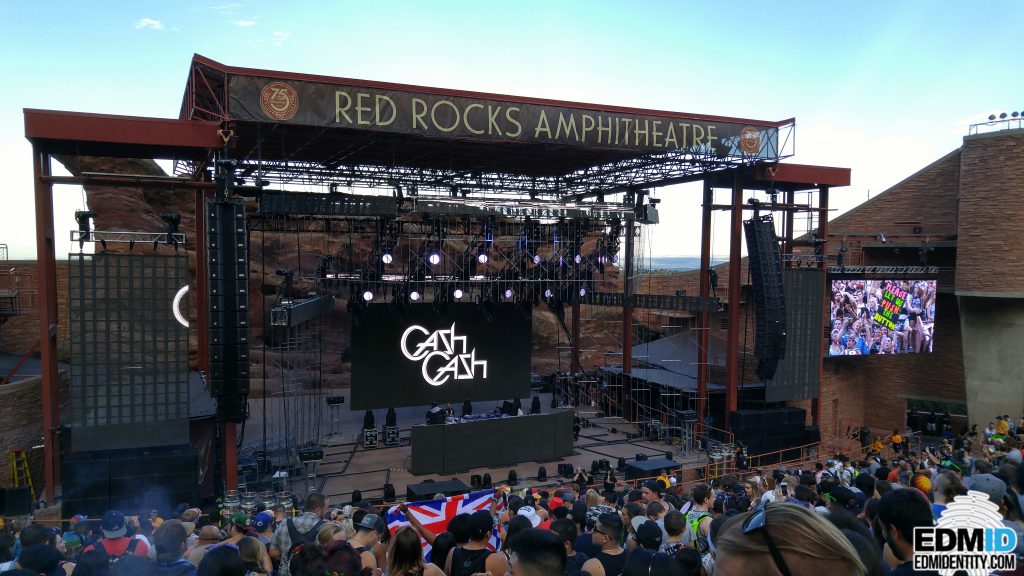 My group and I would close out night two with Above & Beyond and believe me "the feels" were running rampant that night. I had just sat down to drink some water when a guy comes running over asking for a piece of gum. His name was Eric, and he disappeared right after I gave him the pack. I figured I'd never see him again but a few minutes later he returned to chat for a while about festivals and his crew. We finally exchanged phone numbers, and little did I know that I had just run into one of the best friends of Derek, a friend that I had met at Phoenix Lights – what a small world!
The final day at Red Rocks was the hottest day and we were inside early to see Malaa. The deep beats and mystery of Malaa were everything the hype had led us to believe. He was definitely a must see at Hard Summer too. Mostly staying at the main stage for Tritonal, Ephwurd, and W&W, we took a small break to see Hermitude before closing out our final night with DJ Snake.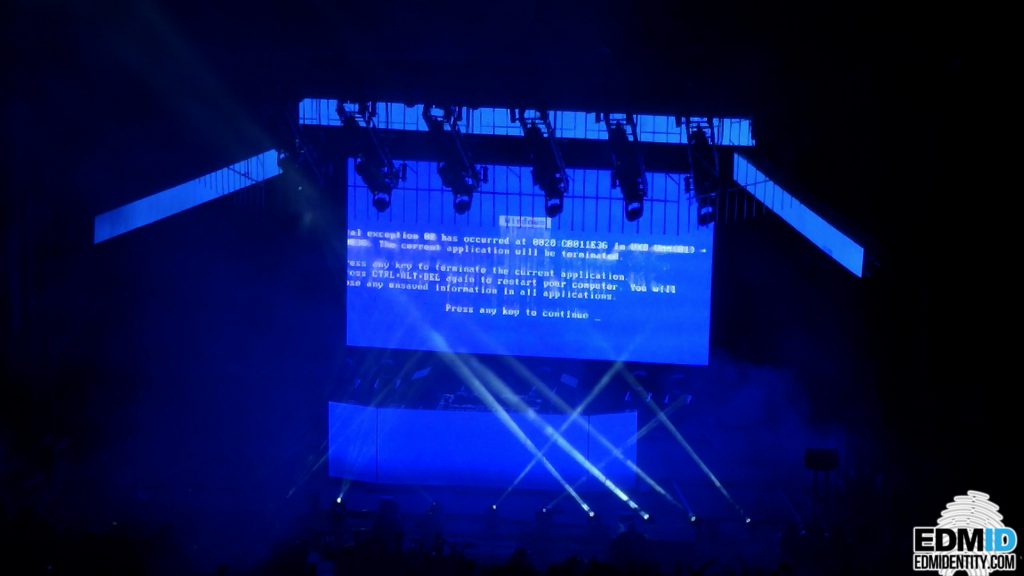 The after parties were a bonus to the event ending early.
We attended two of the after parties for this event. The first night it was located inside the nightclub, Church. The line didn't take long and admission was free as long as you had a Global Dance wristband. Past the two large wooden doors, was the open space of a church. The dance floor was were the pews normally would have been with bars lining the sides of the room. Where there once stood a pulpit now stood the DJ booth and a large disco ball hung from the rafters. The second night the after party was at a night club called Beta which was a fairly typical nightclub. Both after parties ended at 2am and were 18+, which after leaving the venue at midnight and parking by 1230 or 1, left us an hour to enjoy.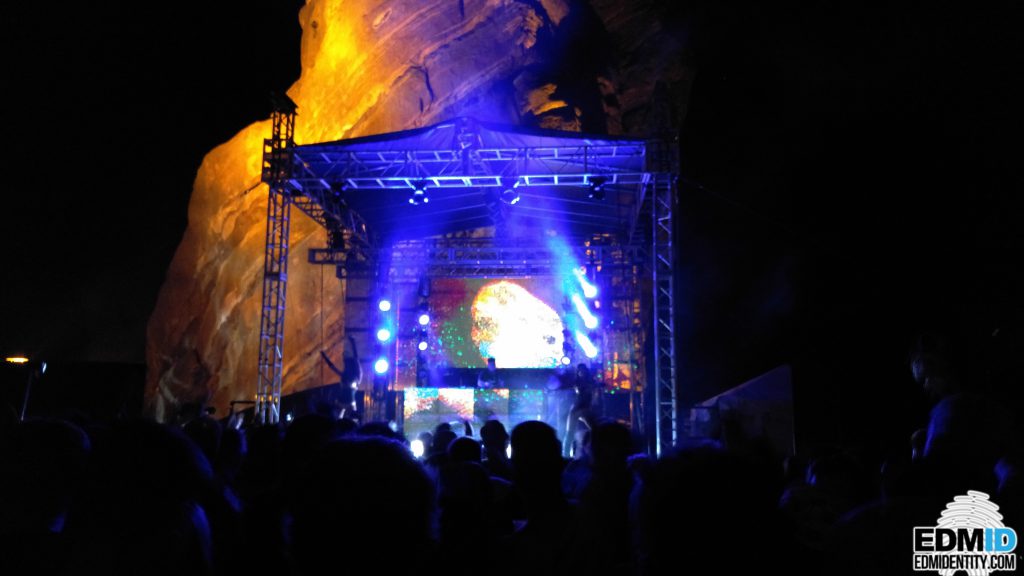 Everyone had always told me that seeing a show at Red Rocks was an absolute must, and after seeing a festival there I can't help but agree.
Red Rocks is definitely one of the most naturally beautiful venues I've ever had the opportunity of attending. The crowd as a whole was amazing and brought very positive vibes with them, each interaction with someone was friendly and enjoyable. Global Dance didn't have a largely stacked lineup and it was over by midnight or 11pm but it was a solid festival in terms of occupancy, ease of getting around, offerings, and of course the community. Additionally it was an all ages festival. It was the perfect size festival in one of the most beautiful places to listen to music. I'd love to go again next year and see you there!
---
Connect with Global Dance Festival 2016 on Social Media: