Headed to Denver for Global Dance Festival? Check out these five activities to get the most out of your trip!
---
Denver is the fastest-growing city in the United States, and with its location just east of the Rocky Mountains, it offers a wide variety of activities for residents and tourists alike. Whether you're looking for an outdoor adventure, a taste of arts and culture, or some entertainment to while the day away, there is something for everyone in the Mile High City. if you're headed to Denver for Global Dance Festival 2017, check out our recommendations for some things to do in your downtime from the festival!
Still trying to decide if you're making the trek to Global Dance Festival? Check out the full lineup and have a listen to our playlist of the festival's artists.
Two-Day and Single-Day Passes are still available HERE!
Five Things To Do Outside Of Global Dance Festival in Denver, Colorado
---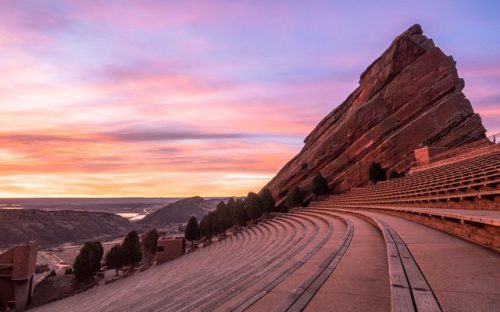 Take a Hike at Iconic Red Rocks Amphitheatre
Plan Your Visit: Red Rocks Website
Address: 18300 W Alameda Pkwy, Morrison, CO 80465
Visitor Center Hours: April – October 7 a.m. to 7 p.m. | Closes at approximately 2 p.m. on event days
Trading Post and Colorado Music Hall of Fame Hours: April 14 – August 31: 9 a.m. to 7 p.m.
Park Hours: Red Rocks Park and trails open one hour before sunrise and close one hour after sunset on non-show days.
Admission: Admission is free to visit Red Rocks Park, Amphitheatre, Visitor Center, Trading Post and the Colorado Music Hall of Fame.
Even though Global Dance Festival is no longer held at Red Rocks Amphitheatre, the venue remains one of the must-see landmarks of the greater Denver metro area. If you've got about two spare hours, you can make the drive out to Morrison and take in some of the stunning views on a hike around the area. The venue also features a trading post, gift shop, and the Colorado Music Hall of Fame. Make sure to check the weather before you head out and pack accordingly if you're hiking.
---

Find Inspiration at the Denver Art Museum
Plan Your Visit: Website
Address: 100 W 14th Ave Pkwy, Denver, CO 80204
Hours: Tuesday-Thursday: 10 a.m. – 5 p.m. | Friday: 10 a.m. – 8 p.m. | Saturday-Sunday: 10 a.m. – 5 p.m. | Closed Mondays
Admission: Adult: $18 | Adult, Colorado Resident: $15 | Adult Member: $5 | Under 18: FREE
Tickets: Available at the door or online here
Explore one of the largest art museums between the West Coast and Chicago at the Denver Art Museum. Known for its vast array of Native American art, the museum also boasts the only major Asian art collection in the Rocky Mountains. Admission to the museum also includes access to the Clyfford Still Museum, which features the artist's paintings and archives. Make sure to leave a few hours to give yourself time to see all of the galleries!
---

Get Your Brew On With Great Divide's Brewery Tour
Plan Your Visit: Website
Address: Ballpark: Brewery & Taproom, 2201 Arapahoe Street, Denver, CO 80205
RiNo: Barrel Bar & Packaging Wonderland: 1812 35th Street, Denver CO 80216
Brewery Hours: Sunday – Tuesday: 12 p.m. – 8 p.m. | Wednesday – Saturday: 12 p.m. – 10 p.m.
Brewery Tours: Monday – Friday: 3 p.m., 4 p.m., 5 p.m. | Saturday & Sunday: 2 p.m., 3 p.m., 4 p.m., 5 p.m., 6 p.m.
Admission: Free, but limited to the first twenty guests
Colorado is well known for its extraordinary craft beer scene. From Left Hand to Odell to Oskar Blues, there are dozens of breweries that brew exceptional beer. No trip to Denver is complete without checking out a tour of one of the local breweries, and one of the best in town is Great Divide's free tour. The brewery offers free tours at both its downtown and RiNo locations, and you can snag a beer or two before or afterward. Just be sure to show up early, as the tours are limited to twenty participants!
---
Get the Adrenaline Flowing at Lakeside Amusement Park
Plan Your Visit: Website
Address: 4601 Sheridan Blvd, Denver, CO 80212
Hours: Hours vary – check calendar here
Admission: Gate & rides: $17 weekdays, $26 weekends | Gate only: $3.50 | Mini riders $12 weekdays, $19 weekends
Tickets: Purchase tickets at the gate or online here
Located on the outskirts of Denver, Lakeside Amusement Park is one of the oldest amusement parks in the United States. Family owned and operated, it features a wide variety of rides built beginning at the turn of the century, including the iconic Cyclone, one of the only pre-World War II era rollercoasters still standing in the United States. Leave yourself a few hours to ride all the classic rides and explore the full footprint of the park!
---

Take Yourself Out to the Ball Game at Coors Field
Plan Your Visit: Website
Address: 2001 Blake Street, Denver, CO 80205
Schedule: See game schedule and buy tickets here
Home of the Colorado Rockies, Coors Field is located in Lower Downtown (LoDo) and is one of Denver's most popular destinations. The obvious reason to attend is to see a baseball game, but the stadium also features The Blue Moon Brewery at The Sandlot behind the Right Field stands, which has won multiple awards at the Great American Beer Festival. The LoDo area is also home to a number of popular bars and restaurants, so make a day of it and grab a bite after the game.
---
Follow Global Dance Festival on Social Media: