On July 21, Darren Styles will be bringing Happy Hardcore to Bassmnt in San Diego!
---
This year has been great for Darren Styles and his fans. He has released a new solo track "Us Against The World," as well as "Feel Like This" with his music bestie Gammer. He also revived with a former alias, Zero Hero, alongside Stonebank. Together they released a new track, "Bass Drop," that Styles had been teasing in his sets. The UK happy hardcore producer also released his yearly mini-mix, which features a mash of old greats mixed with new bangers.
On the touring end, Styles has linked up with hardstyle acts Da Tweekaz to debut Tweekacore at Defqon.1. Earlier this year, he also played his final back to back set with Gammer. This just scratches the surface of things he has been up to this year!
It's not often that happy hardcore comes to San Diego so I would recommend that all fans of the genre come out and support!
Stream Darren Styles – Us Against The World via YouTube:
---
Darren Styles at Bassmnt – Essential Info:
Date: Friday, July 21, 2017
Ages: 18+, 21+ to drink.
Hours: Doors open at 9 pm
Venue Address: 919 Fourth Ave #100, San Diego, CA 92101, USA
Tickets: HERE
Facebook Event Page: HERE
---
Darren Styles at Bassmnt – Event Flyer: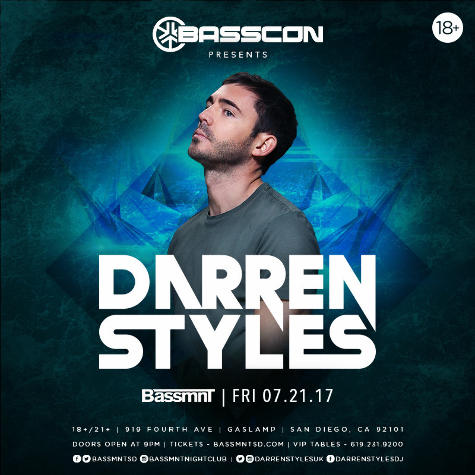 ---
About Darren Styles:
Darren Mew, aka Darren Styles, has DJ'd and produced for over 20 years. He began his career in 1994 and was deeply inspired by the rave sound of the early nineties. He has a history in the breakbeat hardcore scene when he played as part of DJ Force & The Evolution and later as part of Force & Styles. Force & Styles had numerous hits and were also the first UK Hardcore act to do the Essential Mix for Pete Tong on Radio 1. Styles even dabbled in trance as part of Styles and Breeze before getting deep into the Happy Hardcore scene.
---
Follow Darren Styles on Social Media:
Website | Facebook | Twitter | Instagram | SoundCloud
Connect with Basscon on Social Media: