Orlando, Florida's EDM Frontlife turns 3 years old this August and to celebrate they are throwing their biggest event to date!
---
In Orlando, Florida on August 19, 2017, talent both new and established will take over the grounds at Woodstock Orlando, ready to take you on the ride of your life for a celebration dubbed, Married To The Rave Festival 2017! Sitting on multiple acres of land boasting a 24x12x3.5 mainstage, a lounge inside, outside patio, two VIP cabanas, three bars, 8 vendors, and 2 food trucks, Married To The Rave Festival 2017 will be your one-stop shop to satisfy all of your dance music desires. What's more is that EDM Frontlife has pulled out all the stops for this one, delivering a stacked lineup that includes some of the world's most notable headliners who have played all over the planet at some of the most massive dance music celebrations including A State of Trance, FSOE events, Dreamstate, EDC, The Untz, Okeechobee, Sunset Music Festival, Electric Zoo, Tomorrowworld, Tomorrowland, and Ultra Music Festival!
Married To The Rave Festival 2017 is a multi-genre event with a focus on dubstep and bass at the Main Stage, trance on The Patio, and tech house in The Lounge. And just to add to the anticipation, throughout the evening there will be secret surprise guests that you are not going to want to miss. Now, what makes this event extra special is that from 2 – 6 pm The Lounge will come to life for a very special open deck extravaganza. All you have to do is bring your USB/Flash Drive and for 15 minutes you will be in the driver's seat, taking the crowd on your very own personal journey! This is first come first serve and open decks are only for those who use CDJs. Other than that, the genre selection and experience is all your own! And the news just keeps on getting better! Not only will this festival come correct with the very best in lighting, sound, and production, but they will also be streaming live inside The Lounge!  Additional information will be released soon.
Tickets for Married To The Rave Festival 2017 are on sale now and can be purchased right here!
---
Married To The Rave Festival 2017 Lineup: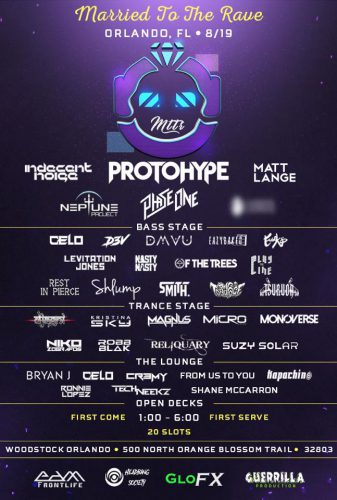 ---
Married To The Rave Festival 2017 Lineup By Artist:
Indecent Noise (Check out MyStro Presents Storylines with Indecent Noise right HERE)
Protohype
Matt Lange
Neptune Project
Phase One
Mainstage:
Celo
DMVU
Eazybaked
Esseks
Levitation Jones
NastyNasty
Of The Trees
Shlump
Smith
Toadface
Tsuruda
The Patio:
AGNI
DJ Micro
Kristina Sky
Magnus
Monoverse
Niko Zagrafos
Reliquary (Artist Spotlight)
Robb Blak
Suzy Solar
The Lounge
Bryan J
Celo
D3V
From Us To You
Kapachino
Play The Line
Ronnie Lopez
Rest In Pierce
Shane McCarron
Techneeks
---
Married To The Rave Festival 2017 Essential Info:
Date: Saturday, August 19
Ages: 18+
Hours: 1pm – 2am EST
Venue Address: Woodstock Orlando, 500 N Orange Blossom Trl, Orlando, FL 32805
Facebook Event Page: HERE
Purchase Tickets: HERE
---
Follow Married To The Rave (EDM Frontlife) on social media: