The saga of community and collaboration expands to two weekends at Electric Forest!
---
For the seventh year, the annual camping and music festival experience, Electric Forest, will be returning to Rothbury, Michigan. This year the event will be hosted on two back to back weekends offering two very distinct adventures. The announcement of lineups for June 22-25 and June 29-July 2, 2017 show a highly curated variety of artists featuring new and returning performers. The String Cheese Incident, a fan favorite, will be returning for the 7th year in a row and will perform 2 shows each weekend. There will also be a very special SCI Sound Lab Live Experience on the First Weekend and EF's famed SCI Saturday Night Shebang will be hosted on the Second Weekend.
In the spirit of commitment to building and nurturing community, the festival has posted a "Call to Action" along with the initial EF17 artist lineup announcement. The EF Producers are encouraging the EF community to LISTEN in the face of monumental change. The freedom and acceptance that the Electric Forest has come to be known for is more important than ever before.
Listen to new ideas, listen to difference, listen to the creative, listen to those in the margins, and listen to expression from music. Together, we aim for a truly epic experience.  A celebration of purpose to match these historic times.
Each weekend offers something similar but different…
The artists that will be performing both weekends include: Bassnectar, Big Gigantic, and Claude VonStroke, 12th Planet, Jai Wolf, Lettuce, The Floozies, The Infamous Stringdusters, and Waka Flocka Flame. Many of which have announced that they will be doing unique sets, so that no two experiences will be alike. While heavyweights like ODESZA, Above & Beyond, My Morning Jacket, and Nero (Live) will only be Weekend 1. DJ Snake, RL Grime, and Thievery Corporation will appear only on Weekend 2. Fans can expect to hear some of the acts unplugged, with unusual collaborations and sit-ins, performing special themed sets and more! Additionally they will be hosting The Silent Disco in Sherwood Forest both weekends.
Loyalty sale starts Nov. 29 at 12pm and General Sale starts Dec. 8th at 12pm!
In honor of having attended Electric Forest for four or more years, they have created a detailed EF Loyalty Program – details  here. If this is your first time you will have to wait until the general sale. The general sale will include shuttle passes that depart from major cities around the festival, special group camping (Her Forest Women's Camp, Electric Forces Veterans Camp, and Camp Traction Sober Camp), and EF lockers.
Information on Layaway Plans and Lodging Packages can be found here.
Electric Forest 2017 – Weekend 1 Lineup:
Electric Forest 2017 – Weekend 2 Lineup: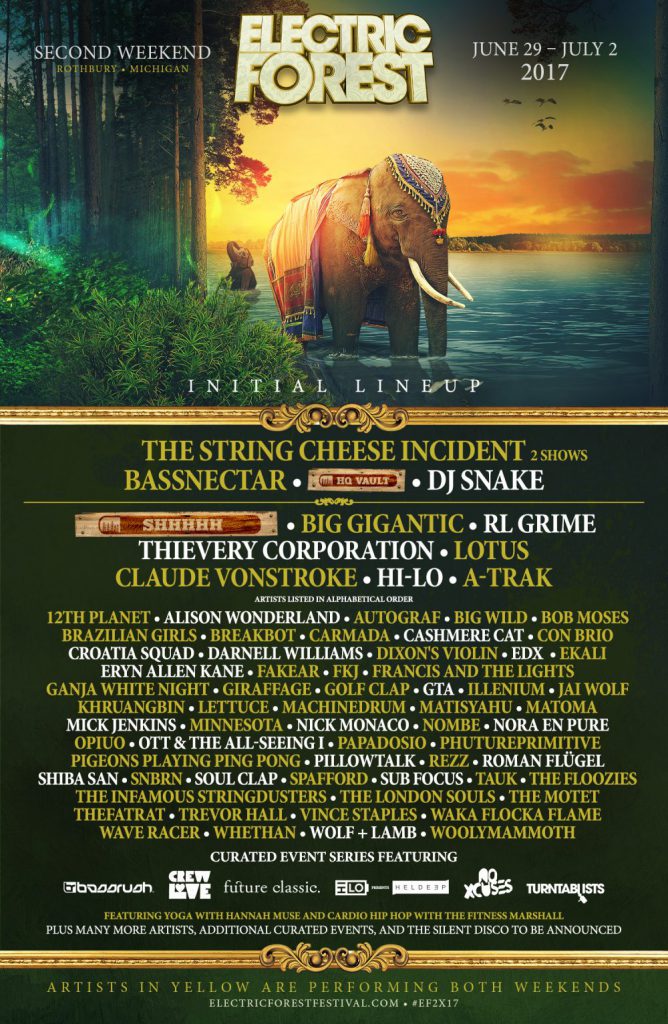 First Weekend Initial Artist Lineup:
The String Cheese Incident
Bassnectar
My Morning Jacket
Big Gigantic
Lotus
Claude VonStroke
12th Planet
AC Slater
Asadi
Autograf
Banks
Big Wild
Bob Moses
Brazilian Girls
Breakbot
Carmada
Con Brio
Corbu
Dixon's Violin
Donny McCaslin
Eden
Eric Krasno Band
Fakear
FKJ
Francis and the Lights
Ganja White Night
Giraffage
Golf Clap
Jacob Banks
Kaiydo
Khruangbin
Lettuce
Machinedrum
Matisyahu
Matoma
Minnesota
NoMBe
Opiuo
Ott
Papadosio
Phutureprimitive
Pigeons Playing Ping Pong
Snakehips
Spafford
Tauk
The Floozies
The Infamous Stringdusters
The London Souls
The Motet
theFatRat
Thunderthief
Trevor Hall
TroyBoi
Viceroy
Vince Staples
Waka Flocka Flame
Wave Racer
Whethan
Wingtip
Woolymammoth
Zomboy
Second Weekend Initial Artist Lineup:
The String Cheese Incident
Bassnectar
Big Gigantic
Thievery Corporation
Lotus
Claude VonStroke
A-Trak
12th Planet
Alison Wonderland
Autograf
Big Wild
Bob Moses
Brazilian Girls
Breakbot
Carmada
Cashmere Cat
Con Brio
Croatia Squad
Darnell Williams
Dixon's Violin
Eryn Allen Kane
Fakear
FKJ
Francis and the Lights
Ganja White Night
Giraffage
Golf Clap
Khruangbin
Lettuce
Machinedrum
Matisyahu
Matoma
Mick Jenkins
Minnesota
Nick Monaco
NoMBe
Nora En Pure
Opiuo
Ott & The All-Seeing I
Papadosio
Phutureprimitive
Pigeons Playing Ping Pong
PillowTalk
Roman Flügel
Shiba San
Soul Clap
Spafford
Tauk
The Floozies
The Infamous Stringdusters
The London Souls
The Motet
theFatRat
Trevor Hall
Vince Staples
Waka Flocka Flame
Wave Racer
Whethan
Wolf + Lamb
Woolymammoth
---
About Electric Forest
Each summer, just as anticipation for Electric Forest reaches fever pitch, tens of thousands of fans – traveling from all parts of the country, and the world, gather at the Double JJ Ranch in Rothbury, Michigan for the music & camping adventure of a lifetime. Excitement for Electric Forest has never been greater, with last year's festival selling out before the lineup was announced, just a mere two weeks after tickets went on sale.
Electric Forest recently announced news of the festival's "Intimate Expansion of Community" for 2017. Electric Forest's move to offer two distinct, back to back weekends at a lower capacity strives to nurture the evolution and growth of the EF community while honoring the much cherished EF experience. Electric Forest producers Madison House Presents and Insomniac hope that expanding the festival to two weekends in 2017 allows the EF community to invite more friends, participate in more ideas, and continue to contribute to this next chapter of Electric Forest together.
Entering its seventh year, Electric Forest is known for bringing together a passionate group of fans whose shared community spirit makes the festival a truly unique experience. The festival incorporates the natural beauty of the venue into carefully crafted art pieces and creatively themed environments, while colorful interactive characters and storylines blend with eclectic performing artists and musicians.
With its astonishing and unparalleled integration of music, art and community, Electric Forest delivers "The ultimate festival experience." From the carefully curated musical lineup, to the jaw-dropping Sherwood Forest, to the festival's unprecedented participatory spirit, to the site's incomparable features and amenities – Electric Forest creates a vibe so thick with "camaraderie and freedom…it must be experienced to be appreciated."
Known for fully embracing the possibilities of an engaged festival community, Electric Forest's Plug In Program deliberately blurs the line between event organizers and attendees. With this truly unique "open source" fan engagement platform, Electric Forest harnesses the creativity and passion of its community members, offering real and tangible ways for fans to participate in and ultimately help shape the Electric Forest experience. This is a big deal, since for Electric Forest – experience trumps all.
Hailed as "an amazing example of how music and festivals can change one's outlook on life," it's widely understood that "one of the most important lessons [to be] learned in the Forest is that we are all together," and this sense of community is truly "cherished [within the community] like the incredibly rare find it is."
---
Connect with Electric Forest on Social Media: