A-Trak the legendary scratch DJ teams up with PandaFunk newcomer, ZooFunktion for the first time on their new single "Place on Earth," released on Spinnin' Records. The intro and breakdown combine piano chords with melodic, female vocals, and then quickly transitions into an electro house drop. This track has a constant party pump, and you can really feel A-Trak's signature energy mixed with ZooFunktion's Melbourne bounce rhythm. This record has already been supported by some of the world's most renowned DJs in the last month that it has been out, and is expected to keep making waves.
A-Trak has been a household name in dance music and hip-hop for the last decade, starting out his career as Kanye West's official tour DJ. He is known for his remarkable scratch-work on the turntables, a skill that is rare, but coveted today. He has collaborated with the likes of Travis Barker (from Blink-182), Lupe Fiasco, Juicy J, Jim Jones, Danny Brown, and Dillon Francis, and has remixed the likes of Kanye West, the Yeah Yeah Yeahs, Foster the People, and Justice to name a few examples of his broad repertoire. He runs the hip-hop/electronic label, Fool's Gold, and in July 2015 launched his own radio show 'Day Off Radio' on Apple Music's Beats 1 Radio. His latest single 'We All Fall Down' successfully racked up nearly 7 million plays on Soundcloud and Spotify in just two months. It also received remixes from CID, Volt & State, and Jarreau Vandal. Including the "Day-Off" shows thrown this summer in Los Angeles, Miami, Atlanta, Austin, and New York, A-Trak's success has been growing without halt in this year.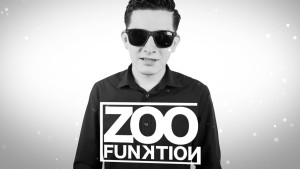 ZooFunktion's career took off when he released his collaboration, "Hype" with Deorro, which released on Dim Mak Records in April 2013. Since then, he has become a member of the PandaFunk family with several releases on the label, including his originals "Don't Let Me In" and "Punchis Punchis". His debut EP, "Wild Life", released on Dim Mak in 2013 and he recently collaborated on another single with Deorro, called "The Way You Move". ZooFunktion did a massive tour across Europe this summer spanning 12 countries. This tour included performances at some of the world's most prestigious festivals and clubs like Tomorrowland, Electric Love in Austria, Ministry of Sound, Pacha, and Amnesia. "Place on Earth" will be his debut collaboration with A-Trak and also his first release on Spinnin'!
---
For More on A-Trak Check Social:
Website
Facebook
Twitter
Soundcloud
ZooFunktion on Social:
Website
Facebook
Twitter
Soundcloud